As retailers spar to offer a better online shopping experience, micro-fulfillment technology could deliver a faster service for customers while boosting profits for retailers.
Shipping and fulfillment has become a major battleground for retailers looking to retain customers.
While 2-day shipping was considered a luxury in the US just a few years ago, it has now become an industry standard. Boosted by aggressive investment in shipping infrastructure by the likes of Amazon and Walmart, delivery timelines for online orders have been shrinking rapidly, ranging from a couple of days to even just a few hours in some cases.
25 Industries & Technologies That Will Shape The Post-Virus World
Get the free download to learn how industries are using tech to reimagine nearly every facet of their operations.
Amazon has spent billions of dollars building out its shipping infrastructure, including operating 175+ fulfillment centers across the world and investing $1.5B to build an air hub in Kentucky. Walmart, on the other hand, is relying on its existing footprint across 5000+ US stores to help deliver online orders faster.
To compete with the formidable logistics infrastructure these giants are building, smaller retailers are turning to micro-fulfillment.
Micro-fulfillment is a strategy retailers use to make the fulfillment process more efficient — from receiving an online order to packing it and in some cases offering last-mile delivery. The approach aims to take the speed of localized, in-store pick-up and combine it with the efficiency of large, automated warehouses. Further, placing micro-fulfillment centers (MFCs) within cities can substantially reduce the distance between an ordered product and a customer, making last-mile delivery cheaper and quicker.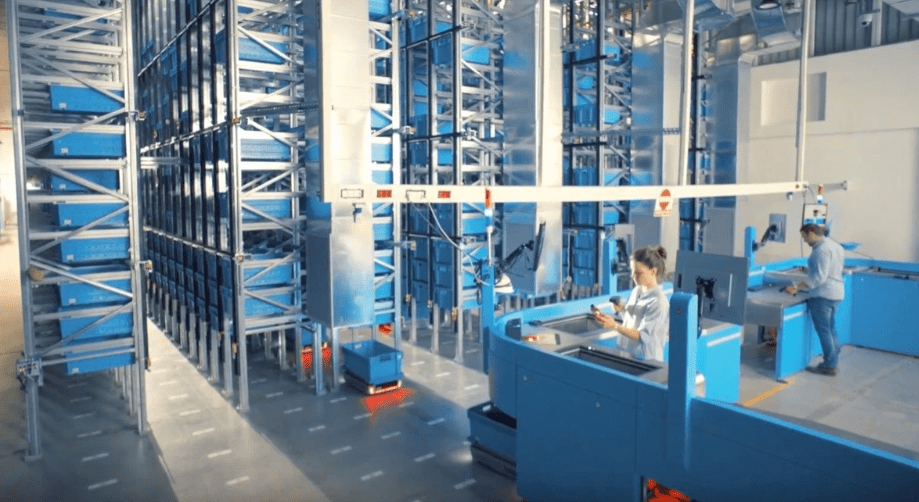 Source: Fabric
As the Covid-19 pandemic continues to keep people indoors and away from public places, instances of online shopping — especially purchasing groceries — are increasing.
Online grocery shopping could account for 10% of overall grocery sales in the US by the end of 2020 — 4 years earlier than previously expected, according to an April 2020 report by micro-fulfillment company Fabric. This compares with only 5% of total grocery sales just before the outbreak took hold in the US.
To keep up, retailers are scrambling to come up with faster modes of delivery and more efficient ways to fulfill orders.
International lockdowns have also put pressure on supply chains around the world, prompting a new push among retailers to invest in emerging supply chain tech to boost resilience. Micro-fulfillment could play a role here.
In this report, we break down what micro-fulfillment is, why retailers are flocking to the strategy, and what the future of the space could look like.
Table of Contents
What is micro-fulfillment?
Who is jumping on the micro-fulfillment bandwagon?
How can micro-fulfillment make retail more efficient?

Localized data and inventory
Picking and packing
Last-mile delivery
Expansion

The future of micro-fulfillment
What is micro-fulfillment?
Micro-fulfillment involves using small, highly-automated storage facilities near the end customer to bring down the cost and time of delivering goods.
MFCs have 2 main components: software management systems, that process online orders, and the physical infrastructure, including robots that pick out items from storage aisles and shuttle them to packing staff.
In some cases, micro-fulfillment services also include last-mile delivery to a customer's address. For example, New York-based startup Bond offers direct-to-consumer brands space at its MFCs, as well as last-mile delivery.
Typically taking up between 3,000 and 10,000 square feet of space, MFCs can be built into stores or as stand-alone facilities to service a cluster of locations. These centers can help to save on expensive real-estate space by sporting a compact design that allows them to be set up at locations like the back of existing supermarkets, in garages or parking lots, and in basements.
MFCs are much smaller than traditional fulfillment centers, which can be as large as 300,000 square feet. Since these conventional centers are so big, they tend to be located on the outskirts of cities, making transporting orders from the center to the customer costly and more time-consuming. Occupying a larger space can also translate to significant leasing and operating costs for retailers.
Since MFCs are smaller, they can be conveniently located within cities, ensuring quicker service to a large segment of the population. This is particularly important as the global population grows more urban. Two-thirds of the world population is expected to reside in cities by 2050, up from just over half in 2018, according to a 2018 United Nations report.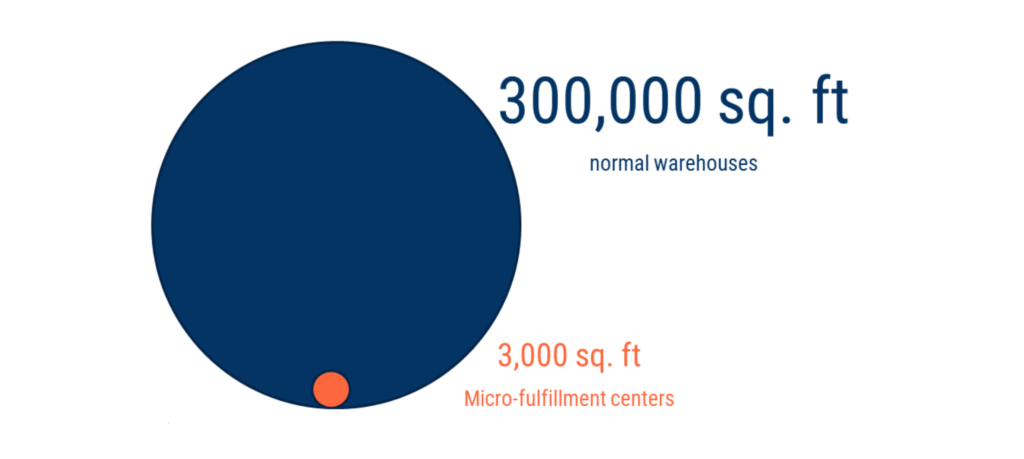 MFCs are emerging as a compelling solution for retailers looking to reduce the physical footprints of their fulfillment centers. For example, Target is now using its stores as MFC hubs to offer multiple shopping options such as click-and-collect, curbside delivery, and same-day home delivery.
In addition to their small size, MFCs also tend to host efficiency-boosting technology. Many use robots to transport items from storage, while a human worker packages the final order. Artificial intelligence software can be used to help optimize the placement of different goods and their movement through the center.
The result:
Lower overhead costs. Micro-fulfillment is estimated to reduce costs associated with an order by 75% when compared with manual picking of the order, according to an analysis by financial services company Jefferies.
Enhanced agility. MFCs can cost around just a few million dollars to build and can be set up in a few months.
Faster last-mile delivery. As MFCs are located in urban centers, they can be used to deliver orders to customers faster compared to traditional warehouses, which are often located on the outskirts of cities.
MFCs combine robots with human labor to speed up delivery at a reduced cost. Source: MMH
MFCs can serve multiple retail categories — including grocery, convenience stores, drug stores, general merchandise, and department stores — and mainly operate on 2 models.
In the first, the center is placed at the back of an existing store and is operated directly by the retailer. This is especially relevant to grocery stores. An example of this is Walmart setting up an MFC in its store in Salem, New Hampshire to offer quicker delivery of online orders placed nearby.
In the second model, which is more suited to general merchandise retailers, a company creates a stand-alone MFC and rents out space in that facility to different retailers. The MFC is operated by the company that sets it up rather than by an individual retailer. For example, Darkstore turns excess space at brick-and-mortar shops and other storage facilities into MFCs. Retailers can rent out this space using Darkstore's platform and retrieve orders through their chosen last-mile delivery partners.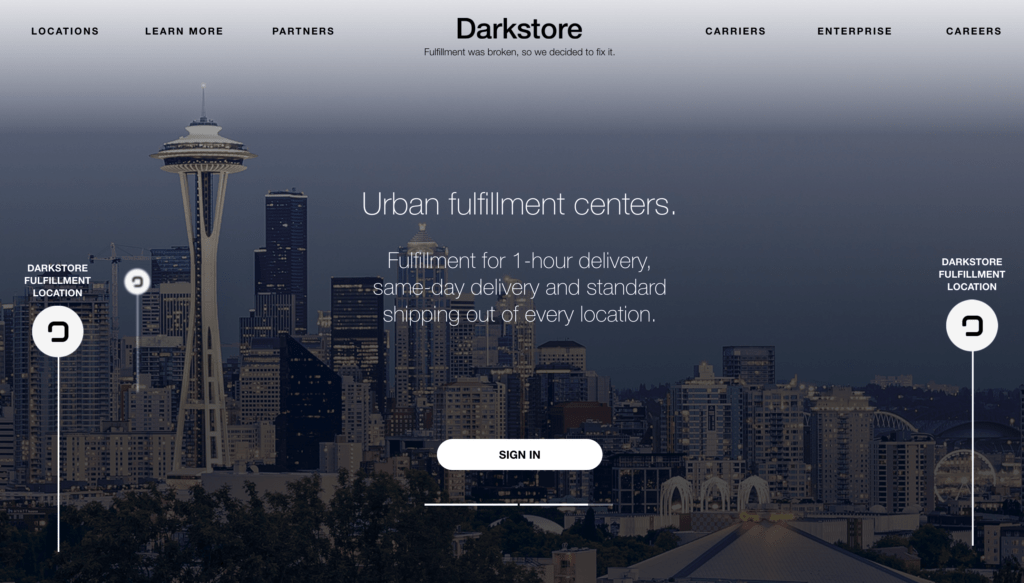 Darkstore's model lets retailers increase their fulfillment capacity without upfront investment in building out infrastructure. Source: Darkstore
Some companies, like Fabric, offer services for both models.
Fabric specializes in installing tightly-packed shelves of products, wheeled robots, and lift robots in a broad range of room sizes and shapes. The company built one of its first MFCs in an underground, triangular-shaped space beneath a skyscraper in Tel Aviv, Israel.
Who is jumping on the micro-fulfillment bandwagon?
Many brand-name retailers have started to set up micro-fulfillment centers at the back of their existing stores. For example, Walmart, the largest US grocery retailer by revenue, set up an in-house micro-fulfillment center in its store in Salem, New Hampshire in 2019. The company is setting up these centers in partnership with startup Alert Innovation, which focuses on setting up MFCs for grocery retailers.
The automated system designed for Walmart, called Alphabot, is designed to collect 10x more products than a human could in a traditional warehouse. The micro-fulfillment center is stocked with products that are most popular for online ordering among Walmart customers, including frozen and packaged foods. Walmart plans to install Alphabot in 3 additional stores in Oklahoma, California, and Arkansas by the end of 2020.
A number of other global retailers are also relying on services provided by third-party players that specialize in helping retailers automate their operations. For example, Fabric is helping an undisclosed grocer set up a 10,000-square-foot micro-fulfillment center in the US.
Fabric piloted its micro-fulfillment technology in 2018, when it set up an MFC for Israel's largest drugstore operator, Super-Pharm. The startup has since turned its attention to the US grocery sector and claims that its robotics technology can help fulfill grocery orders within an hour.
Takeoff Technologies, another startup in the space, has helped grocery retailers like Ahold Delhaize, Albertsons, and Wakefern Food set up similar MFCs. The company offers retailers end-to-end technology, including inventory management and online ordering, for running an MFC. It opened one of its first MFCs in the US in 2018 for Sedano, a grocery chain in Florida.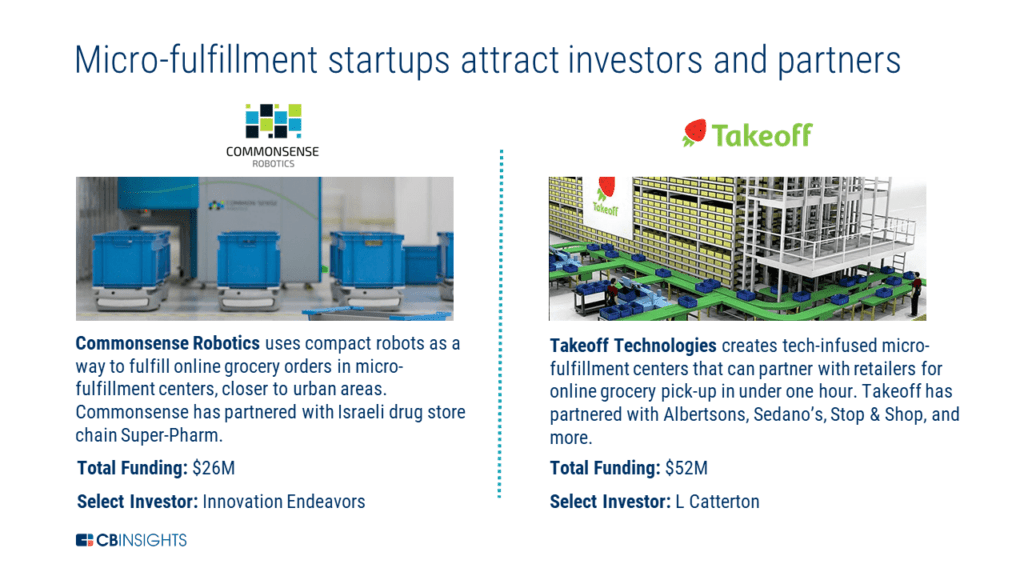 MFC technology is not limited to grocers or general retailers.
Nordstrom is planning to set up an MFC in Newark, California to fulfill online orders for its beauty merchandise and to restock its stores in the area. Nordstrom has partnered with Tompkins, a robotics firm that provides parcel-sorting technology to micro-fulfillment companies, and Attabotics, a Canada-based micro-fulfillment company, to set up the facility.
Amazon has also entered the micro-fulfillment fray. The e-commerce giant partnered with Dematic to create robot-operated fulfillment areas within Amazon's latest grocery store concept. For example, in a store being built in California, a 7,200-square-foot micro-fulfillment area will occupy about a fifth of the store's total size.
Amazon is also building its own MFCs. The service is currently available in 5 US cities, including Philadelphia, Phoenix, and Dallas. These centers are intended to allow for nearly 3M items to be delivered on the same day that they are ordered.
This will likely help Amazon reduce some costs associated with its ever-faster delivery promises. As Amazon started offering one-day delivery to its Prime subscribers, its shipping costs in Q3'19 jumped by 46% year-over-year.
25 Industries & Technologies That Will Shape The Post-Virus World
Get the free download to learn how industries are using tech to reimagine nearly every facet of their operations.
How can micro-fulfillment make retail more efficient?
As retailers face unprecedented challenges of layoffs, accelerated store closures, and reduced demand amid the Covid-19 pandemic, many are being forced to rethink their customer-retention strategies. Offering a better online presence, fast deliveries at a low cost, and a wider variety of products is becoming ever more essential for retailers to stay afloat.
MFCs can help retailers take on these challenges by allowing retailers to retain data related to online purchases that they generate and making it easier to expand storage space in a low-cost manner.
Localized data and inventory: deeper insight into orders to stock more of what's needed
MFCs utilize unused space with highly-compact designs, allowing retailers to hold more product volume per-square-foot than would likely be possible in a traditional warehouse or store.
For instance, Takeoff Technologies' centers can hold up to 15,000 different products. Having a wide variety of products at one location — while still being placed close to customers — allows for more local orders to be fulfilled. Some micro-fulfillment centers can handle up to 4,000 orders a week.
Source: Getty Images
Retailers lose $144B annually due to out-of-stock inventory, according to a Deloitte report. MFCs are well-suited for the deployment of predictive technology that can help keep in-demand items stocked up — limiting losses.
The centers, conveniently located at the back of a store or at a central location, also allow supermarkets and retailers to store more goods locally, allowing them to fulfill orders placed nearby faster. This can also help retailers gather localized data on their customers, such as past order sizes and brand preferences.
Retailers can leverage this data to create projections around expected orders, which can improve service to regions where the MFCs are located.
For example, data from US grocery sales as of early April 2020 — in the midst of pandemic lockdown measures around the country — showed that customers were focused on buying food items and passing up nonedibles. Additionally, sales in the pet, beauty, and health departments were down, while paper products and household cleaning items were up. Retailers can use this kind of data to stock up on high-demand products and allocate storage appropriately.
MFCs can also serve as a pool of inventory for a retailer's other nearby stores. For example, Takeoff's first stand-alone MFC in Clifton, New Jersey services 10 locations of Inserra Supermarkets and ShopRite stores operating in the area. Target also uses this strategy to replenish out-of-stock inventory at its stores in Perth Amboy, New Jersey.
Picking and packing: automation speeds up order fulfillment
At a Takeoff Technologies MFC, picking and packing of about 80% of products is automated, according to IGD Retail. Since micro-fulfillment centers deploy both automation and human workforces, they can reduce the time taken to gather and pack an order, which increases overall productivity.
A micro-fulfillment workstation operated by one person can process 800 products per hour, compared with about 80 products collected from store shelves in an hour by a grocery picker. Attabotics says its packaging systems can put together an order in about 60-90 seconds, while the same order would take 60-90 minutes to be put together in a traditional warehouse.
Discussing operating with manual labor, Steve Hornyak, commercial head at Fabric, told Supply Chain Dive in February 2020 that manual labor is key driver for losses that stores incur for in-store order-picking:
"Every order end to end takes about one hour of labor to pick, consolidate, stage, and prepare for delivery. That alone would be about [$5 to $15] of direct costs per order, and that's not factoring in other labor costs such as added store replenishment, management overhead, increased supply chain costs, etc."
Still, grocery stores are likely to continue incurring costs for manual labor despite deploying micro-fulfillment technology, because picking out grocery orders is challenging to fully automate. Most grocery orders are a combination of non-perishable items, which are usually packaged, and perishable items like produce, deli items, and prepared foods. While picking out non-perishables can often be automated without too many problems, perishables present more issues — such as weighing the requested quantity and not damaging unpackaged products. As such, manual pickers will likely still play a major role for the time being.
Even with non-grocery orders, there may be some cases where human pickers and sorters prove to be a better fit than robots. For example, an automatic picking system could be trained to reliably pick out an item from storage but it may struggle to differentiate certain specifics such as size or color.
While automating order fulfillment currently has some shortfalls, MFCs offering automation are well-placed to help boost resilience amid the current pandemic. As people are forced to stay home, automated order fulfillment can help retailers to continue fulfilling online orders while limiting the risk to human workers.
Last-mile delivery: Faster delivery can reduce costs
One of the most compelling benefits of MFCs is that they can make last-mile delivery more efficient and cost-effective for retailers. Last-mile delivery refers to the journey of an order from a warehouse to a customer's address.
Globally, businesses spent over $86B on last-mile delivery in 2017, according to McKinsey. These expenses account for about 28% of the total transportation cost associated with a product. Micro-fulfillment can reduce this.
Because MFCs allow orders to be fulfilled closer to customers, they ensure faster delivery — sometimes within hours. Delivery speed and costs are more important than ever to retain customers and foster brand loyalty. Ninety-two percent of online grocery consumers want same-day shipping, and 65% would consider switching from grocery retailers without same-day delivery or curbside pickup, according to Fabric.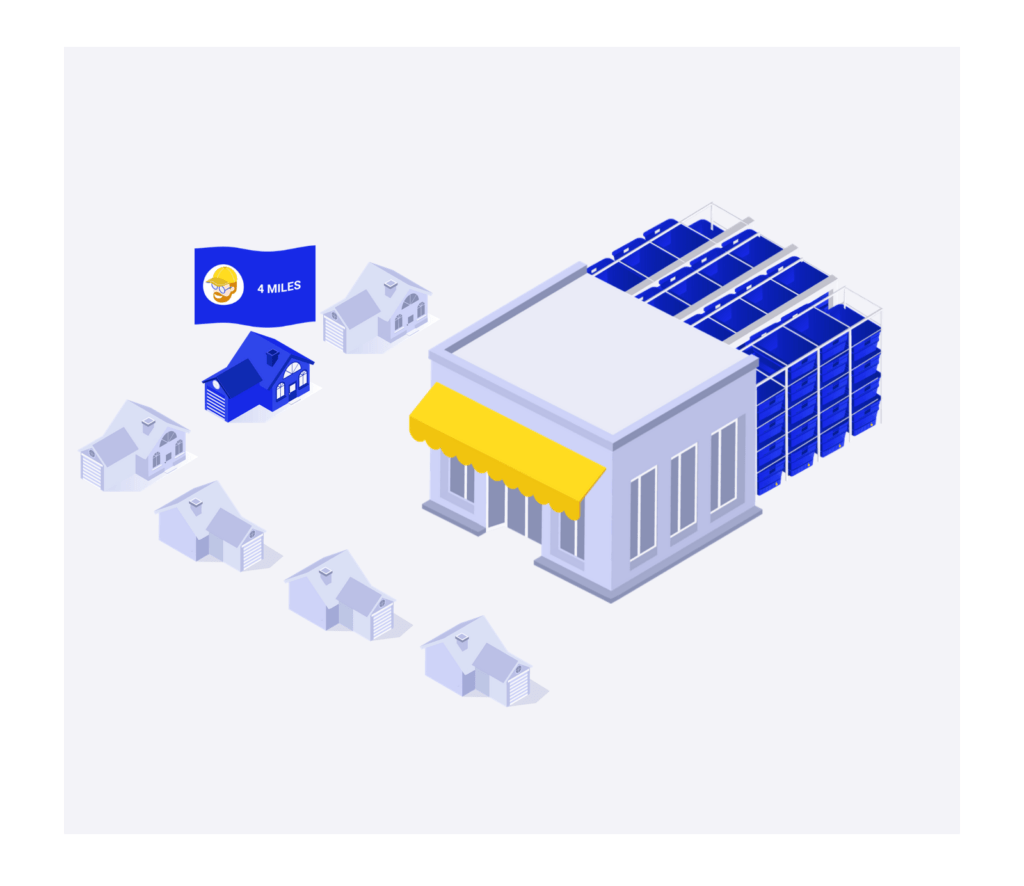 Source: Fabric
Many MFCs use artificial intelligence to direct online orders to stores that are best equipped to fulfill them. Employing automation at these various stages — from sorting to packing to last-mile delivery — can significantly speed up the fulfillment process and helps reduce costs.
Another way that MFCs save time is by changing the path a product follows in the order. If orders are fulfilled from a store, a product would first be picked from a store's warehouse and would then be stocked on a store shelf. From there, it would be picked up and taken to the backroom before being sent out for delivery.
MFCs simplify this process, as products are directly taken from one of these centers to a store's backroom and then shipped out. This process is further simplified if the store's backroom is also a micro-fulfillment center. Some retailers are also partnering with companies that offer technologies to facilitate autonomous delivery chains to create almost human-free, last-mile delivery systems.
Expansion: Smaller centers are easier and cheaper to incorporate into existing operations
Expanding MFCs to become a part of existing operations is easier because they are smaller. Since the centers are relatively small and can fit into a wide range of spaces, it's easier to slot them in at the back of existing stores.
Retailers use about 1.25M square feet of warehouse space for every $1B in sales, according to real estate firm CBRE. With e-commerce sales rising every year, retailers are facing a crucial real estate challenge.
Stand-alone MFCs are proving to be useful in dense urban areas, where space is at a premium. Because a majority of the world population is moving to urban areas, the need for e-commerce services in these areas is also increasing. These smaller fulfillment hubs allow for distribution and logistics to be moved closer to places where demand is high.
Smaller hubs also tend to be less capital-intensive than large warehouses. Laura Scott, chief operating officer of Takeoff Technologies, told the Wall Street Journal in April 2020 that one of the company's MFCs costs about $3M to set up and can be fully functional in just a few months. Meanwhile, a bigger fulfillment center can take years to build out and become profitable.
Using stores as fulfillment centers can save money on real estate costs that might otherwise be spent on leasing a large warehouse or distribution center, since it makes use of space that retailers already own or lease.
MFCs can also be cheaper for retailers as they offer the potential to use a subscription model, where retailers can choose to only rent out space in a center run by a micro-fulfillment company. With this approach, retailers do not need to make upfront investments in building out infrastructure and can lease out space as in response to shifting demand.
Customer service: speed and agility enhances customer experience
The recent rise of faster delivery was propelled by a turf war between Amazon and big-box retailers, but it is now a priority for every retailer, whether they are direct-to-consumer online brands or traditional brick-and-mortar companies.
With virtually every kind of product available online, the variety of items a single retailer sells is no longer the key driving factor for attracting customers that it once was. Now, one of the key ways that retailers use to distinguish themselves is to compete on offering fast, convenient, and low-cost delivery.
Retailers such as Walmart, Target, Nordstrom, and Neiman Marcus have had to shift their focus from in-store sales to better deliveries services for customers shopping online. Target and Walmart now offer same-day delivery — including for groceries — in some US states.
MFCs' hyperlocal placement and localized product assortment could make it easier to get orders to customers in a short time frame. Fabric, for example, claims its MFC model for grocery fulfillment can provide deliveries as quickly as within an hour of placing an order.
Takeoff Technologies' Curt Avallone told Modern Retail that while a 50-item order being fulfilled from a store can take up to an hour, the same can be done by an MFC, "in a controlled environment and with proper automation," in about six minutes. These rapid turnarounds could help boost the customer experience as expectations for quicker deliveries continue to increase.
Faster, less expensive deliveries are especially important for the grocery business, where margins are already razor-thin. Cheaper order fulfillment may allow retailers to pass those savings on to the customer, offering a potential competitive advantage.
25 Industries & Technologies That Will Shape The Post-Virus World
Get the free download to learn how industries are using tech to reimagine nearly every facet of their operations.
The future of micro-fulfillment
Micro-fulfillment technology is developing in tandem with other automation and fulfillment trends such as autonomous last-mile delivery and smaller, autonomous stores.
As retail space becomes expensive and customer footfalls continue to decrease, the trend of smaller retail stores being trialed by retail chains like Kohl's, Target, and Ikea is likely to continue. MFCs could be housed with these smaller stores in cities. MFCs could also be placed within self-checkout stores, the likes of which are being trialed by Amazon across the US — making the shopping experience even more automated for the customer.
While autonomous delivery is now becoming more commonplace, it is still a nascent space. Combining micro-fulfillment technology with autonomous delivery could ultimately reduce costs for retailers and increase convenience for customers.
One company demonstrating what this combination could look like is US-based startup Boxbot. In June 2019, the company announced plans to launch an end-to-end automated delivery system, which would house both MFCs and autonomous last-mile delivery vehicles. At the MFCs, packages would be sorted and loaded into Boxbot's vehicles automatically. Autonomous vehicles would then deliver these packages to the customer's houses.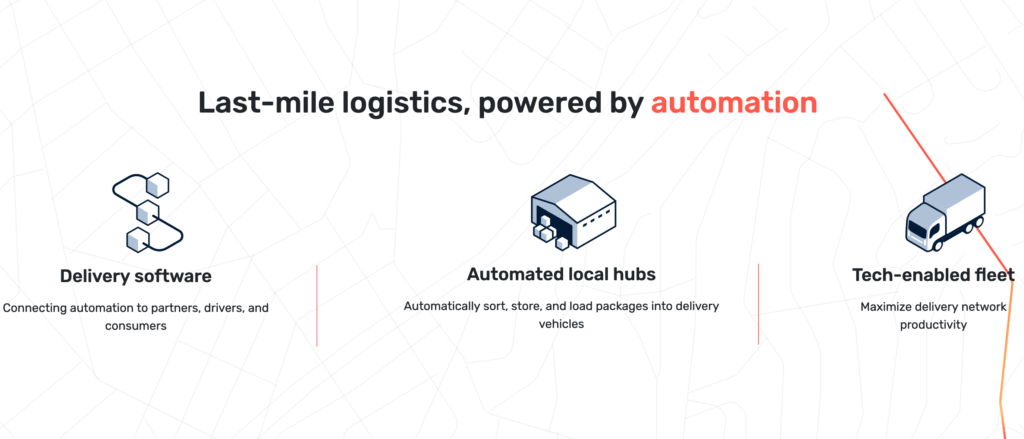 Source: Boxbot
One possibility is that micro-fulfillment technology will become integrated into more existing stores, thus reducing the need for stand-alone MFCs. This approach is being tested out in some grocery stores, where non-perishable items are stocked in an automated storage system located at the center of the store. Perishables such as produce, deli products, and prepared foods are stocked on the periphery accessible to shoppers. Consumers can pick out their orders for perishables themselves, and have the non-perishable items retrieved automatically from the storage system.
Micro-fulfillment can be prohibitively expensive for some smaller players. But, as an increasing number of customers demand deliveries within one hour of placing an order, more retailers are likely to turn to micro-fulfillment to avoid being left behind.
As micro-fulfillment technology grows more efficient and cost-effective, it is likely to be adopted by other fast-growing e-commerce sectors, such as fashion, consumer goods, and health care. The agility and resilience offered by smaller MFCs for grocery stores during the ongoing coronavirus pandemic will likely provide encouragement for other retail sectors to adopt this technology.
If you aren't already a client, sign up for a free trial to learn more about our platform.