Market Map
Tech CEOs like Mark Zuckerberg are obsessed with building the metaverse. Here are 90+ companies working to bring the concept to life.
The metaverse is the tech world's latest obsession — despite originating from a dystopic sci-fi novel. 
The metaverse refers to the idea of a shared, persistent virtual space, akin to a digital mirror of the real world — but without any of the constraints. Facebook CEO Mark Zuckerberg, who recently articulated his vision to transform Facebook into a metaverse company, describes it as "an embodied internet, where instead of just viewing content — you are in it."
Empathy in ai. hospital-at-home. quantum supremacy
Download our full report to find out the top trends poised to reshape industries in 2021.
The idea isn't new. People have indulged in the idea of existing in a virtual world for ages, while bucket loads of money have been spent (and lost) in virtual economies like Second Life and EVE Online. 
Today, brands and retailers are trying to foster new forms of customer engagement in the metaverse to sell more products, fintechs are jumping on the opportunity to capitalize on new financial needs, while a slew of startups are creating new virtual products entirely, from avatars to cryptocollectibles.
Using CB Insights data, we break down 90+ startups building the foundational blocks to the metaverse.
This market map includes private, active companies only and is not meant to be exhaustive of companies in the space. Categories are not mutually exclusive.
Please click to enlarge.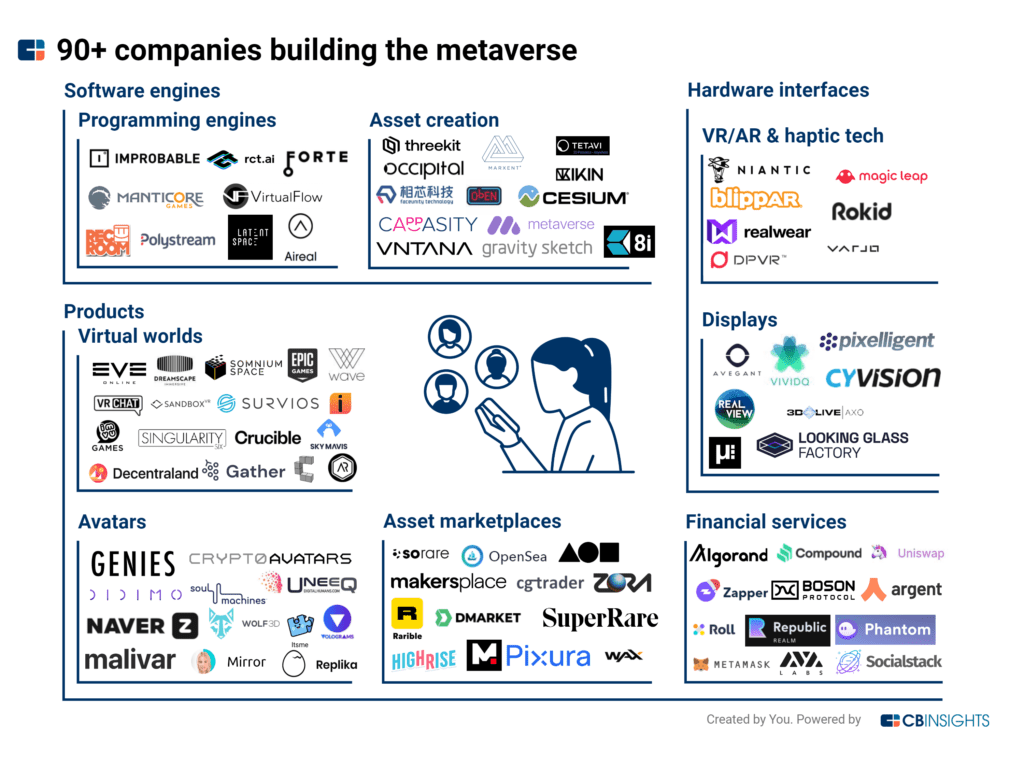 Tech CEOs like Zuckerberg and Satya Nadella lionize the potential of enterprise uses and the "infinite office," though critics say the metaverse could go down the path of "artificial intelligence" and "blockchain" — becoming a catch-all term startups slap on fancy SaaS platforms to woo venture dollars. 
Whatever form the metaverse eventually takes, its emergence will require the evolution of technology across infrastructure, consumer-facing hardware, platforms, and more.
CATEGORY BREAKDOWN
Software engines 
Programming engines: These companies build developer-focused gaming engines, which allow users to create games or 3D worlds, among other virtual products. AI-driven 3D engines make it possible to generate gaming content (interactions with in-game characters, objects, or environments, among others) in real time to allow an infinite number of scenarios and make games more interactive.
Among companies here, Latent Space develops an AI-rendered 3D engine, while rct AI offers a cloud service and algorithmic platform that helps developers generate more dynamic, interactive, and personalized gaming content. Another major player in this space is Unity, a public company that develops one of the most popular cross-platform game engines. 
Asset creation: These companies provide tools to produce virtual content and assets, ranging from synthetic media to holograms to AR content. Gravity Sketch, for example, offers tools to draw in 3D using AR. This category also includes companies like Marxent that help brands and retailers visualize product catalogs in 3D.
Notably, Apple acquired NextVR, a forerunner in this category, in April 2020 for $100M.
Hardware interfaces 
VR/AR & haptic tech: These companies build consumer-focused hardware to make virtual worlds more immersive and lifelike, such as VR/AR headsets and haptic sensors or devices. This category includes Magic Leap, which focuses on enterprise applications of mixed reality, as well as Niantic, developer of Pokémon Go.
TikTok parent company ByteDance recently made moves in this space with its $1.5B acquisition of Pico Interactive.
Displays: These companies make interfaces that allow users to consume 3D content, such as next-gen TVs, phones, and hologram displays. Avegant, for example, develops light field displays that make virtual objects look more realistic, while 3D Live designs LED display systems for more realistic holograms to be used at live events, concerts, amusement parks, and more.
Products
Virtual worlds: These companies build virtual platforms for users to interact in, whether through games (e.g., Survios and Fortnite developer Epic Games), social worlds (e.g., VRChat), or workplaces (e.g., Immersed). This category also includes companies that make tools for creating 3D or virtual experiences, such as VR experiences company Sandbox VR or online concert platform Wave.
Avatars: These companies make avatar tech for users to represent themselves. Genies, for example, lets users create personalized avatars. The company plans to allow users to "carry" this avatar across various platforms via extensive partnerships it will announce later this year.  
Asset marketplaces: Asset marketplaces provide exchanges for users to buy and sell digital goods. Many of these marketplaces are focused on non-fungible tokens (NFTs). For example, Sorare allows users to buy, sell, and trade soccer cryptocollectibles, while OpenSea is an NFT marketplace where users can trade virtual goods across categories like trading cards, CryptoKitties, and art pieces.
Financial services: These companies offer financial services that are tailored to virtual currencies. The bulk of these companies focus on decentralized finance (DeFi) applications and leverage blockchain technology. Algorand, for example, is a blockchain protocol that allows developers to build DeFi applications atop its blockchain. These kinds of digital financial ecosystems could underpin activities and transactions in the metaverse.
---
This report was created with data from CB Insights' emerging technology insights platform, which offers clarity into emerging tech and new business strategies through tools like:
If you aren't already a client, sign up for a free trial to learn more about our platform.