M&A activity held steady while IPOs continued to decline in Q1'20. We take a closer look here.
An infusion of private capital into the US startup ecosystem has shifted startups' paths to exit.  
The so-called "private IPO," in which private tech companies raise $100M+ equity financings, has increasingly replaced the traditional public IPO. As private IPOs comprise a growing share of total funding, more startups are putting off the prospect of going public.
In Q1'20, IPO activity for US-based startups remained level on a year-over-year (YoY) basis, though it saw a 25% decline from Q4'19. With 15 IPO transactions, Q1'20 marked the third consecutive quarter of declines since the peak in Q2'19.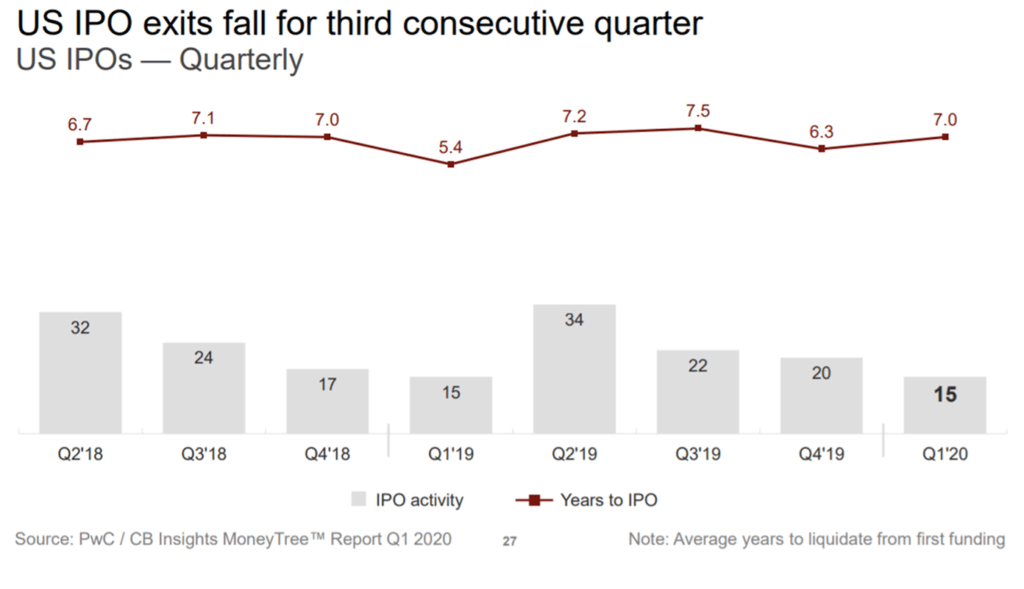 IPO activity spiked in Q2'19 as several high profile private companies, including Uber, Pinterest, Slack, Zoom, and CrowdStrike, sought to capitalize on a soaring public equity market.
The subsequent outbreak of Covid-19 caused equity markets to plummet, diminishing fundraising prospects and eliminating IPO plans for several startups in Q1'20. 
The largest IPOs in Q1'20 were in the healthcare sector, covering primary care, drug R&D, and biotechnology. 
San Francisco-based One Medical Group raised $262.5M in its IPO at a $1.8B valuation. The company operates a membership-based primary care practice that offers same-day in-office or remote appointments and 24/7 video conferencing with care providers. 
Revolution Medicines raised $238M in its February 2020 IPO. The California-based precision oncology company develops new cancer therapeutics.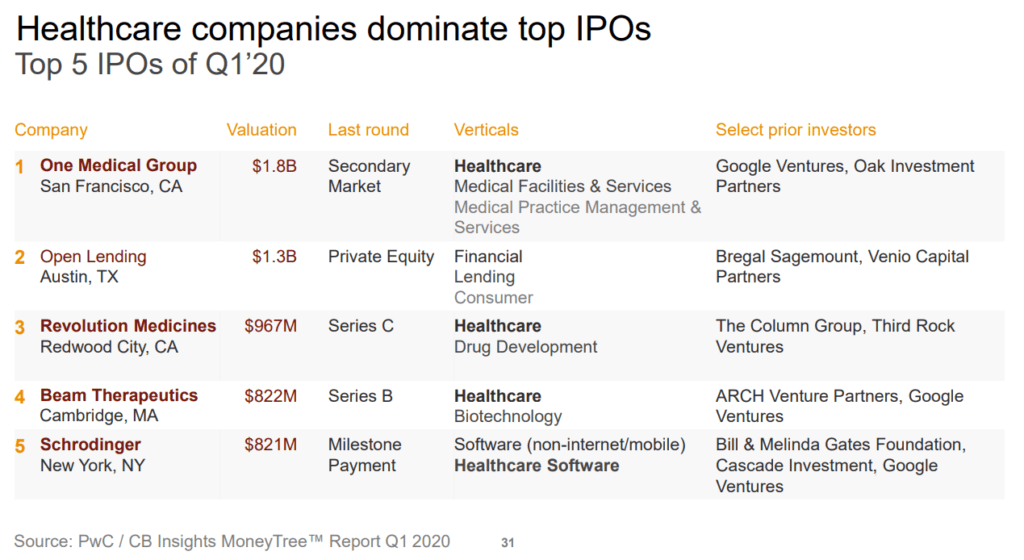 Meanwhile, M&A activity for VC-backed companies in the US has declined since its peak in Q4'18. This corresponds with fewer acquisitions by big tech firms such as Facebook, Apple, Amazon, Microsoft, Google, GE, Intel, Oracle, Cisco, and IBM. 
The Covid-19 outbreak had little impact on US M&A activity in Q1'20: M&A transactions dropped 7% YoY, but remained nearly stagnant compared to Q4'19.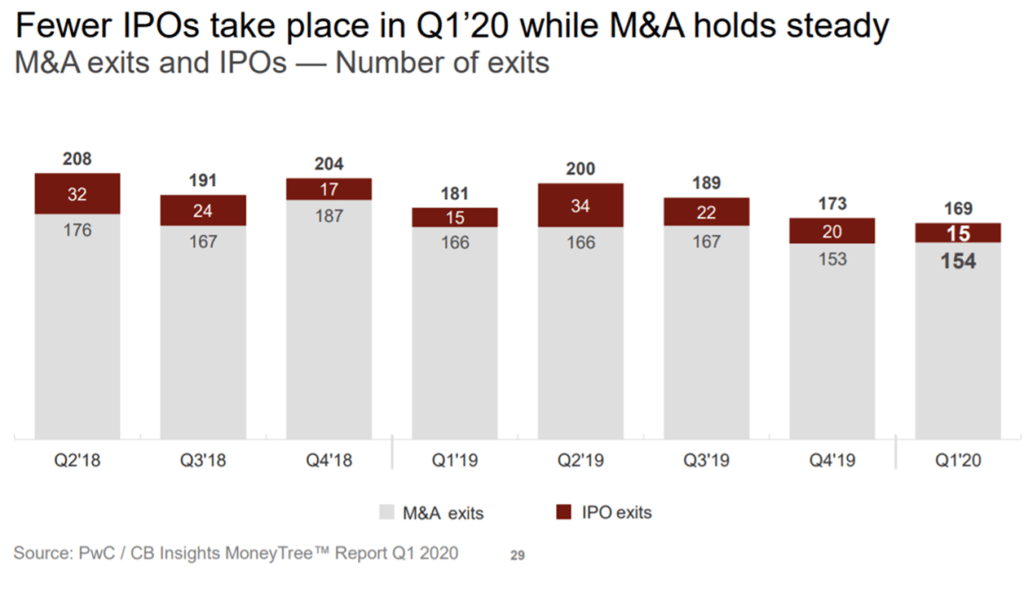 Notable acquisitions from Q1'20 include Salesforce's purchases of Evergage and Vlocity in February.
Evergage works with brands to increase conversions and customer engagement by providing personalized messaging and recommendations on the brand's ecommerce site. Vlocity, which operates natively on Salesforce, develops built-in process visualization and customer data management tools for a variety of industries, including media, energy, and insurance. 
Enterprise workflow automation software provider ServiceNow and workplace wellness company Virgin Pulse also acquired 2 VC-backed companies in Q1'20. 
Take a look at all the underlying data and more insights in our PwC / CB Insights MoneyTree Report™ Q1 2020.
If you aren't already a client, sign up for a free trial to learn more about our platform.