Investor dollars into mental health tech solutions have reached new heights. Below, we discuss the sector's market drivers, emerging themes, and key implications.
In 2020, equity funding to mental health tech companies reached nearly $2B, as investors chased growing consumer interest in mental health during Covid-19 lockdowns. 
In fact, about 4 in 10 US adults reported symptoms of anxiety and/or depression during the pandemic, up steeply from the prior year, according to KFF.
But investor interest in mental health tech isn't an entirely new phenomenon. It has steadily increased over the years, with 2020 marking a notable step up in funding. The space's funding boom helped drive the digital health sector to an all-time high of $26.5B raised in 2020.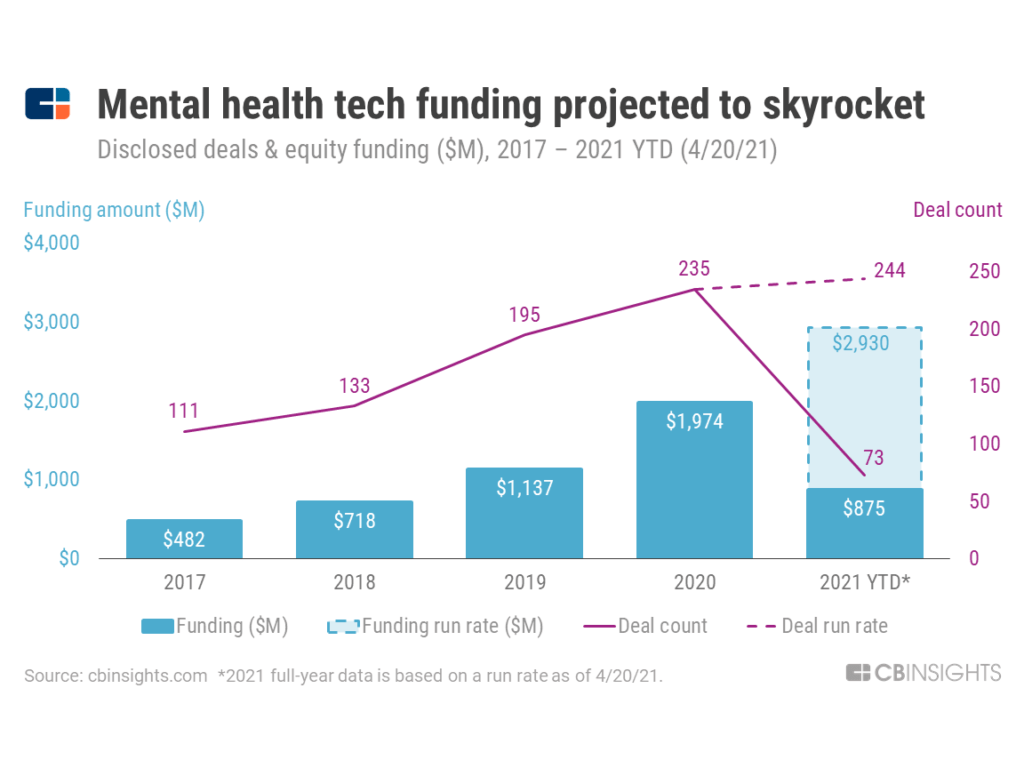 Already in Q1'21, mega-rounds raised by companies in the mental health benefits space — such as by Lyra Health, BetterUp, and Ginger — helped set a new quarterly funding record of $852M. 
At the current rate, mental tech funding is forecast to reach nearly $3B by year end.
In this brief, we'll look at:
The topline

findings & implications

for this growth 

The

market drivers

underlying this boom 

And the

categories

receiving the most attention
For more, click here to learn how to get access to CB Insights.
MENTAL HEALTH & WELLNESS
Startups are developing innovative tools for the diagnosis, treatment, and maintenance of mental health. Look for Mental Health & Wellness in the Collections tab.
Track The Mental Health & Wellness Space
Findings & implications
The Covid-19 pandemic heightened feelings of burnout in the workforce as well as stress and isolation generally, leading to more interest in digital tools to help individuals cope. Expect mental health & wellness benefits to become more comprehensive, as many companies look to expand the breadth of tools and/or resources they offer to employees to boost workplace productivity and engagement.
Mental health is becoming a bigger area of interest as its relationship to physicals health provides a more holistic depictions of and individual's well-being. Anticipate more mental health & wellness solutions to become integrated with chronic care management, spurred by the rising role of telehealth, digital therapeutics, and data analytics platforms in the space.
Virtual therapy & psychiatric care platforms are tackling traditional barriers to mental health care, improving access to care and providing greater convenience for the wider population. Watch for the rise of more tailored mental healthcare solutions to emerge across different communities and demographics (e.g. college students, teenagers, LGBTQ individuals, and seniors).
Market drivers
Tech-enabled solutions in mental health & wellness have seen steady investor interest in recent years, buoyed by a growing focus on consumer-centric and preventative health. 
In 2020, mental health tech received new levels of interest amid consumers' rising stress levels and increased isolation as a result of the pandemic.
In short, key drivers of the mental health tech funding boom include:
The Covid-19 pandemic, which highlighted unmet needs in this market across different demographics and communities. The pandemic also encouraged the adoption of digital tools for accessing healthcare services. 
Consumer-centric solutions — including teletherapy, virtual coaching, and meditation apps — are tackling the traditional barriers of access, convenience, and personalization to mental health & wellness experiences. 
Wellness offerings are becoming more integral to a holistic healthcare approach, especially as focus turns to preventative health practices. Employers in particular are taking note of employees' desire for wellness services.