Series A and B deals are increasing in the mental health tech industry, as startups from meditation apps to counseling programs seek funding.
Venture capital investment into mental health and wellness tech startups is on the rise, with 2017 on track to reach a record number of deals. While still a relatively small and immature sector within digital health, the space is beginning to see large deals to companies such as Quartet Health, Lyra Health, and AbleTo, among others.
Many mental health tech startups raising funds today are working to increase access to mental healthcare. Strategies include telemedicine platforms that enable remote access to care, interactive apps that track fluctuations in emotional states, and even daily motivational text messaging services.
Using CB Insights data, we examined VC-backed deals into mental health and wellness startups since 2012. We define the mental health and wellness category to include companies applying technology to problems related to emotional, psychological, and social well-being. Examples include companies focusing on treatments options for areas such as substance abuse, eating disorders, stress, depression, PTSD, and anxiety. Companies developing pharmaceutical therapies were not included.
TIMELINE: VC-BACKED DEALS TO MENTAL HEALTH & WELLNESS STARTUPS
Below is our timeline of VC-backed deals to mental health-focused startups since 2012. Please click to enlarge.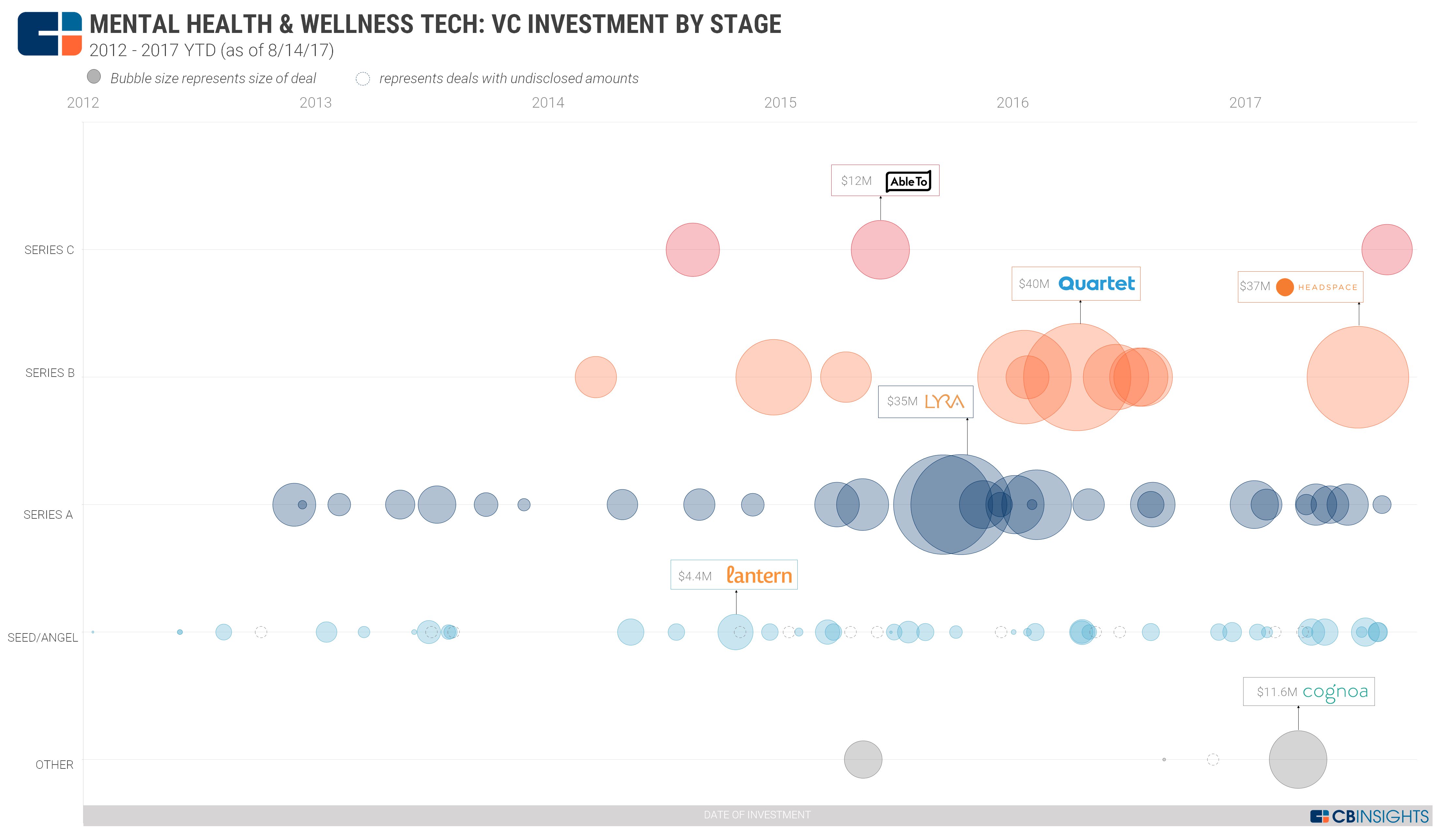 Since 2012, the majority of VC-backed deals to mental health tech startups have been early-stage (seed / angel and Series A) rounds. However, as the mental health & wellness sector matures, VCs are beginning to back larger Series A and B rounds with increased frequency.
The $40M Series B to Quartet Health in Q2'16 is the largest VC-backed mental health tech deal since 2012, and saw participation from Google Ventures, OAK HC/FT Partners, Polaris Partners, and F-Prime Capital. In second place is Headspace's $37M Series B from Spectrum Equity Investors in Q2'17, while Lyra Health's $35M Series A in Q4'15 ranks third, with backing from Castlight Health, Breyer Capital, Greylock Partners, Providence Ventures, and Venrock.
TRACK ALL THE MENTAL HEALTH & WELLNESS STARTUPS IN THIS BRIEF AND MORE ON OUR PLATFORM
Startups are developing innovative tools for the diagnosis, treatment, and maintenance of mental health. Look for Mental Health & Wellness in the Collections tab.
Track Mental Health & Wellness startups
Trends by stage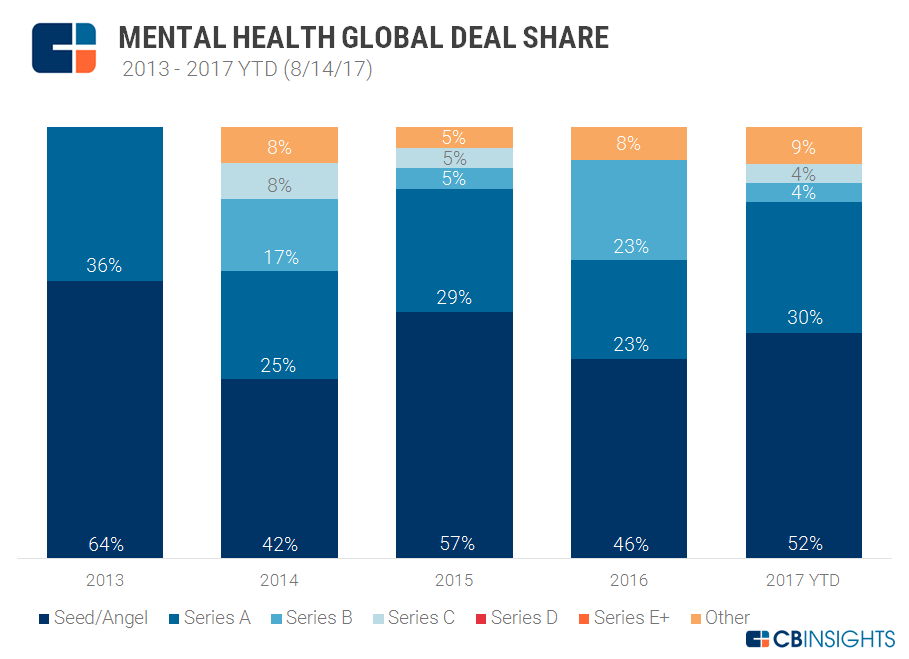 Seed / angel rounds have seen the bulk of participation from VCs, as mental health tech is still a maturing sector. These rounds historically account for more than 40% of dealflow each year and in 2017 YTD represent 52% of all deals. A few recent $2.5M+ deals include those to online addiction recovery platform Workit Health, meditation app Simple Habit, and daily motivational text messaging service Shine.
Series A rounds, which were initially off to a slow start in early 2015, picked up in H2'17 and are currently seeing a steady pace of VC activity. Series A rounds have so far taken 30% of this year's mental health tech deals.
The largest VC-backed Series A investments in 2017 YTD have been a $35M round to behavioral health telemedicine platform Lyra Health, a $34M round of meditation app Headspace, and a $17M round to emotional wellness app Lantern.
Series B rounds, nearly nonexistent prior to 2014, saw an upswing in activity last year, taking 23% of deals. The burst of Series B activity in 2016 led by a $30.5M Series B of Akili Interactive Labs, while the largest deal in 2017 year-to-date was the $37M round to Headspace.
Series C rounds are in short supply, despite growth in the pace of Series A and B rounds, taking no more than 8% of all deals in any year since 2013. This is largely due to the nascence of the sector, but is likely to change as companies gain traction and begin to return for later stage financing.
The largest mental health tech Series C round was a $12M round to AbleTo in Q2'15, backed by BlueCross BlueShield Venture Partners, HLM Venture Partners, and Sandbox Industries, and .406 Ventures.
If you aren't already a client, sign up for a free trial to learn more about our platform.