At the current rate, mental health startups will raise about $159M in 2017.
Over the last few years, the mental health sector has been undergoing a quiet transformation. While treatment of mental health conditions was once primarily limited to drug prescriptions and in-person therapy sessions, technology has been gradually shifting power into the hands of the patient. This has resulted in funding to mental health tech startups rising every year since 2013 and nearly hitting $200M in 2016.
Startups are now developing apps, chatbots, and care platforms that enable users to track their own mental health and make proactive decisions regarding their care. And telemedicine platforms are now allowing patients who may not like going outside to meet with therapists to do so from the comfort of their own home.
Using CB Insights data, we analyzed financing trends to the mental health sector. We define mental health as any company applying technology to problems of emotional, psychological, and social well-being. Examples include startups targeting depression, anxiety, dementia, PTSD, substance abuse, autism, and Schizophrenia.
ANNUAL DEALS AND DOLLARS
Global equity funding to mental health startups has reached $92M in 2017 YTD (7/31/17) over 39 deals. At the current run rate, 2017 is on track to reach over $159M in funding across over 67 deals, which would mark the first down-year for the sector.
The largest deals of the year so far include Headspace's $36.7M Series B from Spectrum Equity Investors, SilverCloud Health's $8.1M Series A round from AIB Seed Capital Fund, B Capital Group, ACT Venture Capital, and Investec Ventures, and Regroup Therapy's $6M Series A from Impact Engine, Further Fund, OCA Ventures, OSF Ventures, HLM Venture Partners, and Hyde Park Angels, among others.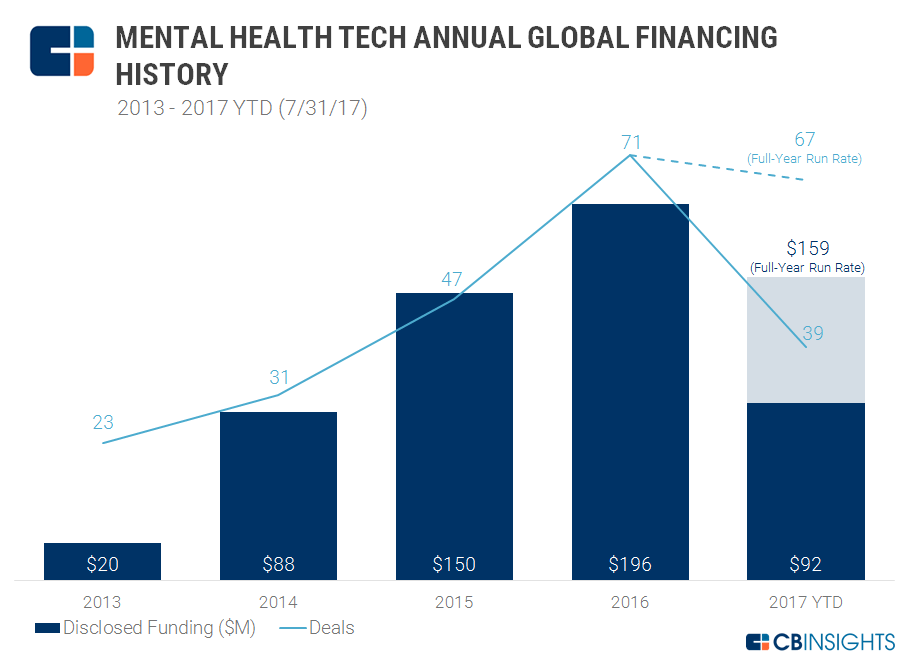 QUARTERLY DEALS AND DOLLARS
In general, deals and equity funding to digital health startups trended up through Q1'16. Funding activity in the sector slowed for the remainder of 2016 but rebounded this year on the heels of Headspace's $36.7M Series B in Q2'17.
Funding saw a 225% increase from $20B in Q1'17 to $65B in Q2'17. Deal flow, which has been wavering recently, dropped 30% in Q2'17 following a surge from Q4'16 to Q1'17. A few recent deals that occurred in Q2'17 include the $5M Series A of Sync Project, the $2.5M seed round of Simple Habit, and the $2.5M seed round of Shine.
Sync Project, backed in part by Greylock Partners and PureTech, is using AI to create personalized music therapy programs that respond to an individual's physiology and have applications in stress and anxiety. Simple Habit, backed in part by Y Combinator, NEA, and Dropbox CEO Drew Houston, is a mobile app offering 5-minute meditation sessions tailored to specific situations and moods. And Shine, backed in part by Comcast Ventures, Eniac Ventures, and Betaworks, sends daily text messages to users to promote confidence and mental health.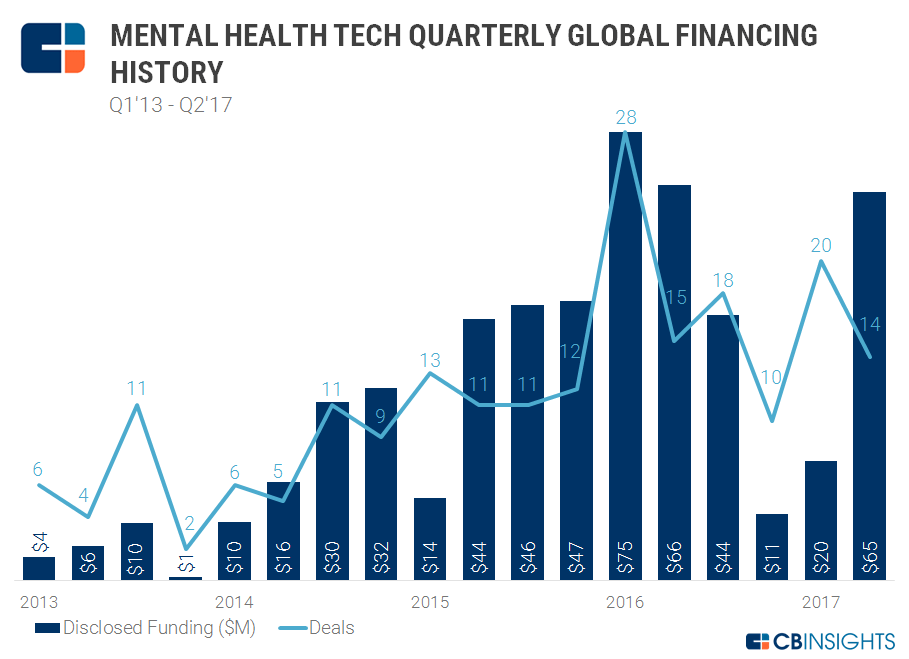 DEAL SHARE BY STAGE
Deals to early-stage (seed & Series A) mental health tech startups have dominated the funding landscape, with 77% of all deals in 2017 YTD to early-stage companies. Over the past 4 years, early-stage deal share never dipped below 55% and in 2013 hit a high of 87%.
In addition to SilverCloud Health's $8.1M Series A, which is the largest early-stage deal in 2017 YTD, notable early-stage deals this year include the $2.8M seed round of Workit Health and the $1.5M Series A of Spring Health. Workit Health is a digital opioid addiction recovery program and Spring Health is developing a 10-minute digital questionnaire that predicts whether a depressed patient will go into remission after using a selected antidepressant.
Mid-stage deals (Series B & C) have hovered between 5%-13% since 2014 and in 2017 YTD mid-stage deals have taken 5% of global deal share. Examples include the Series B rounds of Headspace and NeuroTrack in Q2'17. Since mental health tech is a relatively nascent sector, later-stage rounds (Series D & E+) have been nearly non-existent over the past few years.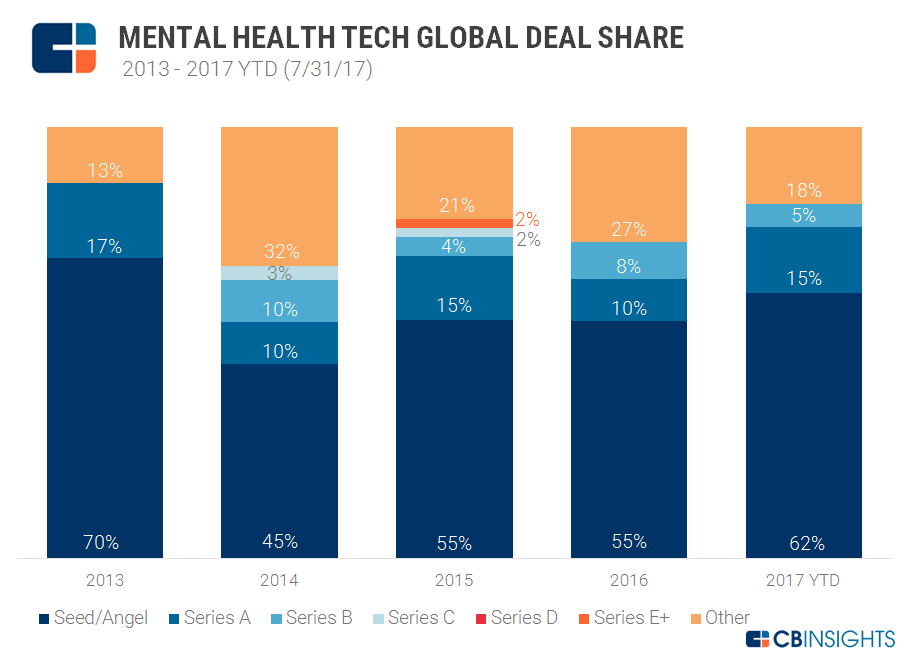 If you aren't already a client, sign up for a free trial to learn more about our platform.