Bike- and scooter-sharing startups this year have raised record levels of funding as investors race to get in on the space. We dive into funding trends over the past few years to assess how the space has evolved and what we should expect in the months to come.
Bikes and scooters have increasingly become a viable source of mobility in a number of major metropolitan areas, promising less congestion and pollution.
The frenzy over "micromobility" has picked up notably within just the past few months. We used CB Insights' Trends tool to track the meteoric rise of terms related to bike and scooter sharing.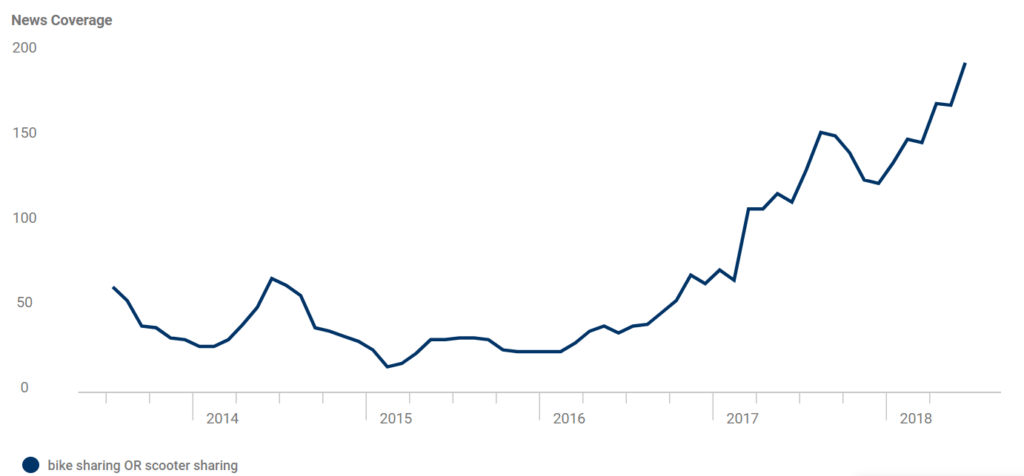 Investors are flooding the micromobility space with dollars.
As a result, a number of unicorns have emerged, while other investors place their bets on smaller competitors that are seeking to grow quickly and expand their operations.
Assessing the ecosystem: funding trends over time
Funding to bike- and scooter-sharing startups, including Bird Rides, Lime, and Spin, has picked up substantially over the past two years — year-to-date funding already surpassed last year's peak of $2.8B.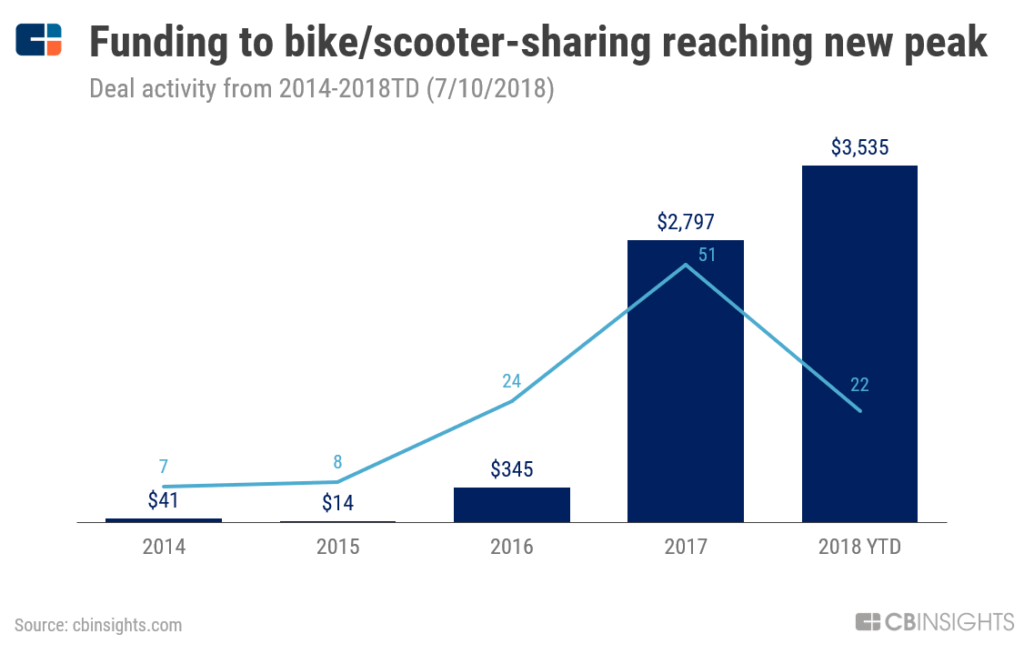 Much of this acceleration has been driven by several mega-deals for established industry leaders, most notably China's largest bike-sharing operators Ofo, Mobike, and Hellobike.
As a result, average deal size in the space has rocketed upwards.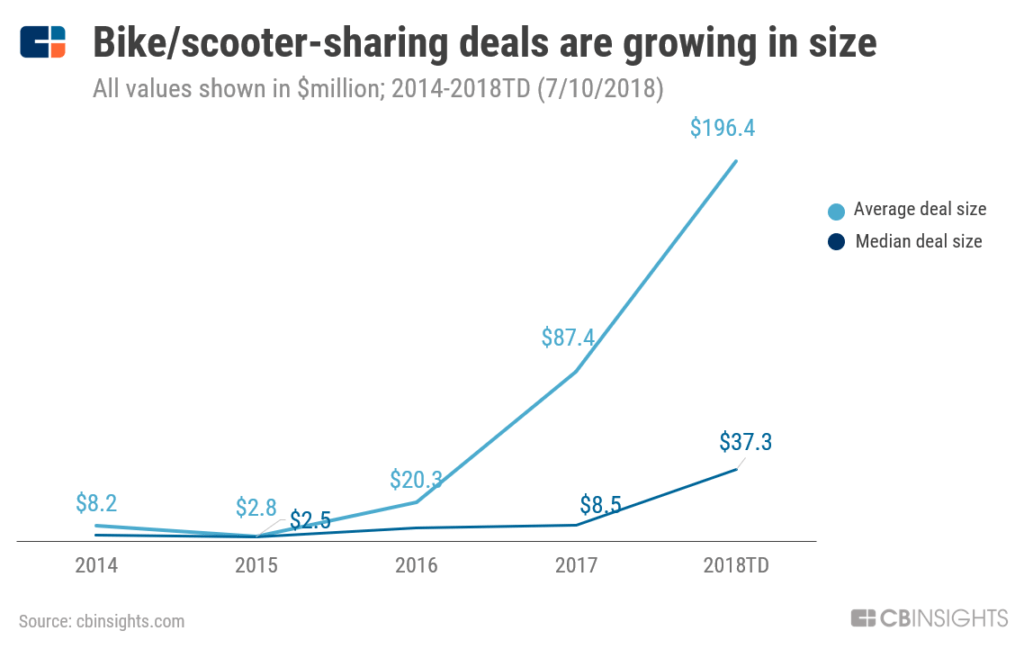 As deal sizes grow, so have the number of later-stage deals.
Seed funding as a percent of total deal share plummeted to 13% in 2018 YTD from 45% in 2017, replaced by a rising number of Series E+ rounds.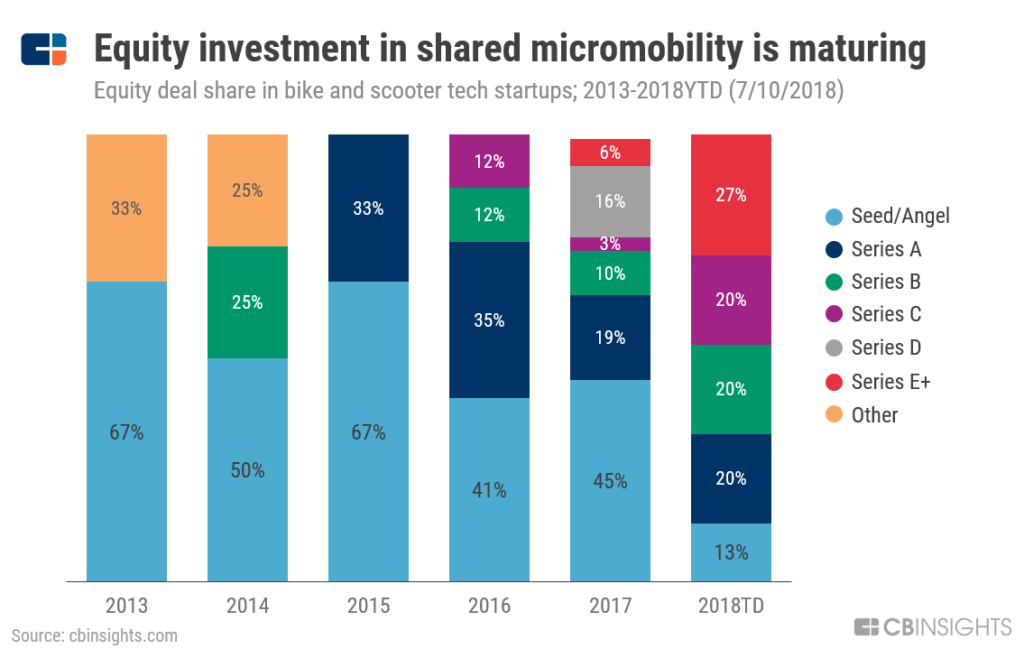 Notably, China's largest bike-sharing firms each raised at least one Series E+ round this year:
Ofo raised $586M in a Series E follow-on round in March
Mobike, since acquired by Meituan-Dianping, raised a $1B Series F round in January
Hellobike raised both a Series E ($700M, April 2018) and a Series F ($295M, June 2018)
China dominates the space, though US gains ground
China has historically captured the lion's share of bike- and scooter-sharing financing.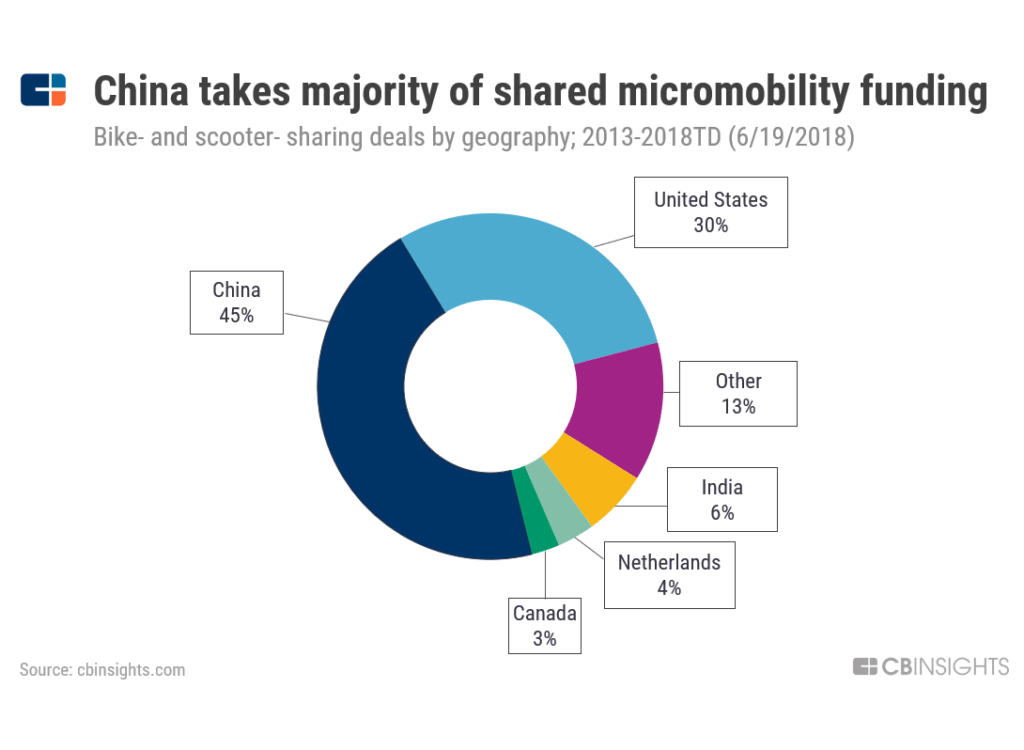 The micromobility momentum originated with dockless bikes in China: the rise of mobile payments, IoT, and mature GPS technology enabled bike-sharing operators to keep track of bikes without having them docked at a fixed station.
The dockless system gained traction quickly, with significantly lower capital costs (i.e. less hardware for securing and managing inventory) and more convenience for consumers, who can pick up and drop off bikes as they please.
As a result, dockless bike-sharing exploded, driving the rise of the major dockless bike operators mentioned above (Ofo, Mobike, and Hellobike).
The frenzy has since spread to the US in the form of dockless electric kick scooters, which has shifted the composition of global deal share within the past two years.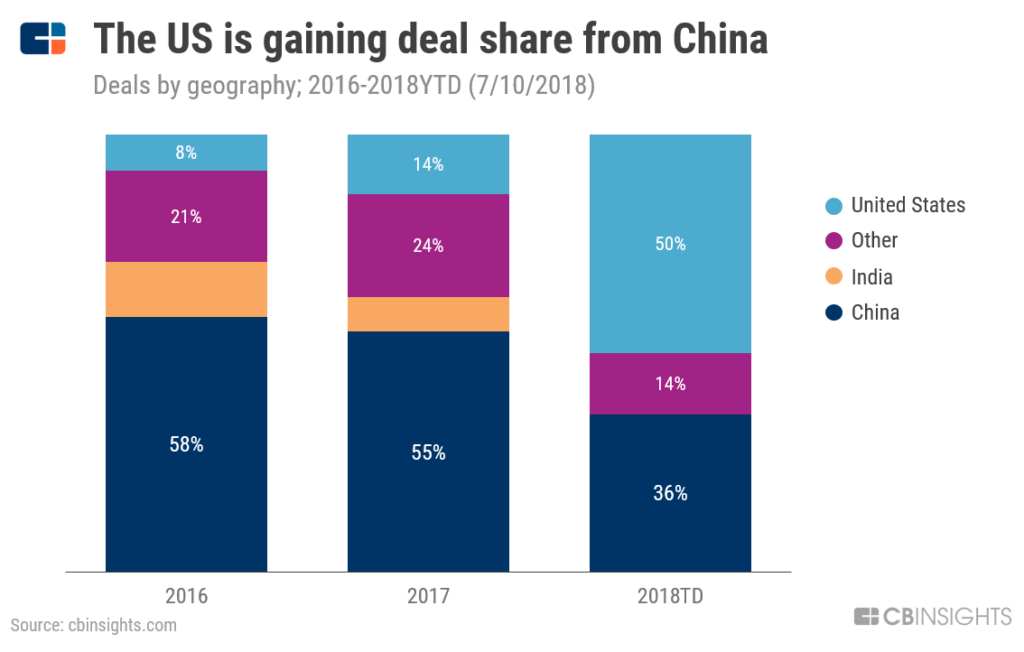 Scooter-sharing platform Bird Rides has completed three rounds of funding within the past six months, raising $15M in February, $100M in March, and $300M in May. The company is reportedly in the process of raising another $150M.
Bird's largest competitor, Lime, also just raised $335M in Series C funding after raising a $70M Series B in February. Notably, Uber invested in the round and simultaneously announced a partnership with the startup to promote Lime scooters on its mobile app.
Exit activity on the rise
Ride-hailing giants see the value in more efficiently addressing the first and last mile of transportation, and are quickly picking up major players in the micromobility space.
This year, Uber acquired Jump Bikes in April and Lyft acquired Motivate, the largest bike-sharing operator in the US, in July. Both Uber and Lyft are also developing their own electric scooters as they reportedly plan to launch their own sharing platforms.
If you aren't already a client, sign up for a free trial to learn more about our platform.