The Medicare Advantage industry is poised for major growth, and healthcare companies are jumping into the opportunity. We dive into the industry's incumbents, startups, and the challenges faced by newcomers to the space.
In Medicare Advantage, everyone seemingly wins.
Seniors get extra benefits and an insurer motivated to keep them healthy. Insurers who successfully manage the costs of their members earn higher margins in the form of captured savings. And, ideally, the government saves money compared to traditional Medicare, while pushing off risk to the private sector. 
The benefits are becoming much more compelling for both patients and insurers.
Medicare Advantage currently accounts for 34% of the Medicare population and is expected to reach 60-70% between 2030 and 2040, according to consulting firm LEK.

The number of plans offered has increased 34% since 2017, and the average recipient can choose from 24 plans in 2019, five more than two years prior.

Medicare Advantage market penetration has increased in 46 of 53 US territories since 2014.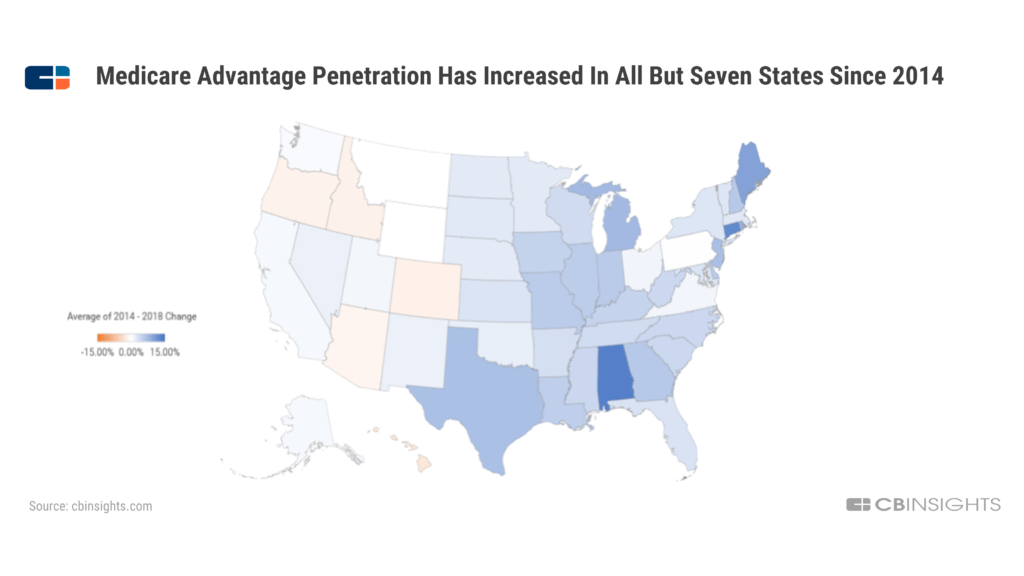 Market dynamics and demographic trends have led to a "grey" rush of companies competing to sign up seniors. Three Medicare Advantage companies — Clover Health, Bright Health, and Devoted Health — have combined to raise over $1.2B since late 2015. Fourteen companies are offering Medicare Advantage for the first time in 2019, twice as many as in 2018.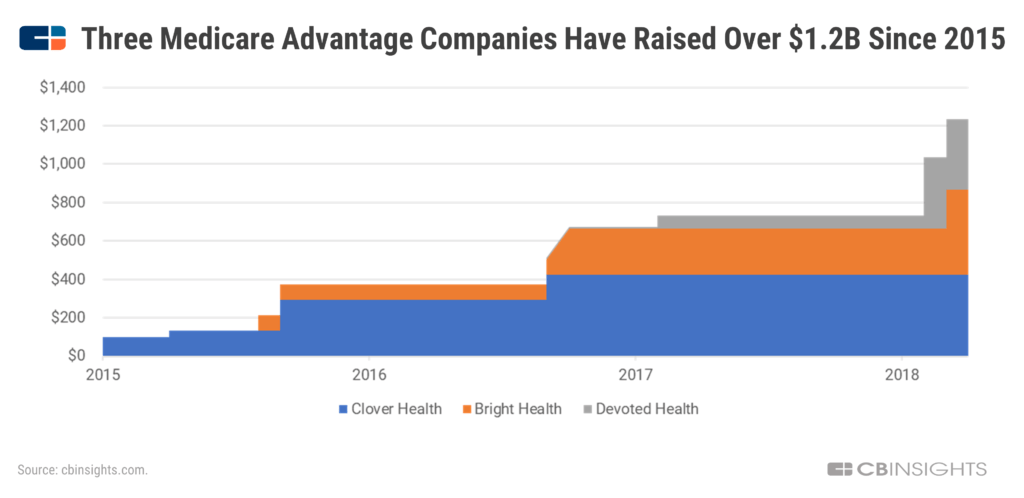 Meanwhile, existing players continue to offer new plan options and expand to new territories. UnitedHealth, for example, has accounted for over half of Medicare Advantage growth in the last three years.
Below we dive into the Medicare Advantage market's big players, the startups looking to disrupt them, and some of the challenges ahead. For more on how Medicare Advantage works and why it's growing, see A Simple Guide to Medicare Advantage and Why It's Taking Off Now.