Using CB Insights' Business Relationships data, we map out the partnerships that are defining the Medicare Advantage space.
The Medicare Advantage (MA) market is growing, as a larger portion of Medicare beneficiaries enroll in the private, all-in-one alternative.
The MA market remains dominated by incumbent insurers. The top 6 stakeholders — including Humana, Aetna, and UnitedHealthcare — account for approximately 80% of enrolled MA members, according to the CMS September 2020 MA enrollment report.
To keep costs low and maintain quality of care, these insurers work with a broad set of partners — including digital health startups, industry incumbents, non-profits, and tech companies — to coordinate care, manage chronically ill patients, enhance benefits, and expand networks. 
However, competing startup players like Bright Health and Devoted Health are gaining traction by leveraging technology to offer plans that are more streamlined, navigable, and cost-transparent.
Using CB Insights' Business Relationships data, we look at where the largest for-profit insurers and leading startup players are forming partnerships to stay competitive in the Medicare Advantage space.
Please click to enlarge.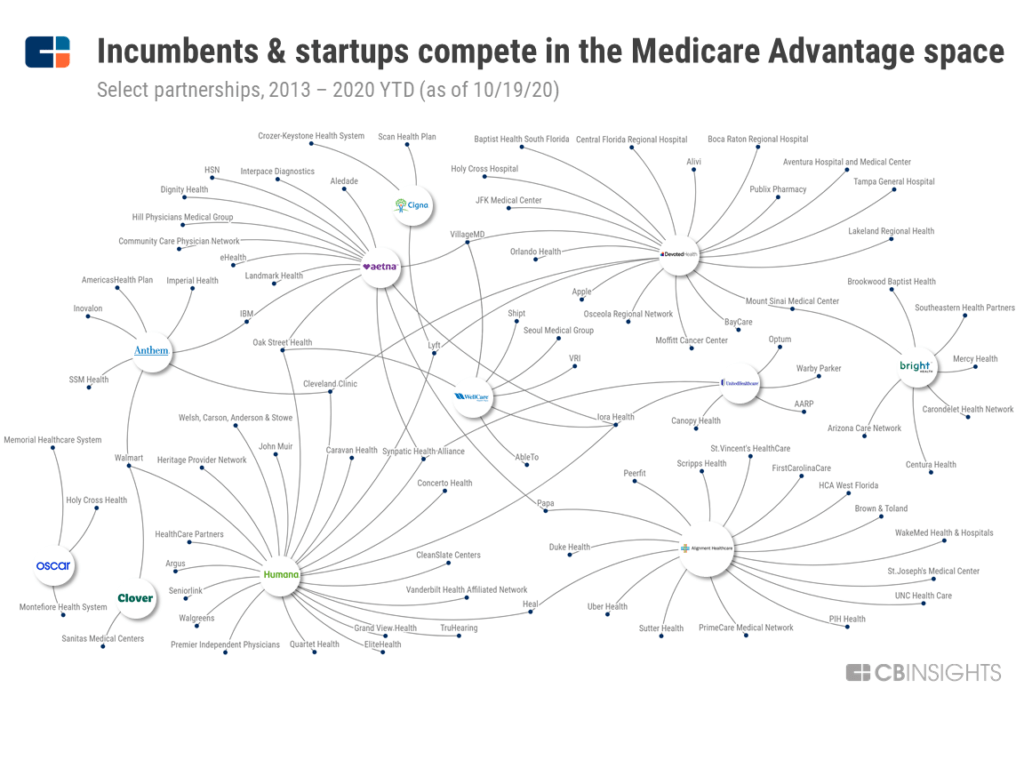 PARTNERSHIP TRENDS
Most common partners
Cleveland Clinic, Lyft, VillageMD, and Walmart have each partnered with 3 insurers.
The Cleveland Clinic has launched Medicare Advantage plans with Anthem, Devoted Health, and Humana. Members of these plans have access to in-network providers and medical services through the Cleveland Clinic. 
Ride-hailing company Lyft has also worked with Cigna, Devoted Health, and Humana to provide members with transportation services to medical appointments, pharmacies, and fitness centers.