The private form of Medicare is growing rapidly. We look at the trends shaping the industry and why Medicare Advantage is poised for fast growth.
What do Medicare Advantage and Santa have in common? They both peak in popularity in the fourth quarter of each year.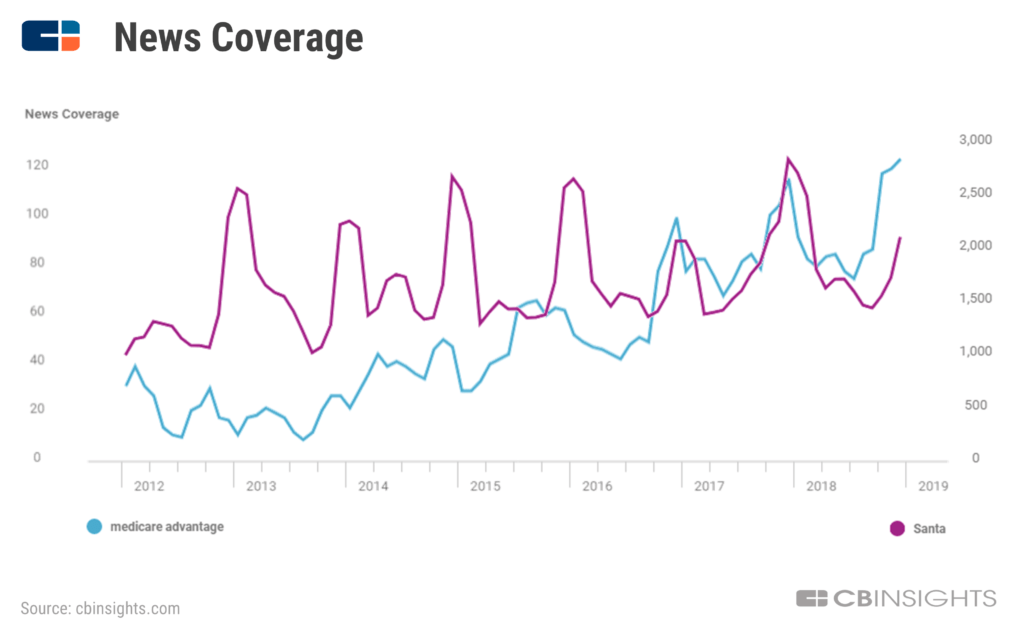 News mentions of Medicare Advantage tend to spike during the open enrollment period in the fourth quarter of each year.
2018 is no exception, as Q4 mentions have increased for the fifth straight year. With over 1,100 news mentions, 2018 totals were more than five times 2013 totals.
Why is medicare advantage important now?
Medicare Advantage has existed in its current form since 1997. It is one of the few instances in healthcare where the incentives of the patients, insurers, and the government are aligned to deliver high quality care at lower cost. The plans, previously called Medicare Part C, received their modern name as part of the Medicare Modernization Act of 2003. Medicare Advantage accounted for 35% of Medicare members at the end of 2017.
The program is expected to grow to around 45-55% of Medicare enrollees by 2025, according to healthcare consulting firm LEK.
As a result, Medicare Advantage presents a major business opportunity for insurers and other partner healthcare players, such as home care agencies and physician groups, to serve the older population.
The government currently pays insurers between about $10,000 and $14,000 a year for each Medicare Advantage member. That differs from traditional Medicare, in which the government pay providers directly.
The Centers for Medicare and Medicaid Services (CMS) project Medicare enrollment to grow from 59.3M in 2018 to 72M in 2025. This works out to a $360B to $468B market in 2025, before accounting for growth in payments (rates have increased more than 3% in each of the last two years).
Medicare Advantage has made an even bigger splash than usual this year.
Leaders UnitedHealth and Humana continue to grow their participation. United has accounted for half of market growth in the last three years. Meanwhile, well-funded newcomers like Devoted Health and Bright Health are vying to get a piece of the high-margin market. Devoted, for example, has managed to reach a $1.8B valuation before enrolling a single member into its plans. Fourteen companies are offering Medicare Advantage plans for the first time in 2019 compared to seven in 2018.
How medicare advantage works
Medicare Advantage has grown in popularity at a time when Medicare is under financial threat and insurers, healthcare providers, and government bodies are looking for alternatives that can lower costs and improve care.
Medicare pays for the healthcare of most seniors and others including kidney dialysis patients.
It's also running out of money. Expenditures, which already outpace income, are expected to double in the next decade. The Medicare trust fund could be drained by 2026, according to the Congressional Budget Office. Medicare Advantage has grown in popularity because it's been shown to keep costs lower for patients while providing members with additional benefits.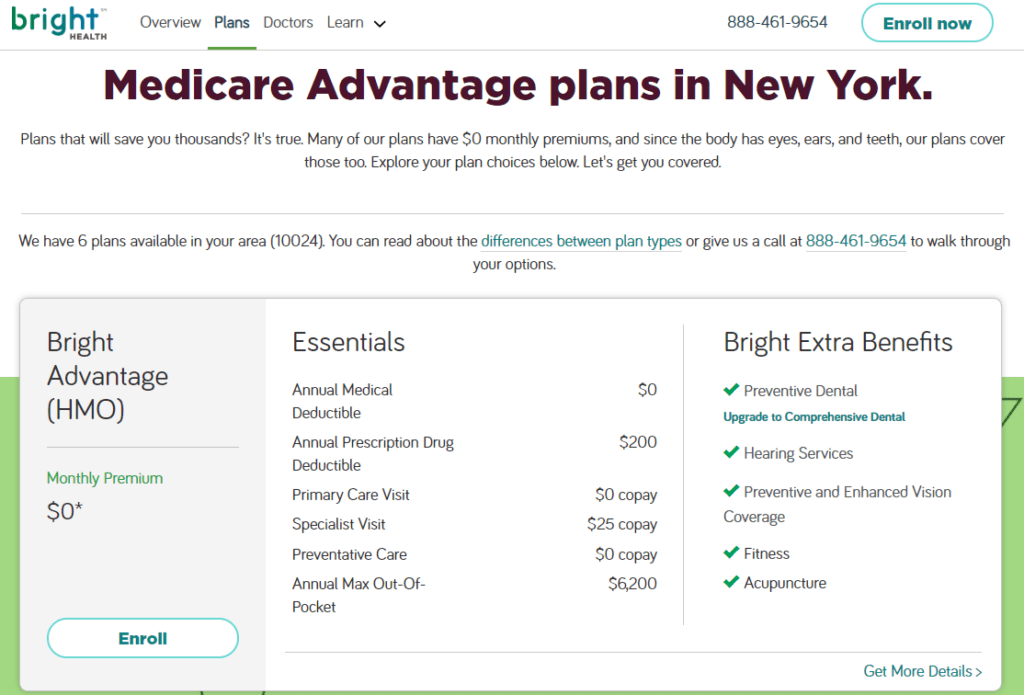 Medicare Advantage works as an alternative to traditional "fee-for-service" (FFS) Medicare. In FFS Medicare, the government pays providers a fee for each procedure or service. In Medicare Advantage, the government pays insurers one monthly sum per member to manage all health expenses. This is a payment model called "capitation."
Importantly, Medicare Advantage is one of the few areas of healthcare meant to align incentives for seniors, insurers, and the government.
Seniors get extra benefits and an insurer that

is motivated

to keep them healthy and low-cost.

Insurers get a big profit opportunity – managing the complex care of seniors

. Medicare Advantage plans had 25% higher profit margins than traditional insurance

in 2016

.

The government can push the management of many seniors to the private sector.
MEDICARE ADVANTAGE VS. TRADITIONAL FEE-FOR-SERVICE MEDICARE
Fee-For-Service Medicare and Medicare Advantage both pay for healthcare for seniors and others eligible for Medicare, but have several key differences.
First, Medicare Advantage serves as a "one-stop-shop" for health insurance. Most Medicare Advantage plans don't need supplementation.
Fee-for-service Medicare, on the other hand, is often bought with a separate "Medicare Part D" plan for prescription drugs and an optional additional insurance plan to cover the gaps in Medicare coverage called "Medigap." 
Medicare Advantage enrollees often get extra benefits compared to FFS, such as vision, dental, and gym memberships. They may also take part in care management programs that help manage conditions that are costly and difficult to control.
Further, Medicare Advantage plans must set an "out of pocket maximum." After an enrollee reaches the maximum, plans must cover all costs. In 2019, the maximum is $6,700 for in-network expenses or $10,000 for in-network and out-of-network expenses combined.
These plans also have a few cost-controlling mechanisms that do not exist for FFS. First, plans have defined "networks" of doctors, hospitals, and other providers. When signing up for Medicare Advantage, seniors can choose between different types of plans. The two most common are HMOs (Health Maintenance Organizations) and PPOs (Preferred Provider Organizations).
Additionally, Medicare Advantage plans often control costs through "
utilization
management." 
Plans
require
members to receive prior approval before seeing a specialist or having a costly procedure
.

Plenty of seniors still choose traditional Medicare over Medicare Advantage for a few reasons. First, many do not want to be limited to a specific network of doctors. Second, seniors sometimes dislike the administrative hassle of utilization management. Many would prefer to go straight to a specialist without receiving prior approval from either their insurer or their primary care doctor. Finally, many stay because traditional Medicare remains the status quo.
HOW MEDICARE ADVANTAGE PLANS GET PAID
The government pays Medicare Advantage plans on a "per-member-per-month" (PMPM) basis. PMPM payments vary based on location, member health, and quality bonuses.
First, the government assigns a benchmark rate to each county to account for differences in costs of care. For example, New York City has a higher benchmark rate than Puerto Rico.
Next, plans calculate a "risk score" for each member based on his or her health status. The less healthy an enrollee is, the higher their risk score will be.
Plans can also receive bonus payments based on "Star" ratings given to them by the government. Star ratings are on a 5-star scale, reflecting member health and satisfaction. Plans with 4 or more stars receive a 5% Quality Bonus Payment (QBP). Small plans and new plans that have existed for less than 3 years receive a 3.5% QBP.
The benchmark rate, average risk score for patients in a plan, and QBP rate are then multiplied to determine a plan's PMPM rate
.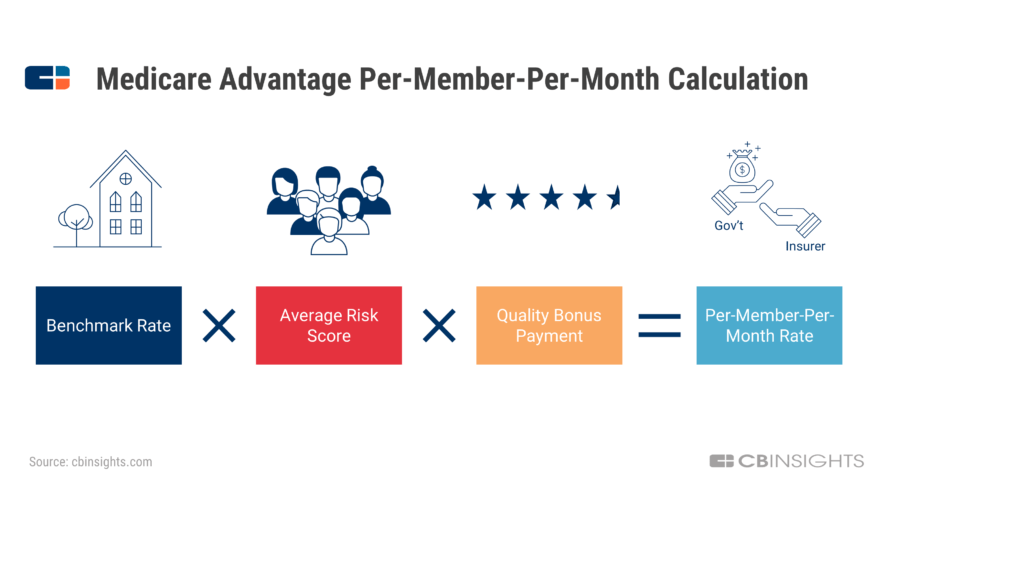 MEDICARE ADVANTAGE IS gaining popularity fast
Medicare Advantage offerings have exploded in the last few years. After remaining flat for four years, the total number of Medicare Advantage plans increased 34% in the last two years to 2,734. The increased number of plans has expanded options for enrollees. The average recipient is able to choose between 24 plans in 2019, compared to 19 two years earlier.
Florida has been by far the biggest driver of plan growth. The number of plans has ballooned from 97 in 2017 to 254 in 2019, accounting for more than ⅕ of plan growth. The average Floridian can choose between 31 Medicare Advantage plans this year.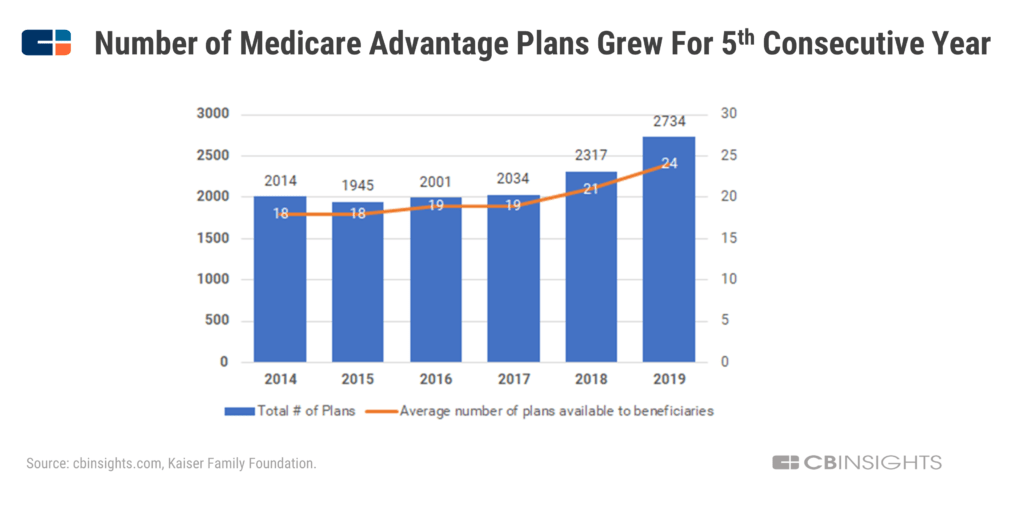 The Medicare Advantage population is expected to grow along with the number of plans. As the Baby Boomer generation has aged up, roughly 10 million more people have become eligible for Medicare today than in 2014.
Further, an increasing proportion of the Medicare population is choosing Medicare Advantage. Thirty-four percent of Medicare recipients were on Medicare Advantage in 2018, up from 31% in 2014. This number is projected to eventually reach 60-70% between 2030 and 2040, according to consulting firm LEK.
These trends in plan availability, population growth, and consumer preference have led to increases in Medicare Advantage penetration nationwide.
A CB Insights analysis of Centers for Medicare and Medicaid Services (CMS) data from November 2014 to November 2018 shows growing Medicare Advantage penetration
.
46 of 53 territories (50 states plus D.C., Puerto Rico, and the Virgin Islands) saw an increase in their proportion of Medicare Advantage enrollees
. 15 territories saw a penetration rate increase of more than 5%.
Alabama and Connecticut grew the most, with 13.6 and 12.4 percentage point increases in penetration,
respectively
.
WHAT'S NEXT?
Trends in Medicare Advantage and its profit opportunity have led to significant growth in the industry in recent years. The aging of the Baby Boomer population has increased the potential market for MA, while the program's additional offerings combine to make it an exciting area in healthcare today.
Fifteen new companies will have offerings available for the first time in 2019. Newcomers will attempt to differentiate themselves from the major incumbents to sway Medicare Advantage's historically "sticky" enrollees from their plans.
A wave of new insurers has emerged in the past few years, looking to leverage technology to lower costs and increase benefits
.
For Expert Intelligence clients, we'll look into these new insurers, the industry's incumbents, and the challenges ahead in the Medicare Advantage space in an upcoming brief
.
If you aren't already a client, sign up for a free trial to learn more about our platform.