Investor caution has slowed funding to medical device startups in 2022, although bright spots like AI and wearables continue to gain traction.
After seeing substantial gains over the past 2 years, the medical device market has begun to cool off.
Funding to the space has declined for 2 straight quarters, falling to $4.5B in Q2'22, down 42% year-over-year. Given the current economic climate, this downward trend is expected to continue throughout the rest of 2022.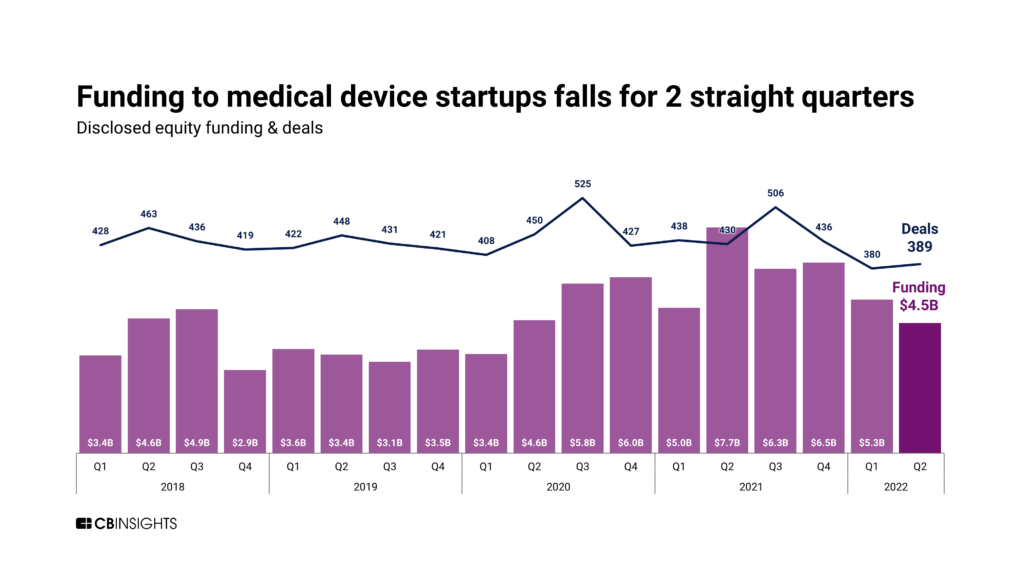 This pullback can be attributed to factors both within healthcare and beyond the sector. For instance, the accelerated demand for virtual care and point-of-care testing technology as a result of the pandemic led to a funding boom over the past 2 years. 
Now, with the impact of the pandemic lessening, investors are assessing the marketplace and being more cautious in their investment strategy. In addition to these factors, the global supply chain crisis has resulted in a shortage of supplies, such as chips, needed to develop devices. 
Nevertheless, there are some positive signs within the marketplace. In this brief, we'll look at: 
The topline findings & implications of recent funding trends

The market drivers shaping the future of the sector

The categories receiving the most attention
To dig into all of the underlying data in this brief, sign up for a free trial to CB Insights here.
Track all the medical device startups in this brief and many more on our platform
Startups are working on connected devices, next-gen prosthetics, and robotics aimed at the medical field. Look for Medical Devices in the Collections tab.
Track medical device startups
Findings & implications
Medical device funding has lost steam in 2022 after reaching record levels in 2021. In a more uncertain economic environment, and with fewer pandemic-related tailwinds, investors are committing fewer dollars to the sector. Deal size and volume have shrunk, particularly for seed- and angel-stage companies, which saw deal share fall 4 percentage points from Q1'22 to Q2'22. Nevertheless, a diverse group of companies have seen mega-rounds ($100M+ deals) this year. These include companies supporting digital home care and digital medicine (Biofourmis), chronic back pain (Saluda Medicine), and digital neurotherapeutics (MindMaze).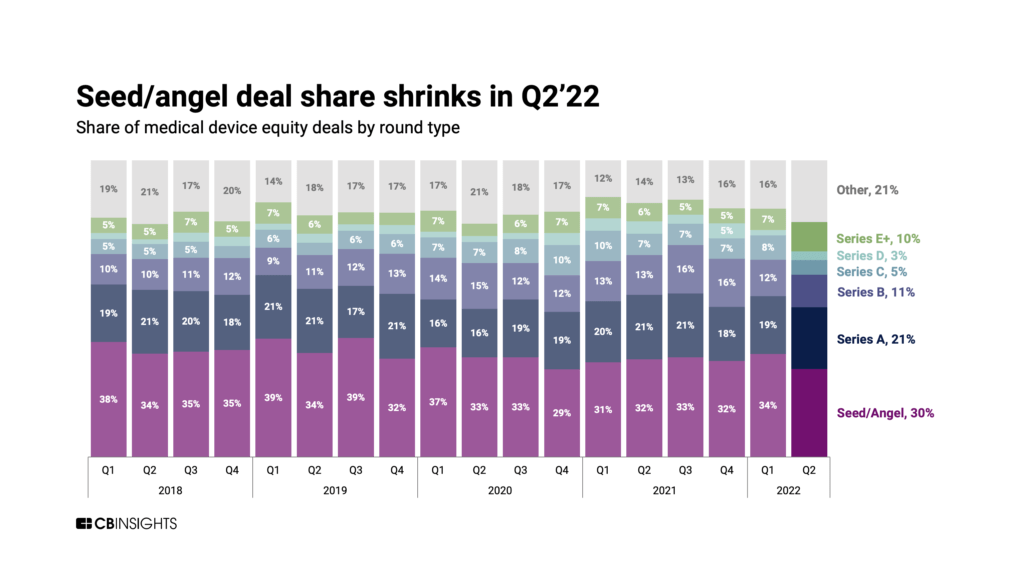 Wearables and diagnostic testing devices still command deals. The desire to have ongoing monitoring for patient care, as well as quicker and more precise diagnostics, continues to shape innovation in the market. Wearables and sensors supporting these applications have seen a steady number of deals through the first half of 2022 when compared to 2021.
Innovations in artificial intelligence are revolutionizing the medical device landscape. Funding for medical devices that utilize AI reached new heights in 2021, with funding increasing upwards of 20% from 2020. This growth has continued in the first half of 2022, with both deals and funding surging vs. the same period in 2021. The use of AI to augment healthcare is proving to be a powerful tool for diagnostics and treatment, especially given current staffing shortages.  
Market drivers
The economic downturn — attributed to several factors including supply chain challenges for critical items such as chips, increasing inflation, and the global impact of international strife — has negatively impacted VC activity across sectors, including medical devices.  
As the care environment evolves from the hospital and/or office to include virtual care settings, the medical device market is adapting to meet the demand. Digital health devices such as stethoscopes and pulse oximeters are making virtual exams possible. Additionally, medical devices are enhancing point-of-care diagnostic testing, while the increased popularity and diversified use of wearables and sensors have afforded clinicians the opportunity to access real-time patient data for ongoing monitoring. These shifts have contributed to the increasing personalization of treatment.
The use of surgical intelligence tools such as enhanced navigation and robotic assistance during procedures has continued to gain traction. These technologies offer a number of benefits, including: reduced time spent in surgery; more precise diagnostics and execution during surgery; reduced recovery time; and lower post-surgical infection rate.