Instead of renting an audience, companies are realizing that owning their audiences and going direct can lower CAC and increase LTV. Here are our predictions for the media companies that technology and financial services companies should have on their M&A radar.
Over the last month or so, JP Morgan has purchased 2 content/media assets. In early September 2021, it bought The Infatuation, a publisher that offers reviews and recommendations on restaurants in 50 cities across the USA and internationally. 
And later in the month, it bought Frank, an online portal with content and tools that help students research and apply for financial aid.
Yes, JP Morgan — the world's largest financial services institution, the one sporting a market cap that is almost equivalent to all the fintech unicorns combined — is going deep on niche media and content.
Why?
We'll come back to that.
And we'll also share some predictions and recommendations regarding the media & audience company acquisitions that Coinbase, JP Morgan, Intuit, Airbnb, and others should have their corporate development teams monitoring.
Before we get to the why and these predictions, it is worth noting that this idea and its implementation are not new.  
Folks within the technology world have seen and discussed the merits of this strategy for a while. 
Dharmesh Shah, the CTO of HubSpot, wrote about this in October 2020, "next-gen software companies will have a media company embedded inside." As you'll see detailed below, Shah ultimately put his money where his mouth was when HubSpot acquired media company The Hustle.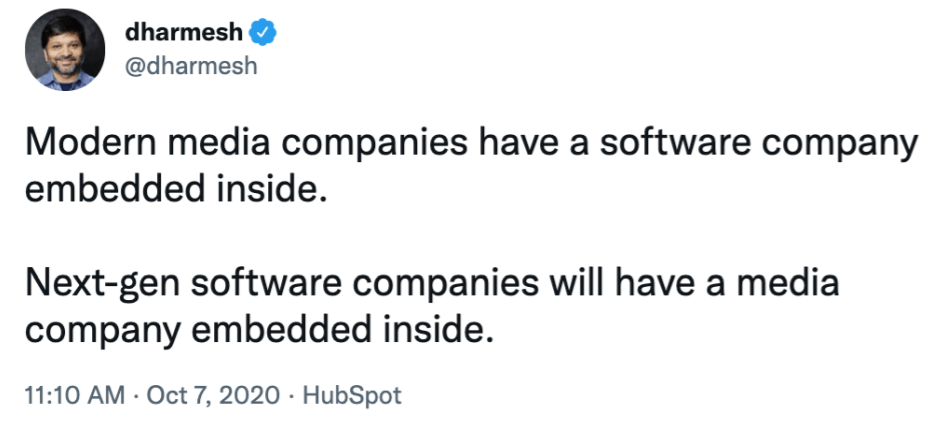 Balaji Srinivasan, former CTO of Coinbase and former General Partner at A16Z, talked about every SaaS company having a media arm.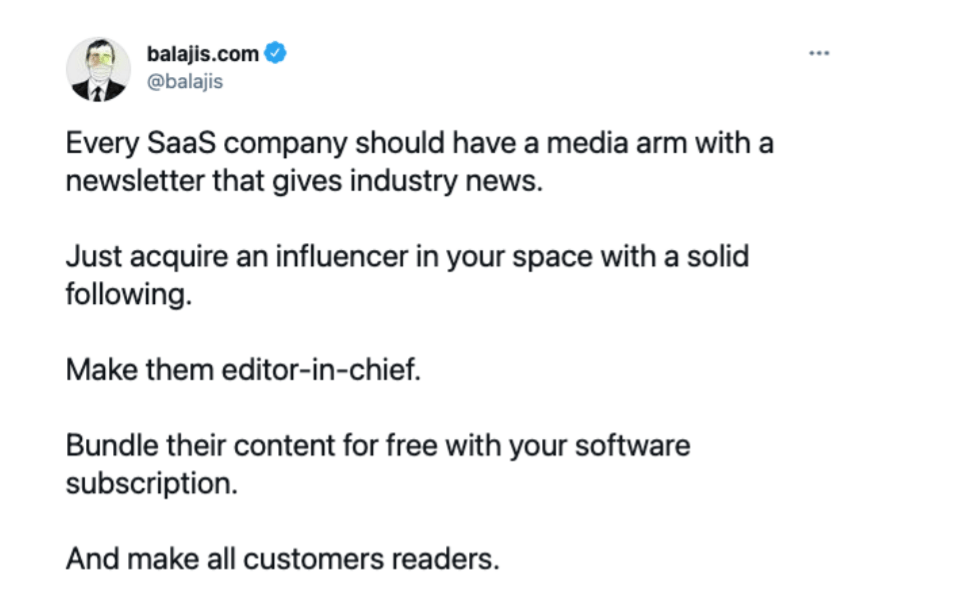 In addition, Coinbase founder and CEO Brian Armstrong — whose company is no stranger to tangling with the media — penned an essay entitled "Decentralizing Truth in the Age of Misinformation," in which he argued, "Every tech company should go direct to their audience, and become a media company."
Armstrong also penned the post below, in which he highlights Tesla and Apple going direct.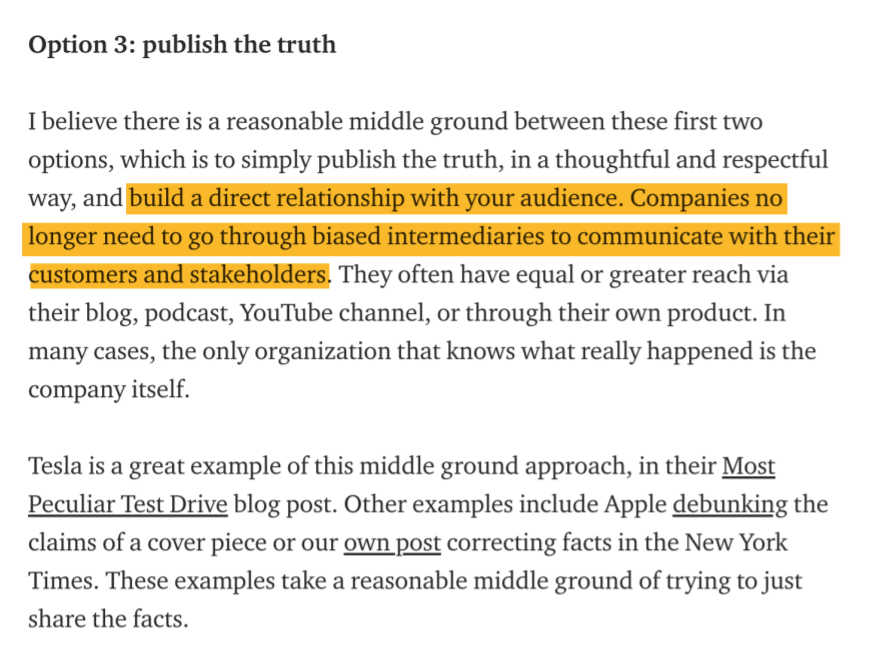 Elon Musk is probably the prototype for going direct to an audience. Interestingly, in his case, going direct invites even more media attention for him and the company. Not all of it is flattering, but Musk has taken PT Barnum's mantra to heart: "I don't care what the newspapers say about me as long as they spell my name right."
Most of the efforts to own media outlets are not driven by an acrimonious relationship with the media — the kind which Armstrong and, sometimes, Musk have.
As you'll see in the list of M&A transactions included in the following section, most of the deals are driven by a desire to own a relevant audience rather than circumvent the media.
List of media M&A by tech and financial services companies
Below is a list of select media & audience M&A transactions — made by Stripe, DraftKings, and HubSpot, among others — that have been made in addition to the 2 aforementioned deals made by JP Morgan Chase.
HubSpot acquired The Hustle. In October 2021, HubSpot acquired The Hustle — created by Sam Parr — for a rumored $27M. The Hustle is a media company that produces a newsletter, a SaaS product called Trends, as well as a popular podcast called My First Million, which is hosted by Parr and co-host Shaan Puri. The Hustle was rumored to be doing

$10M–12M in revenue, implying an acquisition price/revenue multiple of 2.25x–2.7x

.

Penn National Gaming acquired Barstool Sports. In January 2020, Penn National paid $450M for Barstool Sports, a digital media company founded by Dave Portnoy in 2003, which was majority-owned by The Chernin Group at the time. Barstool produces content focused on sports and pop culture, and it was doing $90M–$100M in revenue at the time,

implying a price/revenue multiple of 4.5x–5.0x

. 

Robinhood acquired MarketSnacks. MarketSnacks was a media company that aimed to make financial news digestible and has since been rebranded as Robinhood Snacks.
Stripe bought IndieHackers (and also owns/operates Stripe Press). IndieHackers has created a community catering to primarily bootstrapped or revenue-funded software founders and developers building technology companies.
DraftKings bought VSiN. VSiN is a sports betting news, data, and analysis company.
Zapier bought Makerpad. Makerpad is a content and education platform that helps users learn to build software without code.
DigitalOcean acquired Scotch.io, a community where developers could help other developers by sharing knowledge, tips, and tactics. At the time of the acquisition, Scotch was home to more than 1,800 tutorials and articles produced by its community and team. 
Other organizations are also entering the media landscape as well, but they aren't doing so through acquisition. These include:
Venture capital firm Andreessen Horowitz (A16Z) is building its own media outlet called Future, which launched earlier this year. In announcing Future, A16Z talked about using Future as a way to speak directly to its audience.

The aforementioned Brian Armstrong and Coinbase launched Fact Check in May 2021, in order to counter what the company felt was misinformation by going direct to its audience.  
So why acquire media companies? LTV/CAC arbitrage
There are many reasons that acquirers cite for acquiring media and community companies including:
To go direct to its audience and remove gatekeepers.

To build an ongoing relationship with an audience. This is sometimes described as "owning" vs "renting" an audience.
In the examples given for JP Morgan, HubSpot, DraftKings, Stripe, etc., the other big benefit of acquiring media companies is that it drives higher LTVs and/or lower CACs — we can think of this as LTV or CAC arbitrage.  
LTV refers to lifetime value.  
And CAC refers to customer acquisition cost.
If you're selling SaaS, fantasy sports gambling, or financial services products, you are working with customers whose lifetime value is often incredibly high. At the same time, the cost to acquire customers (CAC) in an intensely competitive space is often also very high.
Conversely, for media companies who monetize through non-recurring advertising, events, educational courses, brand partnerships, native advertising (sponsored content), or e-commerce, LTVs are generally dramatically lower. At the same time, the cost of acquiring their audiences with great content, community features, and audience development skills can be incredibly low (especially relative to SaaS, gambling, or financial services firms).
And so the big and simple opportunity here for acquirers is the arbitrage that exists on both sides.
Buyers have higher LTVs and also have higher CACs relative to media/community properties.
Let's use JPM Chase's acquisition of The Infatuation as a high-level case study. The principles are the same for HubSpot or DraftKings or Robinhood.
After the review of JPMC's acquisition of The Infatuation, we'll get into some M&A predictions and recommendations.
Breaking down JP Morgan Chase's acquisition of The Infatuation
First, what is The Infatuation?
The Infatuation is a restaurant discovery site that provides reviews and, what it describes as, situationally specific dining guides. It has a presence in 50 cities across the US and abroad and connects with consumers via its mobile app, live dining events and experiences, a membership program offering perks and discounts, and its food festival, EEEEEATSCON. Chris Stang and Andrew Steinthal founded the company in 2009.
Now, a very, very high-level view of JPM Chase's card business
First, it's worth understanding that the CAC for credit cards can range from $200 to $1000 for cards aimed at affluent, high-spending cardholders. This is where JPM Chase is focused at present and competes with numerous other card issuers, including American Express.
Once JPM Chase acquires a customer (which is not cheap), it needs to retain that customer and also encourage them to use the card. The credit card industry often looks at the number of cards in force (CIF) that are active. Activity is often measured as at least 1 transaction in the last 12 months (this is a low standard to gauge engagement).  
Simply stated, a more active cardholder is both more lucrative and more likely to stay with JPM, which ultimately translates to a higher LTV. So anything that juices this engagement and retention takes the already-high LTV of elite cardmembers even higher.
How does The Infatuation lower CAC and increase LTV for JPM Chase?
Per the Wall Street Journal, "JPMorgan wants to give some of its clients, including credit-card holders, unique access to the Infatuation's curated experiences." This includes The Infatuation's food festival, EEEEEATSCON, as well as exclusive web content.
JPMorgan Chase offers dining rewards that help cardholders get reservations at partner restaurants and provides perks such as private chef events. The Infatuation and Zagat, which The Infatuation also owns, will also offer exclusive content and experiences that increase the engagement and affinity of existing cardholders as well as serve to attract new cardholders.
The Infatuation reportedly sees 1.5M to 2M monthly visitors that hail from key metros and are self-selecting into content about food & dining, a key spend category for card companies.  
This audience will not only help JPM Chase cheaply attract new cardholders but also provide perks and benefits to existing cardholders, lowering CAC and increasing LTV. All sponsorship and advertising-oriented efforts at The Infatuation will likely be turned into "house ads" for JPM Chase's own products, which could also help improve LTV and CAC.  
M&A ideas/predictions that are worth a look
Below, we share some media and community M&A target recommendations for:
AB InBev

Airbnb

American Express

Bank of America

Binance

Capital One

Charles Schwab

Citi

Coinbase

eBay

Fidelity

Gemini

GOAT

Grailed

Intuit 

JPM Chase

Morgan Stanley

Nike

Robinhood

StockX

Under Armour
We believe these media/community properties are ripe for acquisition by a firm looking to take advantage of this LTV/CAC arbitrage.
NerdWallet
The company just filed its S-1, so it may be too late for this, but our valuation analysis of NerdWallet indicates that there might still be an opportunity.
Nerdwallet — which provides comparisons of credit cards, savings accounts, mortgages, and more — could be interesting to a number of financial services firms, as they could point NerdWallet's massive content engine and resulting SEO credibility to their products.
This play is not that dissimilar from what JPMC is doing with The Infatuation.
Who should acquire Nerdwallet? (in no particular order)