The global meat industry could be threatened by a future featuring lab-grown meat, seafood substitutes, and insect protein. Will meat incumbents be able to navigate a future where protein isn't dominated by traditional animal sources?
The $90B global meat market is feeling the pressure.
The industry has evolved into a complex global business that involves farms and feed lots, as well as meat middle-men, like processing and storage centers, transportation and logistics, slaughterhouses, and more.
Startups using technology to engineer meat in labs or manufacture it from plant-based products are rising in popularity.
Some of these newer entrants, such as Impossible Foods and Beyond Meat, use ingredients like pea protein & heme and target channels like fast food to convert regular meat eaters.
Though not a new concept, meat substitutes have become all the rage recently with VCs pouring hundreds of millions of dollars into the space. Impossible Foods has raised over $500M and plant-based meat company Beyond Meat is reportedly preparing for a near-term IPO.
Going forward, these startups could simplify the meat value chain dramatically, as the "clean meat" lab or factory could take the place of farms, feed lots, and slaughterhouses.

In addition to offering new products, these startups have the potential to upend all parts of the meat production process.
Startups are disrupting the meat production value chain through the development of high-tech protein products, threatening established players like Tyson.
The graphic below provides a snapshot of companies that are producing meatless products that attack many of the markets targeted by Tyson's existing meat product lines.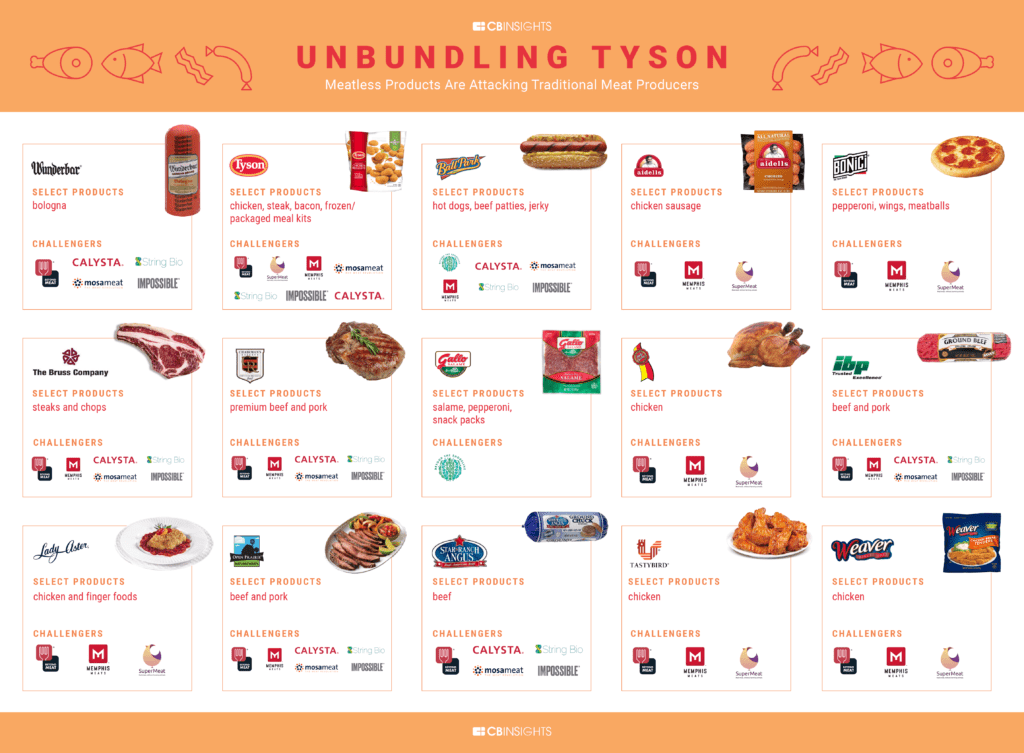 Click here to read more about some of the major trends in the growing meatless industry, from startups to watch, to key investors, to future trends and challenges.
If you aren't already a client, sign up for a free trial to learn more about our platform.