With the acquisition, Mastercard will enhance its crypto and blockchain services. Here are the top-line bullets you need to know.
Mastercard, a global fintech platform, acquired CipherTrace, a blockchain analytics and cryptocurrency intelligence software provider, for an undisclosed amount. The deal is expected to close by the end of 2021.
Who are the parties to the deal?
CipherTrace: California-based CipherTrace provides blockchain analytics and fraud detection tools in order to help financial institutions, banks, and governments identify digital asset risks. The technology offers services such as blockchain forensics, anti-money laundering, and compliance monitoring, among others. It caters to 150 customers — including global banks, cryptocurrency exchanges, VASPs, and regulators — enabling them to convert on opportunities across more than 7,000 cryptocurrency entities. It has offices in 7 locations across the US, Canada, the UK, Germany, and Singapore.
Mastercard: New York-based Mastercard is a global payments company that caters to businesses, governments, financial institutions, and individual consumers across 210 countries. The company has offices in North and South America, Europe, the Middle East, and Asia.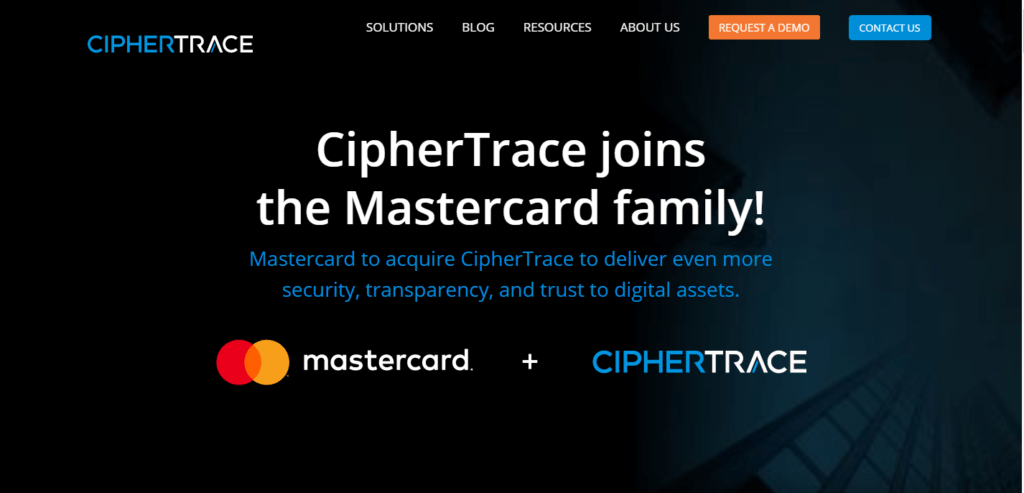 Source: CipherTrace
Why does the market matter?
The global blockchain software market is projected to grow at a CAGR of 23.47% and reach a value of $47.7B by 2027, according to QY Research Group.
With the growing demand for smooth business operations and supply-chain management, the need for blockchain software will increase in the future.
The high return on investment and other investment opportunities associated with this tech are attracting major players, contributing to market growth.