The acquisition will allow Mastercard to deliver Finicity credit decisioning and scoring applications to European clients. Here are the top-line bullets you need to know.
Mastercard, a multinational financial services company, acquired Aiia, an open banking startup, for an undisclosed amount. The deal is expected to close by the end of 2021.
WHO ARE THE PARTIES TO THE DEAL?
Aiia: Denmark-based Aiia is a fintech that provides customers direct access to over 2,700 banks in Europe via a single API. The company processes over 10M bank logins and over 1M account-to-account payments each month. Its client base includes Danske Bank, Lunar, Santander Consumer Bank, OP Financial Group, DNB, and Resurs Bank, among others. The company currently has a team of 70 employees.
Mastercard: New York-based Mastercard offers financial services and operates in over 210 countries. Its products include debit, credit, and prepaid cards, which fall under the company's Mastercard, Maestro, and Cirrus brands. The company reported revenue of $15.3B in FY'20 and a net income of $6.4B. Mastercard has about 21,000 employees globally.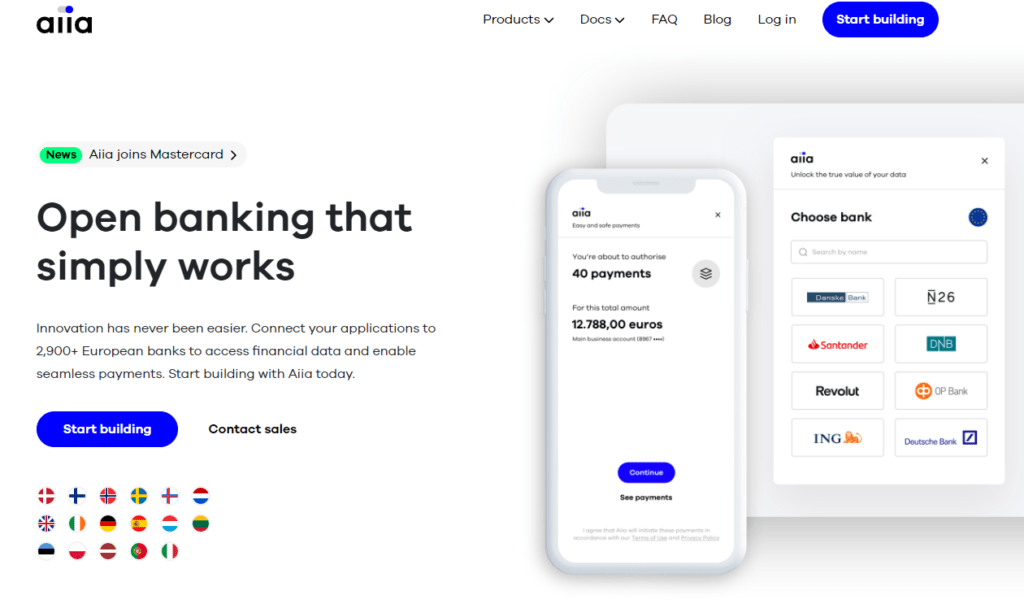 Source: Aiia
WHY DOES THE MARKET MATTER?
The global open banking market is projected to grow at a CAGR of 24.4% to reach a value of $43.15B by 2026, according to Allied Market Research.
Growing demand for digital financial services amid Covid-19, increasing corporate interest, and rising API adoption by financial institutions are all contributing to market growth.
The open banking space has gained investor momentum, raising $2.2B over 21 deals in 2021.