Nike, Walmart, and McDonald's have all acquired AI startups to personalize the customer experience.
Nike recently announced its acquisition of artificial intelligence startup Celect. The company plans to integrate Celect's technology to better predict demand for its products, including when and where shoppers may want to buy them.
ALTERNATIVE PROTEINS, FITNESS TECH, AND GAMING SURGED IN Q3'20
Consumer product startup investment activity spiked in Q3'20 as funding reached an all-time high. Download our free report now.
This will help Nike better manage its inventory to meet hyper-local demand, thus offering a certain level of personalization to its customers.
And Nike isn't the only consumer-facing company getting into artificial intelligence.
Just this year, Walmart acquired Israel-based artificial intelligence startup Aspectiva, while McDonald's spent $300M on Dynamic Yield, its largest acquisition since it became a majority investor in Chipotle 20 years ago.
So could AI-powered consumer companies become a new paradigm?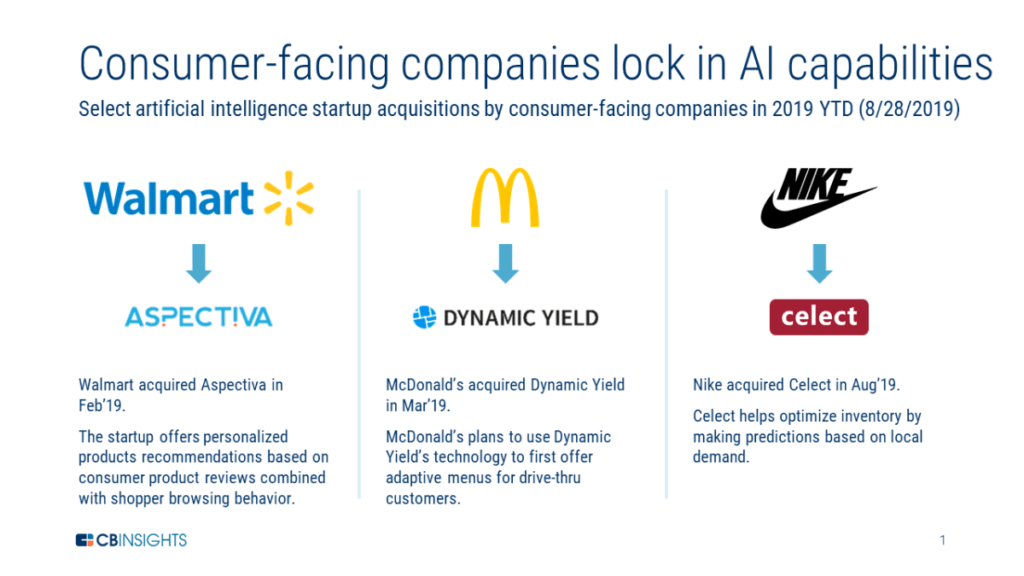 offering personalization at scale
By acquiring these AI startups, Nike, Walmart, and McDonald's are making it possible to offer a personalized customer experience in highly standardized industries.
McDonald's, for instance, plans to use Dynamic Yield's technology to offer adaptive menus for drive-thru customers. The company is hoping to make ordering faster and reduce waiting time by suggesting items based on weather, time of day, or current traffic.
This allows the fast food giant to offer a personalized experience to a large audience without having to change its mass production offering.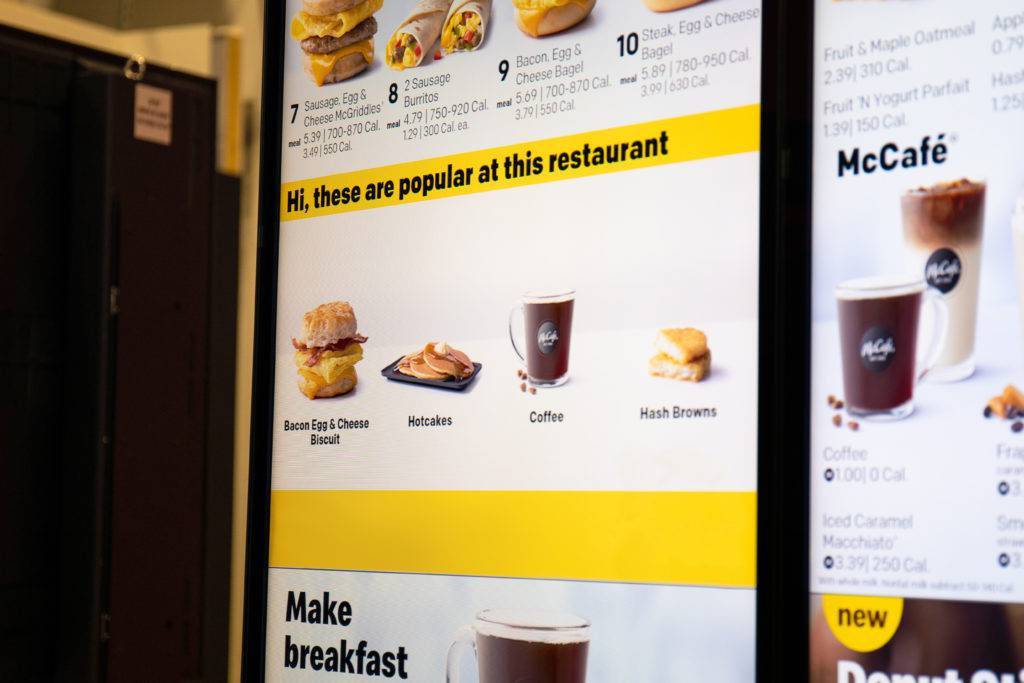 Source: McDonald's
M&A to lock in key technology capabilities
Interestingly, all three companies chose the acquisition path rather than partnering with these startups or building these solutions in-house.
They're locking in key technology capabilities to get ahead of competitors while preventing these rivals from using the same technology. It also allows them to use the data captured every day on individual customer behavior, and bring sought-after skills — such as AI — in house for future projects.
looking ahead
An important thing consumer companies and retailers acquiring AI startups should keep in mind is that AI algorithms are only as good as the dataset they get trained on.
While some like McDonald's may choose to let their acquisition operate independently, it is unclear whether other consumer-facing companies would be willing to use their technology for fear that it may benefit a competitor.
Going forward, consumer companies and retailers looking to acquire AI capabilities should start by asking themselves the following questions:
Have the AI solutions been trained well enough that they don't require access to a broader dataset outside of the company?
If so, are there any publicly available datasets that could be used to further improve the algorithms?
Would it be possible to strike one or more data partnerships to improve the size and quality of the dataset the company has access to?
If you aren't already a client, sign up for a free trial to learn more about our platform.