Maersk and other maritime logistics players, which handle 90% of globally traded goods, are exploring blockchain to increase efficiency and transparency in global trade.
It currently takes a stack of 200 communications between 30 different parties to ship a container from Mombasa, Kenya to the Port of Rotterdam, according to a recent study by shipping carrier Maersk. With each additional piece of paperwork, the risk of fraud, miscommunication, and delay increases.
To combat this barrier to trade, Maersk is partnering with IBM to incorporate blockchain distributed ledger technology into its shipping process.
"International trade demands a faster, more secure and more efficient way to handle the document approval workflows needed to move goods across international border." – Ramesh Gopinath, VP of Blockchain Solutions at IBM
By allowing all parties in the global shipping supply chain to share information through a digitally secure distributed ledger, blockchain technology could revolutionize the maritime logistics space, eliminating the complex current system of disparate, expensive, and time-consuming paperwork.
Why blockchain for maritime logistics makes sense
Maersk and its 6 largest ocean shipping competitors, together, hold more than 50% of global maritime container shipping market share. Even if only these companies implement blockchain into their operations, it could significantly increase the speed of international trade, while also boosting transparency and reliability into the notoriously opaque container shipping industry.
Blockchain integration could also affect other players along the supply chain including freight forwarders, brokers, importers, exporters, manufacturers, brands, retailers, and beyond.
The potential significance of blockchain integration has attracted increasing media attention in recent years.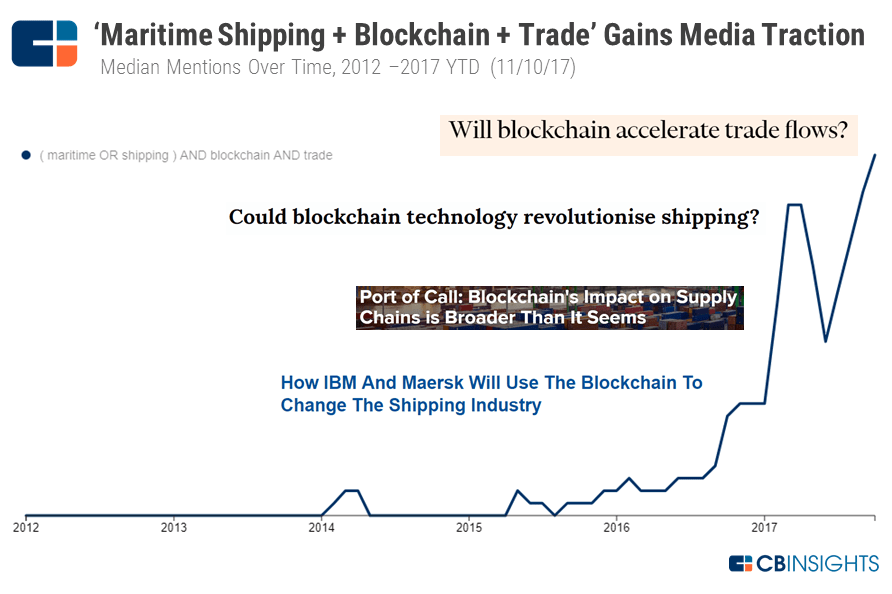 Other global supply chain players, beyond maritime logistics, are also showing an interest in blockchain. In August 2017, Walmart, Kroger, Nestle, and Unilever, among others, partnered with IBM to use blockchain to improve food safety through improved supply chain tracking.
While blockchain integration by these specific vendors could speed up their individual supply chains, blockchain adoption by maritime logistics companies, which help transport 90% of globally traded goods, could have a much further-reaching effect.
Maritime logistics players rush into blockchain
Beyond speeding up trade, blockchain has other applications in maritime logistics, spanning areas like cybersecurity, marine insurance, and seaport-related operations.
Prominent players in the space, such as shipping carriers and port operators are exploring these use-cases by partnering with large corporations, blockchain startups, and consortia (groups of independent companies or entities partnering to use blockchain technology).
We created a timeline showcasing select partnerships and initiatives in 2017 in the maritime logistics space. As can be seen below, activity has significantly increased as recently as July of this year.
Please click to enlarge.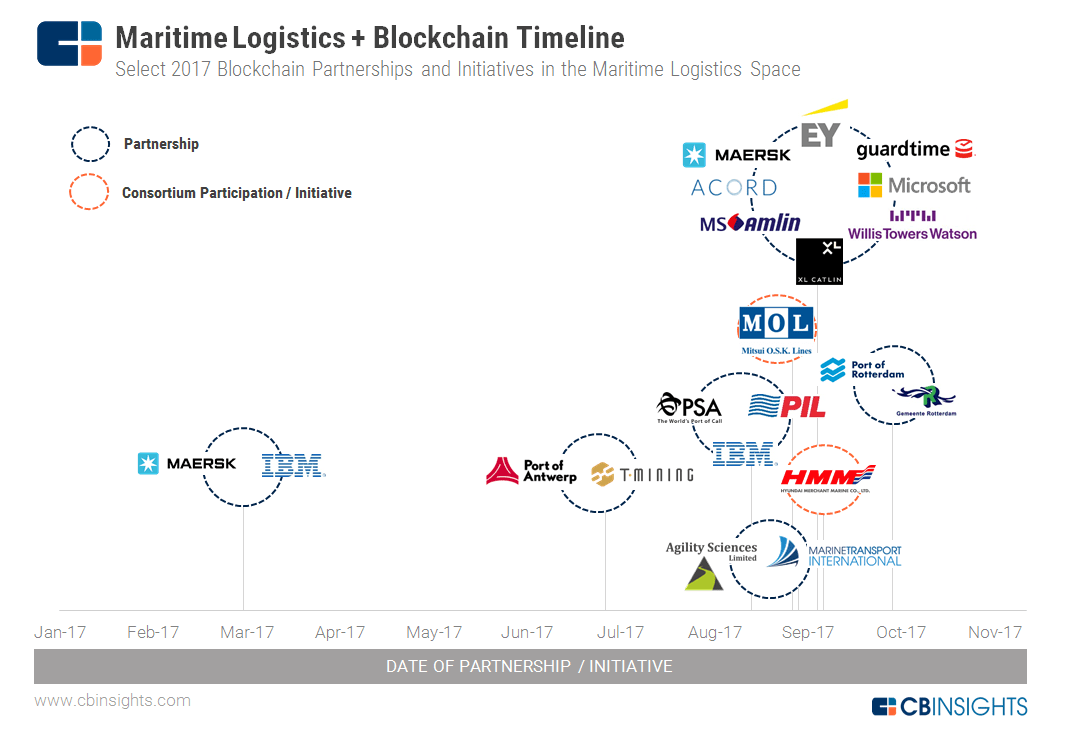 Notes: Blue circles represent partnerships between various players in the maritime logistics and blockchain spaces. Orange circles denote partnerships and initiatives between maritime logistics companies and blockchain consortia.
Track more blockchain companies on our platform
Startups working with blockchain and cryptocurrencies have the potential to create "trustless" networks and fundamentally change the way markets transact. Look for Blockchain in the Collections tab.
Track Blockchain Startups
The partnerships highlighted in this timeline can be grouped into the following categories:
Trade efficiency: In March 2017, Maersk partnered with IBM to integrate blockchain technology into its supply chain and shipping processes. As discussed above, partnerships like this have the potential to impact global trade by reducing complications in communication.
Marine insurance: In September, Maersk also partnered with blockchain startup GuardTime, corporates Microsoft and EY, and insurance companies ACORD, Willis Towers Watson, MS Amlin, and XL Catlin to launch a marine insurance blockchain platform. The platform simplifies marine insurance, a space also plagued by disorganized communication.
"A blockchain-enabled supply chain is highly resilient to cyberattack," – Jody Cleworth, Chief Executive, Marine Transport International
Cybersecurity: In August, UK-based logistics company Marine Transport International partnered with distributed ledger technology company Agility Sciences to create a blockchain-based cybersecurity solution for the maritime logistics space. This partnership comes after Maersk suffered a major cyber attack on its information technology systems, causing a significant operational slowdown.
Port operations: In June, the Port of Antwerp partnered with blockchain startup T-Mining to improve safety and speed of container handling.
In August, Singapore-based port operator PSA International partnered with shipowner Pacific International Line and IBM to leverage blockchain to increase transparency in port operations.
Most recently, the Port of Rotterdam partnered with the Municipality of Rotterdam to create "BlockLab,"' an initiative focused on researching new applications for blockchain in the maritime logistics space.
Trade-focused consortia: As blockchain consortia have gained traction, trade- and logistics-focused consortia have emerged. In August, shipping carrier Mitsui O.S.K Lines (MOL) announced its plan to join a trade-focused consortia headed by NTT Data Corporation.
Looking ahead
In addition to the companies mentioned above, other blockchain startups have the potential to impact the maritime logistics space going forward. For example, Wave connects disparate players within the shipping supply chain to bolster paperless communication, which can mitigate miscommunication, delays, and fraud. The startup received $120K in funding from Barclays Accelerator in 2015.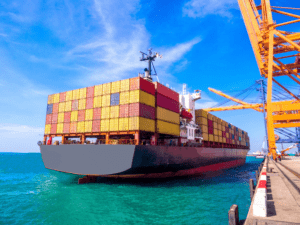 300cubits, a Hong Kong-based startup, recently conducted an initial token sale of a new cryptocurrency dubbed "TEU," which could change the way players in the maritime logistics industry create contracts and pay for services.
While full blockchain adoption in the maritime logistics space is in a nascent stage, its potential impacts on efficiency and security are a driving force behind many partnerships forged over the last year.
Blockchain's integration into maritime logistics has the potential to impact the international economy, affecting everyone along the global trade supply chain — from suppliers and importers to retailers and brands, and ultimately even consumers.
If you aren't already a client, sign up for a free trial to learn more about our platform.