Manufacturers are turning to the industrial internet of things to improve factory efficiency and prevent machine failures, but issues like cybersecurity and latency remain.
The manufacturing process of tomorrow will require little human intervention. But for most manufacturers, that future is still far off.
Although some newer factories are highly automated, the manufacturing process overall has a long way to go before fully digitizing.
According to lean manufacturing metrics (measured by overall equipment effectiveness, or OEE), world-class manufacturing sites are working at 85% of their theoretical capacity. Yet the average factory is only at about 60%, meaning there's vast room for improvement in terms of productivity.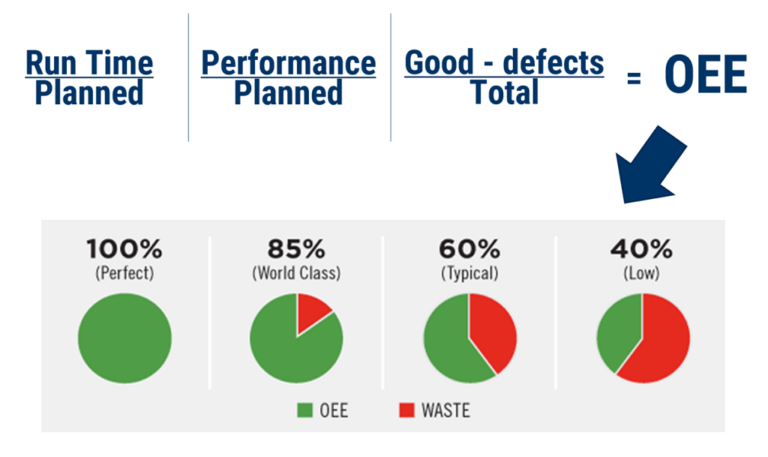 Industry 4.0's maturation over the next two decades will first require basic digitization. Later, that digitization could translate into predictive maintenance and true predictive intelligence.
We take a look at how the manufacturing process is changing, what it'll look like in the future, and what barriers lie ahead to get there.
You can read our full report on the future of the factory here.
Going digital will take time and money
Large capital goods have evolved to a "power by the hour" business model that guarantees uptime. Power by the hour (or performance-based contracting) is now fairly common in the manufacturing world, especially in mission-critical areas like semiconductors, aerospace, and defense.
The model all but ensures that manufacturers will become pursue digital solutions that help increase efficiency.
The idea dates back to the 1960s, when jet engine manufacturers like GE Aviation, Rolls Royce, and Pratt & Whitney began selling "thrust hours," as opposed to one-off engine sales. Thrust hours push engine makers to focus on high-margin maintenance and digital platforms. Nowadays, GE is incentivized to track every detail of its engine, because it only gets paid if the engine is working properly.
Despite a guarantee of uptime, a machine's owner is responsible for optimizing usage (just like airlines that buy jet engines still need to put them to good use).
In short, factory owners still "own" the effectiveness of output between the chain of machines, meaning that increasing efficiency won't just fall on the machine owner, but also the manufacturers.

Without digitizing every step, efficiency is being left on the table. Yet there are serious barriers for manufacturers to take on the new burden of digitization.
Shop floors typically contain old machines that still have decades of production left in them. In addition to significant cost, sensors tracking temperature and vibration aren't made with a typical machine in mind.
When Harley-Davidson's manufacturing plant went through an IIoT sensor retrofit, Mike Fisher, a general manager at the company, said sensors "make the equipment more complicated, and they are themselves complicated. But with the complexity comes opportunity."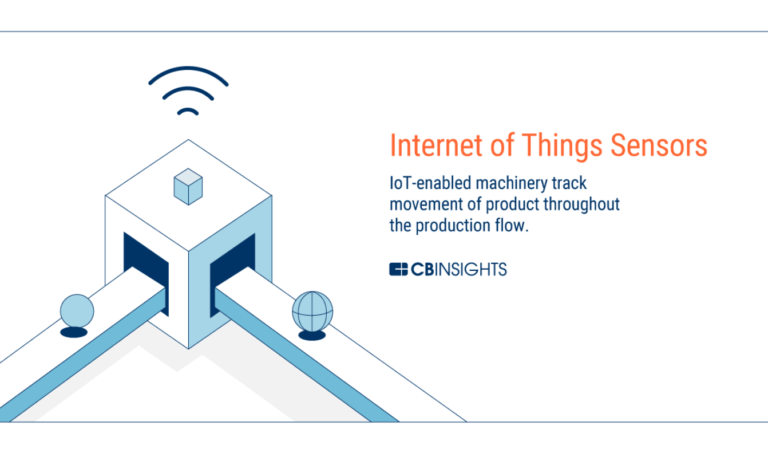 FROM DIGITIZATION TO PREDICTIon
To put it simply, operational technology (or OT) is similar to traditional IT, but tailored for the "uncarpeted areas." Where the typical IT stack includes desktops, laptops, and connectivity for knowledge work and proprietary data, OT manages the direct control or monitoring of physical devices.
For manufacturers, the OT stack typically includes:
Connected manufacturing equipment (often with retrofitted industrial IoT sensors)
Supervisory control and data acquisition (SCADA) systems and human machine interfaces (HMI), which provide industrial monitoring for operations analysts
Programmable logic controllers (PLCs), the ruggedized computers that grab data on factory machines
3D printers (additive manufacturing) and computer numerical control (CNC) machines for subtractive manufacturing (like whittling away a block)
In a way, IT and OT are two sides to the same tech stack token, and as manufacturing gets better digitized, the boundaries will continue to blur.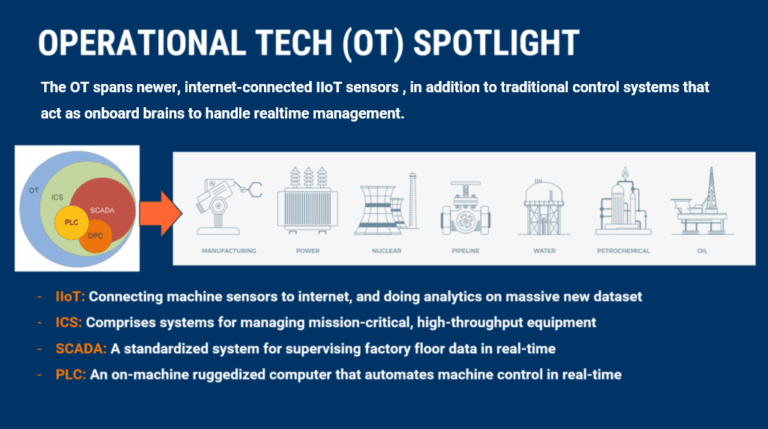 Today, the "brain" for most industrial machines is in the programmable logic controller (PLC), which are ruggedized computers. Industrial giants like Siemens, ABB, Schneider, and Rockwell Automation all offer high-priced PLCs, but these can be unnecessarily expensive for smaller manufacturing firms.
This has created an opportunity for startups like Oden Technologies to bring off-the-shelf computing hardware that can plug into most machines directly, or integrate existing PLCs. This, in turn, allows small- and medium-sized businesses to be leaner and analyze their efficiency in real time.
As digitization becomes ubiquitous, the next wave in tech efficiency improvements will be about predictive analytics. Today's narrative around the Internet of Things has suggested that everything — every conveyor and robotic actuator — will have a sensor, but not all factory functions are of equal value.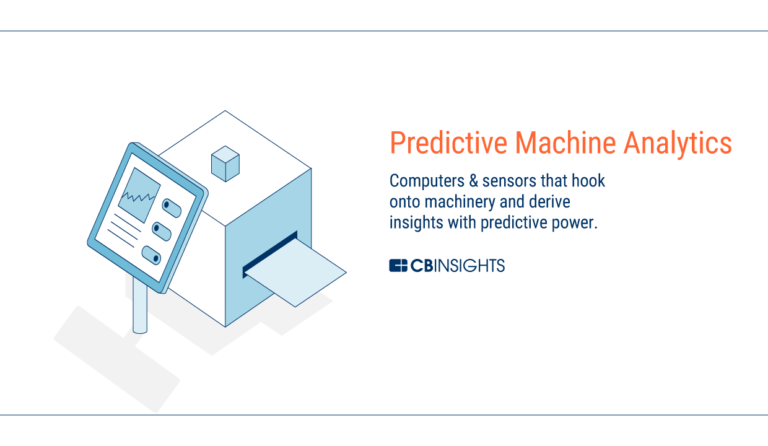 Slapping cheap IoT sensors on everything isn't a cure-all, and it's entirely possible that more value gets created from a smaller number of more specialized, highly accurate IoT sensors. Augury, for example, uses AI-equipped sensors to listen to machines and predict failure.
Cost-conscious factory owners will recognize that highly accurate sensors will deliver greater ROI than needless IoT.
NEW ARCHITECTURE AT THE EDGE
Computing done at the "edge," or closer to the sensor, is a new trend within IIoT architecture.
Drafting on innovations in AI and smarter hardware, Peter Levine of a16z anticipates an end to cloud computing for AVs, drones, and advanced IoT objects.
Connected machines in future factories should be no different.
Companies like Saguna Networks specialize in edge computing (close to the point of collection), whereas a company like Foghorn Systems does fog computing (think a lower-hanging cloud that's done on-site like a LAN). Both methods allow mission-critical devices to operate safely without the latency of transmitting all data to a cloud, a process that can save big on bandwidth.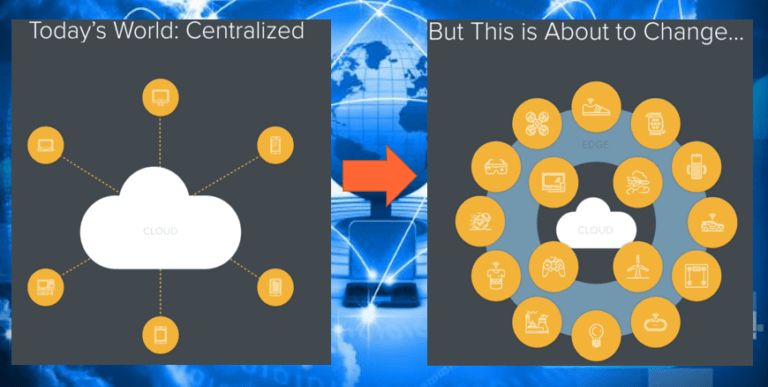 In the near future, advances in AI and hardware will allow IoT as we know it to be nearly independent of centralized clouds.
This is important because in the short term, it means that rural factories don't need to send 10,000 machine messages relaying "I'm OK," which expends costly bandwidth and compute. Instead, they can just send anomalies to a centralized server and mostly handle the decision-making locally.
Additionally, cloud computing latency has drastic downsides in manufacturing. Mission critical-systems such as connected factories can't afford the delay of sending packets to off-site cloud databases. Cutting power to a machine split seconds too late is the difference between avoiding and incurring physical damage.
And in the longer term, edge computing lays down the rails for the autonomous factory. The AI software underpinning the edge will be the infrastructure that allows factory machines to make decisions independently.
In sum, devices that leverage greater computing at the edge of the network are poised to usher in a new, decentralized wave of factory devices.
CYBERSECURITY IS A PRIORITY
One paradox of IIoT is that factories bear significant downside risk, yet are barely investing in protection: 28% of the manufacturers in a recent survey said they saw a loss of revenue due to cybersecurity attacks in the past year, but only 30% of executives said they'll increase IT spend.
Cyber attacks can be devastating to heavy industry, where cyber-physical systems can be compromised. The WannaCry ransomware attack caused shutdowns at the Renault-Nissan auto plants in Europe. And in 2014, a sophisticated cyber attack resulted in physical damage at a German steel plant when an outage prevented a blast furnace from being shut down correctly.
Consequently, critical infrastructure is a growing segment within cybersecurity, and many startups like Bayshore Networks are offering IoT gateways (which bridge the disparate protocols for connected sensors) to allow manufacturers across many verticals to monitor their IIoT networks. Other gateway-based security companies like Xage are even employing blockchain's tamperproof ledgers so industrial sensors can share data securely.
28% of the manufacturers in a recent survey cited a loss of revenue due to cybersecurity attacks in the past year. But only 30% of executives said they'll increase IT spend.
Similarly, adding connected IoT objects and Industrial Control System (ICS) sensors has opened up new vulnerabilities at the endpoint.
To address this, Mocana and Rubicon Labs, among others, are developing secure communication products at the IP and device level.
Additionally, several of the most active enterprise cybersecurity investors are corporates with interests in OT computing. The venture arms of Dell (which makes industrial IoT gateways), as well as Google, GE, Samsung, and Intel are among the most active in this space.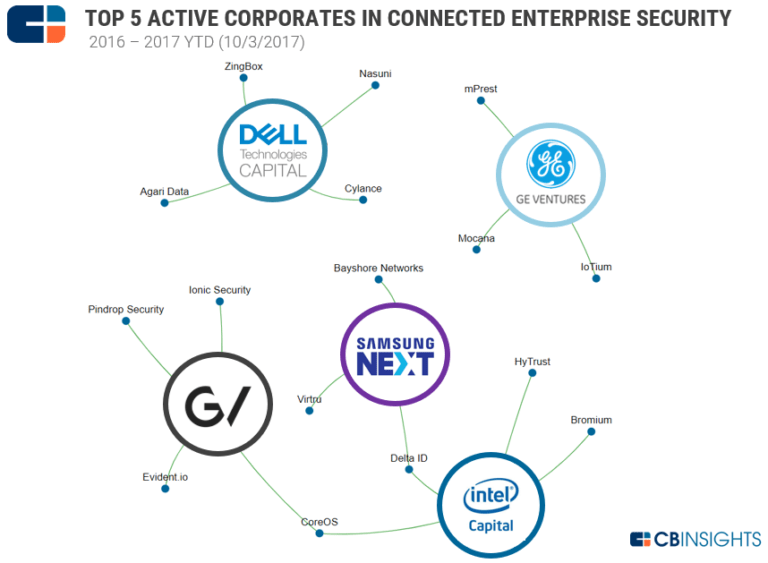 Managing the ICS and IIoT systems securely will continue to be a critical area for investment, especially as hack after hack proves OT's vulnerability.
If you aren't already a client, sign up for a free trial to learn more about our platform.