AR/VR startup Magic Leap's new patent application links facial recognition, identity authentication, and document verification and could signal the stealth company's interest in security applications.
Magic Leap – a much-hyped "mixed reality" startup that has raised almost $2B to date – has yet to release a product.
But with investors like Google, Kleiner Perkins, Alibaba, and others betting big on Magic Leap's success, the company's mysterious ambitions have captivated interest across the tech sector.
A new patent application surfaced in the CB Insights database is the latest clue to the stealth startup's strategy: The technology outlined in the patent could turn an augmented reality system into a tool for hyper-rapid identity verification using facial recognition.
The patent suggests Magic Leap is looking well beyond gaming and entertainment, and may have ambitions to license its augmented reality (AR) technology for security purposes.
Magic Leap's new innovation is a system that could replace traditional methods for check-in at the airport and elsewhere.
It essentially links facial recognition, identity authentication, and document verification – all in an augmented reality environment.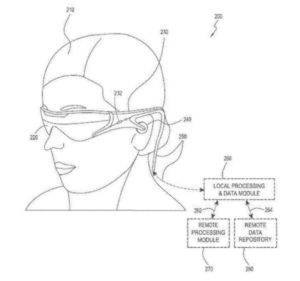 The patent details a system in which a single image captured in the field of vision (FOV) of an augmented reality device (ARD) could be used to authenticate a person's identity.
The ARD rendered in the patent is a set of augmented-reality glasses, though other devices could also serve as the ARD, as we'll discuss later on.
The image captured by the ARD  would include two faces: the actual, physical face of the person standing in front of the ARD-wearer, and the other being the image of her face on the  identification card she presents.
The system would detect and recognize facial features of the actual person's face and the face on the ID card. It would then analyze both sets of face images to detect "linkages" between the person and the identification he or she presents in the image.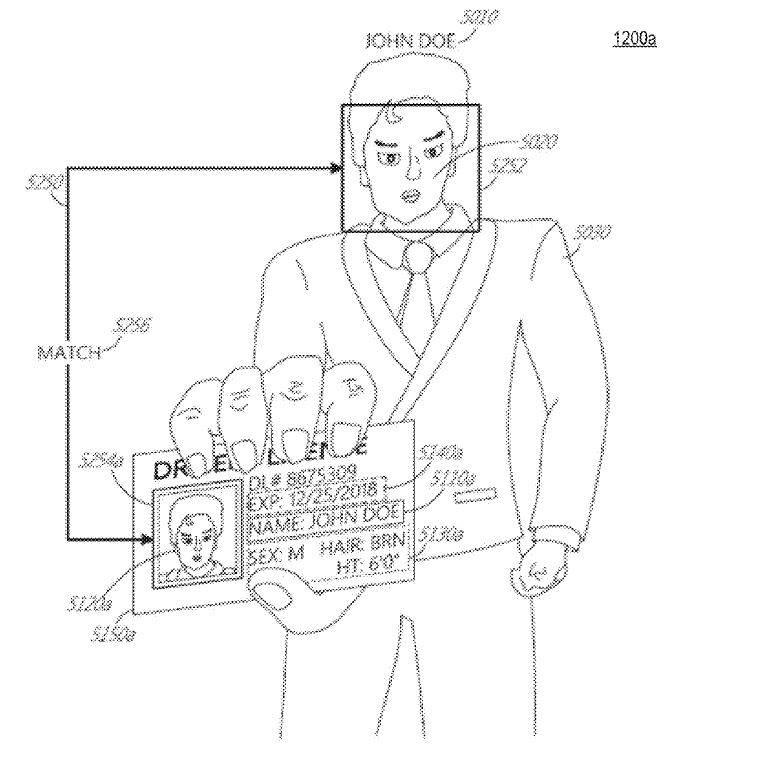 The system may even present a "virtual annotation" of its analysis. This could provide more context to the level of similarity between the faces, or note any discrepancies between the two that demand closer inspection.
Of course, using facial recognition in this manner isn't an entirely new concept. A number of startups license facial recognition technology that apps can use to simplify sign-up for situations requiring identity verification such as banking or building security.
But the technology patented by Magic Leap goes a step further: The system could validate whether your face and personal information align across a "plurality of documents" – for example, whether your face, passport, and boarding pass all belong to the same person.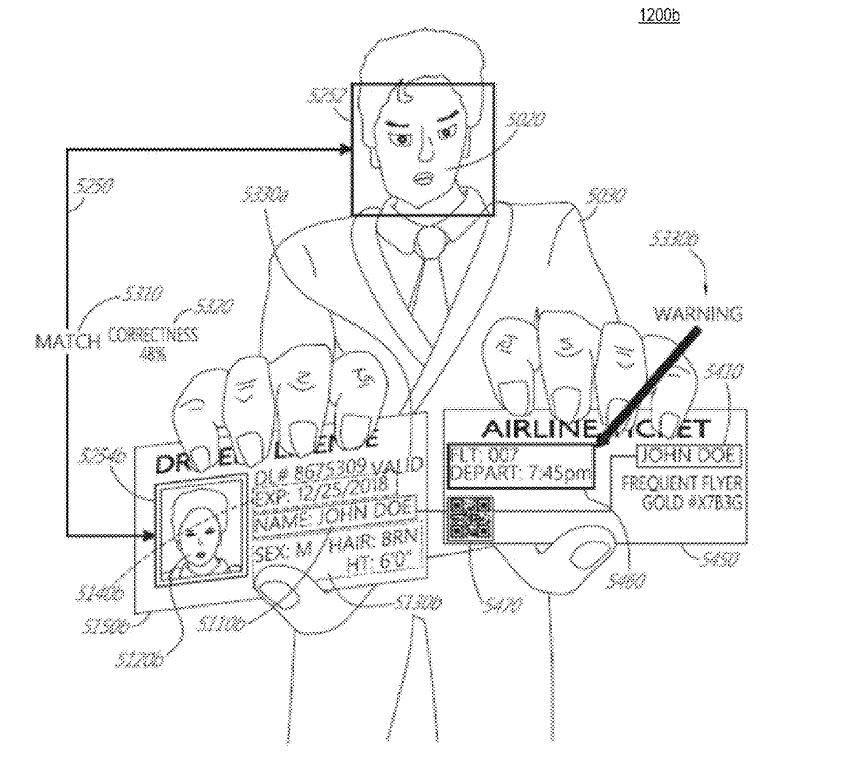 The ARD may flag the document as falsified if these two pieces of information do not match, or communicate its "confidence level" (via in-display annotations) of an identity match.
The confidence level might be used to let someone pass through security, or to notify the ARD-wearer that the process demands further verification.
The filing details other, more granular potential functionalities:
The system may extract data from the image that could aid in the identity verification process – such as your height, weight, or age – in order to communicate it to another computing system to flag signs of inconsistency or falsification.
It may also include an audio sensor (a microphone) for detecting an audio stream from the environment to offer voice-based identification.
Or, it may extract information from the visuals of the documents (such as the bar code) and retrieve information from another data source to complete a process, such as checking you in for your flight.
Airports are a recurring theme throughout the patent, though Magic Leap notes that it could also be used in other environments – such as amusement parks, entertainment venues, or secure facilities like private research labs and warehouses.
The patent also notes that an ARD utilizing this system could be worn by police to verify identity in the field, or by security guards.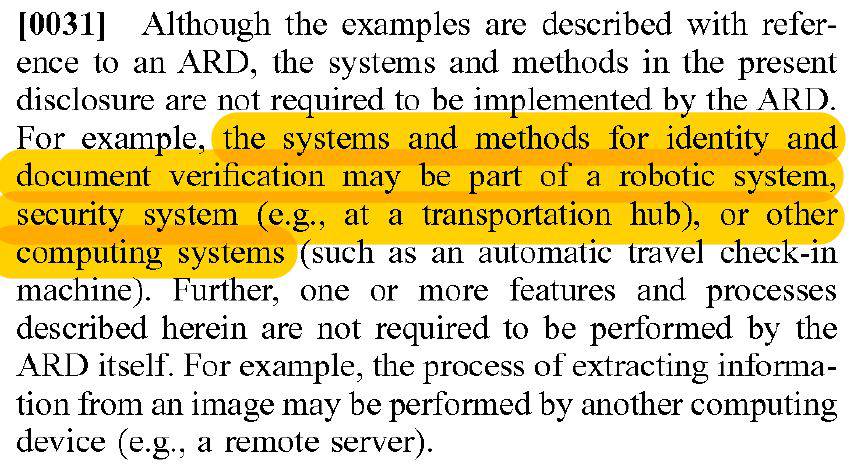 But is the AR device even necessary to this system?
At its core, Magic Leap notes the system could be carried out by any device with a camera and any number of facial recognition and computing technologies. For example, many smartphones already offer AR and facial recognition functionalities.
In addition, an interesting secondary use case lies beyond identity detection altogether. The patent notes that the system is useful "in any context where it is desirable to extract information from documents [or] make comparisons among documents or persons."
This application would leverage the system's ability to extract important information from documents: Just as the patented tech can check that a person's name on an ID card matches a boarding pass, it could seek out similar "linkages" on other sets of papers and forms.
For example, a person viewing a number of documents through the ARD – such as an accountant – could expedite tasks by using the system to "identify or highlight information that may exist on the documents being viewed."
That use case speaks to the value of augmented reality for taking offline tasks and processes (such as training people to use heavy machinery, or picking out a sofa) and simplifying them with virtual overlays like instructions or prices — a far cry from the mixed reality showmanship that has been associated Magic Leap.
If you aren't already a client, sign up for a free trial to learn more about our platform.