Benedict Evans says machine learning will enable more than just object recognition. Computers will use real-world data to "learn" how to understand context.
AI is quickly expanding across various industries, and a number of machine learning startups are developing image recognition solutions across the e-commerce (search), healthcare (imaging & diagnostics), and auto tech (autonomous vehicles) spaces.
While still in its initial stages, Benedict Evans believes "image recognition will be the biggest thing in the tech industry."
Presenting at the A-Ha! conference in San Francisco, Evans dug into machine learning and the shift in the ways machines operate. He pointed out that every previous wave of automation was based on a pre-defined set of codes, but with machine learning, the computer is "[learning] rules for itself" and writing its own code.
The rapid adoption of machine learning in the past few years — fueled by computing power and access to massive amounts of data — has already improved image recognition accuracy.
According to findings from the annual ImageNet Challenge, Evans pointed out that the error rate for machine-fueled image recognition has dropped below that of humans.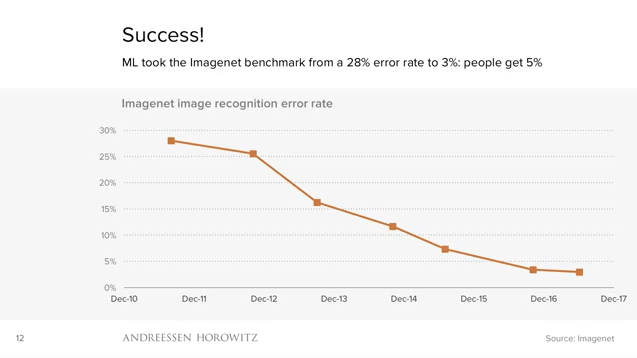 He went on to explain that image recognition would move beyond the simple identification of objects. In the future, computers will be able to identify relationships between objects in a given scene, and describe a story that is being told.
Furthermore, it will give us access to new data from images, and even videos, that might not have been accessible before.
If you aren't already a client, sign up for a free trial to learn more about our platform.