Since Lyft went public in March, the value of some of its top investors' stakes has fluctuated by as much as $1B+. Here are the company's top stakeholders at the time of IPO — and how they're doing now.
On March 29th, ride-hailing unicorn Lyft went public at a price of $72 per share and a $24.3B valuation. The company had last been valued at $15.1B, as of June 2018.
The IPO was a crucial moment for Lyft's 40+ investors,  which included a range of corporate venture arms (Facebook fbFund, capitalG), hedge funds (Coatue Managment), VCs (a16z, Founders Fund), foreign and domestic corporations (Alibaba Group, GM), and even competitors (like China-based ride hailing giant Didi Chuxing).
Two and a half months later, Lyft is hovering at a roughly $18.2B market cap — and it's been a bumpy road for the company's top stakeholders.
Breakdown of top stakeholders
Using Lyft's S-1 filing, we calculated how much its top investors' shares were worth at the time of IPO, based on a $72 share price.
Here's the breakdown of Lyft's top investors, from its founders to key institutional investors.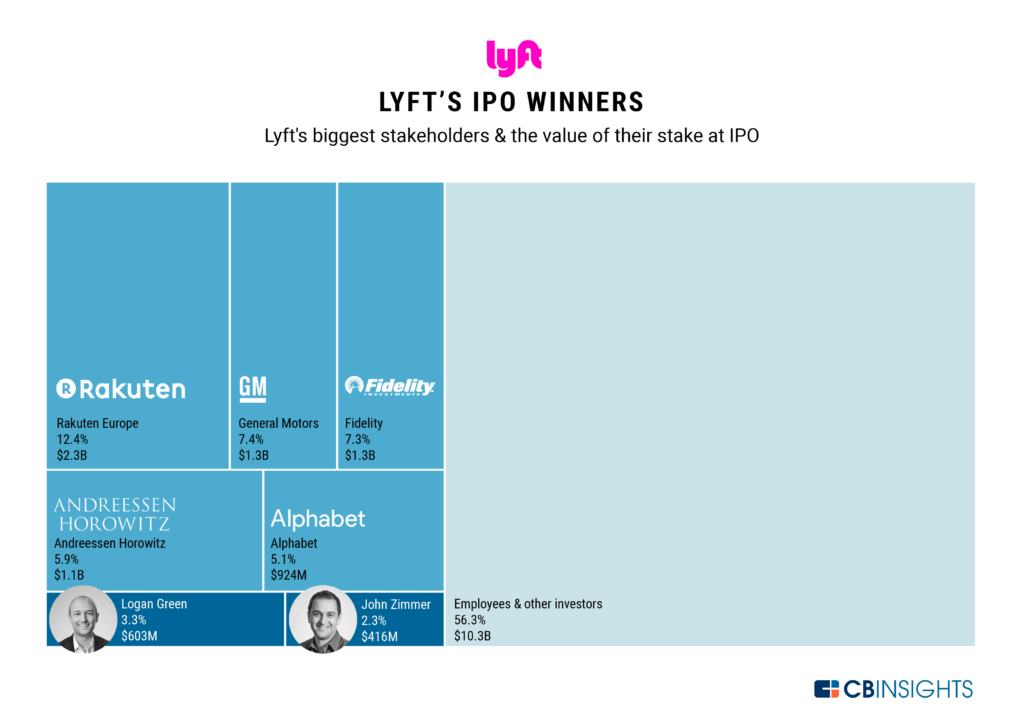 Japanese IT corporation Rakuten is the only investor with a stake upwards of 10%, clocking in at a 12.4% stake worth $2.3B as of the IPO.
After Rakuten, auto corporation General Motors and VC firm Fidelity come in second and third place, with 7.4% and 7.3% stakes, respectively. They are followed by VC firm Andreessen Horowitz (5.9%) and tech giant Alphabet (5.1%), which had a similar stake in Uber earlier this year.
Co-founder and CEO Logan Green had a 3.3% stake worth just over $600M at the time of IPO, while co-founder and President John Zimmer had a 2.4% stake worth $416M.
For comparison, when Uber went public, co-founders Travis Kalanick and Garrett Camp had much larger stakes in their own ride-hailing unicorn, at 8.6% ($5.3B) and 6% ($3.7B) at the time of IPO, respectively.
While Lyft stock ticked up immediately following the IPO, it has overall trended downward in recent months, and the value of investors' original stakes has fluctuated heavily. The value of Rakuten's 12.5% stake, for example, as varied by over $1B, reaching $2.8B at its highest and $1.5B at its lowest prices.
| Investor | % stake | Value at IPO | Highest value ($88.60 as of 3/29/19) | Lowest value ($47.17 as of 5/13/19) | Value today |
| --- | --- | --- | --- | --- | --- |
| Rakuten Europe | 12.4% | $2.3B | $2.8B | $1.5B | $2.0B |
| General Motors | 7.4% | $1.3B | $1.7B | $880M | $1.2B |
| Fidelity | 7.3% | $1.3B | $1.6B | $875M | $1.2B |
| a16z | 5.9% | $1.1B | $1.3B | $709M | $946M |
| Alphabet | 5.1% | $924M | $1.1B | $605M | $807M |
| Logan Green | 3.3% | $603M | $742M | $395M | $527M |
| John Zimmer | 2.3% | $416M | $512M | $272M | $363M |
top institutional investors timeline
While Lyft first raised capital in 2008, its top institutional investors were all later to the game, only backing mid- and later-stage deals.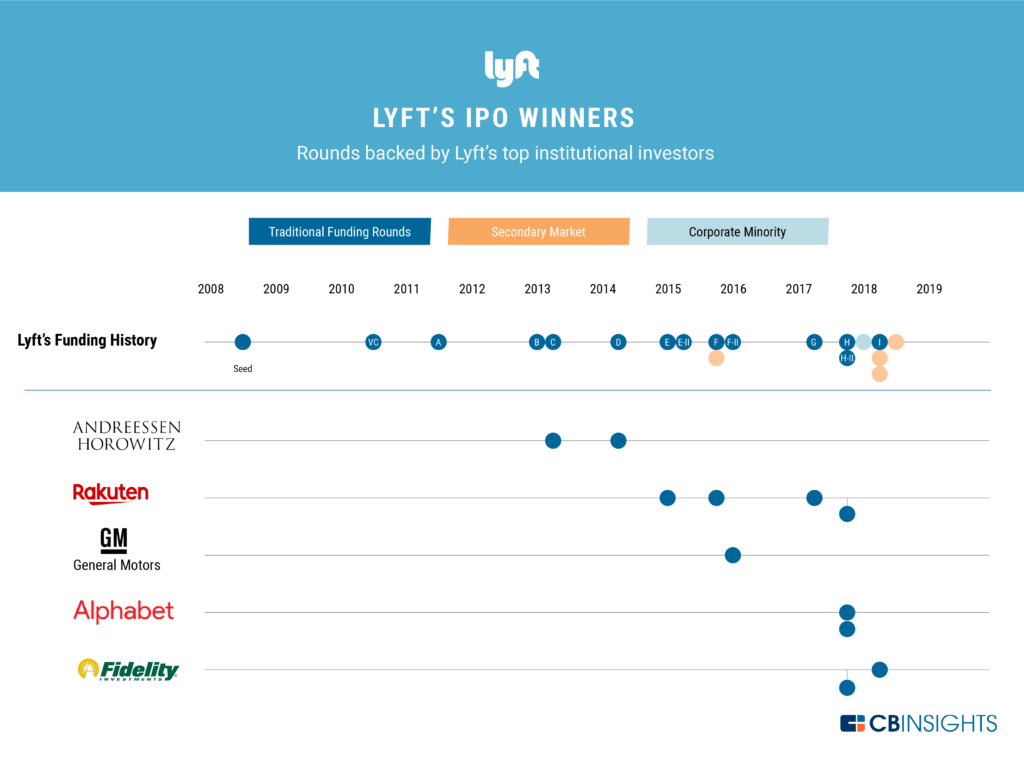 Andreessen Horowitz was the earliest of Lyft's top institutional investors, backing the company's Series C and D rounds during 2013 and 2014.
While later investors, Alphabet and Fidelity also only backed 2 rounds in order to secure their top stakes in the ride-hailing company. Alphabet participated in two tranches of Series H funding in 2017 via its capitalG investment arm, overlapping with Fidelity, which backed one tranche of Series H funding as well as a $600M Series I round in June 2018.
Rakuten was the most frequent of Lyft's top investors, backing 4 equity rounds to the company from 2015 to 2017.
General Motors only participated in one round to secure its 7.4% stake: a $500M tranche of Series F funding in early 2016.
If you aren't already a client, sign up for a free trial to learn more about our platform.