What's next for the luxury market? We analyzed signals across the industry to identify the top 18 luxury trends to watch in 2019.
Tech is transforming every industry, and the global luxury market is no exception. From new concierge-like services to the acceptance of cryptocurrency, we identified the top luxury trends to watch this year.
1. China's Online Channel
Dedicated online luxury platforms are battling to become the entry point to China for luxury brands. Unlike Amazon in the US, Chinese e-commerce giants are aggressively courting luxury brands. As acquiring luxury goods becomes more convenient, brands will need to find new ways to create a sense of exclusivity.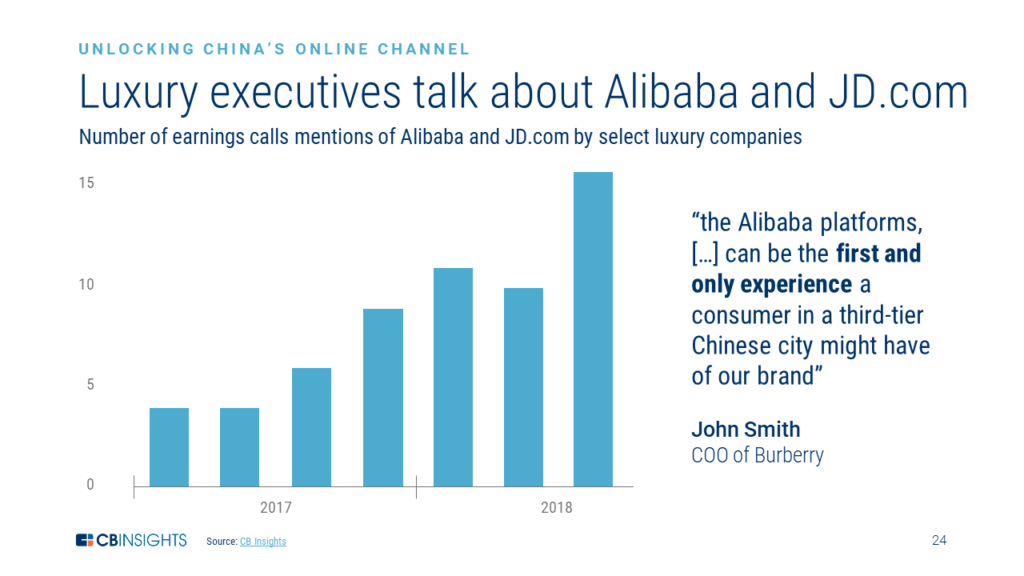 2. Luxury Streetwear
By offering a larger selection of streetwear items, luxury brands are targeting younger generations looking for less formal attire. And making luxury more casual may only be starting. One of the top luxury trends of 2019 will be brands expanding into product lines like athleisure wear and more.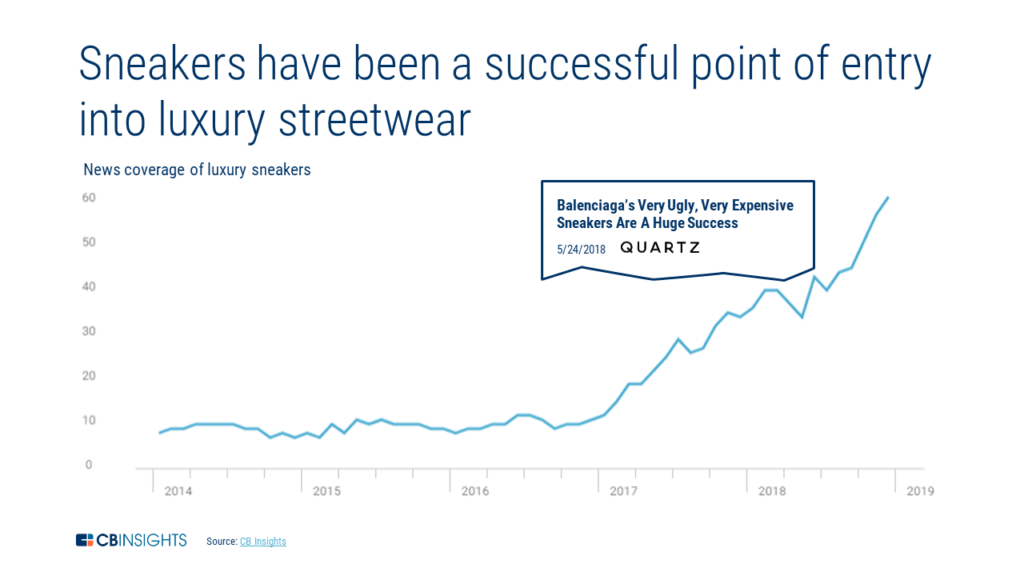 3. Pop-Up Stores
After decades of carefully planned in-store experiences, luxury companies are increasingly relying on pop-ups. Prada alone launched as many as 36 pop-up stores in the first half of 2018, and others are following suit. Despite this surge, luxury brands will likely limit the number of pop-ups while crafting unique experiences for each, to avoid pop-up fatigue.
4. Resale Channel
With the growth of second-hand luxury marketplaces, luxury companies are being forced to reconsider the resale channel. Berenberg projections estimate that the second-hand market could represent 9% of the total luxury goods market by 2020. This year, look for forward-thinking brands to integrate the second-hand market into their customer journey.
5. Connectivity For Luxury Services
As wealthy consumers get used to trading privacy for connectivity, travel & mobility companies are using Wi-Fi to offer premium services. While connectivity has become ubiquitous on airlines, luxury auto manufacturers are following suit.
6. Subscription Services Model
Subscription models are spanning industries — except luxury. Still overlooked by many brands, subscriptions could provide multiple benefits beyond recurring benefit. Top brands may come around, drawn by the opportunity to create exclusive experiences, add new services, and boost loyalty.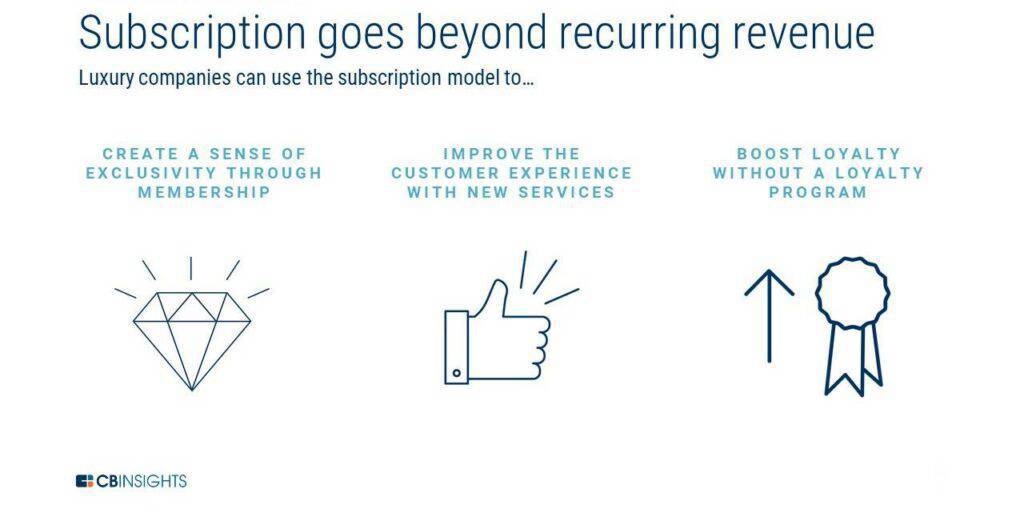 7. AR/VR Experiences
As AR/VR technologies make their way into luxury, brands should think of them as experiential features instead of distribution channels. One of the top luxury trends to watch will be the development of AR/VR solutions that upgrade the shopping experience and solve some customer pain paints.
8. Personalized Hotel Rooms
Smart room technologies in luxury hotels could help guests personalize their stays while capturing their preferences to improve future visits. The largest hotel chains have all unveiled their version of the hotel room of the future in recent years. But for smart rooms to catch on, luxury hotels will have to strike the right balance between technology and privacy.
9. Concierge-Like Services
Luxury companies are increasingly looking at offering concierge-like services to lure and retain wealthy customers. These services can increase communication with customers and gather information about their preferences with minimal intrusion or privacy issues. One of the top luxury trends to watch will be concierge-like services becoming a staple among luxury brands.
Track all the Luxury Tech startups in this brief and many more on our platform
Startups disrupting how we consume luxury goods and services. Look for Luxury Tech Startups in the Collections tab.
Track Luxury Tech Startups
10. The Instagram Store
It's not just stores that are becoming "Instagrammable." Instagram is now doubling down on in-app shopping, turning its product discovery platform into a commerce platform for luxury brands. There have also been rumors that Instagram is working on a separate shopping app. This year, look for the growth of Instagram as a luxury shopping platform and maybe even early forays offline.
11. Anti-Aging Therapies
Anti-aging is moving beyond botox. After founding multibillion-dollar businesses, Silicon Valley billionaires are now trying to disrupt death with new anti-aging therapies. But these new fountains of youth don't come cheap, and evidence of their effectiveness is lacking. One of the top luxury trends to watch will be increased movement into anti-aging by healthcare and luxury players.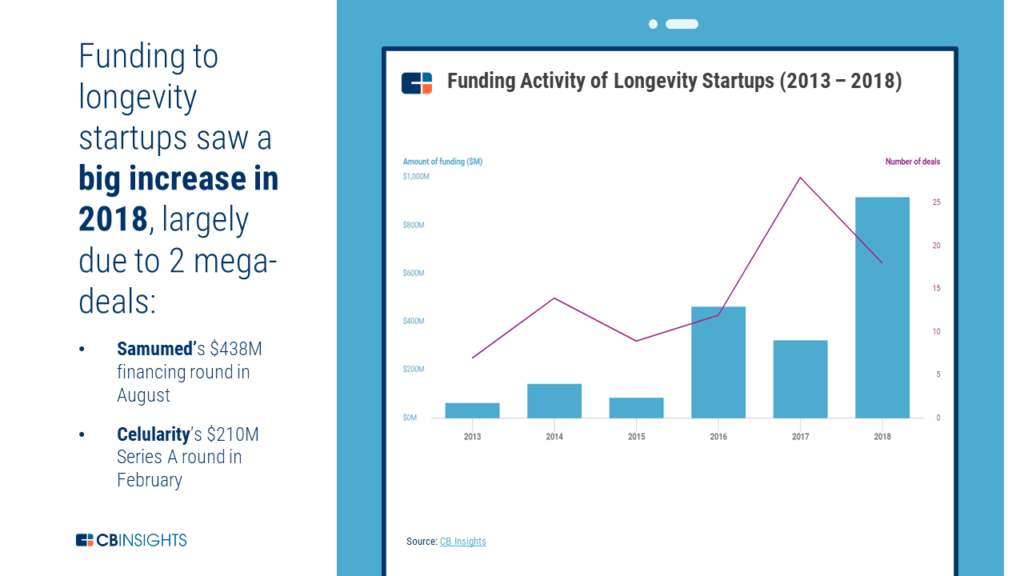 12. Smart Apparel & Accessories
Luxury companies could consider expanding their smart apparel & accessories offerings to create a new, and connected, luxury experience. Going forward, luxury companies may deepen their relationships with technology companies to offer new products and accessories targeting health & wellness.
13. Crypto Payments
As the number of crypto-wealthy people increases, luxury companies are starting to consider cryptocurrencies as a legitimate form of payment. These companies are also targeting millennials, as 1 of 4 American millennials use or hold cryptocurrencies. For these initiatives to be successful, luxury brands will have to hedge against high levels of volatility among cryptocurrencies.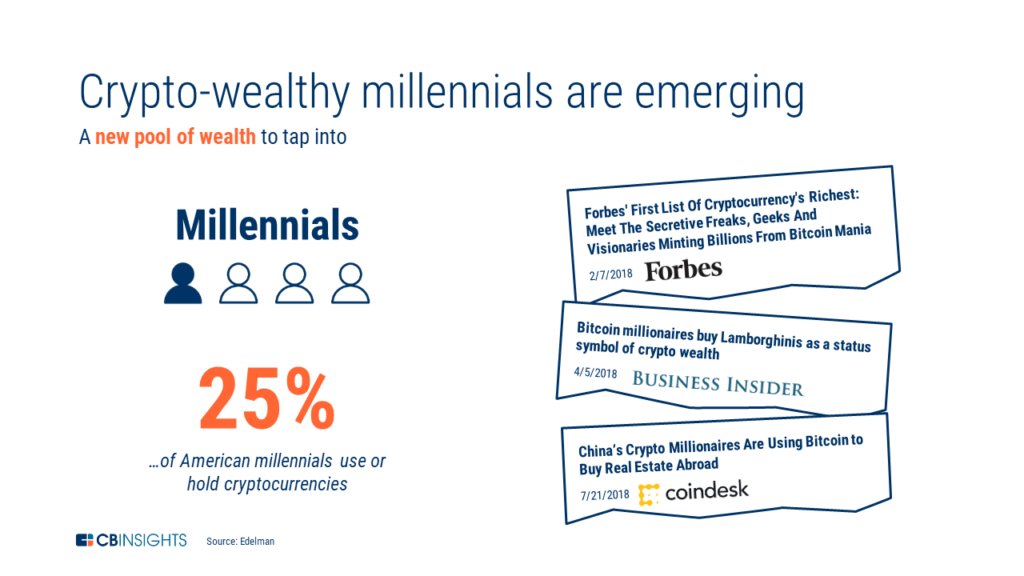 14. Brandless Luxury
Despite current logomania luxury fashion, brandless luxury could emerge to target luxury shoppers looking for a different experience. Despite early moves, it's too early to tell if brandless luxury offers a large market opportunity. One of the top luxury trends to watch this year is consumers embracing less ostentatious aesthetics.
15. Flying Cars
Transportation companies are betting that flying cars will become a reality, and luxury real estate developers are preparing for it. But cities will play a major role, and urban planners could ultimately make or break the technology.
16. AI Designers
AI is making its way into fashion, from chatbots for customer service to personalized marketing and more. For now, AI is empowering fashion designers to use a data-driven approach to create apparel and accessories. The next step could be AI-designed products, but it's unclear if luxury shoppers will value them as much as human design.
17. Luxury Goods On The Blockchain
Tying luxury goods to blockchains could enable greater traceability, easier authentication, and new investment opportunities. While still at an early development stage, blockchain for goods could represent a significant opportunity for luxury companies.
18. Virtual Goods
The virtual goods market is gaining momentum and could represent a significant opportunity for luxury brands. Beyond opening up new revenue opportunities, virtual goods can also help boost brand engagement. One of the top luxury trends to watch in 2019 will be more luxury companies venturing into virtual goods.
If you aren't already a client, sign up for a free trial to learn more about our platform.