From subscription services to AI-powered authentication solutions and lab-grown diamonds, luxury tech startups are spurring innovation beyond e-commerce platforms.
Global luxury houses such as LVMH and Prada have often been reluctant to adopt new technologies. Recently, however, these luxury brands and many others have begun to explore e-commerce platforms and digital technologies.
Both LVMH and Prada launched new e-commerce sites in 2017, for example, and Richemont recently announced a $3.3B bid to fully acquire online luxury platform Yoox Net-a-Porter.
Dozens of startups targeting the luxury space have launched simultaneously. Some compete with luxury leaders by launching new brands of their own, and others aim to help incumbents by offering them luxury-specific technology tools. We see startups working on everything from lab-grown diamonds to luxury subscription services to blockchain for authenticating luxury products.
We used the CB Insights database to identify over 65 luxury tech startups and map them into 9 categories. The startups in the graphic below have raised $2.7B in total funding led by FarFetch, which has raised $701.5M.
The graphic includes private companies only and is not meant to be exhaustive of companies in the space. Categories are not mutually exclusive. Please click to enlarge.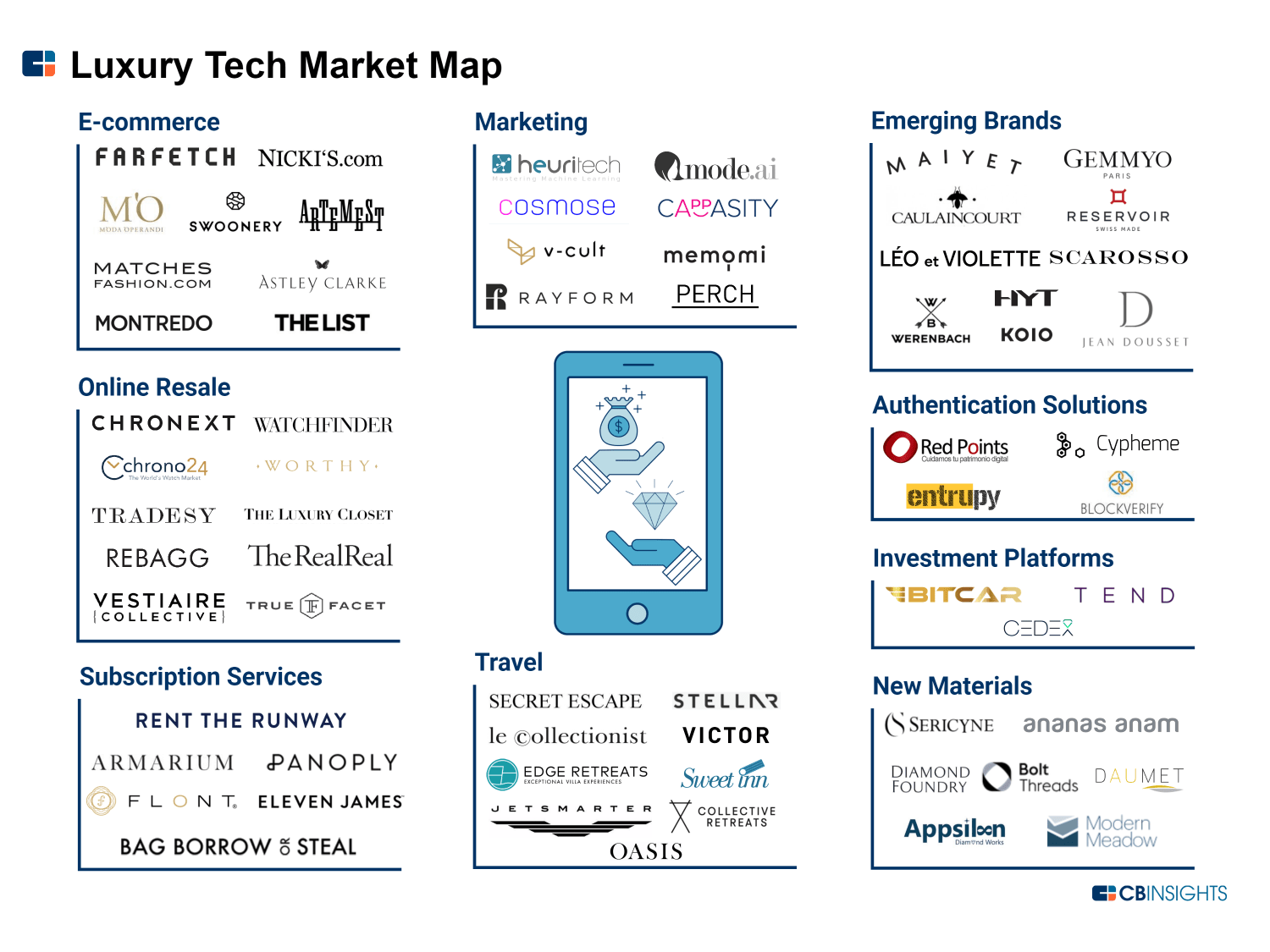 We define luxury tech to include tech-enabled companies launching new luxury brands as well as startups providing tech solutions to the luxury industry, including e-commerce tools, marketing, and more. While these companies may not exclusively target luxury companies, they have notable luxury partners in their client roster. We exclude beauty and food companies.