From digitizing cards to AI-powered rewards to blockchain-based programs, these startups are upgrading the traditional loyalty & rewards space.
Loyalty & rewards is a much bigger business than your coffee shop's 10-punch card.
Top US airlines are generating billions from their loyalty programs, representing between 4% — 15% of their total revenue, according to the Wall Street Journal. This came out to $1.4B for American Airlines in Q2'18 alone.
More recently, ride-hailing giants Uber and Lyft have both unveiled new loyalty & rewards programs.
And now, startups are making it easier for mom-and-pop shops to also offer sophisticated loyalty programs, with digital loyalty cards to replace paper ones, personalized rewards, and more.
We used the CB Insights database to identify 55+ startups disrupting the loyalty & rewards space, from AI-powered loyalty programs to payment solutions and more.
This market map includes private companies only and is not meant to be exhaustive of companies in the space. Categories are not mutually exclusive. 
Please click to enlarge.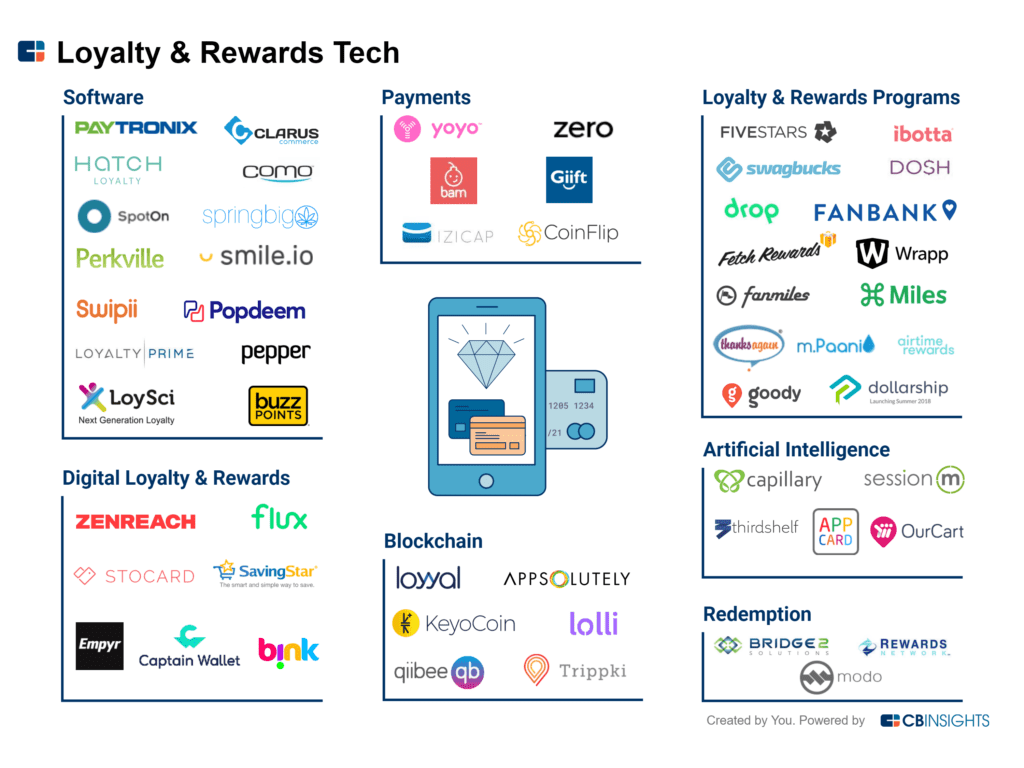 Clients with access to the market map maker can customize this map here.
CATEGORY BREAKDOWN
Software — Startups offering solutions to design, build, and operate loyalty & rewards programs. This includes Swiipi, which offers a card-linking loyalty platform for local businesses to create and personalize rewards for their customers.