Web3 is the buzzy new trend for fashion and beauty players pursuing new branding and monetization opportunities. Here's how L'Oréal, Nike, and LVMH are approaching the next iteration of the internet.
Web3 — a decentralized internet built on open, permissionless blockchain networks — is gaining traction as the next stage of how the internet will operate.
Embracing Web3, which involves tech such as the NFTs and the metaverse (collective virtual worlds), isn't just hype: it's a matter of brand relevance and revenue opportunities. To date, leading retail brands have cumulatively earned more than $250M in revenue from non-fungible tokens (NFTs), according to data from Dune Analytics.
Web3 concepts are driving a shift in how brands and retailers interact with and sell to consumers, creating new opportunities when it comes to revenue streams, marketing channels, community building, and loyalty plays. 
The importance of digital identity and self-expression presents unique opportunities specifically for fashion and beauty players. According to the 2022 Fashion Metaverse Trends report from gaming giant Roblox, nearly half of Gen Z users say they dress their avatars as a way to express themselves.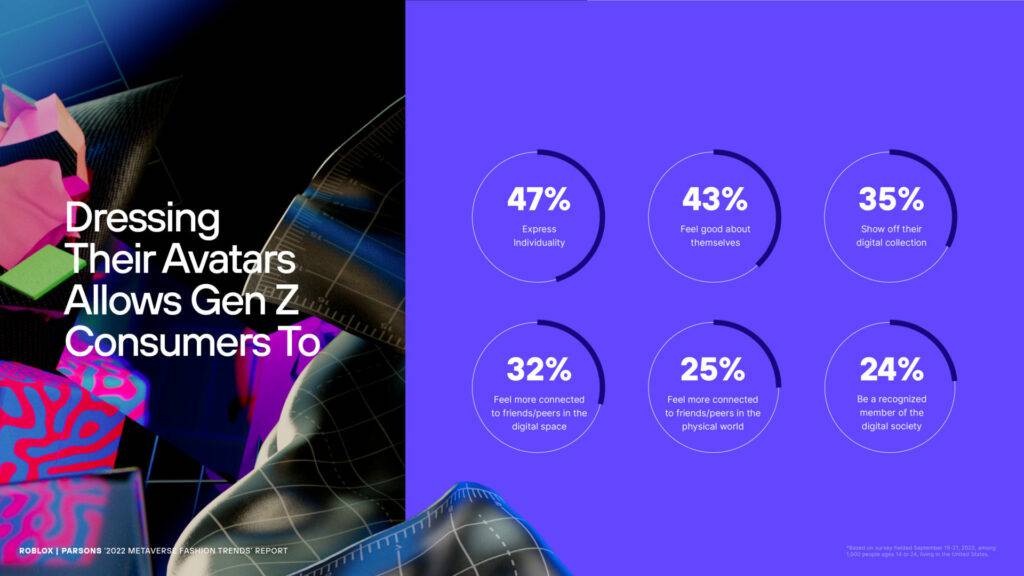 Source: Roblox
There is a sense of urgency for these players to figure out how to leverage Web3, especially after many companies, particularly luxury brands, missed the initial shift to e-commerce and were left playing catch up. Now, brands are eager to avoid making the same mistake again.
As Web3 tech takes hold, engaging with users' digital selves — from selling digital goods to using virtual worlds as new marketing channels — presents huge branding and monetization opportunities for brands and retailers across the beauty and fashion spaces.
How are L'Oréal, Nike, and LVMH approaching Web3?
There is no uniform approach to how the leading fashion and beauty companies are embracing Web3, though most are primarily experimenting through partnerships to discover the best strategies for their brand, as partnerships offer a low-cost way to test and learn.  
L'Oréal is focused on reaching new audiences in digital environments, through moves like offering digital assets on metaverse platforms and exclusive NFT drops. The company has heavily focused on working with startups that create interoperable virtual goods, digital assets used across different virtual worlds. 
Meanwhile Nike has been one of the first movers among large retailers to explore virtual goods as a new revenue stream and to establish its stake in the metaverse. The company acquired virtual sneaker startup RTFKT in December 2021, positioning the sportswear giant as a leader in adopting Web3 tech. 
Finally, one of Moët Hennessy Louis Vuitton (LVMH) 's main priorities is using blockchain to authenticate luxury goods, tracing product journeys from raw materials to distribution.
L'ORÉAL
L'Oréal has been a forerunner in adopting digital beauty trends since it first announced its intentions to become a beauty tech leader in 2018.
Now, the beauty conglomerate is embracing Web3 and the next digital frontier. The company coined the term "on-chain beauty" to describe the emerging platforms where beauty brands, creators, and consumers will interact, shop, and engage.
L'Oréal has partnered with several Web3 and metaverse startups to reach new consumers and create new beauty experiences. These moves align with the areas the company identified as potential opportunities in the metaverse, including virtual collectibles, avatars, influence, and products.
L'Oréal further solidified its commitment to exploring these areas by forming a Web3-focused accelerator program in partnership with tech giant Meta and Incubateur HEC Paris in October 2022.
Ready Player Me 
Relationship: Partnership
In November 2022, L'Oréal partnered with Ready Player Me, releasing 3D hair and makeup looks that users can use to customize their avatars as they explore different virtual worlds.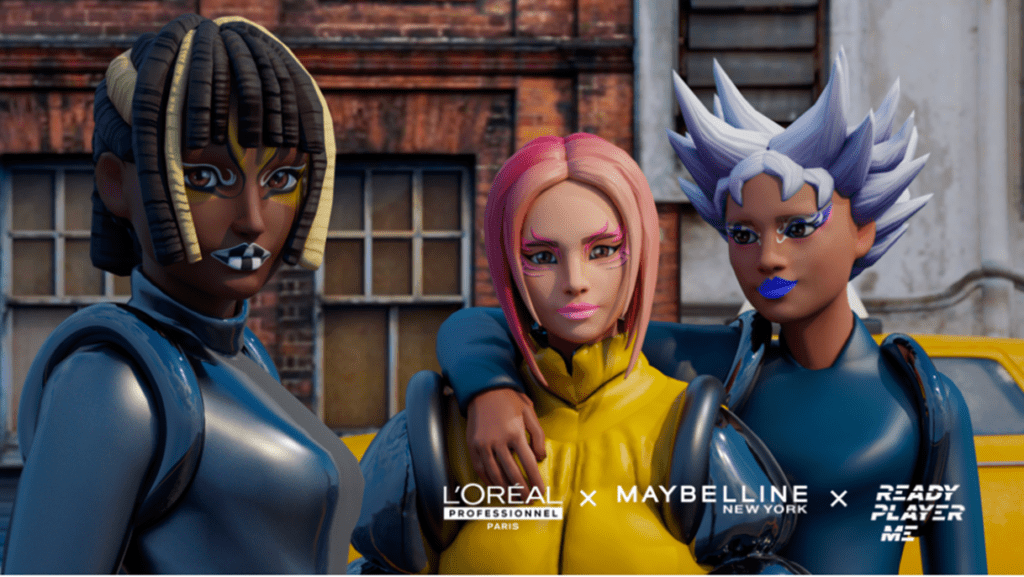 Source: L'Oréal
Estonia-based Ready Player Me allows users to transform selfies into highly customizable cartoon-like avatars. The company aims for users to use its avatars across different virtual worlds and experiences, allowing them to maintain a singular identity as they move across various digital platforms. 
According to the company, Ready Player Me currently has over 3,000 customers, including fashion brands (Adidas), virtual worlds (VRChat), and digital collectible platforms (Nike-owned RTFKT). The avatar startup most recently raised a $55M Series B round in August 2022 from investors including A16z Crypto and Roblox CEO David Baszucki. With the recently raised funds, it plans to improve its creation tools. 
By partnering with Ready Player Me, which focuses on interoperability, L'Oréal is maximizing the opportunities for consumers to use its virtual assets across platforms. The company has stated that it plans to add more of its brands to the Ready Player Me platform in the future.
On a related note, L'Oréal has announced a partnership with avatar startup Animaze, which also focuses on interoperable avatars — underscoring this area as a priority for the company.  
Arianee
Relationship: Partnership
L'Oréal worked with Web3 startup Arianee to create digital wallets to allow Yves Saint Laurent (YSL) Beauté brand shoppers to collect NFTs. France-based Arianee helps luxury brands with creating NFTs and tokenized content for Web3 consumer experiences, such as making product digital twins.
In L'Oréal's case, NFTs will be linked to real-life and online experiences — such as product drops and exclusive events — when consumers connect their digital wallets to the brand's online Web3 hub.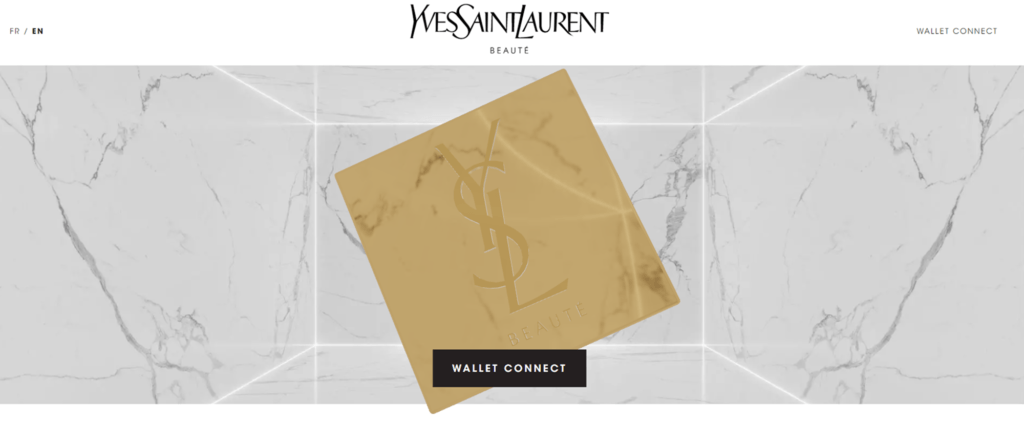 Source: YSL
Beyond engagement, L'Oréal is using NFTs to pursue loyalty plays. NFT loyalty programs allow brands to provide a differentiated value proposition by offering unique rewards and experiences, virtual or otherwise.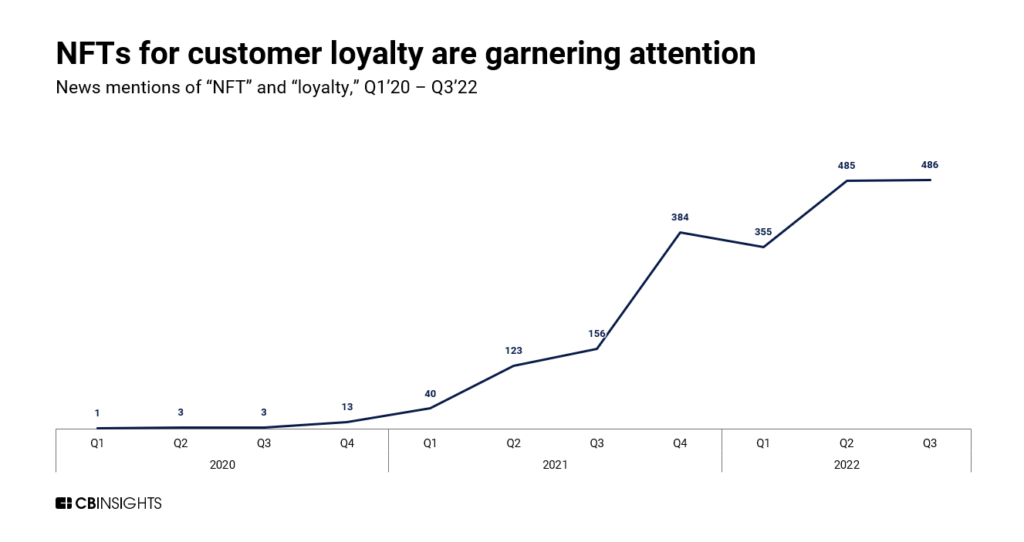 The Sandbox and People of Crypto
Relationship: Partnership
In June 2022, L'Oréal-owned makeup brand NYX Cosmetics partnered with The Sandbox and blockchain company People of Crypto, which focuses on diversity in Web3 spaces. 
The Sandbox is one of the most well-known decentralized virtual worlds. Through the partnership, L'Oréal revealed a collection of non-binary NFT avatars designed with virtual makeup looks.
The NFT drop of over 8,000 avatars coincided with the creation of The Sandbox's Valley of Belonging, which was designed as the first metaverse hub focused on diversity, equity, and inclusion.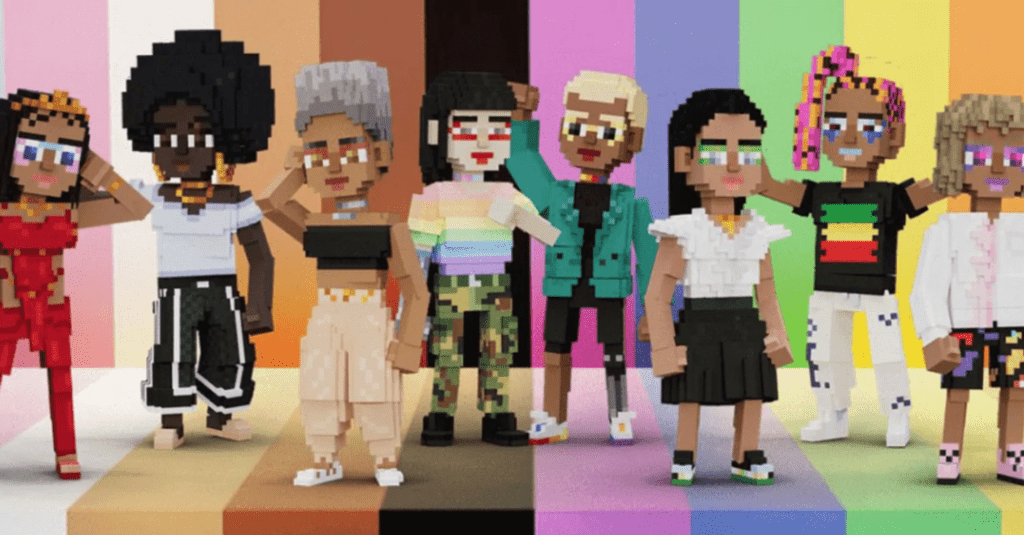 Source: NYX
Partnerships with metaverse platforms such as The Sandbox point to L'Oréal's goals to reach consumers in new landscapes and rethink the consumer journey.
OpenSea
Relationship: Partnership
L'Oréal partnered with the NFT platform OpenSea in December 2021 to release a collection of 5 NFTs. The NFT collection themes were shades of red and female empowerment, inspired by the L'Oréal Paris Colour Riche "reds of worth" lipstick collection. The starting price for each collectible was $1,500.
By cultivating its presence on new and emerging platforms, L'Oréal is actively developing new marketing channels and engaging new audiences, including Web3 enthusiasts. To date, L'Oréal has previously stated that targeting gamers is an emerging marketing channel for the company, which is underscored by its partnerships with other startups such as Ready Player Me.
Modiface
Relationship: Acquisition
Since purchasing augmented reality (AR) tech provider ModiFace in 2018, L'Oréal has become a leader in integrating AR into the beauty shopping experience.
Beyond pursuing virtual try-on tech, L'Oréal has also acquired technology to power virtual products and looks that are gaining prominence in immersive environments like virtual worlds.
The company is already making virtual makeup looks for fully digital interactions a higher priority, blurring the lines between physical and digital environments. It has also rolled out virtual looks that players can use while gaming (similar to a social media filter), as well as virtual looks users can style on their in-game avatars.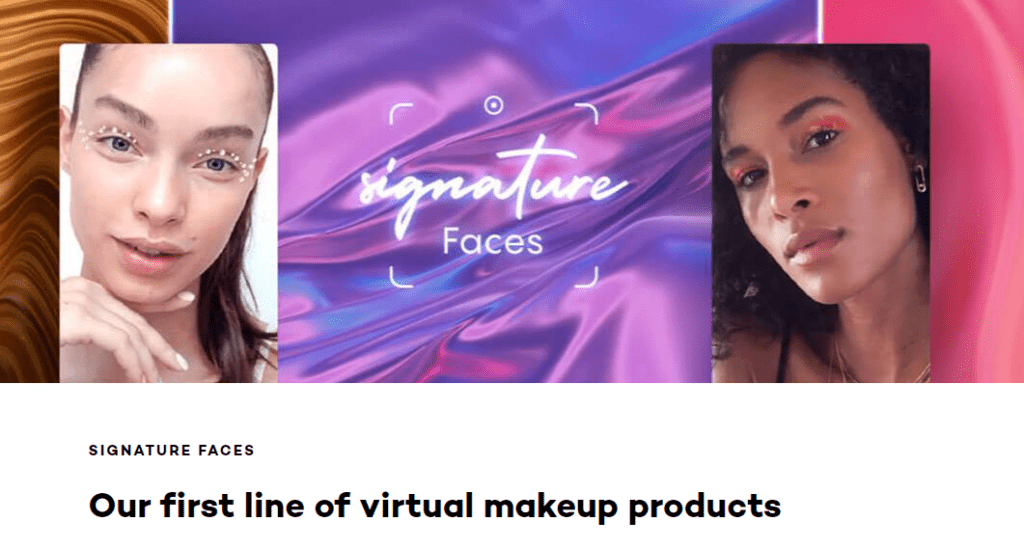 Source: L'Oréal
NIKE
Nike was one of the first major retailers to signal interest in virtual spaces and goods. In 2021, it filed several trademark applications outlining its intent to make and sell virtual branded sneakers and apparel. It also established Nike Virtual Studios to focus on blockchain, Web3, and the metaverse in January 2022.
The sportswear giant is already seeing top-line impact from its Web3 efforts. According to crypto market data startup Dune Analytics, Nike has earned over $185M in revenue and royalties from NFTs. This is more than 7X the amount of income earned by the next closest brand, Dolce & Gabbana ($24M).
Nike's subsequent partnership activity points to the company's intention to bring its existing community into new digital spaces while also reaching new shoppers. Overall, Nike aims to make digital assets and economies a more significant part of its business model going forward. 
Qartium
Relationship: Partnership
In November 2022, Nike partnered with startup Qartium, a decentralized commerce platform, to sell its NFTs. 
A decentralized commerce model allows consumers to transact directly with sellers. In this way, the two transacting parties bypass centralized e-commerce platforms that traditionally take a cut by transacting on the blockchain, lowering transaction costs and tightening transaction security. This balances authentication, visibility, and community to enable reliable and consistent commerce experiences. 
Qartium token is a fairly new blockchain project that is purportedly able to sell a wide variety of items, including both digital and physical goods. Partnerships with well-known companies like Nike and Amazon may bring legitimacy and critical masses of shoppers to decentralized commerce platforms. 
RTFKT
Relationship: Acquisition
Nike acquired RTFKT, a creator of virtual sneakers and collectibles, for an undisclosed amount in December 2021. The NFTs created by RTFKT are blockchain-based, which allows users to prove ownership of their digital assets.
Since buying RTFKT, Nike has continued to come up with new ways to monetize its brand in the digital realm and engage its customers. 
In November 2022, the company announced its new Web3 platform, dotSwoosh, where consumers can buy, design, and trade virtual assets. The platform is designed to make NFTs more accessible, allowing those who aren't as familiar with Web3 to still interact with and purchase digital goods.
The platform will also allow fans and creators to participate in design contests for different virtual assets and potentially split a portion of the money earned on the sales of their designs with Nike. 
Nike has stated that all its virtual creations, from jerseys to sneakers, will be able to be worn across different games and immersive experiences.
Roblox
Relationship: Partnership
While gaming platform Roblox isn't currently considered a Web3 platform, it serves as a bellwether for a successful Web3 metaverse, with an active user base and a thriving virtual economy that brands seek to tap into. The company states over 11M creators designed virtual fashion items on its platform in 2022 — a number that it estimates is more than 200X the number of fashion designers in the US creating real-world clothing.
Nike partnered with Roblox to build "Nikeland," a world where users can buy Nike outfits for their avatars, in 2021. The 2-month experience saw over 21M visitors in its duration.
Nikeland also featured mini-games and digital experiences that corresponded with real-life events, such as a Roblox version of Lebron James making a guest appearance in the virtual world during NBA All-Star Week.
Source: Nike
Nike constantly introduced new experiences within the virtual world to satisfy consumer demands for dynamic virtual experiences and fresh content.
Roblox has become a popular marketing channel for brands and retailers who see it as a testing ground for brand activations to reach younger audiences (two-thirds of its users are under 16 years old). To this point, Roblox has partnered with the likes of Burberry, Tommy Hilfiger, Walmart, and Gucci this year alone.
The gaming platform is also enhancing its capabilities for fashion and beauty digital assets. In 2022, it introduced a Layered Clothing system, which allows in-game avatars to wear digital apparel, layering up to 6 items at once. In 2022, over 62M virtual fashion items and accessories were created on the Roblox platform.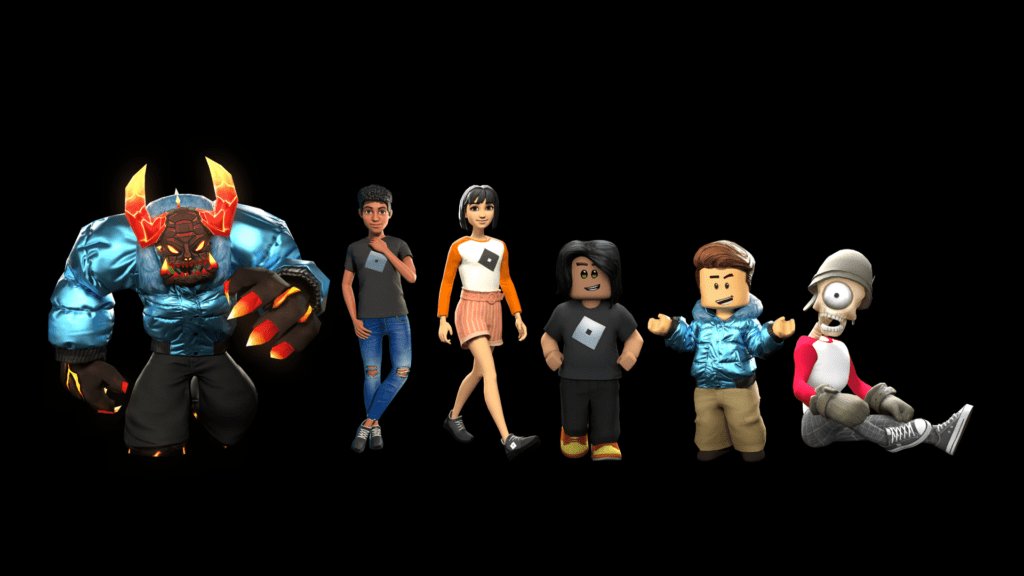 Source: Roblox
LVMH
LVMH — the world's largest luxury group by revenue, with over $68B in 2021 — has been defining luxury and supplying luxury goods to consumers globally for decades. 
Now the company is entering virtual worlds and exploring Web3 technology.
While its approach to the metaverse and Web3 is slightly more cautious, LVMH has stated that it sees itself playing in the future of Web3 in key areas like traceability, immersive experiences, and digital twins. In the future, the company also plans to allow consumers to pay with cryptocurrency and build a virtual world for its jewelry brand Bulgari.     
RTFKT
Relationship: Partnership
In November 2022, Nike-owned RTFKT and LVMH launched an NFT collection based on the latter's luggage brand RIMOWA.
The collaboration was interactive, requiring consumers to solve challenges to mint their NFTs. 
The partnership also connected the physical and digital worlds: alongside the NFTs, the company also released a limited-edition suitcase.
Altava Group
Relationship: Partnership
Singapore-based Altava, which raised $9M in seed VC funding in March 2022, develops customized digital environments for brands. LVMH created its first metaverse ambassador, Livi, with Altava in May 2022.
Livi co-hosted the company's awards ceremony at the Paris technology conference VivaTech the following month.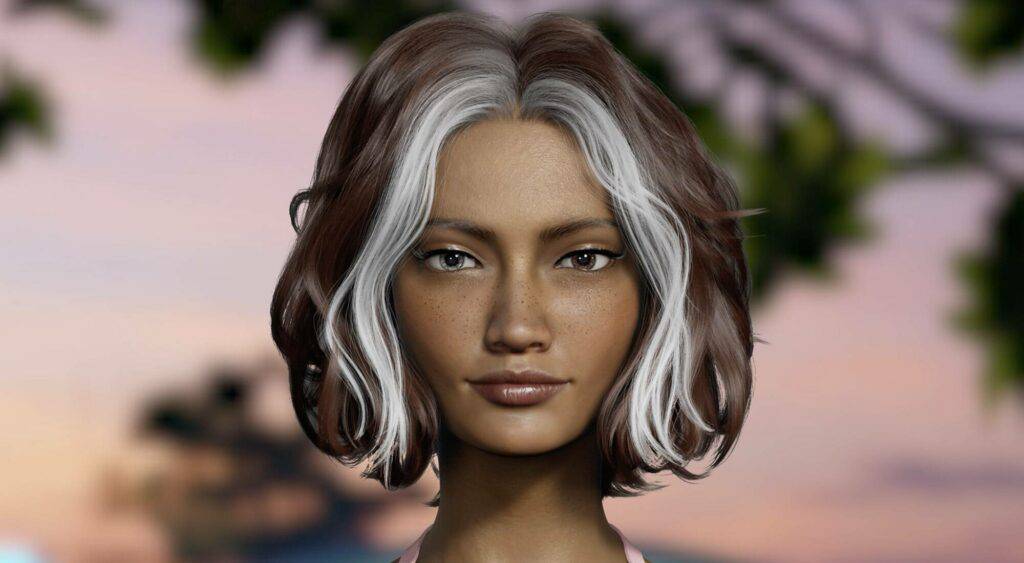 Source: LVMH 
Virtual influencers are becoming increasingly popular, particularly in Asia. These computer-generated personas can offer the appeal of a human influencer, often with fewer risks and limitations. 
With the rise of metaverses, virtual influencers like LVMH's Livi could become prominent figures in these virtual worlds, as they serve as new platforms to interact with fans, followers, and consumers.
ConsenSys
Relationship: Partnership
In 2019, LVMH joined with Microsoft and blockchain startup ConsenSys to create Aura, a platform to authenticate luxury goods through blockchain. Aura allows customers to trace their products from design to distribution, while providing LVMH additional protection from counterfeit goods and fraud.
In April 2021, other brands like Prada and Richemont's Cartier joined LVMH to form the Aura Blockchain Consortium. The alliance effectively opens the Aura platform to any luxury brands that want to utilize its blockchain-based solution to track their goods.

Source: Aura Blockchain Consortium
Similarly, in November 2022, LVMH partnered with public company Security Matters to track its raw materials more closely and reduce waste using blockchain.
These partnerships show that LVMH is placing high importance on authenticating luxury goods, down to the raw material inputs. This focus should continue to gain traction across the industry as companies ramp up sustainability efforts. 
Looking ahead
Today, brands and retailers are competing with streaming giants, gaming platforms, and social media for consumers' attention through digital content. This challenge will only grow as the rise of shared virtual spaces further transforms how consumers spend their time.
Embracing Web3 technologies can bring brands new opportunities across revenue streams, marketing, and brand relevancy as competition for consumer attention intensifies.
As more players enter virtual worlds, standing out from the pack to drive engagement and generate conversions will require increasingly creative and targeted audience approaches. Companies will need to understand the communities they're trying to engage — or they risk alienating users instead of winning them over. 
Going forward, expect to see more companies experimenting in areas outside their traditional areas of expertise. For example, L'Oréal has stated that the company is exploring creating the first "decentralized record label for creators in Web3."
As virtual goods continue to gain popularity, interoperability across virtual worlds — so consumers can take digital assets across platforms — will open up even more possibilities for Web3 and the metaverse. With the line between the digital and physical worlds blurring, digital twin products will gain traction. Shoppers will expect to be able to purchase virtual goods and receive a real-life copy or related experience they can take part in, or vice versa. 
Eventually, brands may work directly with users-turned-creators (like the ~1.3M developers on Roblox) who have the skills and gaming experience to develop these goods and installations, according to predictions by Meagan Loyst, Gen Z VCs founder and Lerer Hippeau investor. Gucci, for example, partnered with popular Roblox creators and designers cSapphire and Rook Vanguard to develop its virtual items. 
As the Web3 space evolves, investment and M&A activity beyond partnerships will signal more concrete roadmaps for how companies will incorporate this tech into their business models. Companies like Ulta Beauty, which formed Prisma Ventures in August 2022, will also test corporate venture capital and accelerator programs as a way to explore Web3 and the metaverse.
If you aren't already a client, sign up for a free trial to learn more about our platform.