The pandemic has boosted the adoption of livestreaming among brands and retailers looking to engage more directly with customers. But the addition of shopping features is now transforming livestreaming into a growth engine for e-commerce.
An increasing number of brands and retailers are turning to livesteaming as more platforms emerge that allow viewers to instantly buy featured products.
For example, China-based livestreaming app Kuaishou went public a few weeks ago following stellar gross merchandise volume growth in 2020, while payment unicorn Klarna recently partnered with ShopShops to offer livestream shopping during its second virtual shopping event.
Livestreaming commerce has also captured executives' attention recently, with mentions on earnings calls soaring in 2020.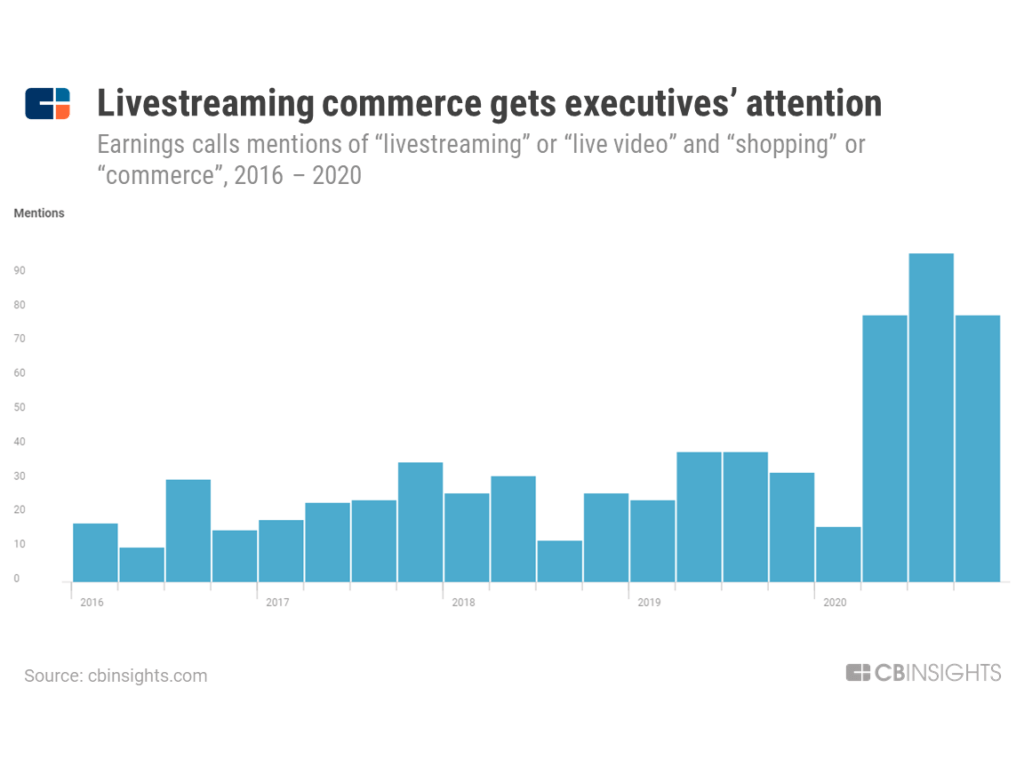 WHAT YOU NEED TO KNOW:
China leads the way: Livestreaming is expected to generate up to 20% of China's total e-commerce sales by 2022 — doubling its share from 2020 — according to estimates by HSBC and Qianhai Securities. Chinese live video platforms such as Kuaishou and Bytedance are quickly adding commerce features, while e-commerce leaders such as Alibaba and JD.com have both ramped up their livestreaming efforts in the past year, including a push in Europe from Alibaba's AliExpress.
Livestreaming is slowly gaining traction in North America: Amazon has been experimenting with livestream shopping for some time and holds several patents in the space. During its Prime Day event in November 2020, the company actively promoted its Amazon Live feature by working with its network of influencers to promote exclusive deals on select products. More recently, US-based TV shopping player QVC debuted a livestream shopping channel on YouTube TV.
What's next?
Luxury brands and esports companies will move to popularize livestreaming outside of China: While luxury brands have been experimenting with livestream shopping in China, the pandemic has pushed a number of them to start livestreaming runway shows in other regions. For example, Burberry livestreamed its spring/summer 2021 collection show on US-based Twitch, a popular livestreaming platform among gamers.
More social media platforms will make live videos shoppable: Facebook launched Instagram Live Shopping in the US at the end of 2020, making it possible for sellers to tag products when they go live for viewers to buy. Tiktok is also reportedly working on a livestream shopping feature, which could further boost livestream commerce penetration outside of China.
Startups want to make shoppable content tech more accessible: Startups such as Mai and Instreamatic are using artificial intelligence to make it easier to add shopping features to visual and audio content respectively. These tools aim to help content creators, including brands and retailers, to offer livestream shopping experiences on their own platforms.
Livestreaming technology partners will become essential for brands and retailers: As livestream commerce becomes more popular, brands and retailers — looking to boost their return on investment — will drive up demand for technology partners that can help offer high-quality streaming and convenient purchasing experiences.
If you aren't already a client, sign up for a free trial to learn more about our platform.