Live video shopping is a way of life in countries like China and India, but it has yet to catch fire the same way in other markets across the globe.
Livestreaming has been the next big thing in online shopping for several years. 
In China, the shopping mode — where consumers can interact with a live video in real time and buy products — gained speed just before the pandemic. Now, nearly 500M people in China reportedly visit livestream sites on a regular basis, and their purchases on the platforms are driving 10% of e-commerce sales in China, according to McKinsey.
Retailers, brands, and investors anticipated it would explode similarly in North America and elsewhere. Non-China-based startups in the livestream shopping market, which includes B2B livestream tech as well as consumer-facing livestream platforms, raised more than $430M across 5 deals in 2022.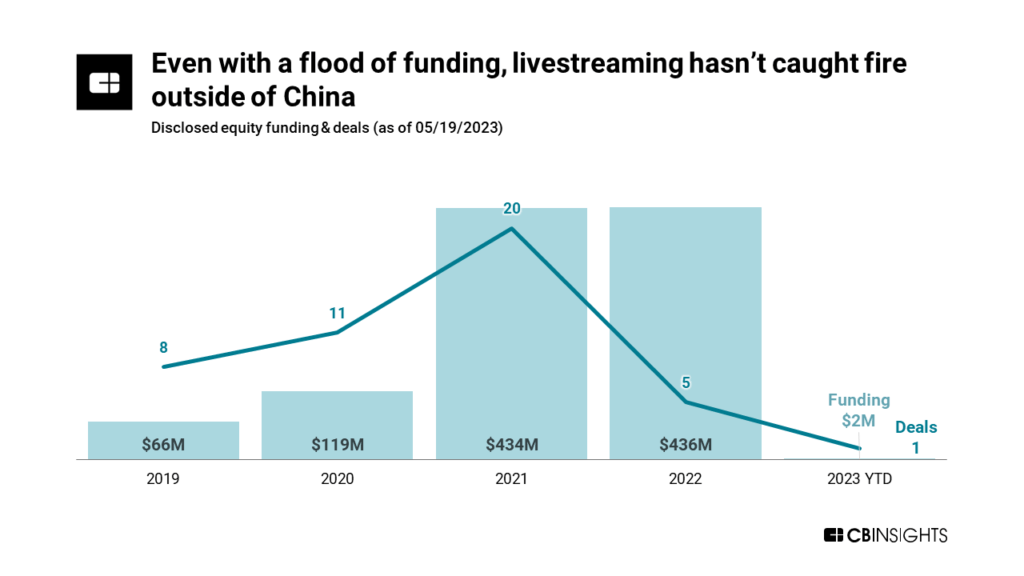 For more data on the livestream e-commerce market, visit our Market Report.
But in practice, livestreaming hasn't expanded as expected outside of China. So far in 2023, only one livestream company has raised — US-based Immerss, which offers livestream as well as digital clienteling tools, announced a $2M seed round in January. Companies like Meta have abandoned livestream shopping programs. And while estimates have livestream shopping surpassing $65B in sales in the US by 2026, doubling projected 2023 levels, it is still only expected to account for 5% of forecasted e-commerce sales.
So what's next for livestream shopping outside of China?