Covid-19 is driving an all-time high in interest from younger consumers toward life insurance products. Here's what you need to know about Lemonade's move into the space.
Consumer demand for life insurance increases during catastrophes, and Covid-19 is proving to be a major catalyst for life insurance adoption, especially among younger demographics.
To take advantage of this change, Lemonade, an insurtech with a millennial customer base, announced on its Q3 earnings call earlier this month a plan to offer a term life insurance product in the next 90 days. Currently, Lemonade focuses on home and renters insurance.
US life insurance applications saw significant year-over-year growth from the 0-44 age group in the months after Covid-19 lockdowns, according to the MIB Life Index.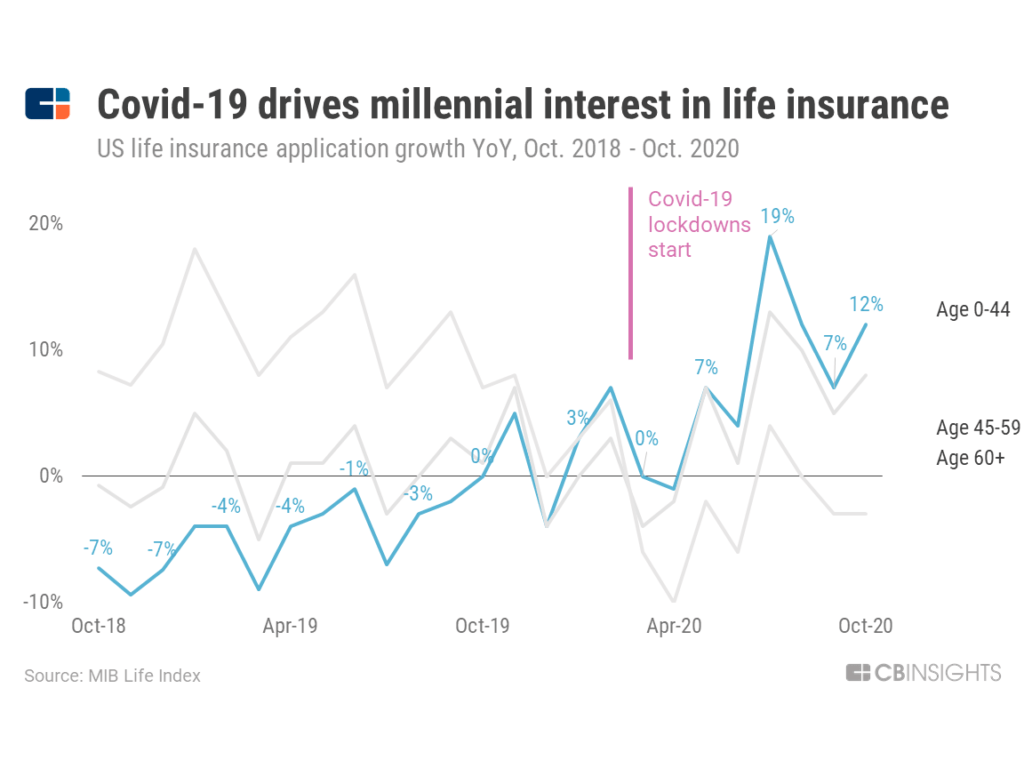 WHAT YOU NEED TO KNOW:
This move fits with Lemonade's goal of growing with customers as their insurance needs change over time. By breaking the "categorical boundary" of P&C to enter life insurance, the company hopes to keep younger customers on its platform as they "graduate" from renters to homeowners to life insurance.
Lemonade does not plan on underwriting its life insurance policies.

Life insurance has very different risk characteristics and a significantly longer liability tail than Lemonade's core renters product. By using a currently unnamed underwriting insurer, Lemonade's risk exposure —

both upside and downside — will be minimal. Instead, it will leverage its existing technology, customer base, and brand to earn commission income.

Digital life insurance products are gaining traction. As

Covid-19 broadly drives increased demand for digital products and services,

digital life insurance companies — especially those that can offer products instantly without the need for a medical exam — are well-positioned. Digital-first life insurer Bestow, for instance,

has grown its sales by over 800% year-over-year.
WHAT'S NEXT?