Funding is on track for a record high while smart money investors are making calculated, early-stage investments in companies redefining the legal profession.
Legal tech startups have already reached a high in deal count this year, as technology aimed at automating high-cost, white-color professions gains investor attention.
By offering software solutions that streamline law offices' workload, automating rote and repeatable work, projects that might have previously required hundreds of hours of human capital, could be accomplished much more efficiently.
Companies attacking the category offer e-discovery and legal research, consumer and business-facing online legal services, legal practice management software, and intellectual property invention disclosure software, among many other use cases.
We define the legal tech category as companies offering tech-enabled services and products to individual lawyers, larger corporate law firms, and other key stakeholders in the law industry.
We used the CB Insights platform to examine funding trends to legal tech startups. We also dug into the data and highlighted the startups that smart money investors are betting on within the category.
Financing trends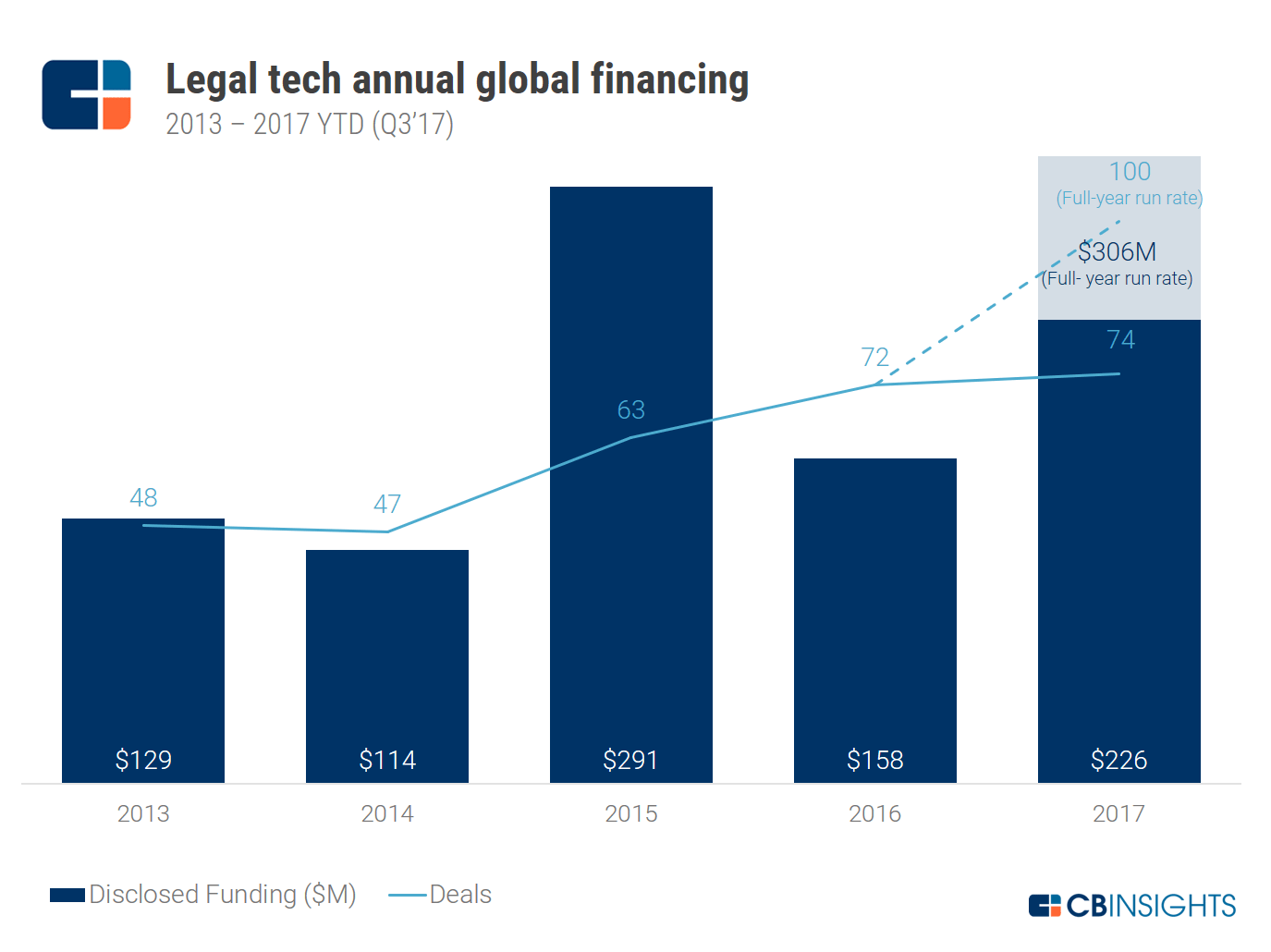 On an annual basis, investors have deployed $226M across 74 deals through Q3'17. Funding through the first 9 months of the year is already up 43% over 2016. At the current run-rate, 2017 is on track to see $306M invested across 100 deals.
On a quarterly basis, $41M was invested across 23 deals in Q3'17. This was down from a massive Q2'17, in which $129M was invested across 28 deals; the most since Q1'15. The spike in funding was driven in part by a $96M financing to Zapproved, a cloud-hosted legal discovery software tool.
Overall, deals to legal tech startups saw a big bump in mid-2016 and activity has stayed above 20 deals per quarter since then.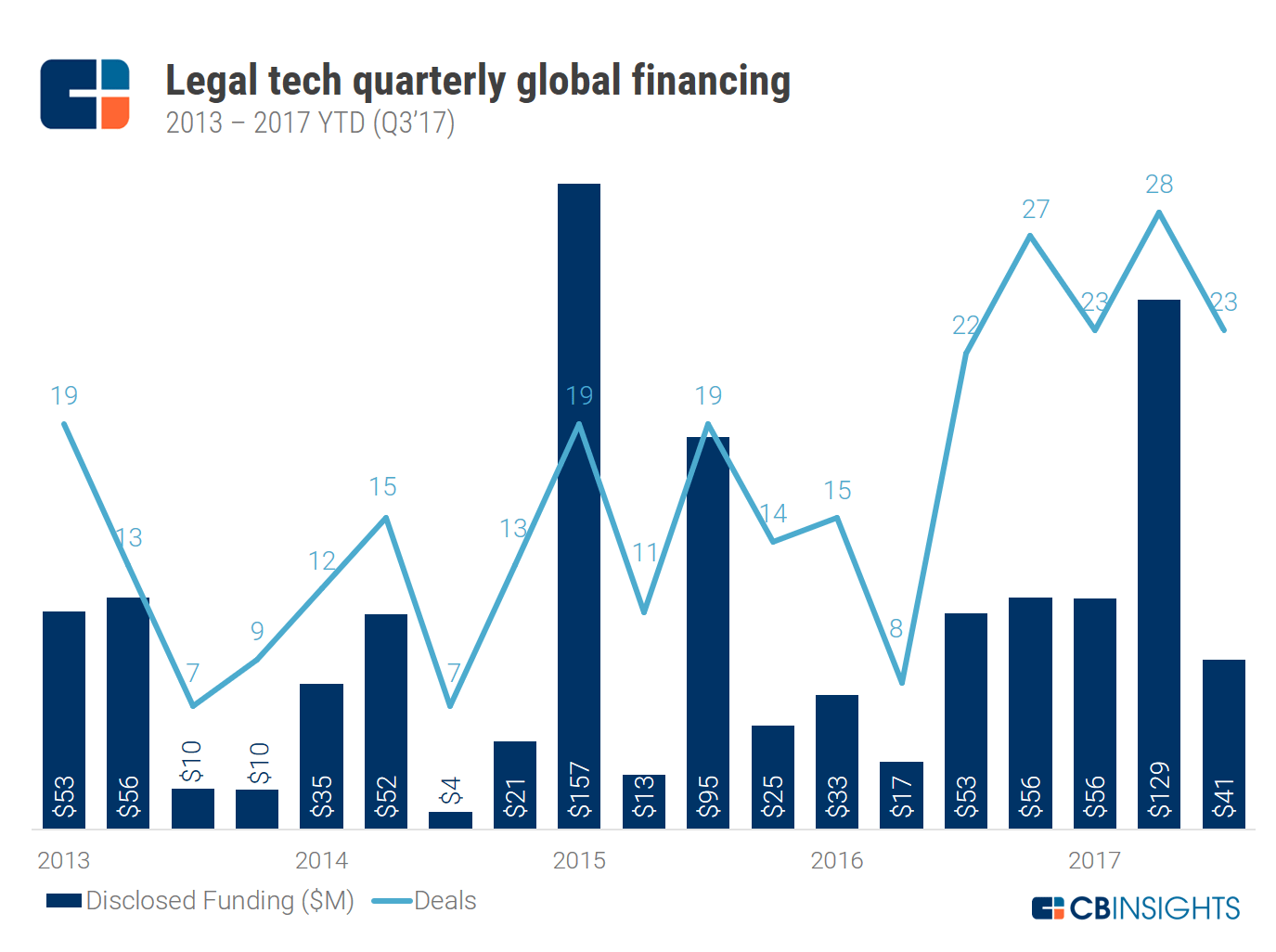 Compared to 2016, seed-stage funding has decreased by 14 percentage points as a percentage of total deal share, the second straight year of decline, as the category matures.
Series A deal share has grown so far in 2017, from 14% in 2016, to 17% so far this year. "Other" rounds, which include convertible notes and corporate minority financings, grew 11 percentage points to 29% of overall deal share this year.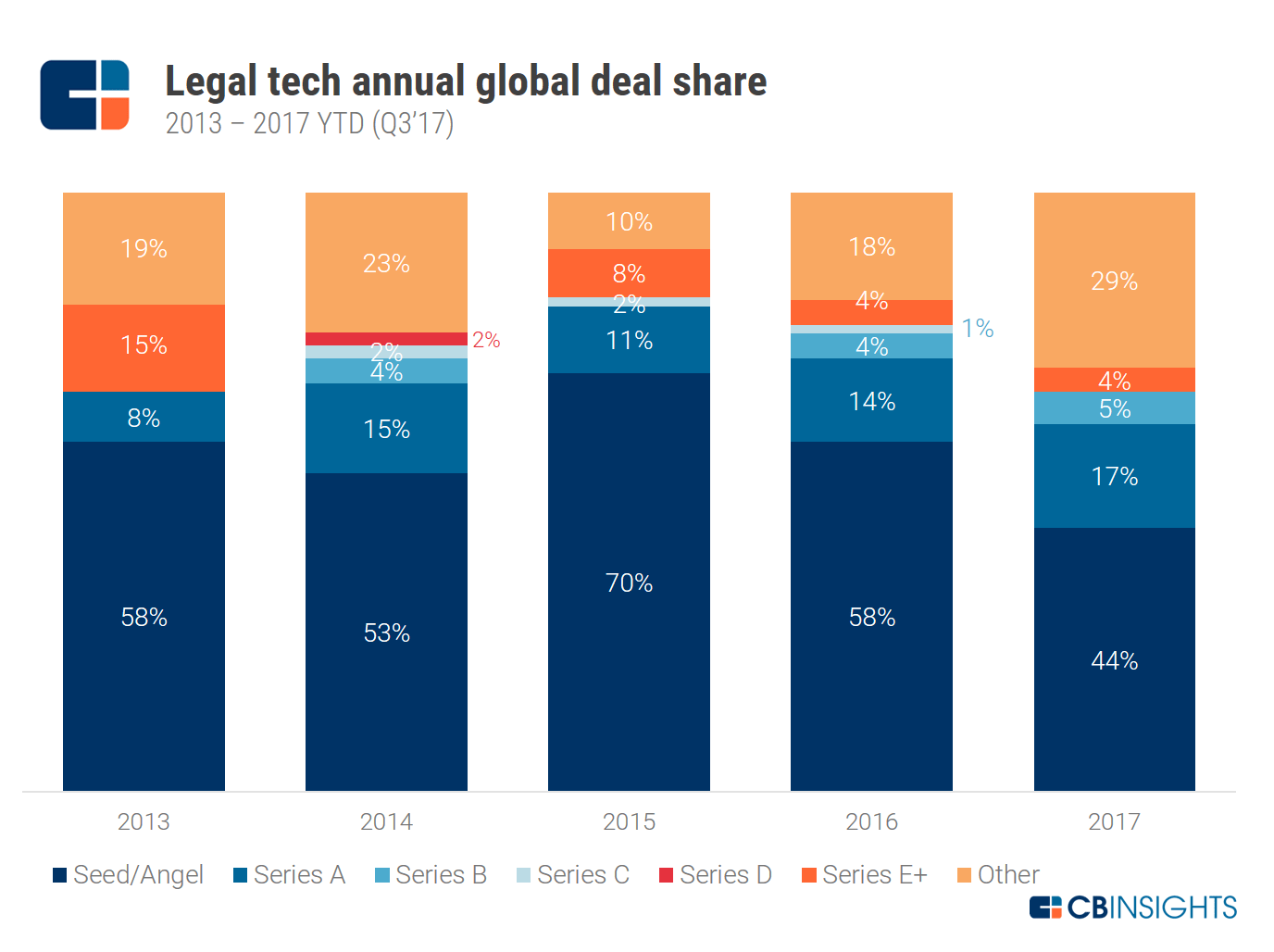 Smart money legal tech investments
We used the CB Insights platform the see where smart money investors are investing in legal tech. Specifically we examined which legal tech startups received smart money investment in the trailing twelve month time period through 2017 year-to-date (9/18/17). Companies are presented in order of most recent funding round.
For more on how we selected our 24 "smart money VCs," please see the explanation and full smart money list at the bottom of this post.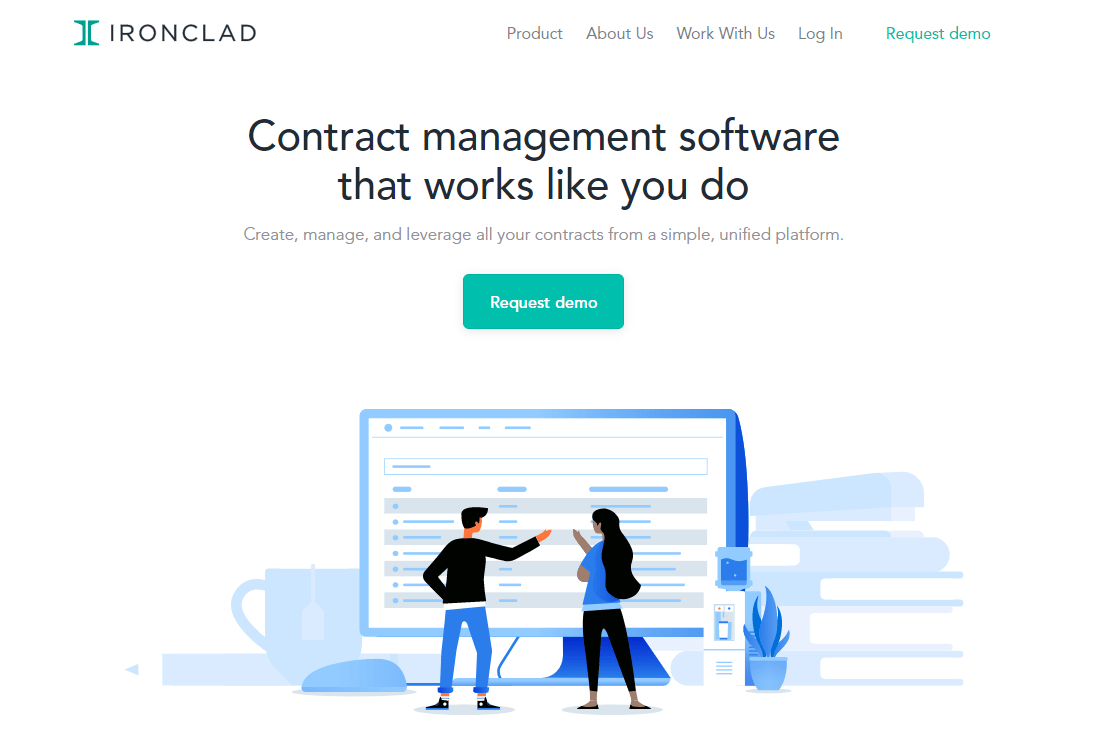 Total funding: $8.12M
Smart money investor(s): Accel Partners
Ironclad is a 2015 Y Combinator alum that raised its Series A in August of 2017 from Accel Partners. The San Francisco based company is developing a workflow tool for corporate lawyers, creating software solutions for the "busy work" aspects ofcontract drafting and management. The company is led by Jason Boehmig (formerly a corporate lawyer at Fenwick & West), and Cai GoGwilt (formerly a software engineer at Palantir Technologies).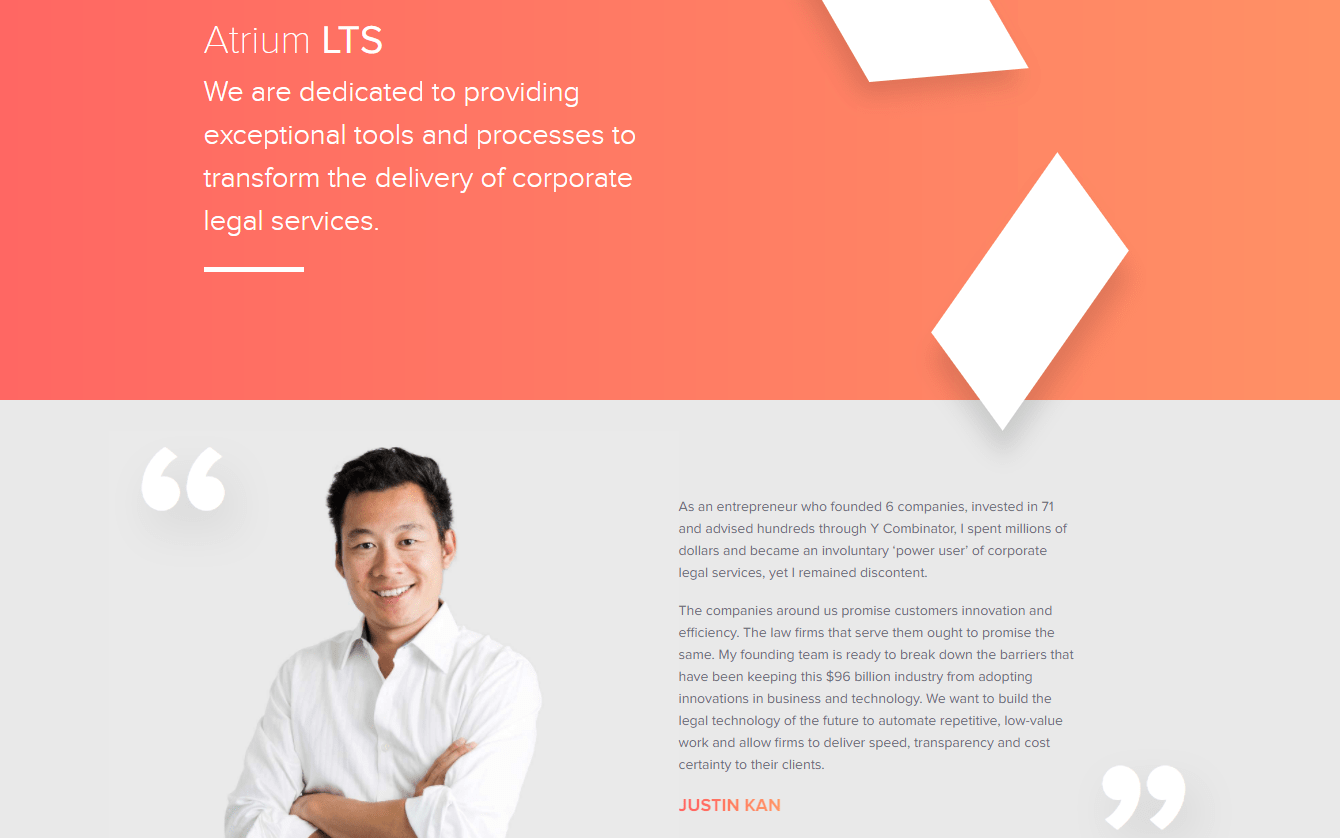 Total funding: $10.5M
Smart money investor(s): First Round Capital, Founders Fund, General Catalyst, Greylock Partners, New Enterprise Associates
Atrium LTS is lead by Justin Kan, an alumnus of Y Combinator and founder of Justin.tv. The startup is creating development process management tools for repeatable and rote corporate law work. The company raised a Series A round led by General Catalyst in June of 2017; the round notably included over 90 investment firms and angel investors.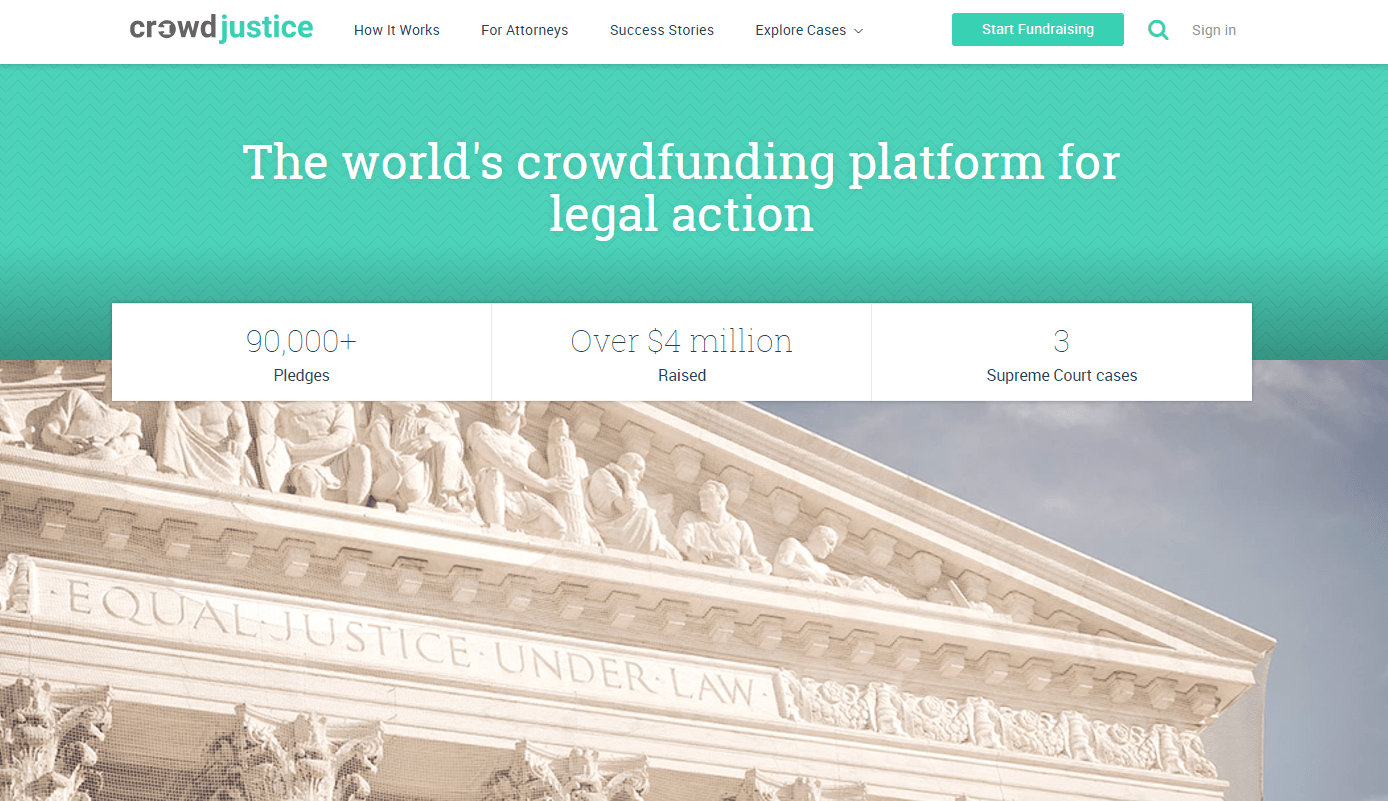 Total funding: $2M
Smart money investor(s): First Round Capital, Bessemer Ventures
CrowdJustice is a Brooklyn-based company that serves as a crowdfunding platform for legal expenses. The company lets users create or find cases that they care about and leverage the internet community for funding support. The company was started by Julia Salasky, a former litigator at Linklaters and lawyer at the United Nations, and received seed funding from First Round Capital and Bessemer Ventures, among others in May of 2017.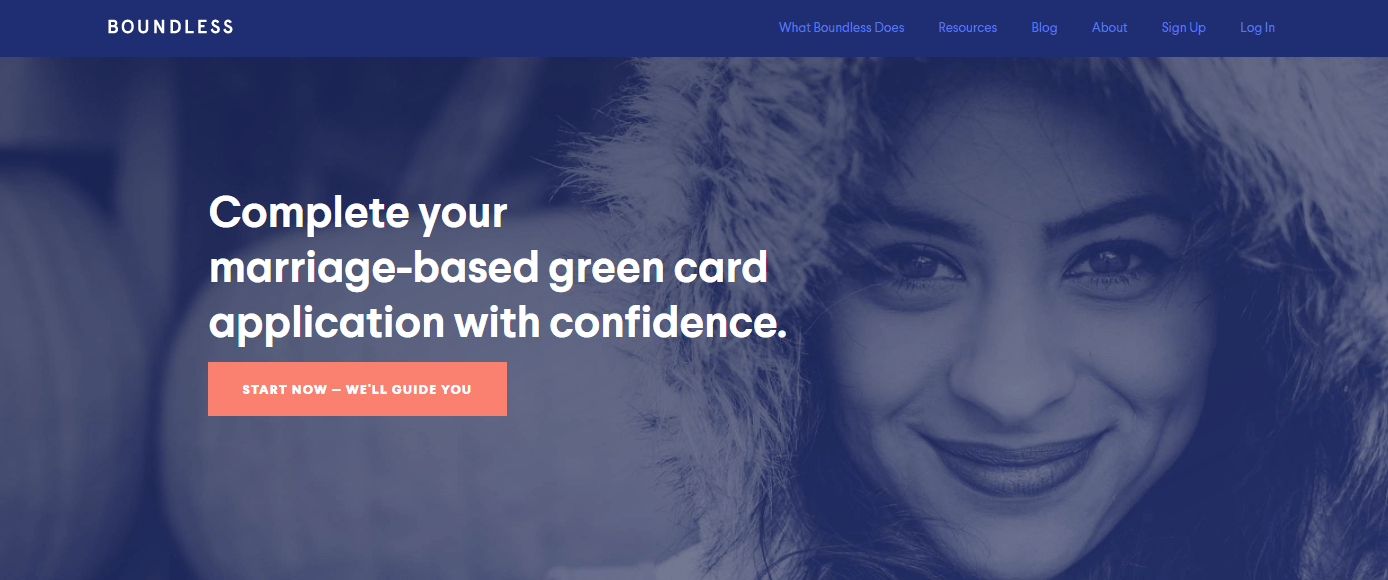 Total funding: $3.5M
Smart money investor(s): Foundry Group
Seattle-based Boundless is a startup that helps customers apply for US marriage-based green cards. The company transfers answers from a simplified online questionnaire on its site to an application package in addition to providing access to a lawyer for application review and customer questions. The company raised seed funding from Foundry Group, among other investors in April of 2017.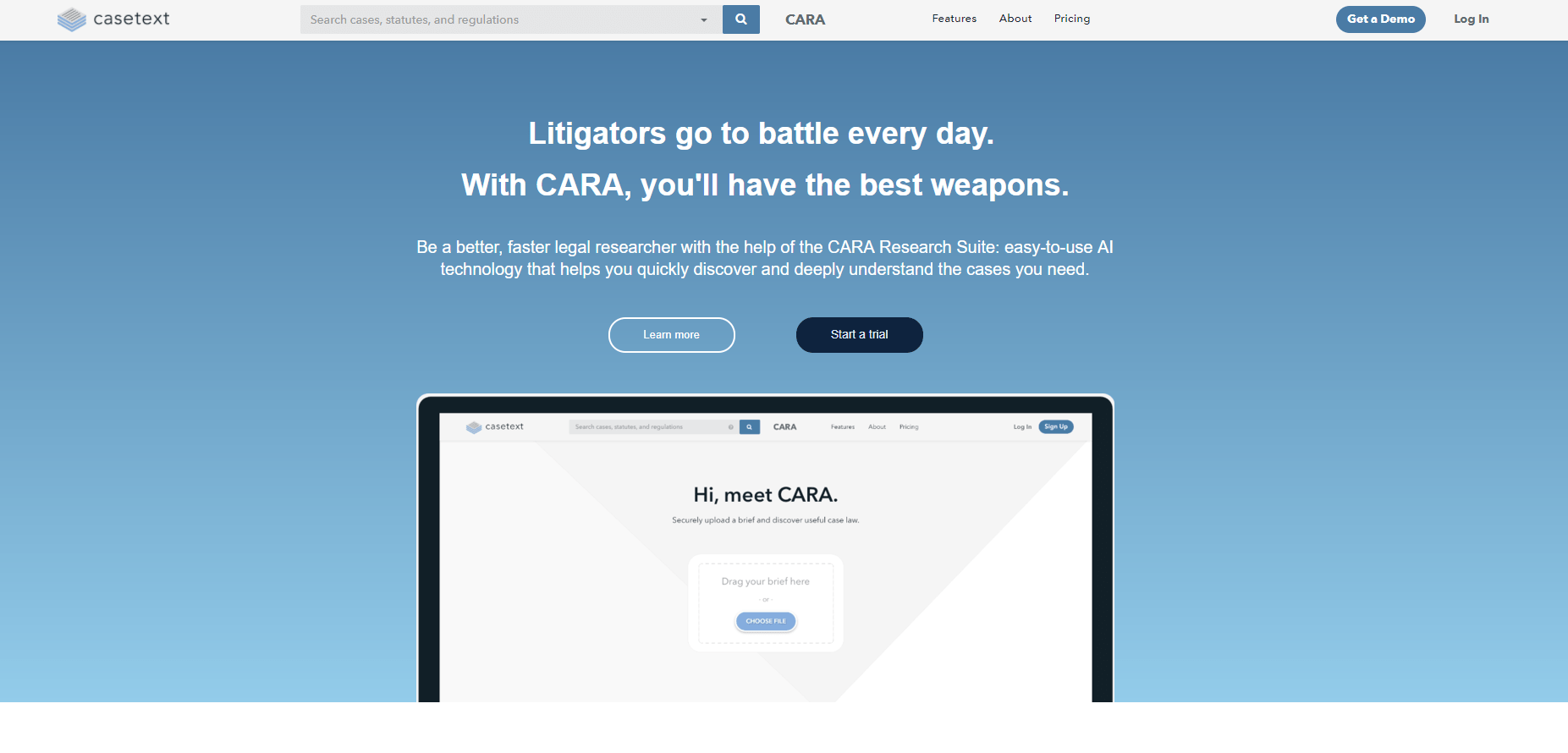 Total funding: $24.3M
Smart money investor(s): Union Square Ventures
Casetext is a Palo Alto based company whose primary product is CARA or Case Analysis Research Assistant. The company uses AI to research applicable case-law related to a legal brief. Casetext is used by Ogletree Deakins, Fenwick & West, Quinn Emanuel, Baker Donelson, and DLA Piper among other clients. The company raised the second tranche of a Series A financing from Union Square Ventures in November of 2016 and its Series B from Union Square Ventures, among other investors in March of 2017.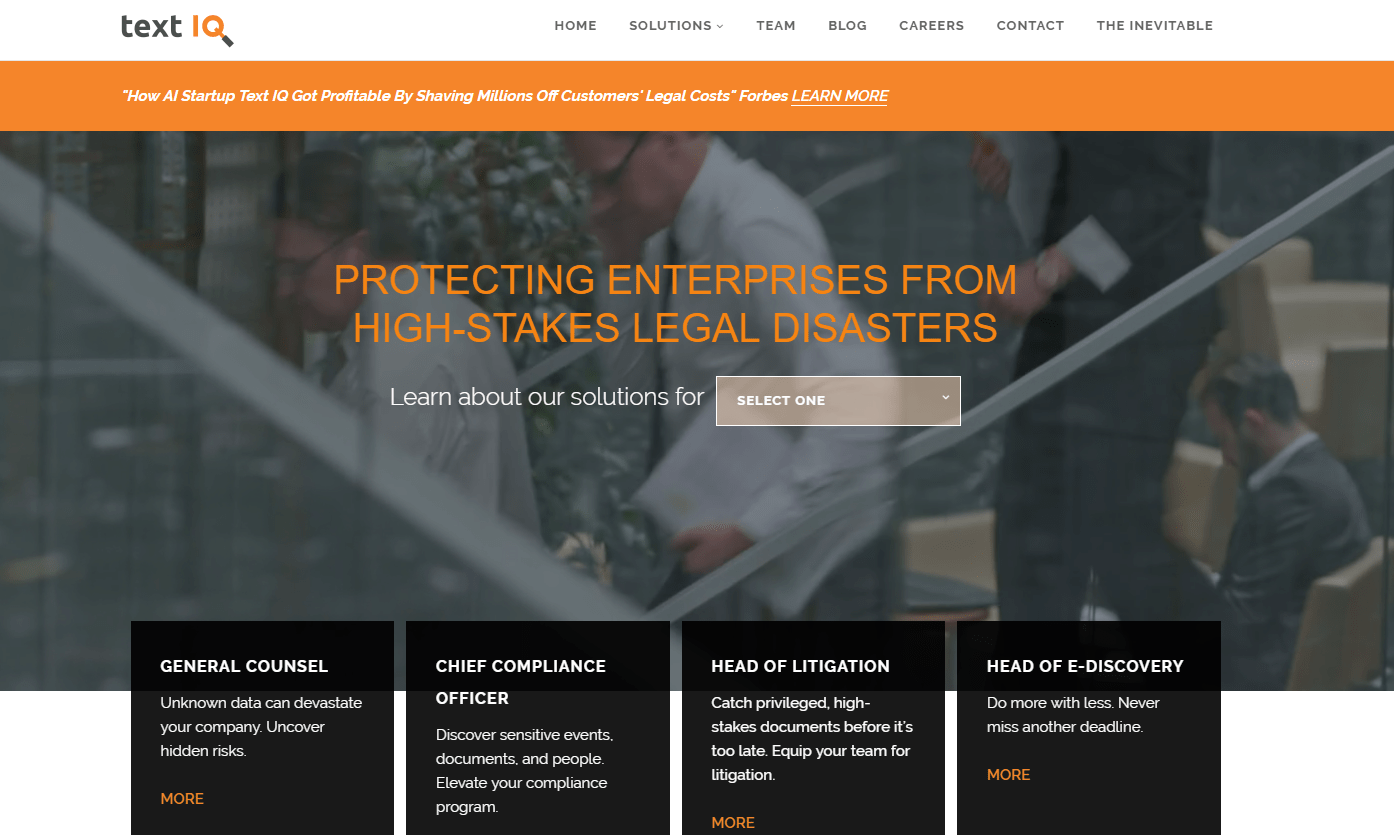 Total funding: $3.34M
Smart money investor(s): Floodgate Fund
Text IQ is a San Francisco-based company that is using machine learning to improve document review in electronic discovery. Advisors to the company include Dan Cooperman (previously general counsel for Apple and Oracle) and Randy Milch (general counsel for Verizon). The company raised seed funding from Floodgate in February of 2017.
Note: To analyze smart money trends, we looked at the activity of 24 top VC firms, selected according to portfolio valuations and investment outcomes. Some of the investors are linked to relevant research briefs. Here's our full list of 24 smart money investors:
Andreessen Horowitz
New Enterprise Associates
Founders Fund
Lightspeed Venture Partners
Foundry Group
Khosla Ventures
Social Capital
Emergence Capital Partners
True Ventures
Floodgate Fund
Battery Ventures
If you aren't already a client, sign up for a free trial to learn more about our platform.