Fresh off a record year of deals and funding, Latin America's fintech ecosystem is thriving. Here's why.
In 6 years, Latin America (LatAm) fintech funding has grown from less than $50M to top $2.1B across 139 deals. Though deals and funding continue to reach new annual highs, it wasn't a smooth climb.
Social, political, and environmental pressures have made the LatAm market highly volatile. This has caused some investors to pull back in the region and challenged startups to raise funding from new investors, as illustrated further below by the number of unique investors and startups in the LatAm fintech market.
Through this tumultuous period, however, fintech has proven resilient.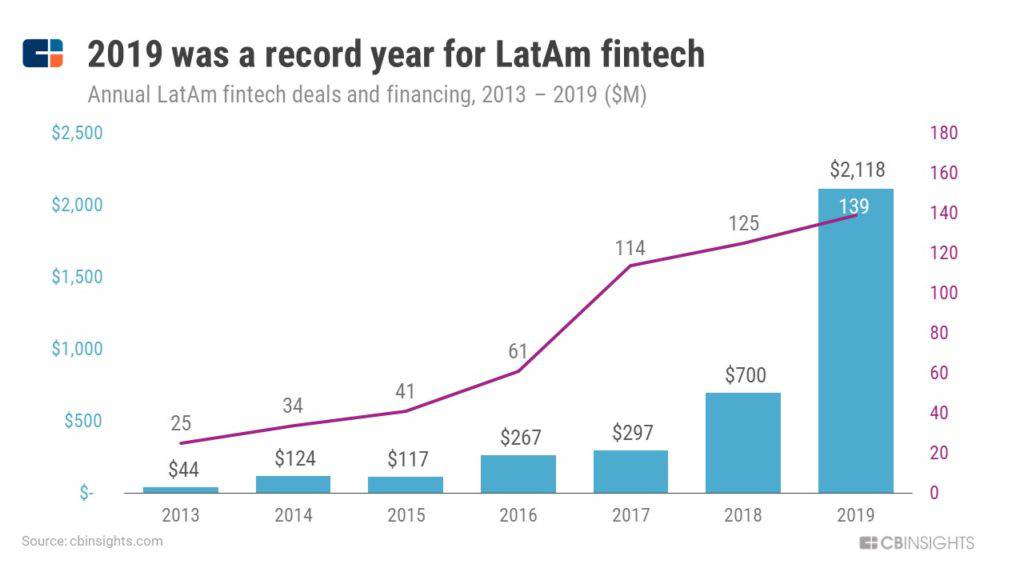 In this brief, we discuss the key macroeconomic drivers that help explain why the Latin America fintech ecosystem has remained strong despite uncertain market factors. These drivers include massive technological shifts and growth rates in adoption, regulatory tailwinds that favor tech and startups, and continued market and foreign investments.
Track the LatAm fintech space
Latin American fintech companies are creating products aimed at rethinking banking, lending, and payments in the region.
Track LatAm Fintech Companies
Massive technological shifts and adoption
LatAm is home to some of the fastest-growing countries in terms of internet and mobile adoption. Internet penetration in LatAm now surpasses 66%, above the world average of 53%, according to the World Bank. Mobile penetration has also been on the rise across Latin American countries, and was forecasted to range between 63% and 75% by 2019.
These massive technological shifts have been a boon for fintech startups to build fully digital products and services and pass cost savings through to customers.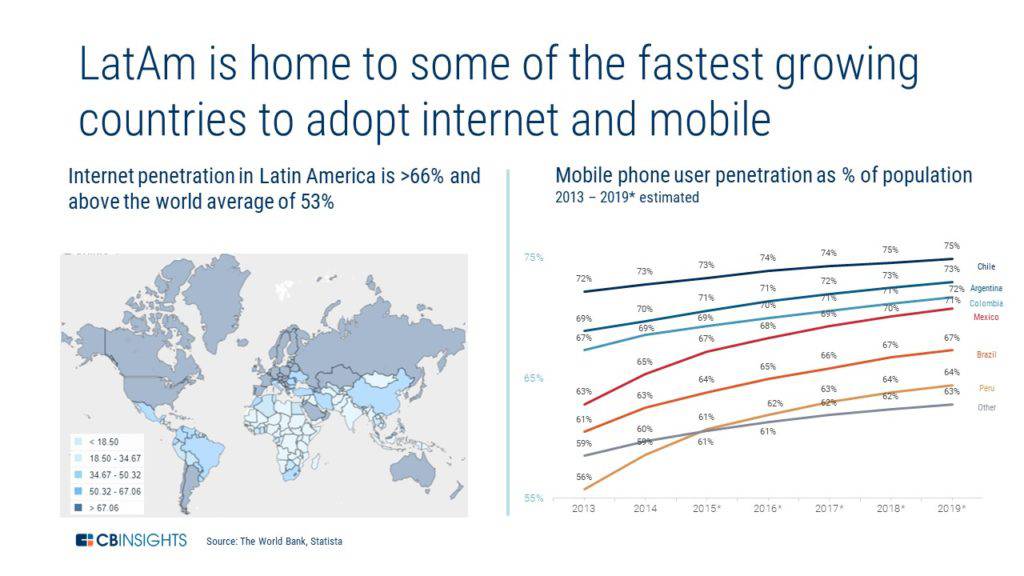 Regulatory tailwinds favor tech
Regulators across LatAm have been borrowing from Europe's open banking playbook to increase financial inclusion and break up incumbent bank monopolies.
In Mexico and Brazil, new regulations aim to lower barriers to entry for new tech entrants to apply for and receive regulatory approval for lending licenses and bank charters, among others.
Central bank regulators have also been capitalizing on the proliferation of mobile devices to move from physical cash to new digital payment schemes.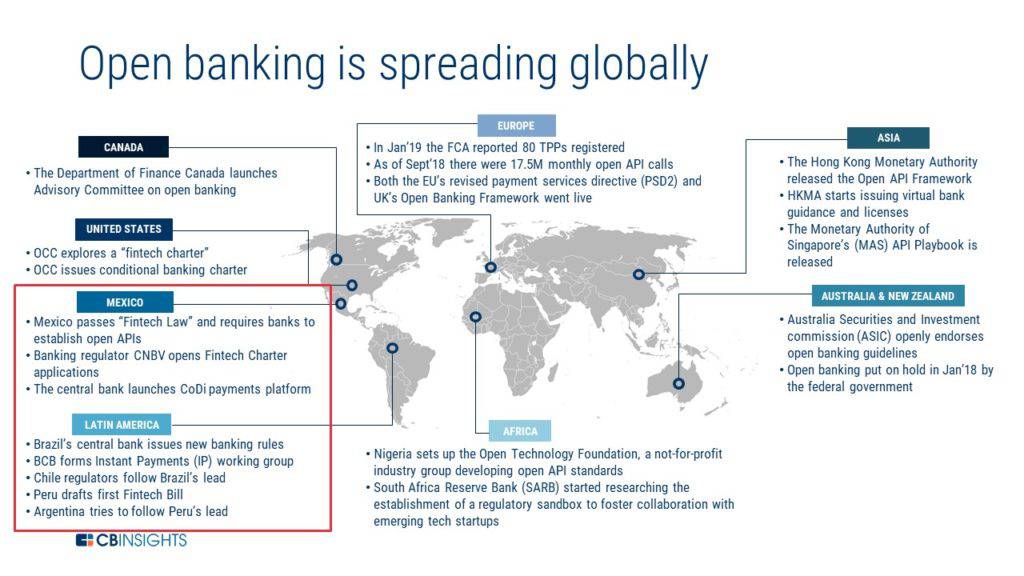 Continued foreign investment and positive market outlooks
2019 saw 78 unique investors and 128 fintech startups raise funding. Though down from 2018's peaks, a pullback wasn't surprising, considering the political uncertainty around new administrations in Brazil and Mexico, as well as Venezuela's crippling hyperinflation, among other factors.
Again, deals and funding to LatAm fintech topped a new annual high in 2019, signaling that committed investors are undeterred. Further, positive economic forecasts, renewed consumer optimism, as well as reserve capital from funds dedicated to LatAm, like Softbank's $5B Latin America tech fund, position the sector for growth in 2020.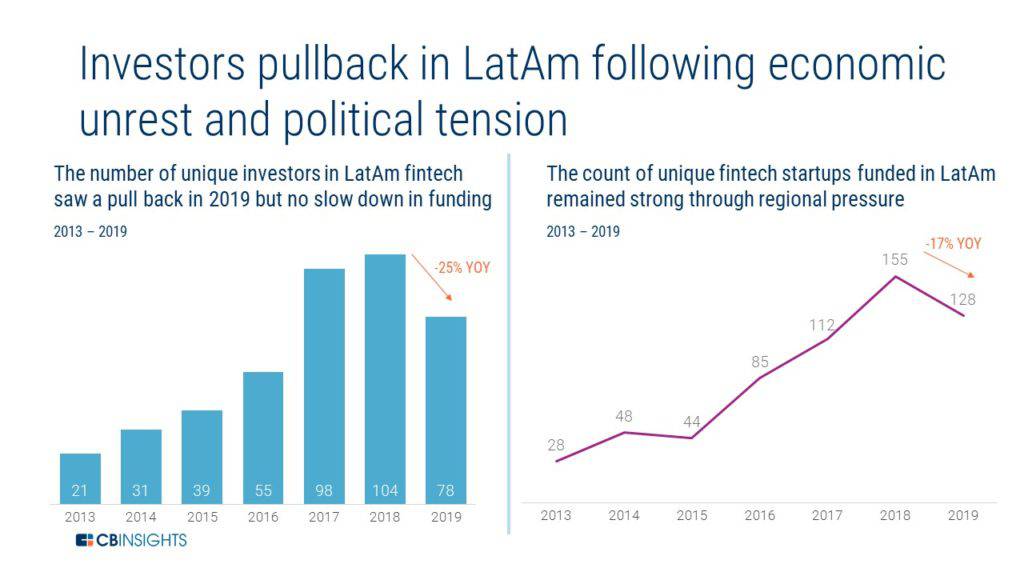 Looking ahead, massive technological shifts, regulatory tailwinds, and foreign investments in private markets will be key in fueling future fintech growth in LatAm.
Clients can read more about the rapidly evolving fintech ecosystem in our latest brief "180+ Companies Disrupting Banking & Financial Services In Latin America."
If you aren't already a client, sign up for a free trial to learn more about our platform.