In 2020, digital-first banks in the region saw a 55% jump year-over-year in equity funding. Here are the top-line bullets you need to know about how the Latin American digital banking landscape is evolving.
As an early adopter of digital banking technologies, Latin America has established itself as a hub for challenger banks in the last few years, with startups in the category observing consistent growth in deal count and funding year-over-year (YoY).
Funding to Latin America-based challenger banks reached an all-time high in 2020, jumping to $1.2B across 19 deals. The new funding record marked a 55% increase YoY from 2019.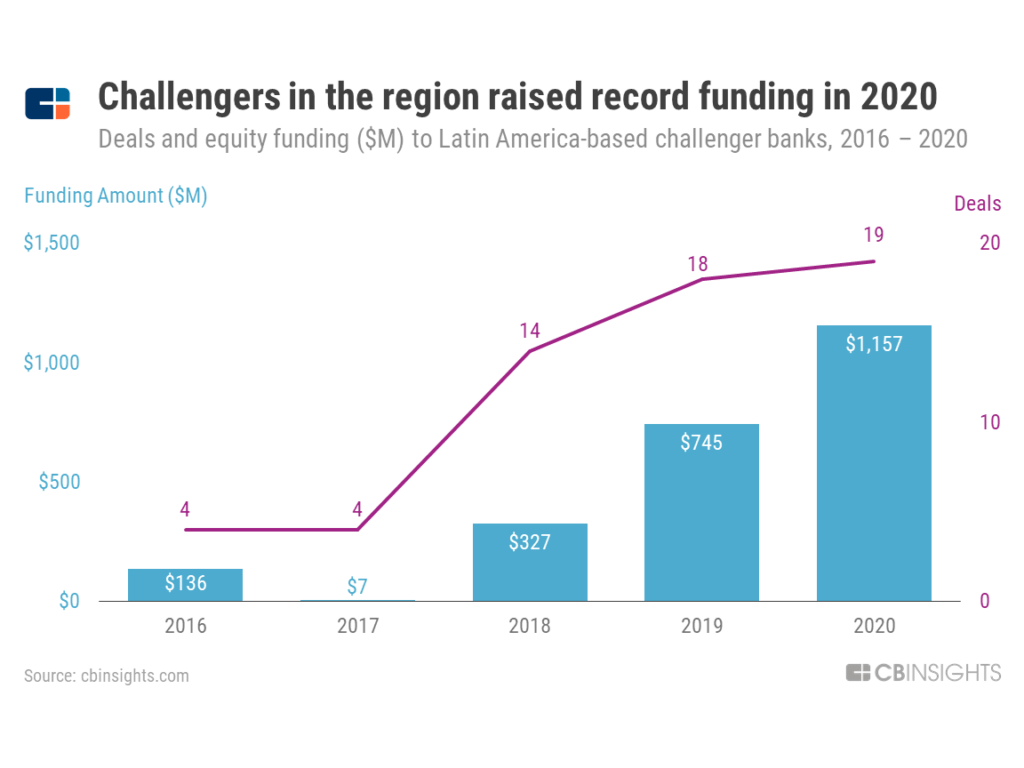 What you need to know:
Latin America offers fertile ground for challenger banks:

Latin America has low banking penetration: Over half of the adult population does not have a bank account. Yet mobile phone adoption is 70% in the region — with smartphones representing more than 70% of all mobile connections — suggesting that a significant portion of Latin America is digitally connected, but excluded from the traditional banking system. Challenger banks are able to capitalize on this tech-savvy consumer behavior, while also reaching under- and unbanked segments of the population.

Brazil leads the Latin American digital banking landscape: Brazil exceeds other Latin American countries in challenger bank count and total challenger funding. In 2020, Brazil-based challenger banks raised over $1B in 2020 across 11 deals, accounting for 90% of all Latin American challenger bank funding last year. Brazil is home to the 3 challenger banks with the most funding: Nubank ($1.8B in funding), Neon ($420M), and C6 Bank ($349M). It also boasts the only 2 challenger unicorns in the region: Nubank ($25B valuation) and C6 Bank ($2.1B).
Mexico is the second largest challenger bank hub:

Mexico-based challenger banks raised a total of

$110M

across 7

 deals

in 2020, a 144% increase in funding YoY. However, the country's digital banking landscape is not as mature as that of Brazil: Early-stage rounds made up 86% of all Mexico-based challenger bank funding rounds in 2020.

Albo

,

Stori

,

Fondeadora

,

Klar

, and

Oyster Financial

all raised funding rounds in 2020.

Covid-19 has accelerated the adoption of digital banking services:

Many Latin America-based challenger banks reported surges in user numbers amid the pandemic.

Nubank

ended 2020 with 33M users — a 68% increase YoY — while averaging 42K new users each day in Q1'20.

Neon

reported a

26%

jump in its user base between March and September 2020, and

C6 Bank

reported a 150% increase in checking accounts in the first 8 months of 2020. Klar

tripled

its client base during the pandemic.
What's Next?
Challenger banks will continue to grow through regional expansion:

Regional expansion is a priority for many existing challenger banks in Latin America. Nubank is putting its recent $400M Series G round toward expanding into Mexico and Colombia, while

 

Uala launched in Mexico in Q3'20 —

the company's first expansion outside of Argentina.

The continued adoption of digital banking in post-pandemic Latin America will depend on consumer behavior: During the pandemic, n

ationwide lockdowns and restrictions forced customers to adopt digital methods, giving challenger banks significant leverage to quickly expand their user bases. However, as vaccination efforts advance and regional economies open up, it remains to be seen whether customers maintain their digital habits in Latin America's largely cash-driven economy.