At CB Insights' 11th Ladies Lunch, employees shared what they're passionate about, what they're working toward, and how they stay organized.
Every quarter, we hold a Ladies Lunch for the women of CB Insights to connect, discuss career goals and obstacles, and learn from each other. Each event features a speaker — or series of speakers — followed by a discussion.
Past lunches have included presentations on managing our finances, career wins and challenges, how to network, and dealing with Imposter Syndrome.
This time, a few CBI ladies presented on what they nerd out about.
Speakers were encouraged to show their creativity and could present on any topic they were passionate about.
Here's what they came up with.
Connie liu, senior software engineer
ballroom dancing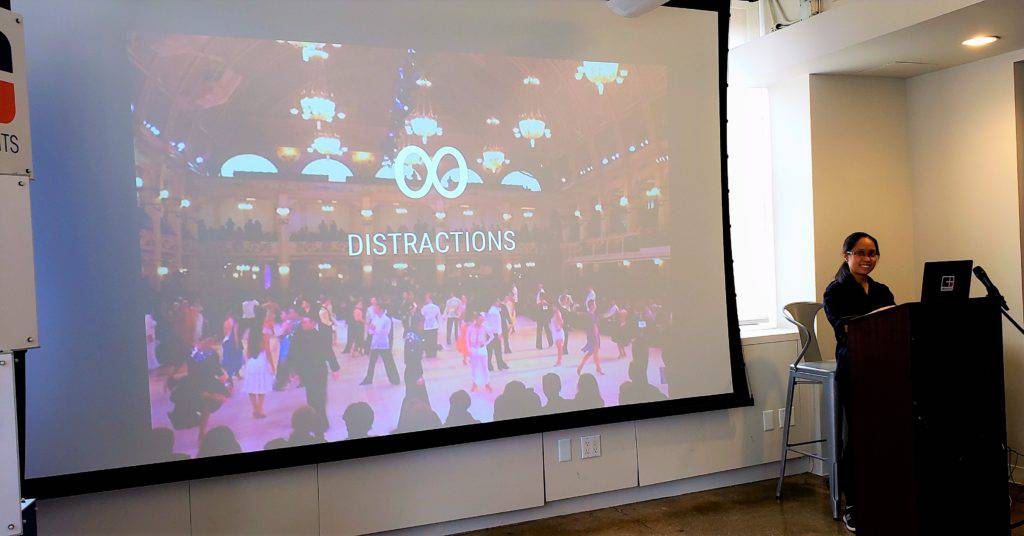 Senior software engineer Connie Liu has been ballroom dancing competitively for nine years. She talked about what makes a successful dance partnership.
Connie has had the same partner for all nine years of her dancing. Ballroom dancing is a team sport with many challenges and "infinite distractions," so effective communication between partners is crucial.
For a partnership to work, dancers need to be on the same page about their goals. That includes how far they want to advance, how much money they are willing to spend, and how much time they have to dedicate. They also have to understand each other's level of experience, ability, learning speed, and overall personality.
Creating and maintaining synergy between dancers is all about being present, practicing, and communicating positively. As Connie put it, "Critique the step, not the dancer."
---
Deepa varadharajan, senior intelligence analyst
be kind to yourself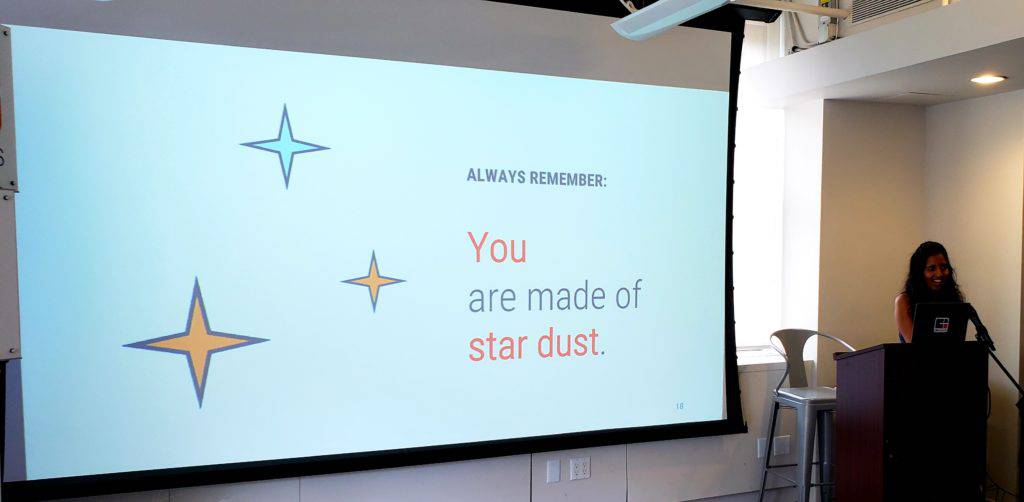 Senior intelligence analyst Deepa Varadharajan used her presentation to talk about being kind to yourself. Deepa shared that she recently visited a life coach who asked her to stand in front of a mirror and repeat "I love you" to her reflection.
"I had all these thoughts while I was doing the exercise," she said. "'This is so silly.' 'This is stupid.' 'How narcissistic.' What I didn't think was, 'this is normal,' or, 'this is how it should be.'"
Changing the way we talk to ourselves is a process that requires patience and practice. Deepa's advice: "Talk to yourself like you would talk to your best friend."
She ended her presentation with a challenge to the audience to actively observe their thoughts and words about themselves throughout the week, and remind themselves of their "awesomeness."
For inspiration, Deepa cited a scientific study proving that humans and the galaxy have about 97% of the same kind of atoms. "So just remember," she said, "you are literally made of star dust."
---
Reilly betsch, marketing manager
spreadsheets for your personal life

Marketing Manager Reilly Betsch gave the group some pro tips on how to use spreadsheets to stay organized outside of work, and gave us a special window into how she plans a "Type A vacation."
Reilly travels frequently, and she wants to make the most out of her trips. How does she keep track of all the flights to book, sights to see, and food to eat?
Spreadsheets. Lots and lots of spreadsheets.
Reilly does her research with travel guides like Lonely Planet and flight search engines like Skyscanner and Hopper. She keeps a detailed spreadsheet for every step of the trip-planning process — from deciding where to go, to knowing when to buy a ticket, to scheduling activities. Each sheet has multiple columns for comparing options.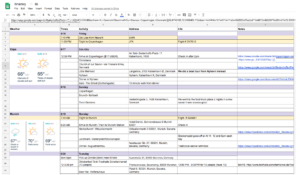 Once all the logistics are taken care of, she organizes the final itinerary, complete with addresses, notes about the activities, what to expect from the weather, and how to dress.
When asked if she creates back-up plans, Reilly said, "No."
That's the kind of dedication we like to see.
If you're interested in nerding out with smart, multi-talented women, we're hiring.
If you aren't already a client, sign up for a free trial to learn more about our platform.