Collectively, these LA-tech startups have raised over $4.1B in disclosed equity funding.
Los Angeles is an international hub for media and entertainment, but its economy extends much further than that. As home to the two of the busiest trading ports in the world and the largest manufacturing workforce in the US, LA is home to major tech-driven businesses ranging from transportation and aerospace to consumer goods and electronics.
Tech startups across LA's five counties saw 382 total disclosed financings in 2016 (totaling $5.2B) and 208 deals in H1'17, according to CB Insights.
We used the CB Insights database to map the most well-funded, VC-backed company in each of 35 cities in Greater Los Angeles (see the list below) based on disclosed equity funding.
The LA region is home to two of the world's highest valued private companies: Elon Musk's SpaceX (valued north of $10B) and Jessica Alba's The Honest Company (valued at $1.6B). Both of those unicorns, and two more, are on our map of the most well-funded tech startups in each of the LA Metro area's major cities.
After Hawthorne-based SpaceX – which ranks as the top-funded LA tech startup by far with $1.19B in total capital – we found the highest funded startups by city in Goleta (where photonics systems manufacturer Calient has raised $343M); El Segundo (fashion e-commerce startup TechStyle, formerly JustFab, $300M raised); and Irvine (cybersecurity startup CrowdStrike, $256M raised). The Honest Company, based in Santa Monica, has raised $222M.
Both CrowdStrike and TechStyle have $1B valuations. Some of the Greater LA region's other unicorns, including Los Angeles-based Rocket Lab and Irvine-based Ten-X (formerly Auction.com), were outfunded by other startups in their headquarter cities.
Other $100M+ funded companies in the Greater LA area include Santa Barbara's Sonos ($219.8M), a manufacturer of wireless music systems; Los Angeles' Hyperloop One ($164.5M), a developer of hyperloop transportation technology; Culver City's Scopely ($158.5M), a mobile gaming network; Glendale's LegalZoom ($113.6M), a legal solutions provider; and Alisa Viejo's Crossover Health ($113.48M), a digital health startup.
Collectively, the startups on our map have raised over $4B in disclosed equity funding as of 7/14/2017. (We excluded debt rounds from our funding totals.)
See the infographic below. The full list of startups is included at the end of this post.
To look up each startup's funding totals, financing details, investors, and proprietary momentum score, sign up for a free trial of CB Insights startup and venture capital database. 
Click on the image below to enlarge.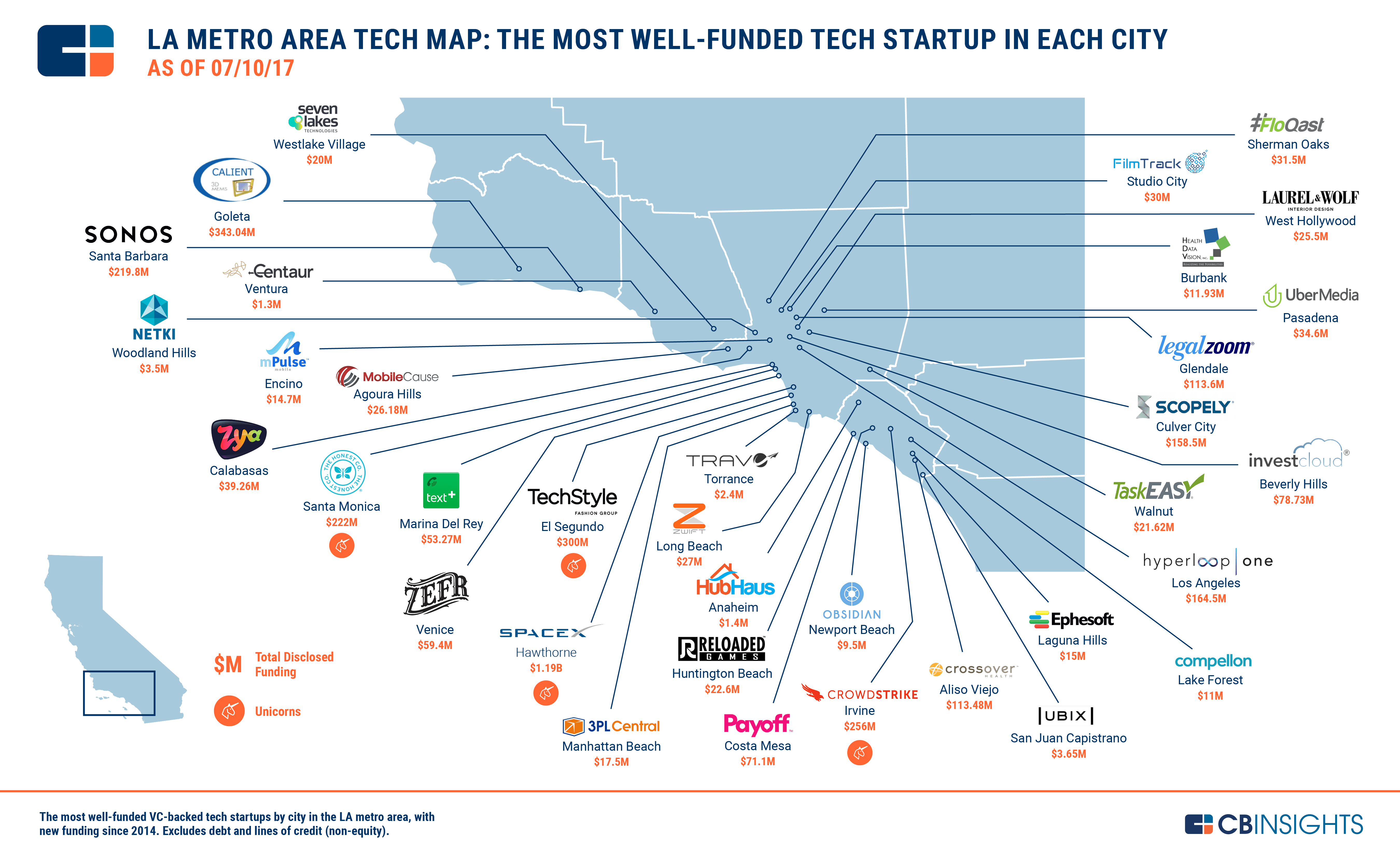 If you aren't already a client, sign up for a free trial to learn more about our platform.