We analyzed H1'17 financing trends in 3 LA subsectors with momentum: mobile/telecommunications, artificial intelligence, and cybersecurity.
VC-backed tech startups in the LA area saw 115 deals in Q2'17, according to CB Insights' Los Angeles Tech Report, putting total deals to the space at 208 for the first half of the year. Overall, deals to VC-backed technology startups in Greater LA have increased for four quarters straight – with many transactions taking place in up-and-coming sectors.
Three subsectors of the LA tech investment market are poised for 5-year highs in deal count this year. Using the data in our recent Los Angeles Tech report, we took at a closer look at recent financing activity in each of LA's top three tech sectors to watch: Mobile/telecommunications, artificial intelligence, and cybersecurity.
Mobile/Telecommunications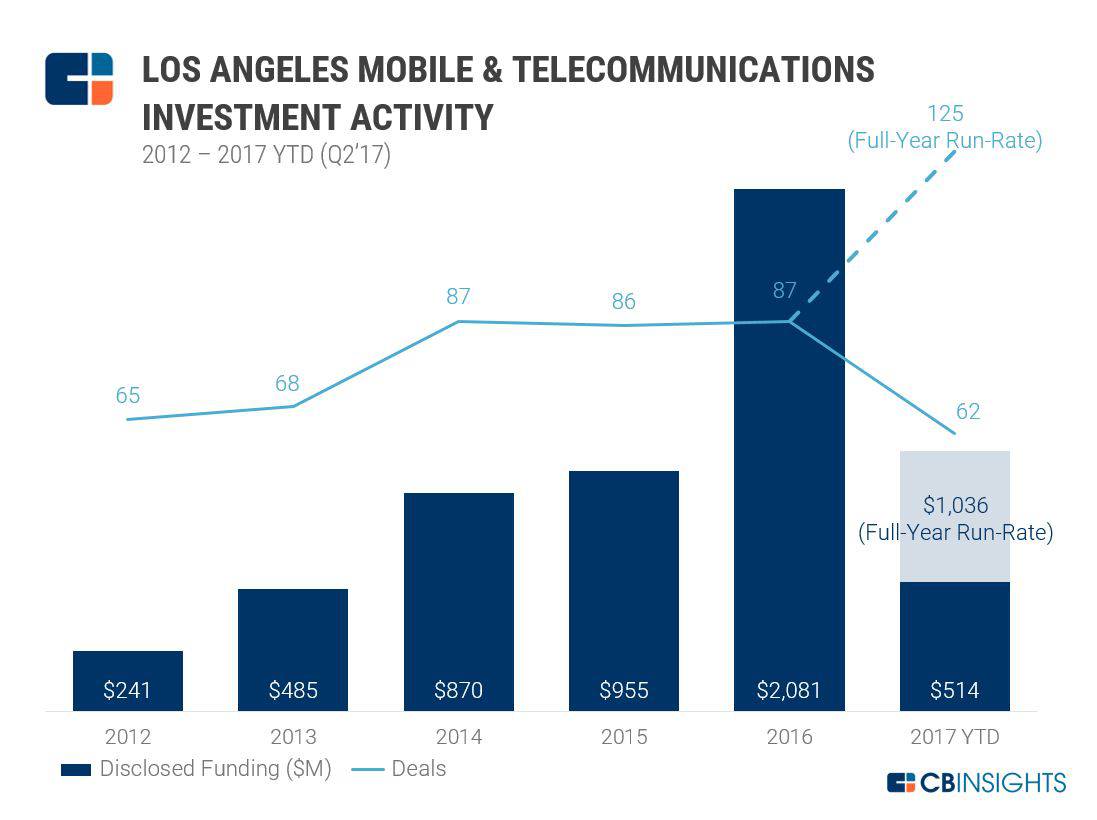 The mobile sector comprised 30% of deal share in LA tech in H1'17, compared to 23% for full-year 2016. With 62 deals through Q2, the space is on par to see a record 125 deals for the year. If it does, that would represent a 44% increase over the highest total seen in any year since 2012. Funding is on pace for a significant slowdown compared to 2016, however. 2016's high was largely driven by the $1.3B round raised by Snap.
The biggest mobile/telco deal of the first half was a $109M Series D in January to Ring, a smart doorbell solution. (Ring was actually the only VC-backed LA tech startup to raise a venture round of more than $100M in the first half of the year.) The round was led by DFJ Growth, Goldman Sachs Investment Partners, and Qualcomm Ventures, with participation from follow-on investors including Sir Richard Branson and True Ventures, among others.
The next largest mobile/telco deals in LA tech went to ServiceTitan, a provider of home services software for contractors that raised an $80M Series B in March; and Scopely, a mobile gaming network that closed a $60M Series C in June.
Artificial Intelligence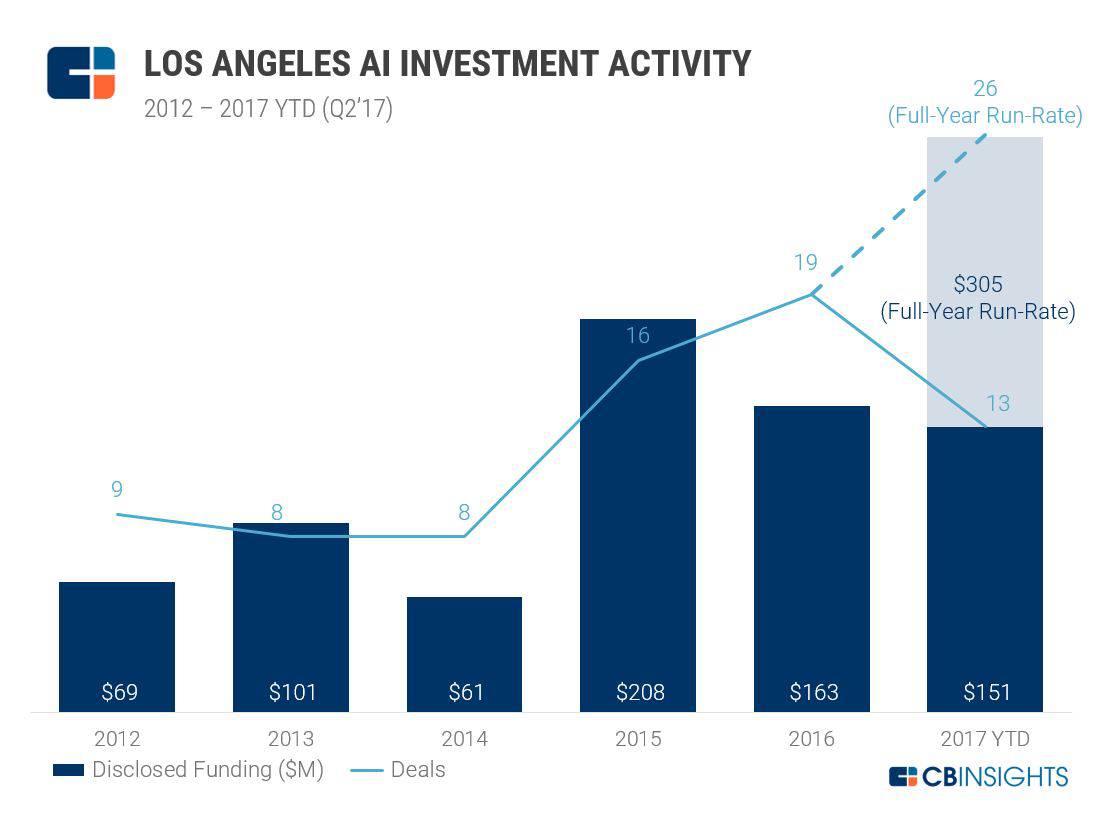 VC-backed artificial intelligence startups in Greater Los Angeles closed 13 deals for $151M in H1'17, compared to 19 in all of 2016. If the AI subsector reaches the 26 deals and $305M in funding projected based on current run rates, both deals and dollars to the space will exceed the previous highs by significant margins; VC-backed AI startups in LA raised $163M last year.
The LA tech AI startups to close H1's biggest deals are applying AI technology to use cases in high-end security and the oil-and-gas industry. Crowdstrike, a SaaS cybersecurity startup, raised the largest round with a $100M Series D in Q2 at a $1B valuation; the deal, financed by follow-on investors Warburg Pincus, Accel Partners, capitalG, and others, brings the company's total funding to $256M.
The next largest deal in LA-tech AI went to Caltech startup Beyond Limits, which raised a $20M Series B from BP Ventures – the corporate venture arm of the BP Group – in Q2. Beyond Limits is adapting industrial-grade AI software, previously used for deep space exploration, for use in the energy sector.
Cybersecurity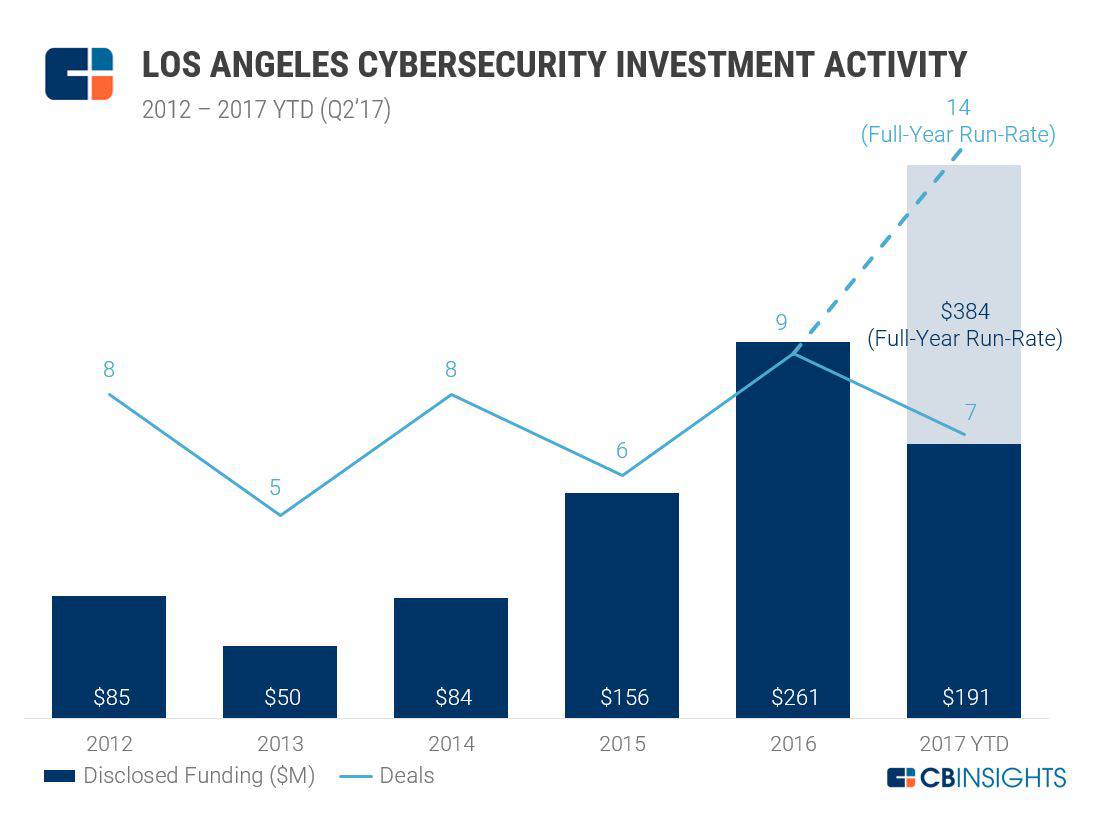 Crowdstrike's $100M raise also contributed to the spike in funding to the LA tech cybersecurity sector this year: VC-backed startups in the space secured $191M in the first half, putting LA tech cybersecurity in H1'17 already at 73% of 2016's full-year total of $261M. With seven total deals in H1'17, the year is projected to reach 14 deals and $384M based on current trends, which would represent a six-year high in both investments and total financing.
Crowdstrike's Series D was the biggest raise by a VC-backed LA tech cybersecurity startup by far this year. It's followed by a $51M Series A to Netwrix, provider of a governance platform for hybrid cloud security. Updata Partners financed the round.
Two additional cybersecurity startups in LA also saw notable funding rounds in H1'17: Signal Sciences, which focuses on app security, secured a $15M Series B from Index Ventures, O'Reilly AlphaTech Ventures, and others; Obsidian Security, which applies AI to enterprise user account security, raised a $9.5M Series A from Greylock Partners.
Ring, Crowdstrike, ServiceTitan, and others made our first-ever LA Tech map highlighting the best-funded startup in every city across Greater Los Angeles. Check that out here.
If you aren't already a client, sign up for a free trial to learn more about our platform.