From demand forecasting to automated fulfillment, Kroger is leveraging a wide array of tech solutions to tackle the challenging task of inventory management. 
Kroger, the largest supermarket in the US based on annual sales, is investing heavily in optimizing its supply chain as it gears up for an omnichannel future, where consumers shop for groceries both in-store and online and have a variety of options in terms of fulfillment and delivery.
The company has been notably active on the tech investment front in order to support its grocery delivery capabilities as well as reduce costs and improve quality in its fresh business, a competitive priority for the company. 
For instance, within the last 3 years, the grocer has invested in autonomous last-mile delivery company Nuro, expanded its strategic partnership with UK-based Ocado to build automated micro-fulfillment centers, and launched partnerships with vendors across a variety of nascent technologies — such as vertical farming and smart carts — in an effort to streamline operations.
One challenge in particular that the company has been focused on is inventory management, which involves improving inventory visibility along the supply chain to streamline replenishment and planning — ultimately reducing out-of-stocks, ensuring freshness, and minimizing food waste.
Why is inventory management a challenge?
The pandemic and ensuing supply chain disruptions have wreaked havoc on retailers' ability to track and manage inventory, with unexpected product delays and shortages weighing on almost every major retailer's bottom line. 
Inventory management is especially thorny in grocery, given that much of the product is perishable. Food that sits too long in transit or rots on the shelf translates to lost sales and contributes to the global food waste crisis.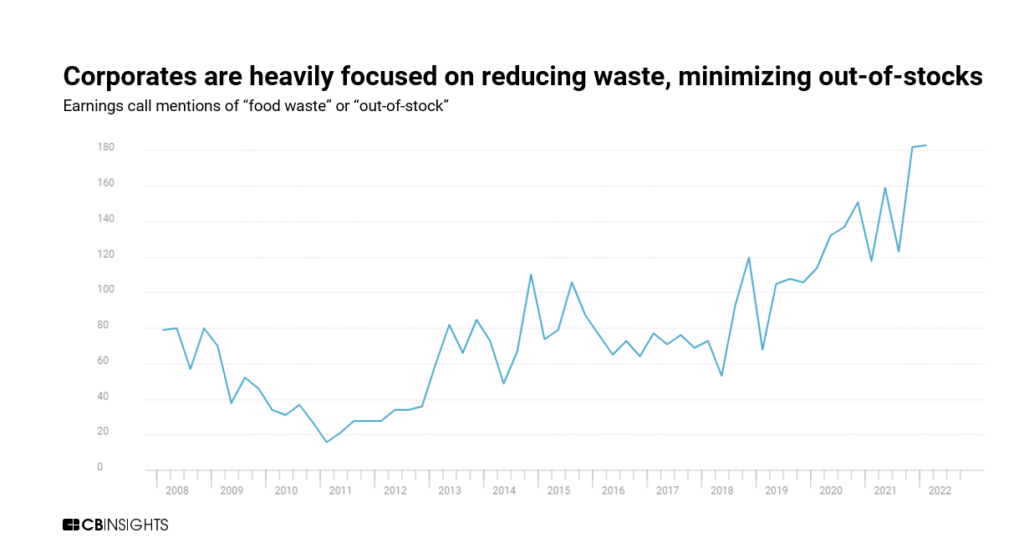 The boom in online grocery has complicated inventory management, as new fulfillment options such as grocery delivery and buy online, pick up in store (BOPUS) have introduced complexities into the inventory tracking process. When inventory management goes awry, retailers may have to discount or cancel orders, weighing on profits.
As a result, grocers like Kroger are heavily investing in a wide range of technologies aimed at improving inventory visibility, more effectively predicting consumer demand, and bringing fulfillment (and food production) closer to the end customer to shorten the shipping journey and reduce costs. 
These tech-enabled solutions include the following:
Demand forecasting & inventory optimization
Automated micro-fulfillment centers
In-store vertical farming
In this brief, we take a look at how Kroger is tackling inventory management through investments and partnerships with vendors developing these solutions.
Demand forecasting & inventory optimization
Demand forecasting & inventory optimization platforms leverage sales data and other relevant metrics to drive improvements in the inventory planning process. These tech-enabled platforms provide opportunities to reduce out-of-stocks (OOS), optimize the flow of inventory, drive margin expansion, and minimize food waste.
In addition to building its own mobile-based inventory management system and AI forecasting and ordering app, Kroger is working with a number of tech vendors in this space.
Relationship: Vendor
Kroger is one of many grocers using Shelf Engine, a demand forecasting and order automation startup that generates more accurate orders for grocers by using historical sales data and advanced statistical models, neural networks, and machine learning.
Shelf Engine is primarily focused on fresh categories such as deli, bakery, produce, and meat. Unlike other competitors in the space, Shelf Engine's model relies on scan-based trade (SBT), which involves Shelf Engine taking on financial responsibility for the order, paying the vendor, and only charging the retailer for what it sells.