With US sales down once again, Kraft Heinz is betting big on its mayo innovations.
First came the ketchup, then the mayo, and now the Mayochup.
Kraft Heinz has drawn criticism for its food innovations not being, well, innovative enough. But the tide may well be turning, if Twitter polls are any indication.
The food giant is betting big on its recent Real Mayo launch in the US and Canada, competing with leading brands like Hellman's. It is also taking things up a notch by mixing two of its staples — ketchup and mayo — to launch an all-new Mayochup product line.
(Note: the earning's calls mentions before the 2015 merger are for H.J. Heinz company.)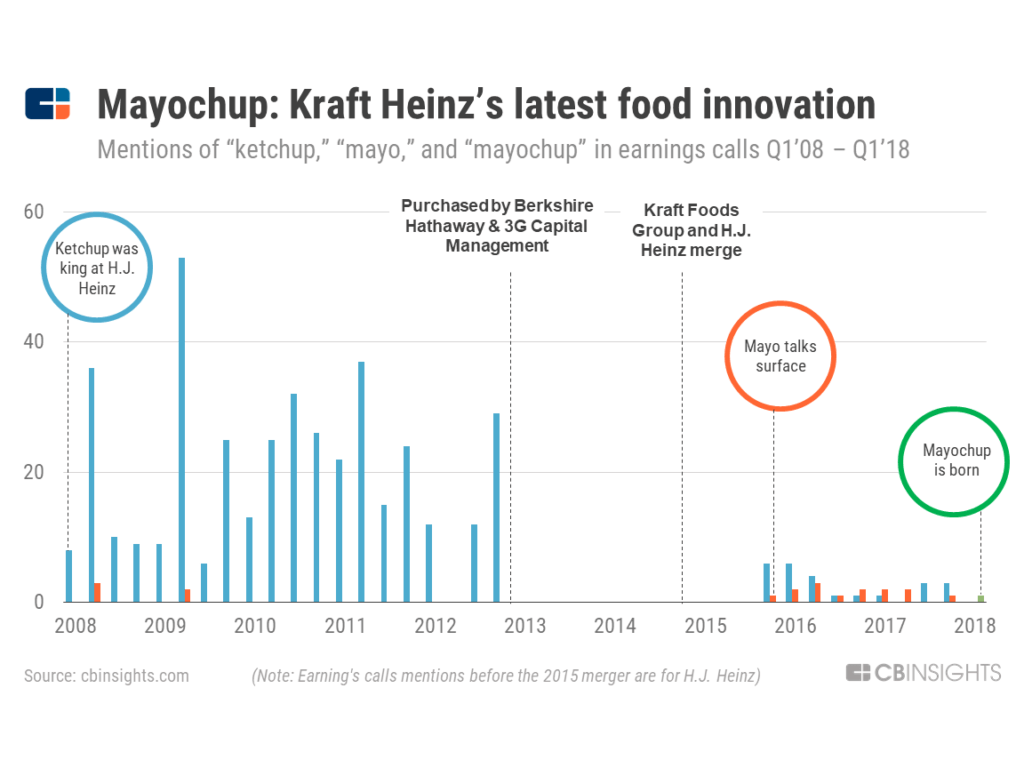 After getting an enthusiastic response to its Mayochup poll on Twitter, Kraft Heinz is launching the product in the real world.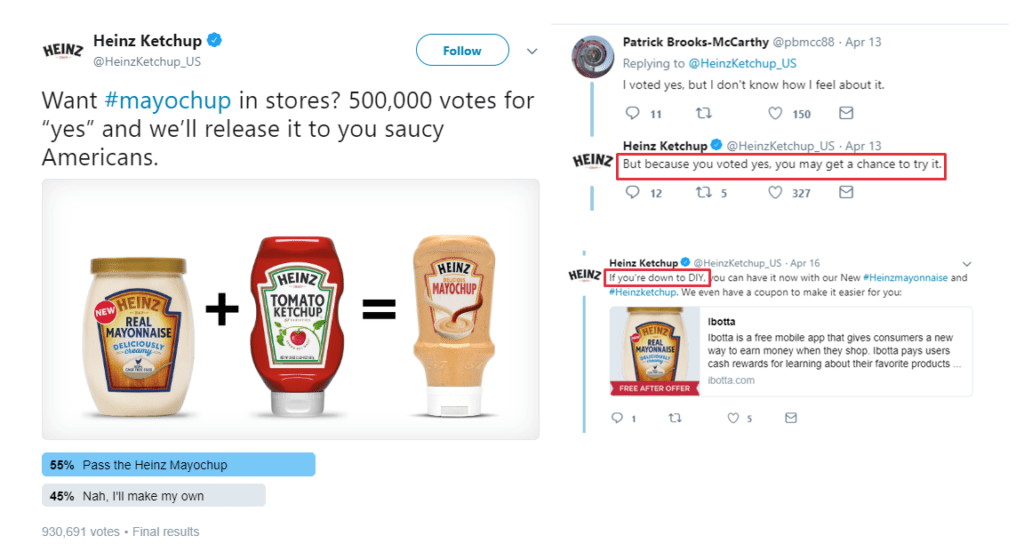 "…social media interest in Mayochup generated more than a billion impressions within 48 hours," Kraft Heinz highlighted in its recent earnings call.
But not everyone is impressed.
As Aaron Back wrote for the Wall Street Journal, "until this food conglomerate demonstrates an ability to actually start selling more food, investors should leave it on the shelf."
Although overall profits per share beat analyst estimates, Kraft Heinz US sales fell 3.3% year-over-year in Q1'18 and volumes dropped by 4.1% owing to "lower shipments of nuts, cold cuts, frozen potatoes, and parts of the cheese business." Total organic net sales, which excludes currency fluctuations and changes in perimeter (e.g. acquisitions), were down 1.5% from a year ago.
The food industry is rapidly changing with niche consumer preferences altering what sells on grocery shelves (read about food startups focused on trending ingredients here).
Kraft Heinz, formed in a 2015 merger of Kraft Foods Group and H.J. Heinz backed by Warren Buffet and 3G Capital, is under pressure to please investors.
Its core US products like dairy, meat, and coffee face stiff competition from several other brands and startups.
In its Q1'18 earnings call, the company said it's "partnering with growing equities to bring specialty items to market."
The initiative, called Springboard, stresses "natural & organic" and "super-premium, expertly-crafted" products. A recent example of a product launched through such a partnership is ready-to-eat meal kits.

Whether its recent initiatives will pay off remains to be seen, but Kraft Heinz is pulling out all the stops in its mayo marketing campaigns.
"The jars have been specially designed to look like an egg," according to the press release, "reminding fans that 100% cage free eggs are one of the key ingredients in our mayonnaise."
We dug into trends reshaping the food industry, which would impact the business model of big conglomerates:
If you aren't already a client, sign up for a free trial to learn more about our platform.