Also covered are startups bringing digital insurance to Europe and which fuel cell companies may be acquisition targets.
Today we discuss real-time location systems, how the e-bike/electric scooter sharing boom could have been caught early, VR vs AR, and more, including:
How could you have seen the e-bike/electric scooter sharing boom?
Kleiner Perkins' co that raised $100M goes dark
Patents — virtual reality vs augmented reality
65+ European startups taking on the insurance industry with technology
Fuel cell companies that are prime acquisition options for OEMs
Bike and electric scooter sharing — could we have known?
The bike and electric scooter sharing space has seen ~$3B of funding in just 2018 (detailed post coming soon). It was all seed stage activity for 3 years, and then it started breaking out.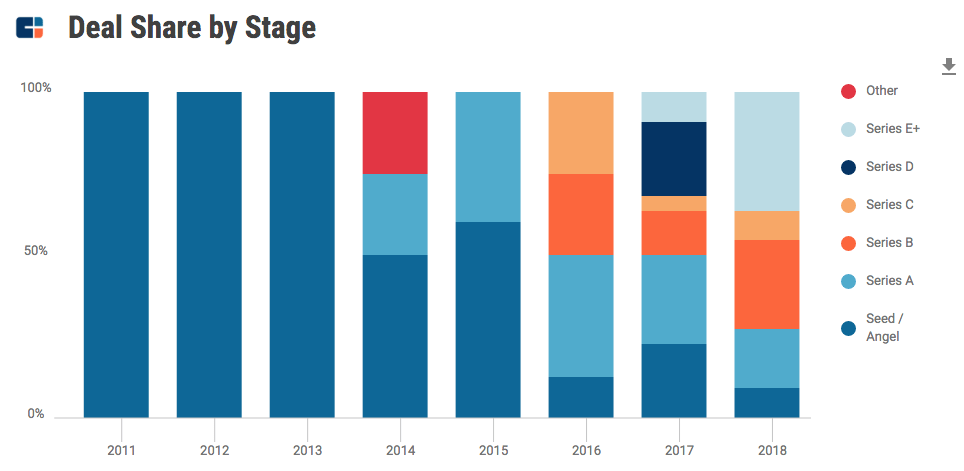 We often tell clients to follow seed-stage activity when trying to understand trends. Of course there are false positives, but when you see lots of seed activity with subsequent follow-on activity across multiple deals, that is an indication there might be something there.
The above chart shows stage of investment activity into the e-bike/electric scooter market. As you can see, 2011 – 2013 were exclusively seed stage investments. 2014 – 2015 saw some Series A and B rounds, and then things started to get a bit more interesting in 2016.