Incumbents like Reliance, Walmart, and Amazon are jumping to modernize India's mom & pop shops. We dig into the opportunities for tech and highlight notable startups working in the kirana economy.
We hate to report that the death of India's kirana store economy has been greatly exaggerated.  
What is the kirana economy, you ask?
The term "kirana" is used to describe the small mom & pop shops that still make up the majority of India's $932B retail economy.[1] They can also be described as small businesses, traditional grocery retailers, or general stores.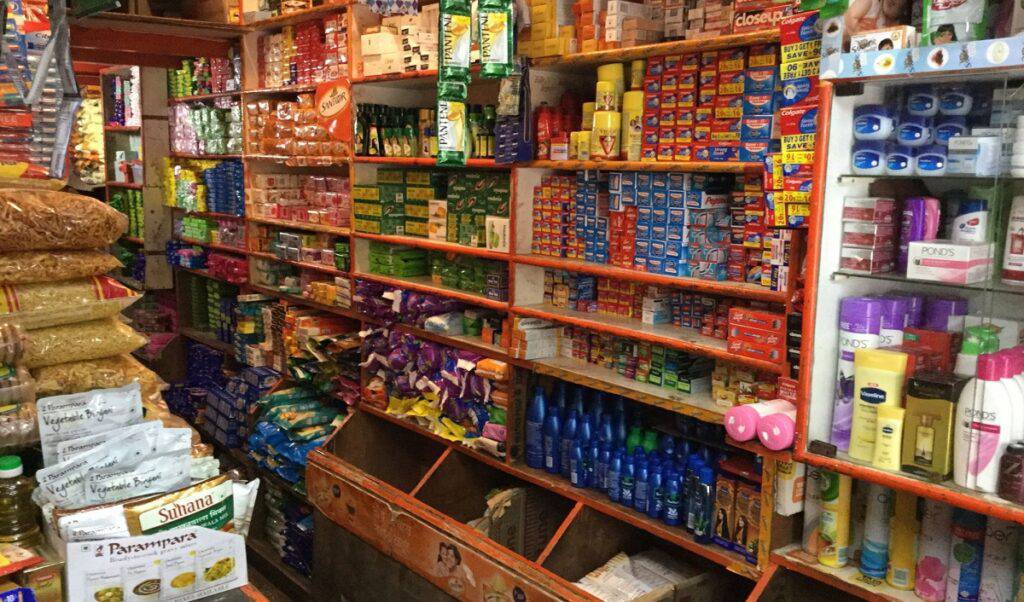 Source: Indian Retailer
While there have been many breathless predictions about the future of Indian retail being e-commerce or larger retail formats (think supermarkets or department stores), the kirana store continues to represent 75-78% of total consumer goods sales in India, according to Ambit Capital estimates. Of course, the kirana store share has declined over time with the rise of these other formats — a trend we've also observed in developed countries — but kiranas still hold a significant majority of India's retail market:
Estimates vary significantly, but there are 12-20M kirana shops in India.[2]
Just over 90% of FMCG sales in India happen via kirana stores — a share that grew during the pandemic.[3]
Kirana stores contribute 10% of India's GDP and employ 8% of India's workforce.[4]
Consumers' dependence on these shops to meet their daily needs during the Covid-19 pandemic underscores the indispensable role this retail segment plays in local neighborhoods.
However, the modernization of the kirana store represents a major need and opportunity. Large incumbents like Reliance, Walmart, and Amazon are all jumping in as well as notable startups backed by top-tier investors like Sequoia Capital, Accel, and Tiger Global.  
Fast-moving consumer goods (FMCG) companies that want to grow their presence in India will need to track the activities of incumbents and startups — and strike partnerships with these players or even strategically invest or acquire in the space — to maintain their seat at the kirana table. 
We dig into some of these opportunities and highlight startups digitizing the kirana store below.
What are the technology needs of kirana stores?
Kirana stores must alter their operations and storefronts not just to keep up with competition but more importantly to meet the needs of customers who want modern stores and innovative methods to shop. Kiranas' adoption of modern retailing techniques and experience is critical.
But kirana shops are not just playing defense. They also offer certain distinct advantages to customers: kiranas are accessible, convenient, faster, and in some cases, even more affordable than larger supermarkets. 
Some of the primary areas that technology can and is already helping kirana stores be more effective in driving additional revenue or reducing costs include:
Inventory management

Digital payments + handling of credit extension to customers

Point-of-sale (POS) technology/digital wallets

In-store displays to increase visibility of products & promotions

Assistance with cross-sell and upsell to increase basket size

Store layout, including product placement and increased self-service

Increasing walk-in traffic

Mobile and e-commerce enablement for both customers and in procurement

Tech-enabled delivery

Online and mobile marketing to acquire more customers

Bookkeeping
The adoption of these technologies will turn these traditionally brick-and-mortar small businesses into quasi-digital retailers that are better positioned to fend off competition and delight customers.
What are Amazon, Reliance, and Walmart doing in the kirana store economy?
All 3 are increasingly partnering with kirana stores to sell items as well as assist them in digitizing their operations, procure products, sell via their platforms, and manage inventory better.  
Below is a brief look at what each is doing. 
---
Reliance
Via JioMart, a joint venture between Reliance Retail and mobile carrier Jio, Reliance is building a marketplace that connects customers with kiranas. Customers place an order, and then instead of Reliance fulfillment delivering it to the customer, customers pick it up from a local kirana.
JioMart is offering a bridge from the offline to online world. In many ways, the model is reminiscent of Alibaba in China. It's also an asset-light business that can tie into Reliance's existing retail footprint. 
In addition, JioMart brings procurement heft to the purchasing of goods, which will likely increase scrutiny of and reduce margins for FMCG providers. This also likely means material challenges for traditional FMCG distributors used to selling products from the likes of Britain's Reckitt Benckiser, Colgate-Palmolive, and Unilever.
Walmart
Through Flipkart, which Walmart initially acquired a 77% stake in in May 2018 for $16B, Walmart's Flipkart Wholesale has entered the B2B e-commerce space supplying kirana stores.
Flipkart Wholesale also offers the recently rolled out SaveEazy club loyalty program, which aims to drive traffic and loyalty to Flipkart's kirana partners.
Amazon
Amazon's "Local Shops" offering in India lets retailers register their kirana store on Amazon and then sell to local customers who may be shopping on Amazon. These local kirana retailers are given a "Prime Badge" that helps local customers discover them.
In March 2021, Amazon reportedly expanded the Local Shops program to 50,000 offline kirana across 450 cities in India.
---
Of the 3, Reliance appears to have the most robust offering and lead. It is also subject to the least government scrutiny since it is a local player. But given both Walmart and Amazon couldn't tackle the China market, neither is keen to lose India. Amazon has intensified its investment activity in the country. Last year, Amazon also acquired kirana tech company Perpule for $20M.
Other players like Shopify are also engaged in efforts to engage kirana stores but less so in the FMCG area and more so in D2C-friendly areas such as clothing, beauty, and fitness.
The 10 top Indian kirana store / kirana tech startups
Top investors and angels have backed kirana tech startups, including: 
Investors:

Sequoia Capital, Tencent, Y Combinator, Accel, Lightspeed Ventures, Matrix Partners, and Unilever Ventures, among others. 

Angels:

Balaji Srinivasan, Gokul Rajaram, Shaan Puri, Sriram Krishnan, and Kunal Shah, among others.