With the acquisition, JP Morgan plans to provide curated dining experiences to customers. Here are the top-line bullets you need to know.
JP Morgan, a financial services company, signed an agreement to acquire The Infatuation, a restaurant recommendation platform, for an undisclosed amount.
Who are the parties to the deal?
The Infatuation: New York-based The Infatuation is a restaurant recommendation platform. Its platform is used by millions of customers across 50 cities in the US and beyond. The company maintains an app and a website for its customers, and it also offers live dining events and a membership program.
JP Morgan: New York-based JP Morgan is an investment bank and financial services company with over $3.7T in assets under management (AUM). The company is present across 100 global markets and has more than 250,000 employees. The company reported revenue of $30.5B in Q2'21.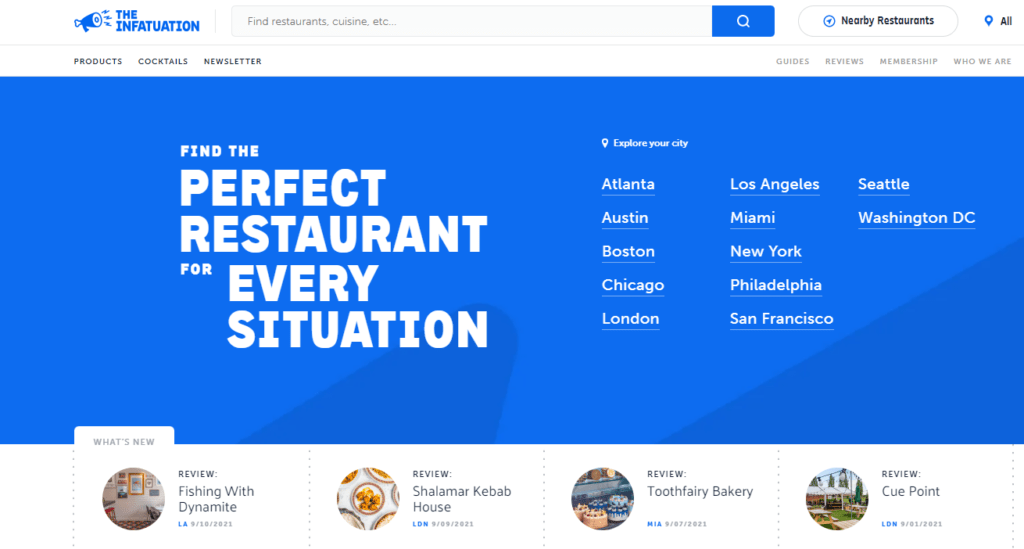 Source: The Infatuation
Why does the market matter?
The global recommendation engine market is expected to grow at a CAGR of 37.46% and reach a value of $15.13B by 2026, according to Mordor Intelligence.
Increased competition has led enterprises to undergo digital transformation efforts and adopt AI-driven technologies to differentiate themselves in the market. This in combination with consumer desire for more personalized digital experiences is contributing to market growth.