Automation is coming after jobs, from fast food workers to accountants. We analyzed which jobs are most — and least — at risk, given factors including tasks involved, the current commercial deployment of technology, patent activity, regulations, and more.
The shift from traditional manufacturing to computer-enabled industry took nearly a century. But the shift from personal computing to billions of smartphones, massive networks, and the IoT has taken just a couple of decades.
And the next phase of technological evolution is already underway: advanced neural networks that learn, adapt, and respond to situations.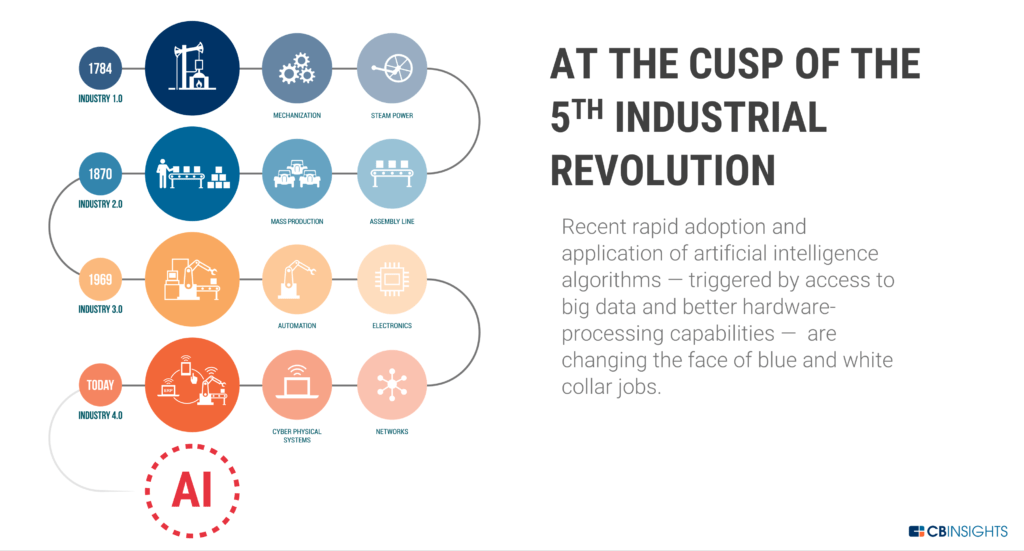 With AI and automation advancing at a breakneck pace, society's capacity to respond is being stretched to the limit.
10 million US jobs at high risk of disruption
Automation is already all around us. Cities are seeing front-end automated restaurants like Eatsa gaining popularity, while in factories automation has already arguably been a part of life for years (if not decades) in the form of heavy industrial and agricultural robots.
Analyzing the automation landscape, we found that 10 million service and warehouse jobs are at high risk of displacement within the next 5 – 10 years in the US alone. This includes jobs like cooks and servers, cleaners and janitors, as well as warehouse workers.
Meanwhile, nearly 5 million retail workers are at a medium risk of automation within 10 years.
To put these numbers into perspective, estimates are that over a few years the Great Recession of 2007 – 2010 destroyed 8.7 million jobs in the US.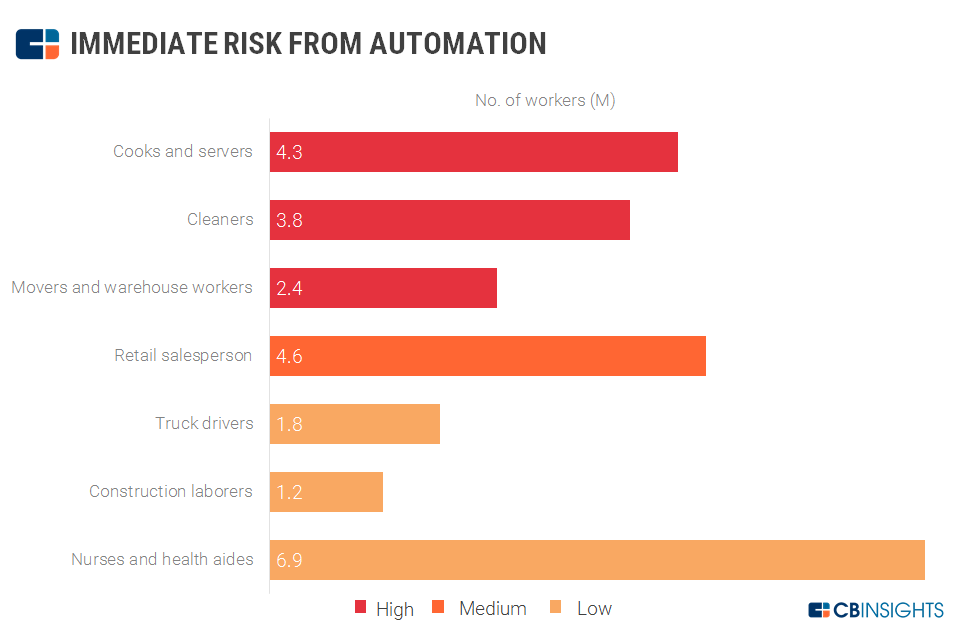 With the emergence of industry-specific AI, the effects of automation — initially felt in manufacturing — are seeping into retail sales, restaurants, e-commerce, marketing, and even software development.
In this report, we take a closer look at the trend, including:
The rise of automation (thanks to open source and corporate interest)
How did we get here?
The concept of artificial intelligence was introduced in the 1950s. But the expectations for what an AI system is capable of achieving have changed over the years.
Innovation in microprocessors — particularly Nvidia's graphic processing units (GPUs) — have played a large role. While Nvidia GPUs were initially targeted at the gaming industry, they have showed promising results in artificial intelligence, and are now widely used in training deep neural networks.
This, combined with easy access to massive amounts of data (from the internet, IoT devices, etc.), led to a new age for AI.
Meanwhile, several big corporations have open sourced their AI software libraries in recent years — another major accelerant for AI.
For example, Google open sourced its TensorFlow machine learning library in 2015, and hundreds of users have contributed back to it and sought to improve it. It's a two-way street: startups can now build on existing frameworks instead of starting from scratch, and at the same time Google's own AI research is accelerated by contributions from outside the organization.
Other libraries include Deeplearning4J from startup Skymind and Microsoft's Cognitive Toolkit.
How corporations are beginning to harness automation
Last year, Foxconn — the largest contract manufacturer of iPhones — laid off 60,000 workers, replacing them with industrial robots.
Some of these were manufacturing robots called "Foxbots" that were developed internally by the company and can reportedly perform up to 20 common manufacturing tasks.
Foxconn has also backed external robotics startups. In Q3'17, it participated in a $20M seed round to Canada-based Kinova Robotics, which focuses on industrial service robots. Earlier this year, it also backed China-based cloud robotics company CloudMinds in a $100M Series A round.
In an interview with Digitimes last year, Dai Jia-peng, general manager in Foxconn's Automation Technology Development Committee, outlined a 3-phase strategy for complete factory automation: automating dangerous tasks, process line automation, and a third phase that would leave only a minimum number of humans on board for tasks like logistics and quality control.
Nike and Reebok are looking to speed up the supply chain & logistics process as well, and will automate the manufacturing process in coming years to keep up with high consumer demand and quick turnaround times. In 2013, Nike invested in California-based industrial robotics startup Grabit, which is currently deployed in some of Nike's manufacturing facilities.
But there are hurdles on the road to automation.
Dai Jia-peng told the South China Morning Post that "highly automated manufacturing is still an ideal," since ever-changing consumer demands require highly flexible manufacturing robots that are able to adapt rapidly to design and manufacturing changes. However, Foxconn has fallen short of its 2011 forecast of installing 1 million robots in its factories in 3 years.
Like Foxconn, most manufacturing- and logistics-focused corporations are progressing on the road to automation in fits and starts.
The road to automation passes through warehouses and factories where robots collaborate with humans (rather than simply replace them).
Amazon, for example, already uses 45,000 robots in various warehouses, but at the same time is creating thousands of new jobs for humans in its new fulfillment centers.
Robots are still less-than-perfect at gripping, picking, and handling items in unstructured environments. Amazon's collaborative warehouse robots perform much of the heavy lifting, while workers focusing on delicate tasks like "picking" items off shelves and slotting them into separate orders.
The trend stretches deep into physical retail, although we believe e-commerce is the much greater threat to retail jobs.
Walmart has patents for autonomous robots that attach themselves to shopping carts in order to move them around stores, along with drone delivery systems. (A detailed analysis of Walmart patents can be found here).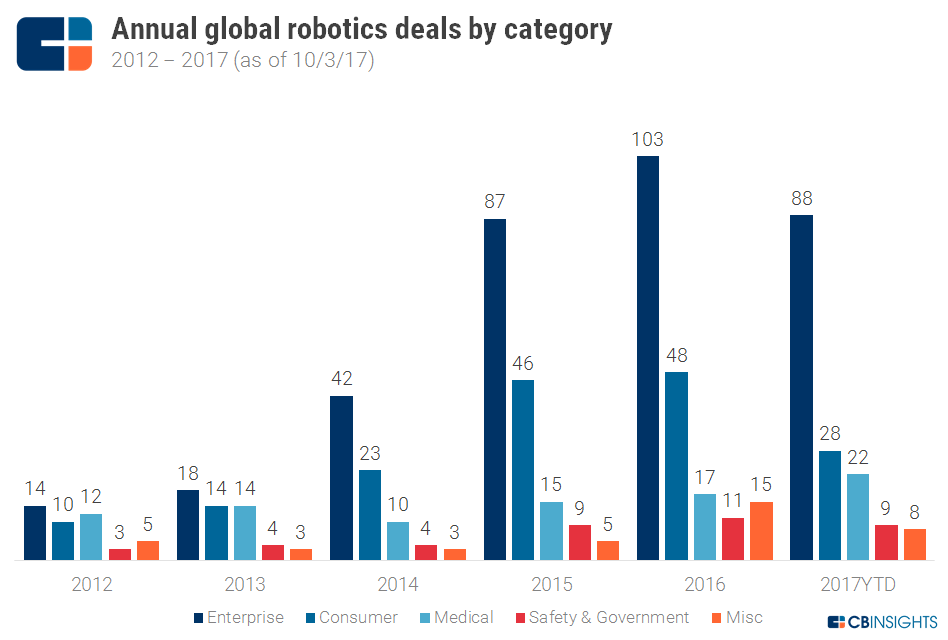 Robotics are penetrating deep into large businesses including retail, consumer, and medical applications.
At financial institutions, AI is transforming how investment decisions are made.
"It means some functions will change significantly in nature… And it might mean that positions will no longer be there in the future. All-in-all, over the coming five years, around 7,000 functions might be impacted by these effects…" Ralph Hamers, CEO of ING
In financial markets, global risk and asset management firm BlackRock laid off around 40 employees earlier this year, including portfolio managers and stock managers. BlackRock is moving towards robotic stock pickers instead.
Quant hedge fund Two Sigma is hiring researchers for its new deep learning team.
And well-known hedge fund Man Group is betting on AI to power algorithmic trading.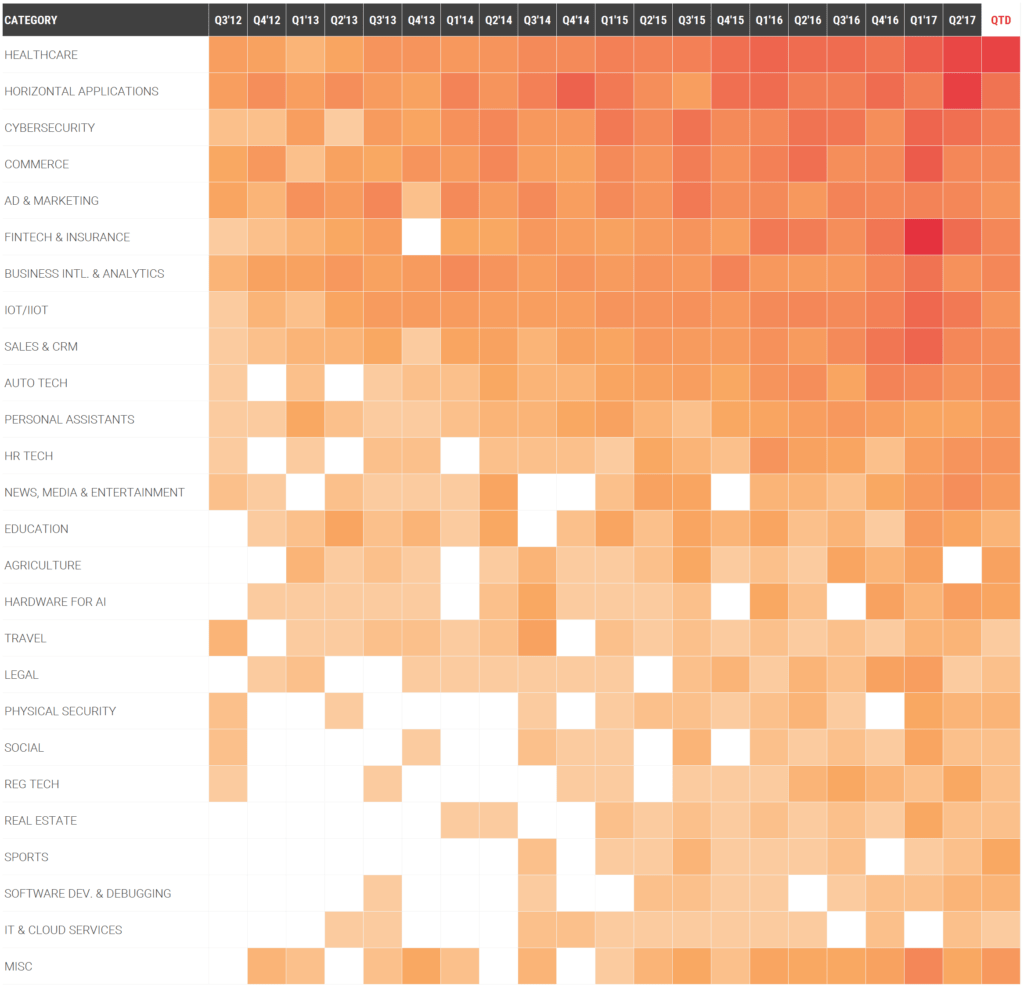 Beyond financial institutions, AI software has penetrated deeply into industries including healthcare, cybersecurity, and e-commerce.
The outsize impacts on the labor markets
The majority of AI applications today still require humans in the loop. For many blue- and white-collar jobs at risk, this means employers will still need hands on deck — just fewer of them.
We used US Bureau of Labor Statistics data to compile a list of occupations that are key to labor markets and job growth in the US. We diagrammed the key tasks involved, and used our diagram to determine the relative level of immediate risk from automation.
Our time frame was the next 5-10 years, and the relative risk of automation was based on factors including tasks involved, current commercial deployment of technology, patent activity, investment activity, technological challenges, and regulations.
We excluded categories such as heavy manufacturing and agribusiness where large-scale automation is already taking place.
Specifically, we looked at over 25 million jobs across 7 industries:
Nurses and health aides (6.9M workers)
Retail salesperson (4.6M)
Cooks and servers (4.3M)
Cleaners (3.8M)
Movers and warehouse workers (2.4M)
Truck drivers (1.8M)
Construction laborers (1.2M)
In addition to the jobs listed above, we take a look at the impact of automation on white collar jobs in later sections.
Track all the AI startups in this brief and many more on our platform
From auto tech to healthcare, startups are transforming industries with artificial intelligence. Look for Artificial Intelligence in the Collections tab.
Track AI Startups
These are the professions at the greatest risk
Risk of automation is highest in predictable work environments in industries with lower regulations. This has already happened in manufacturing, and now at risk are over 10.5 million jobs in restaurants, janitorial roles, and warehouses.
Cooks and servers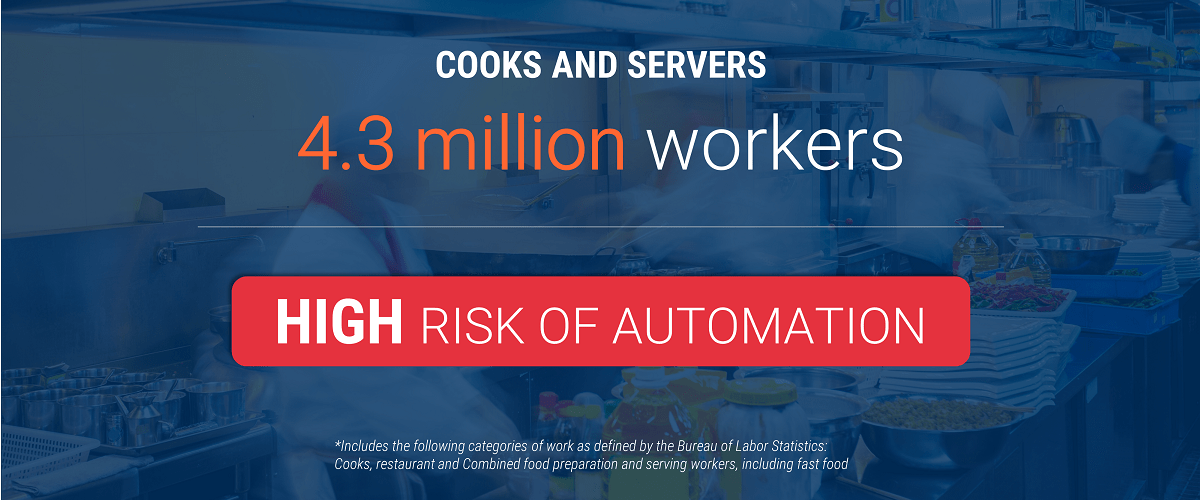 "We are adding progressive automation right now. And we're being transparent about it… We invest [the captured surplus] in retraining. We have people move from kitchen to finance…" – Zume Pizza CEO Alex Garden, This Week In Startups
Ease of automation is high for repetitive tasks like making coffee or preparing specific dishes.
This is particularly true in "fast-casual" chains with highly structured processes and menus.
Early-stage food-preparation startups using robotics and AI are proliferating, and operating in both B2B and B2C models.
California-based Zume Pizza, for instance, has raised $70.7M in funding. It uses the IoT and robotics for both automating pizza prep and cooking as well as direct-to-consumer delivery.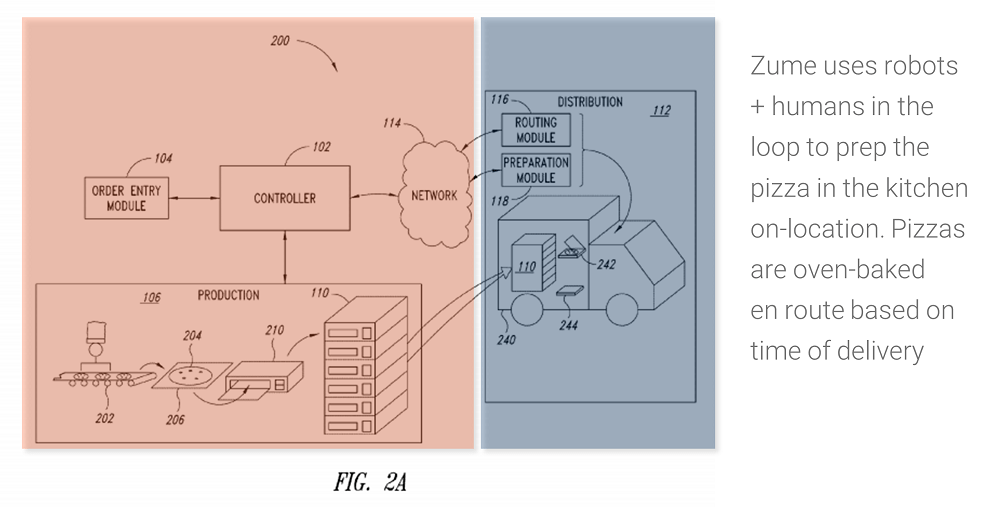 Other startups are building robots for specific tasks like flipping burgers or making salads and coffee. Their clientele includes cafeterias, fast food chains, and restaurants.
These startups have already piqued the interest of top VCs and corporate investors.
Google Ventures and Khosla Ventures recently funded burger-flipping robot Mometum Machines (funding and patents below).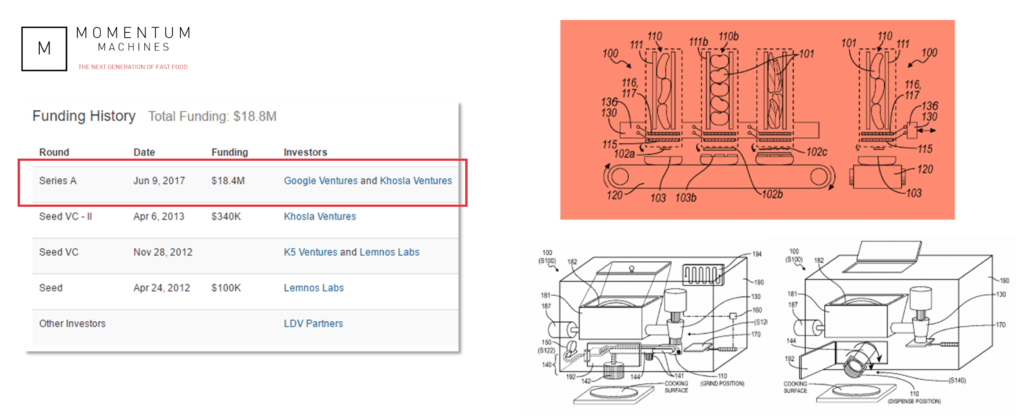 Khosla Ventures also backed Cafe X Technologies in Q1'17, alongside The Thiel Foundation, Felicis Ventures, and Social Capital. Smart money VC Foundry Group backed Chowbotics in a $5M Series A round.
The chart below highlights recent deals to commercial food preparation robotics startups.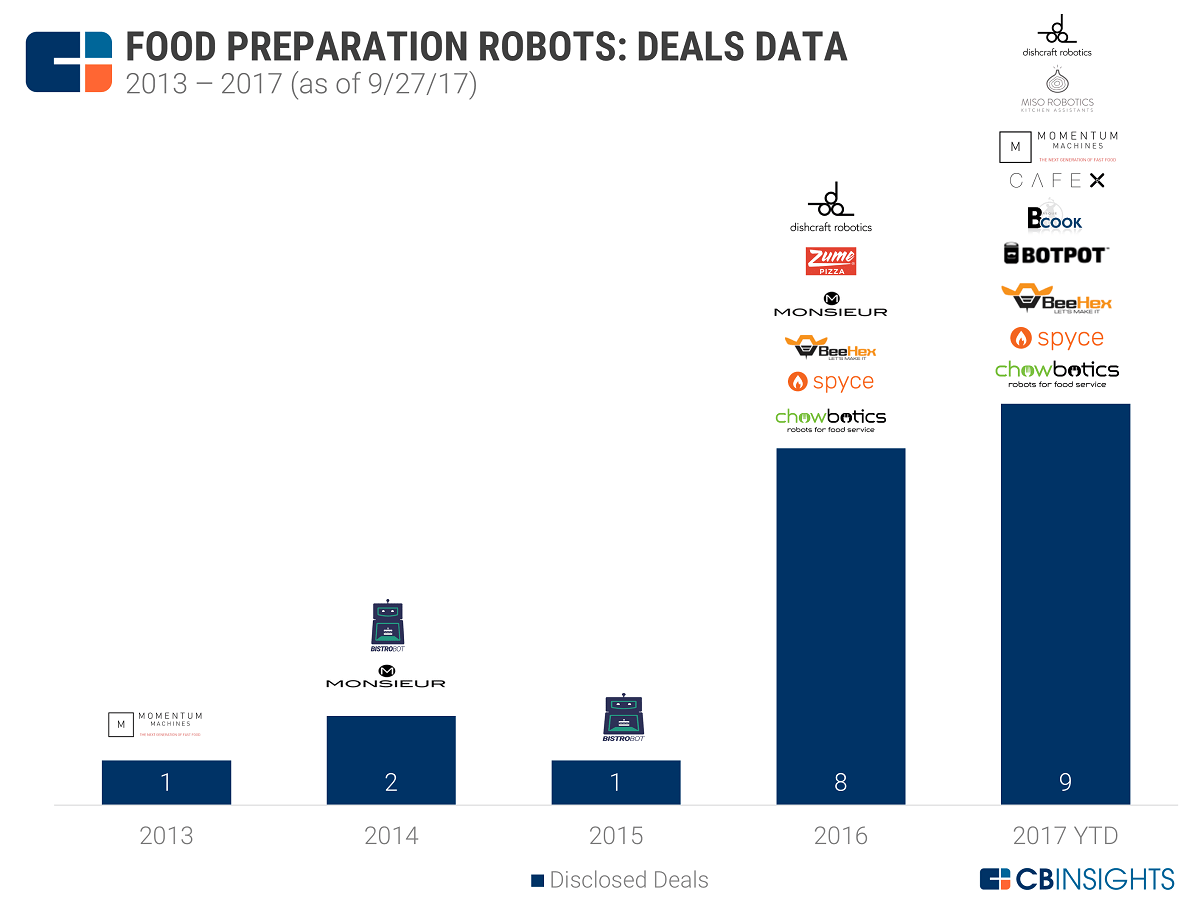 Startups working on digital payment and tabletop-ordering software are automating the tasks of cashiers and servers.
An example is fast-casual restaurant chain Eatsa. Its self-checkout and ordering process is gaining popularity, and Eatsa has expanded beyond San Francisco to New York and Washington DC. Fast food chains like McDonalds are following suit to maximize profits and cut costs: this year, McDonalds announced that it would replace cashiers with kiosks in 2,500 locations.
(You can read a detailed breakdown of the restaurant tech landscape here).
---
janitors and housekeepers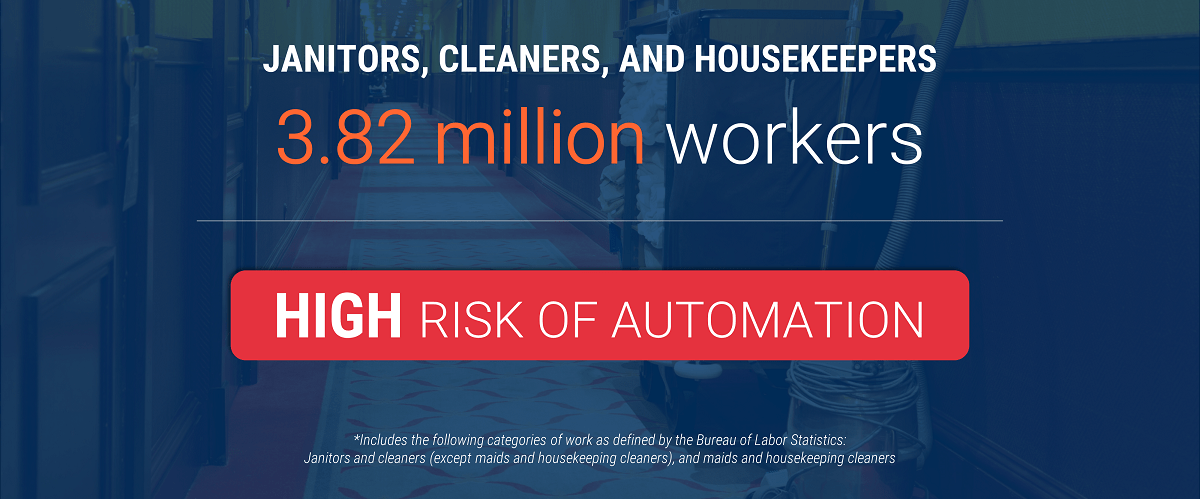 Consumer demand for smart home cleaning robots is increasing, and deals to on-demand home cleaning services are dwindling.
iRobot launched its Roomba home cleaning robots in 2002, and later developed robots for pool cleaning and floor mopping. It reported an $84M increase in US consumer robot revenue in 2016 compared to the previous year.
The company went public in 2005 after raising $37M from investors including FA Technology Ventures, Fenway Partners, iD TechVentures, iD Ventures America, and Trident Capital. It has applied for 480 patents since 2009.
Another startup, Neato Robotics, entered the market with a competing product, Botvac. Both companies were quick to ride the smart home wave, making their robots compatible with Amazon's Echo device.
Neato was acquired in Q3'17 by Vorwerk Group, a German supplier of household products. Neato will continue selling its products in the United States post-acquisition.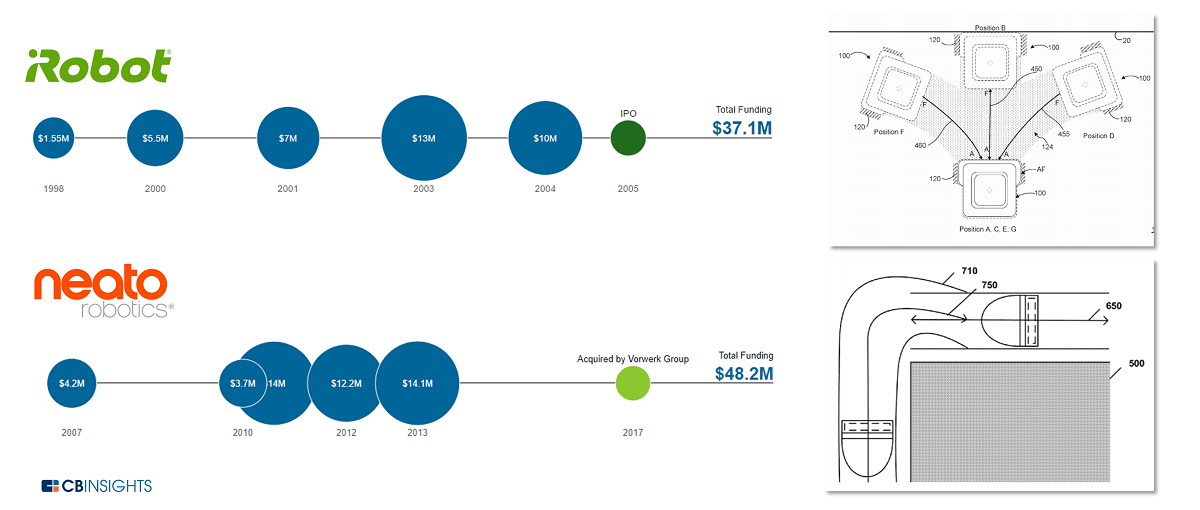 On-demand cleaning and laundry startup deals have dropped in recent months, which could indicate decreasing market demand. Startups like HomeJoy, TaskBob, and Happy Home Company all closed up shop after raising VC money.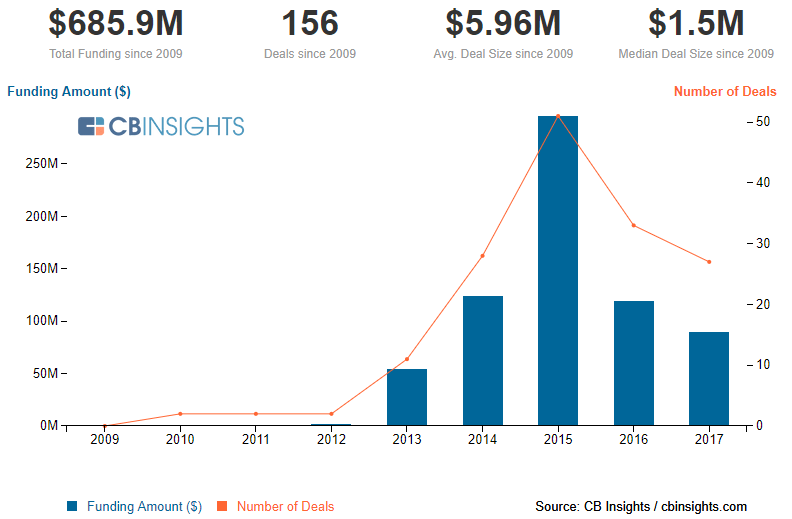 Startups are also developing commercial cleaning robots.
Many early-stage commercial cleaning startups like CleanRobotics, RanMarine, Adlatus Robotics, and Avidbots have cropped up in the last 2 years.
One of the late-stage companies here, Xenex Robots, develops UV disinfectant robots to reduce the rate of hospital-acquired infections. Over 400 healthcare facilities, including The New United Hospital Center, St Luke's Hospital, and the Henry Ford Health System, reportedly use these robots. The startup recently raised $38M in a Series E round.
---
warehouse workers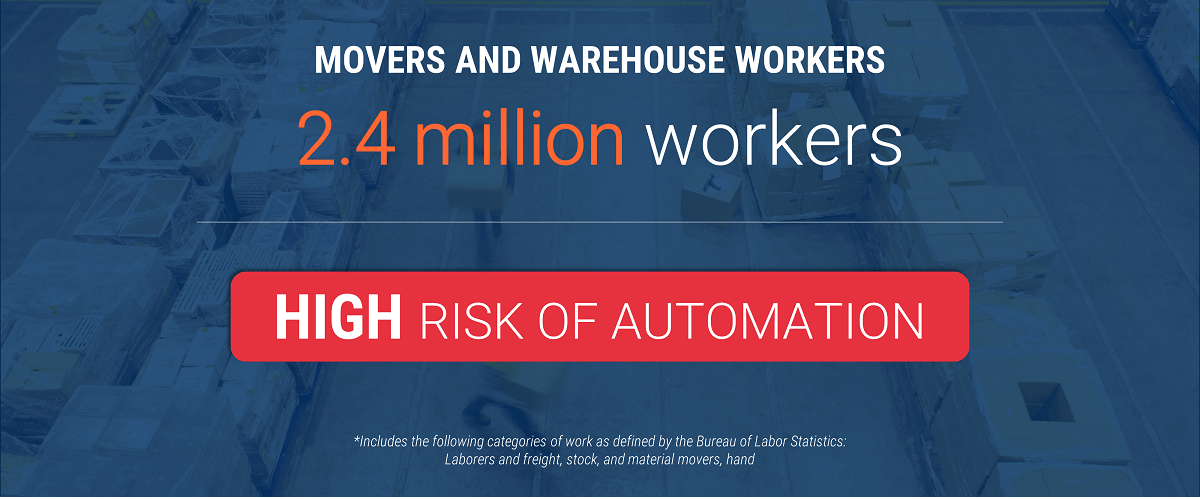 Robot-run warehouses are already in operation.
After Amazon acquired Kiva Systems in 2012 to automate its warehouse tasks, new startups emerged to fill Kiva's shoes for the broader ecosystem.
As more people shop for products online, there is greater pressure on order fulfillment centers to ship items on time. Currently, "cooperative robots" work in collaboration with humans, although this would mean employers need fewer hands on deck.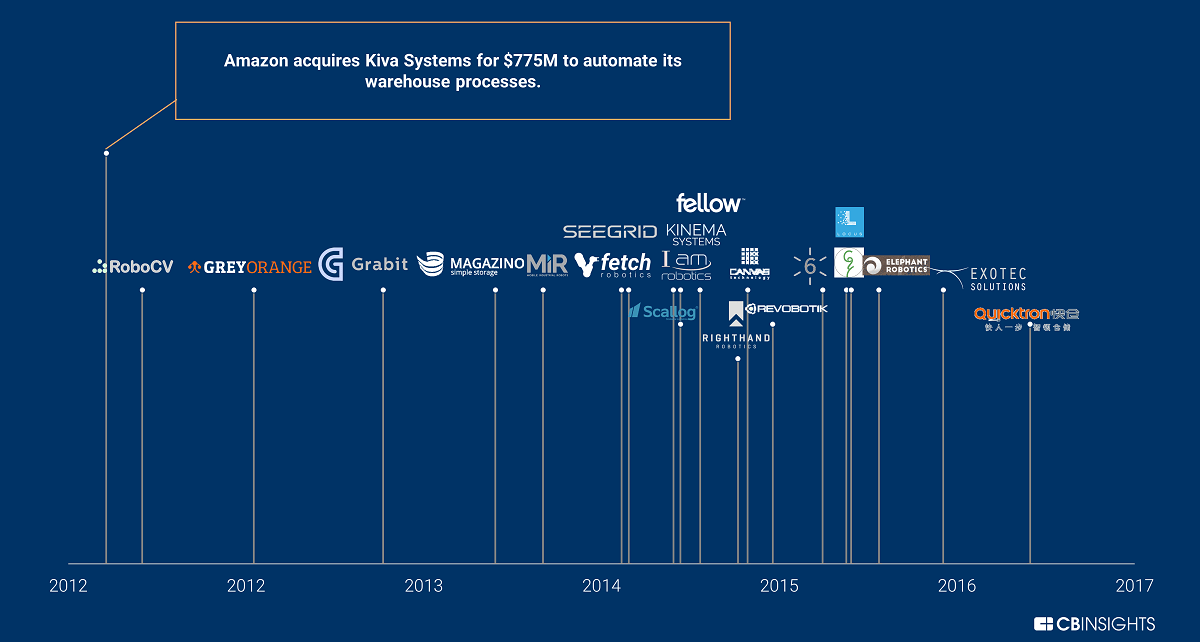 As robots do most of the moving and heavy lifting, retailers and supermarkets want in on the trend.
Supermarket Giant Eagle took a minority stake in Pittsburgh-based Seegrid in Q3'16 for $12M. Seegrid develops vision guided vehicles (VGVs) as well as a fleet management platform.
In another example, DHL's supply chain unit will use robots developed by startup Locus Robotics at its Tennessee life sciences facility. The robots will focus on picking and transporting items. DHL said this pilot project will "inform the potential for broader deployment across different parts of our business," adding, "This is a natural evolution of our robotics program."
There are still some challenges in warehouse automation. Startups are beginning to address these.
Startups are beginning to address the challenges in robotic gripping and handling of delicate goods (considered to be some of the automation pain points). For instance, RightHand Robotics raised $8M in Q2'17 to develop piece-picking robots. Rethink Robotics, which focuses on the manufacturing sector, is also developing robots for logistics and material handling. It is backed by investors like CRV, Draper Fisher Jurvetson, and GE Ventures, and has raised $150M in total funding.
---
Professions at lower risk
Risk of automation is lower in unstructured or unpredictable work environments, as well as in industries involving high regulatory scrutiny. In some of the occupations below, there are also technological challenges to overcome.
Retail salespersons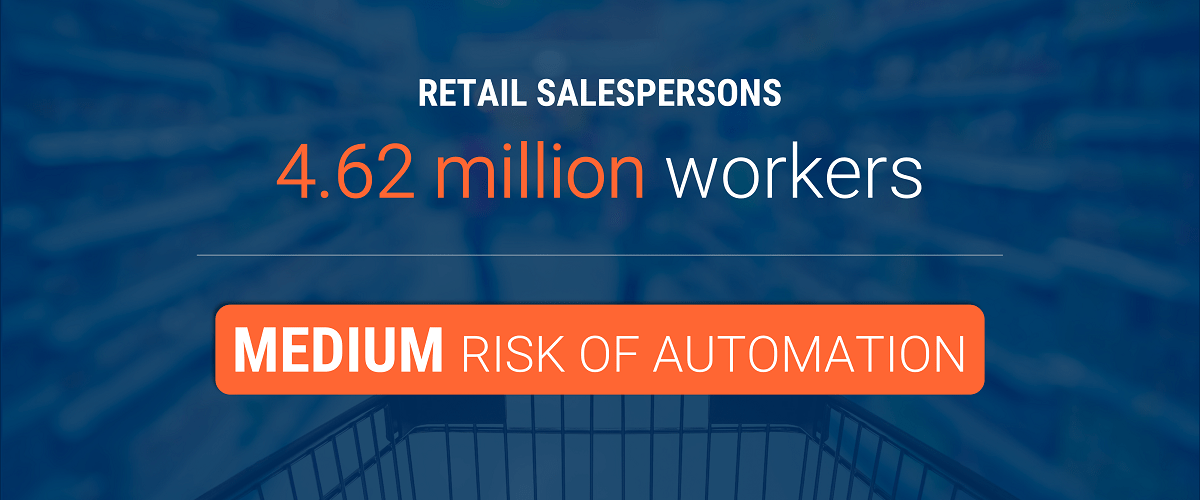 E-commerce is a more immediate threat to in-store sales jobs than robots.
With name brand retail chains like Macy's, Bebe, and Limited closing thousands of stores across the country, and rising competition from Amazon, retail salespersons are at a more immediate risk of job displacement from the rise of e-commerce than from in-store robots.
"The costs out of the gate for these robots are high, especially to run many of the tests. The use cases are still being understood… right now most retailers are trying to focus on their e-commerce integration with stores." – Bill Lewis, consumer products EVP, Capegemini
Even though technologies like AI-based in-store advertising and self-checkout lines automate some aspects of a salesperson's job, retail salespeople face a much more immediate risk of job loss due to the shift towards online shopping rather than the impact from in-store automation.
As consumers shift online, skills transfer may not follow a similar pattern for employees.
Startups are already developing AI-based chatbots, product recommendation algorithms, and targeted marketing analytics solutions for e-commerce. The new e-commerce "stack" is built around an AI core, from product recommendations to customer management and merchandising, leaving less room for job transfer from retail to e-commerce sales.
Some stores are beginning to test in-store robots.
In an effort to drive foot traffic and assist employees, however, some retail stores are turning to robots, testing the technology for inventory management and customer interactions.
The Lowe's Innovation Lab partnered with startup Fellow Robots to build retail robots OSHBot and LoweBot. The lab is also experimenting with AR/VR solutions for customer assistance.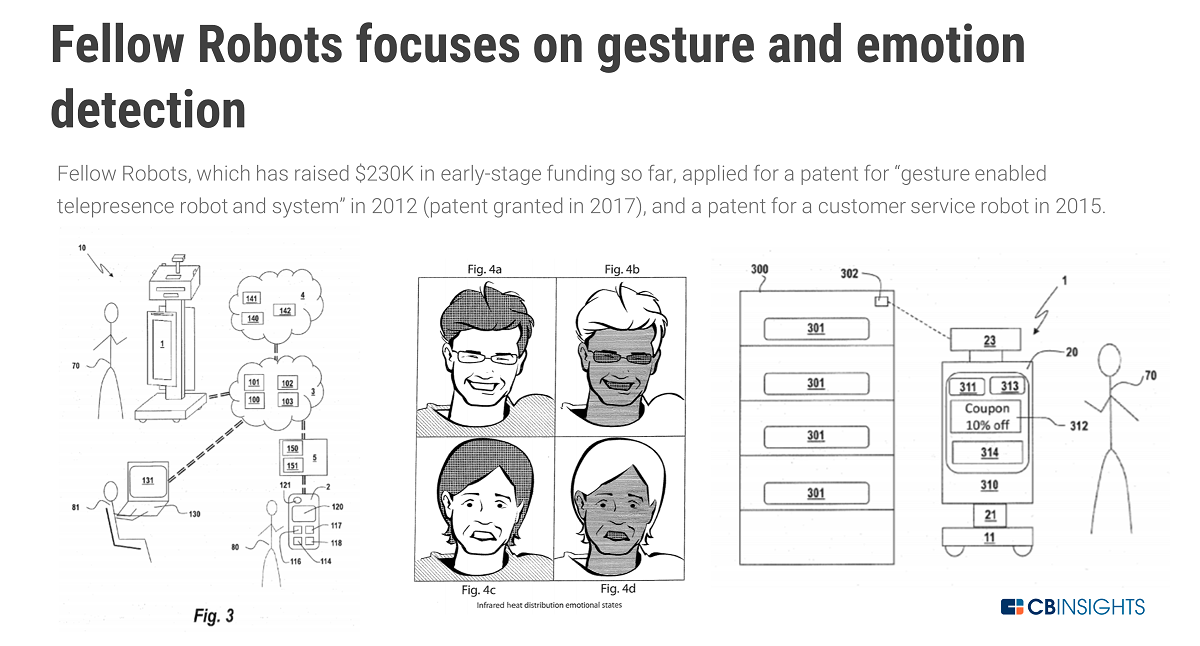 Target tested out Tally, a robot developed by Simbe Robotics, in San Francisco last year. California-based Bossa Nova Robotics is developing a retail robot to scan shelves and assist employees.
The adoption of in-store robots is still in its early stages, with no concrete measure yet of improved customer experience or cost-effectiveness for retailers.
---
Nurses and Health Aides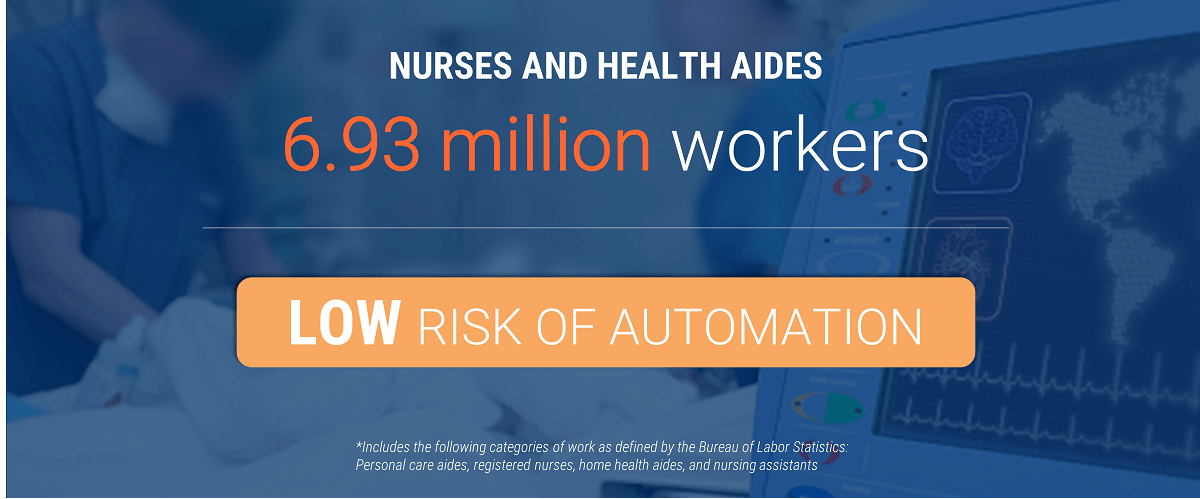 Dynamic decision making in unpredictable environments make these patient-facing jobs hard to automate.
An Oxford University study published in 2013 estimated that nursing jobs have less than 1% probability of being automated. The high stakes in healthcare, unpredictable work environments, and the degree of emotional intelligence required combine to make the job of nurses and healthcare aides hard to automate.
Although research institutions in countries like Japan, which is home to a large elderly population, are focusing their R&D efforts on robots that can perform tasks like lifting and moving chronically ill patients, most startups are focused on support tasks like hospital logistics and virtual assistance.
Startups working on AI-based virtual assistants serve as middlemen between nurses and patients, reducing the need for frequent in-hospital visits. Consumer-focused robots and apps engage patients post-discharge in simple conversations. While startups like babylon assess a patient's level of risk based on the response, others like Sense.ly integrate with biosensors and IoT devices to regularly monitor vitals.
Another area of focus for startups is support services like transportation and inter-hospital logistics, freeing up time for healthcare professionals by moving items for one room to another.
Pittsburgh-based Aethon (acquired in Q3'17 by ST Kinetics) has developed a robot called TUG for delivery and transportation of meals, medication, bed linens, and other goods in hospitals. Apart from strengthening its foothold in the United States, ST Kinetics plans to expand its Asia Pacific footprint through the acquisition.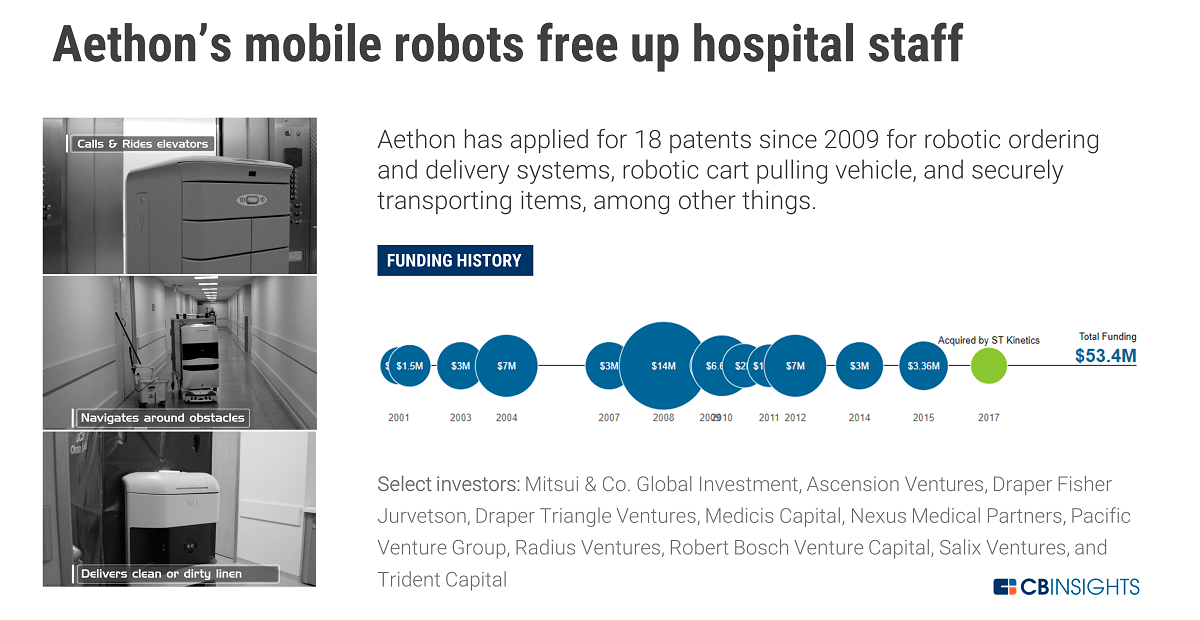 ---
truck drivers

"Even putting aside the direct safety risks, truck driving is a grueling job that young people don't really want to do. The average age of a commercial driver is 55 and rising every year, with projected driver shortages that will create yet more incentive to adopt driverless technology in the years to come ." –  Ryan Petersen, CEO of Flexport, LinkedIn Pulse
Fully autonomous vehicles are still in early stages of R&D.
The two biggest incentives for automating long-distance truck driving are road safety and driver shortage. The United States alone had a shortage of 48,000 truck drivers in 2015, according to the American Trucking Associations.
Although big tech companies and major auto giants like Apple, Baidu, Daimler, Ford, and Tesla are investing heavily in autonomous vehicle research, driverless trucks are still in early stages of testing, and on the whole the autonomous driving startup ecosystem is still in its early stages.
Companies are working on different aspects of automation, like sensors, perception systems, vision-based driver assistance, and high-accuracy maps, among other things. Two notable deals this year were Ford's $1B investment in Argo AI, and Uber's acquisition of self-driving truck company Otto.
Deals to startups specifically developing self-driving trucks (excluding driverless car startups like Zoox) started emerging in 2016.
California-based driverless truck startup, Starsky Robotics, raised seed funds from investors including smart money VC Data Collective, Unshackled Ventures, Y Combinator, and Trucks VC. Embark, which was backed by FundersClub in a seed round, later received a grant from The Thiel Foundation.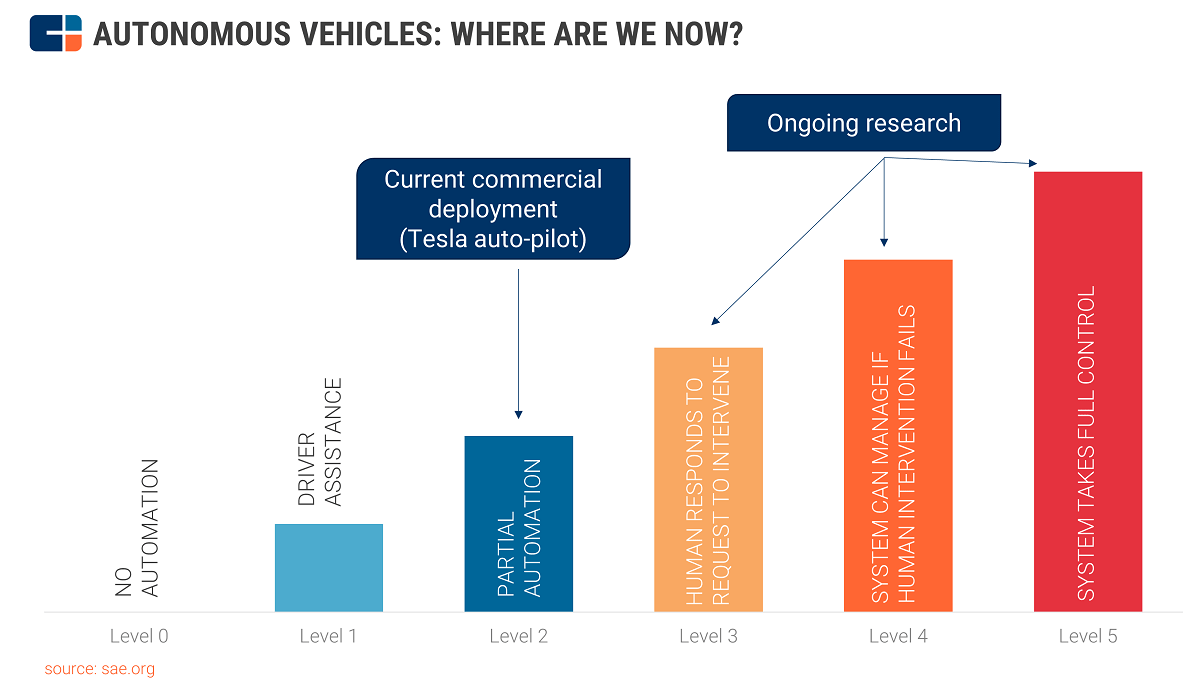 Even technologies like platooning require a human for initial/final legs.
Truck platooning has garnered interest from auto companies like Daimler and Volvo, the Department of Energy, and CVCs like Intel Capital and Nokia Growth Partners.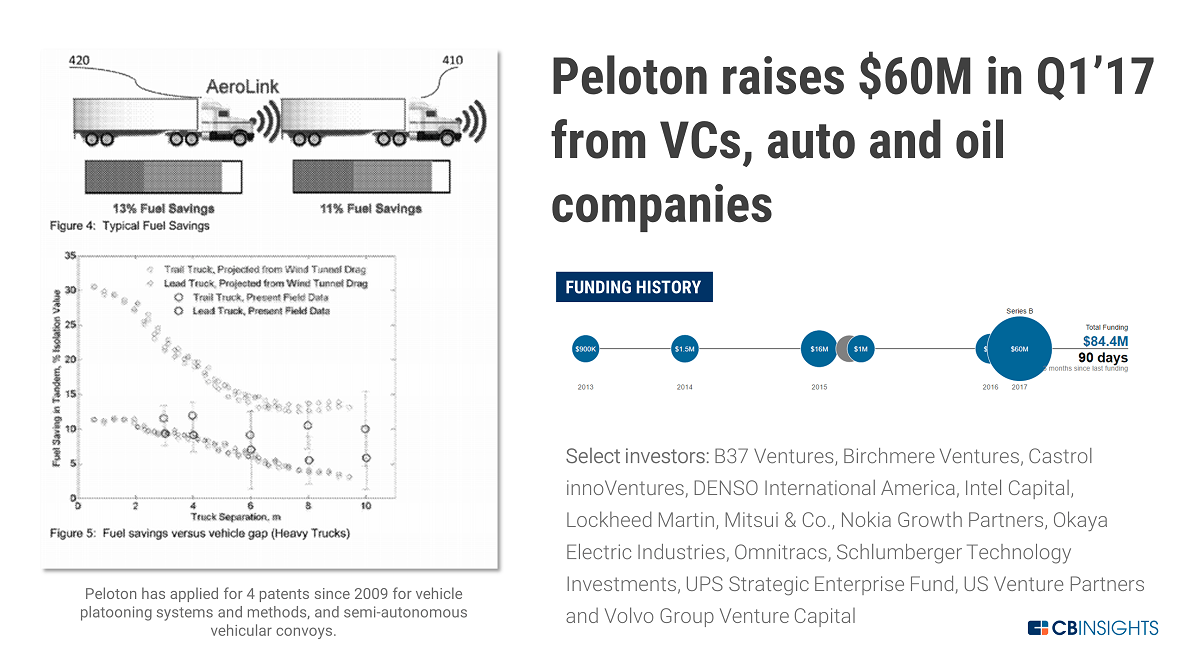 Although highway driving is considered easier to automate than in-city driving, initial/final legs in more congested areas will be more challenging, requiring a human driver. This is the case even with platooning, where a lead truck controls trucks behind it via Wi-Fi. While this technology has the potential to reduce manual labor, it faces regulatory challenges and still requires a human driver for non-highway driving.
Regulation is a point of friction slowing down automation.
Although trucking is thought to be at high risk of automation, this is unlikely to happen widely in the next decade due to regulatory challenges.
In addition to regulatory uncertainties, uncertain weather conditions and sharing the road with unpredictable human drivers are other challenges for fully autonomous cars/trucks.
---
construction workers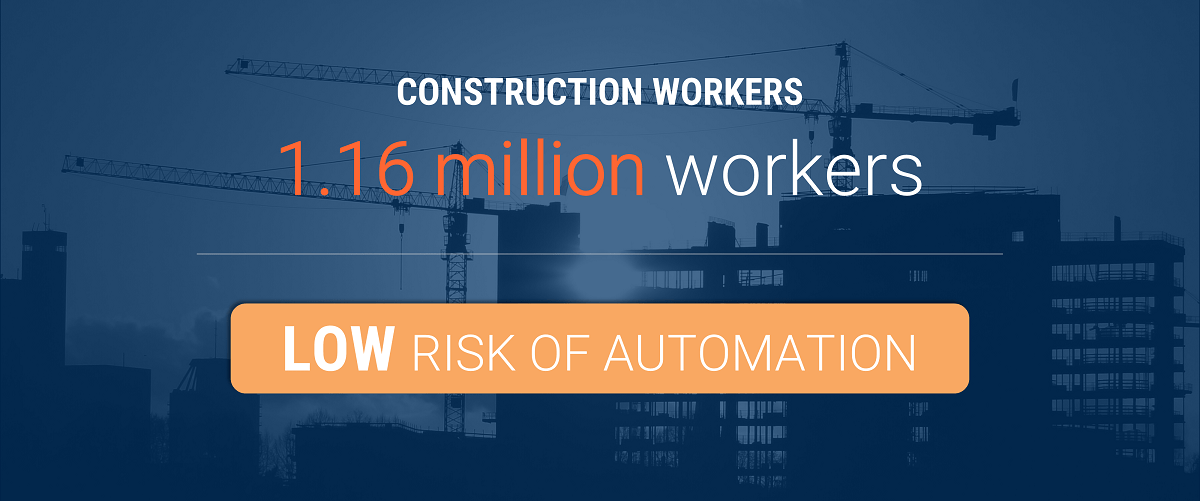 The construction environment is unstructured and dynamic, requiring human supervision.
Parts of the process that are repetitive may be automated, but construction workers overall are at a low risk of displacement from robots.
Specifically, companies focused on mobile-first solutions have seen an uptick in deals. Some companies are also automating repetitive tasks like brick laying (such as Fastbrick Robotics, which was acquired by Australian holding company DMY Capital in 2015).
The demand for construction workers and a shortage of labor is giving rise to off-site solutions.
As shortage of construction laborers continues across the United States, some companies, like Blueprint Robotics, are focusing on assembly-line manufacturing solutions. The prefab housing sector has also seen some private market deals recently.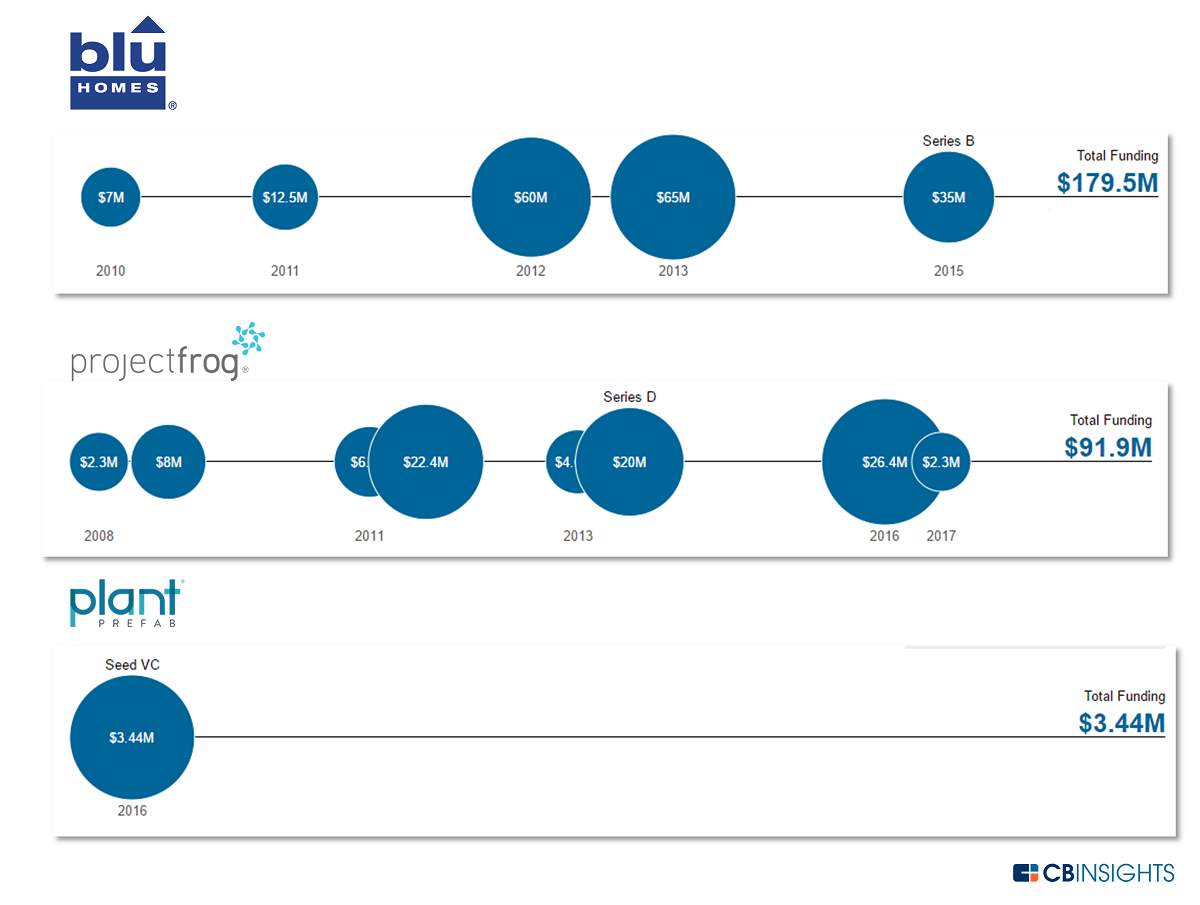 There is rising interest in using drones for site inspection to improve on-site worker safety.
Rising interest in inspection drones (over 40 deals went to inspection drone starups in 2016, compared to less than 25 the previous year) across industries for field survey and mapping functions has affected construction as well.
Construction and mining equipment manufacturer Caterpillar had invested in California-based Airware, which focuses on commercial drones and also is backed by investors like Intel Capital and Andreessen Horowitz. Airware's solutions for the construction industry include topographic surveying, detecting breaklines, and computing stockpile volumes.
Other startups are working on both hardware and software solutions for inspection drones. While Kespry and Dronomy make their own drones, Skycatch develops analytics solutions for data collected using DJI drones.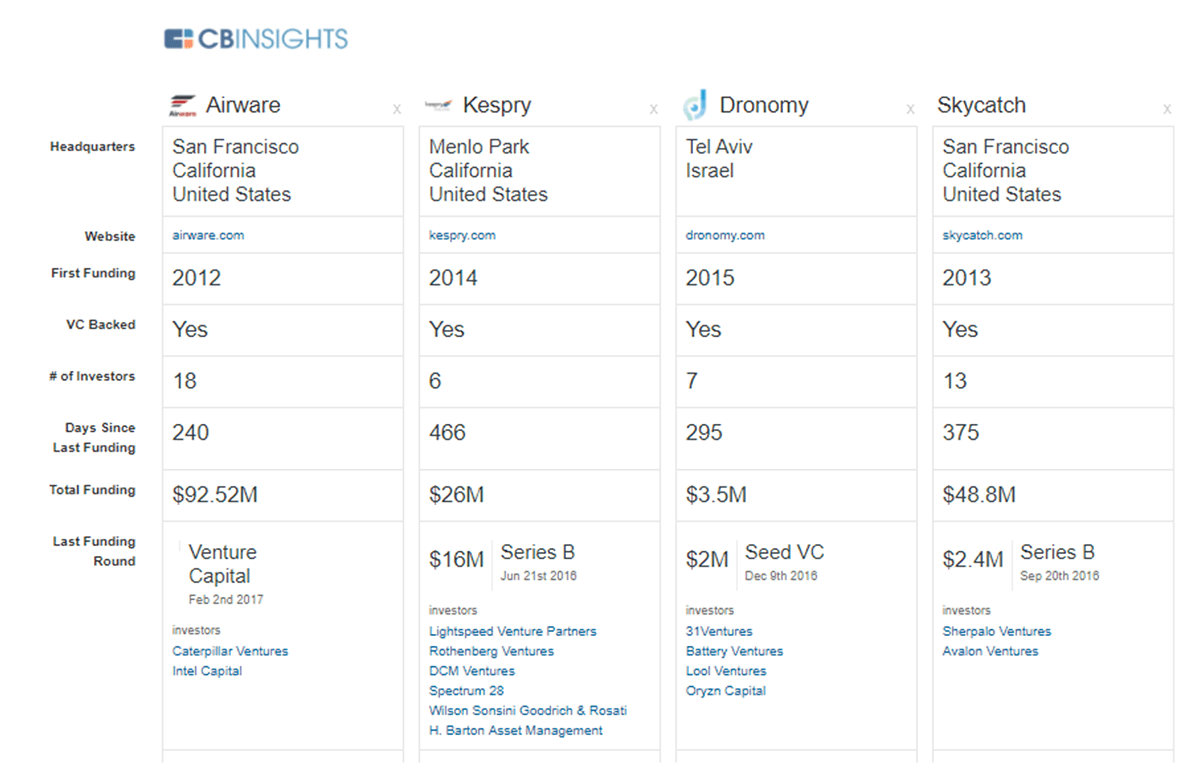 Although there is renewed interest in 3D printing, it is still in nascent stages.
3D printing saw a resurgence of interest in 2016. Some of the recent news includes Apis Cor 3D-printing a house in 24 hours, and Google, IBM and Lowe's investment in a metal 3D printing startup, Desktop Metal, with potential applications in a variety of industries.
But 3D printing in construction tech is still in its nascent stages. It also faces regulatory uncertainties — the materials used will go through significant regulatory scrutiny before commercial approval is granted.
White-collar jobs are also beginning to be automated
Startups developing what we call expertise automation and augmentation software (EaaS) will replace entry-level white collar jobs in areas like law (automatic document analysis and auditing), media (AI-based news curation and summaries), and even software development (early development phase and debugging).
Expertise Automation & Augmentation Software (EaaS) is focused on algorithms and technology that replicate human cognition. This software will augment and/or replace white-collar jobs — starting with low-level professional jobs. As with other disruptive trends, EaaS technology will become more sophisticated with time.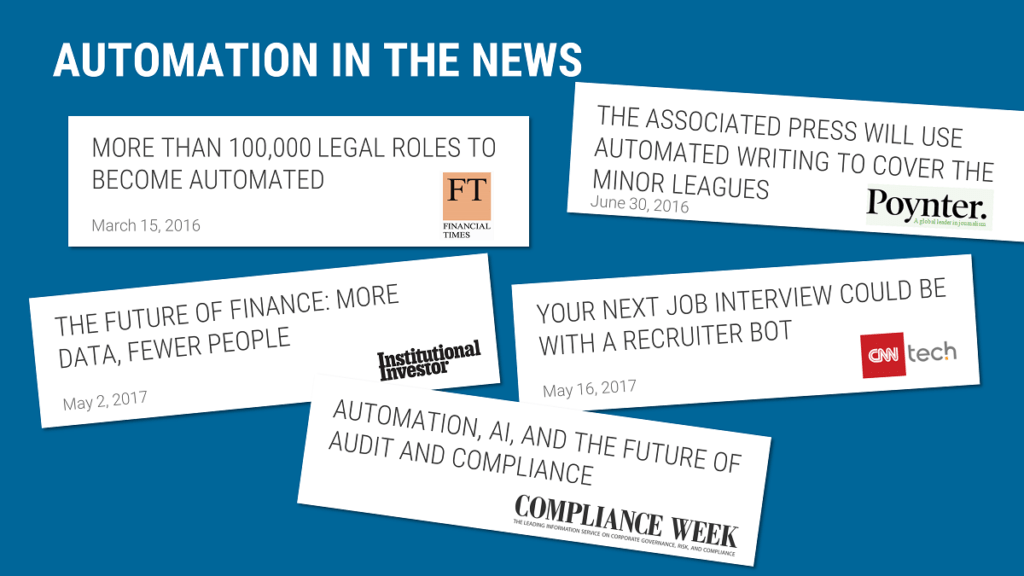 LAWYERS
Artificial intelligence has huge potential to reduce time and improve efficiency in legal work. On the litigation side, natural language processing (text analytics) can summarize thousands of pages of legal documents within minutes — a task that might take a human counterpart several days to complete — while reducing the probability of error. As AI platforms become more efficient and commercialized, this will impact the fee structure of external law firms that charge by the hour.
Big multinational law firms are already preparing for the change AI will bring to the industry and capitalizing on it. For instance, Europe-based Pinsent Masons claims it has developed its own AI technology, called Term Frame, which has reportedly helped the firm in 7,000 matters ranging from dispute resolution to contract reviews.
Others are keeping tabs on the latest in tech through accelerator programs. For instance, NextLaw Labs, a wholly owned subsidiary of multinational law firm Dentons, invested in IBM Watson-powered AI legal tech startup ROSS Intelligence.
Legal tech AI startups saw about 7 deals last quarter. The top disclosed round was a $12M Series B round raised by Palo Alto-based Casetext, which is developing an AI-based legal research assistant, CARA. The round was backed by 8VC, Canvas Ventures, Red Sea Ventures, and Union Square Ventures.
Another startup, Israel-based LawGeex, raised a $7M Series A last quarter to use AI to automatically review business contracts. Smart money VC Floodgate seed-funded Text IQ, which is using natural language processing to help enterprise legal departments with investigations and document reviews.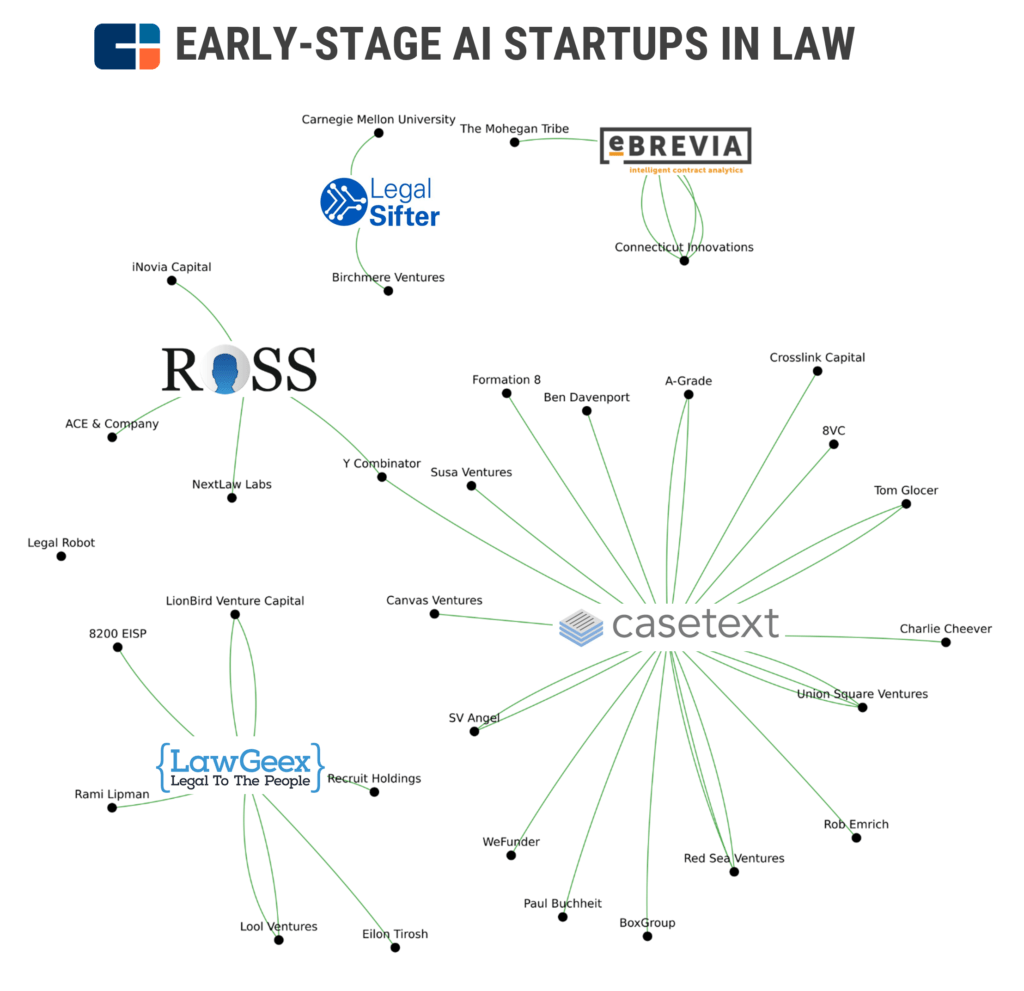 WEALTH MANAGERS AND FINANCIAL PLANNERS 
Robo-advisors, or digital wealth managers/financial planners, have made the most progress towards fully-automating a conventional fintech business model. Private market investors have poured over $1.9B across 169 deals spanning 18 countries into robo-advisors since 2013.
Few other models within financial services have seen incumbent firms respond to an insurgent attack by launching competitive services as quickly. Looking at the wealth management market, it's not hard to understand why. At risk is an estimated $36T that is projected to be passed from the Baby Boomers to millennials by 2061. Moreover, 70% of the non-retired population have no retirement savings, the Fed reports.
By automating the human advisor, robo-advisor startups have lower overhead, and in turn, have waged an industry pricing war by lowering fees and in some cases even eliminating them. Robo-advisors use a combination of algorithms to make risk-adjusted portfolio allocations and machine learning to learn from investor's behavior to automatically tailor the portfolio when it swings outside of the prescribed recommendations. This is more cost efficient and in the long run could prove more profitable for the customers as compared to the traditional human management model.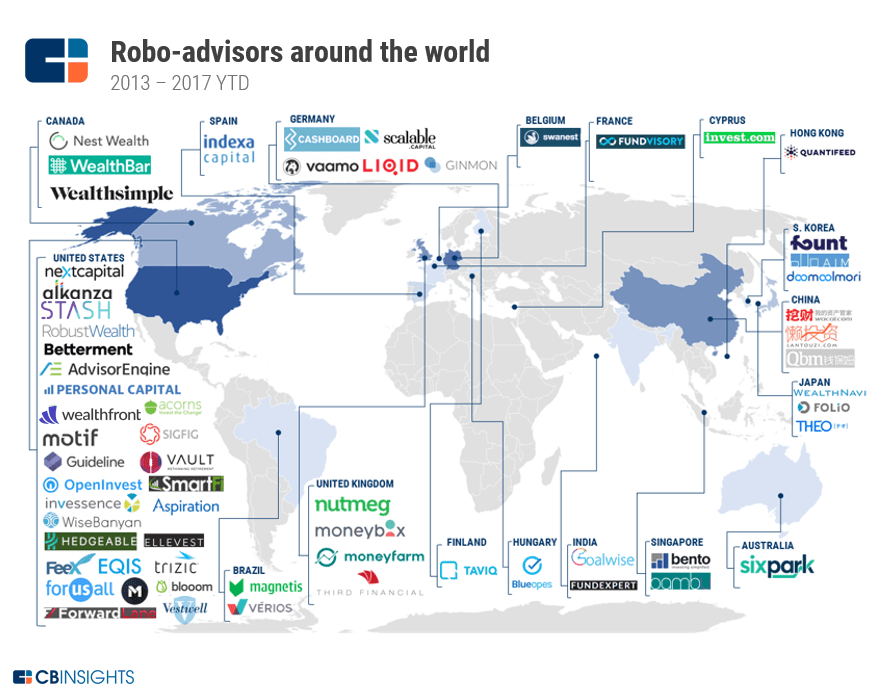 The two earliest robo-advisors, Betterment and Wealthfront, are also the largest in terms of customer growth and assets under management. Combined, they manage approximately $17.5B in assets for over 535K client accounts, and have established themselves as household names.
While both are actively leveraging technology to further automate the wealth management profession, Wealthfront has been more actively moving away from the traditional human-advisor model. This year, Wealthfront launched a fully-automated financial planning service called Path, and a portfolio line of credit that streamlines the traditional bank loan process.
If robo-advisors continue to invest in building out their technology, by applying machine learning, the algorithm could learn to automatically adjust to a customer's risk management thresholds throughout each life phase.
NEWS AND MEDIA
Although digital media deals dropped to the lowest number since Q2'12 last quarter, this year saw a $1B investment into China-based Toutiao, backed by CCB International and Sequoia Capital China. The startup, currently valued at $11B, uses artificial intelligence for personalized news recommendations, and is also reportedly developing an artificial news reporter.
Other startups in this space include Narrative Science, which develops a natural language generation tool called Quill, and Automated Insights, which was acquired in 2015 by Vista Equity Partners.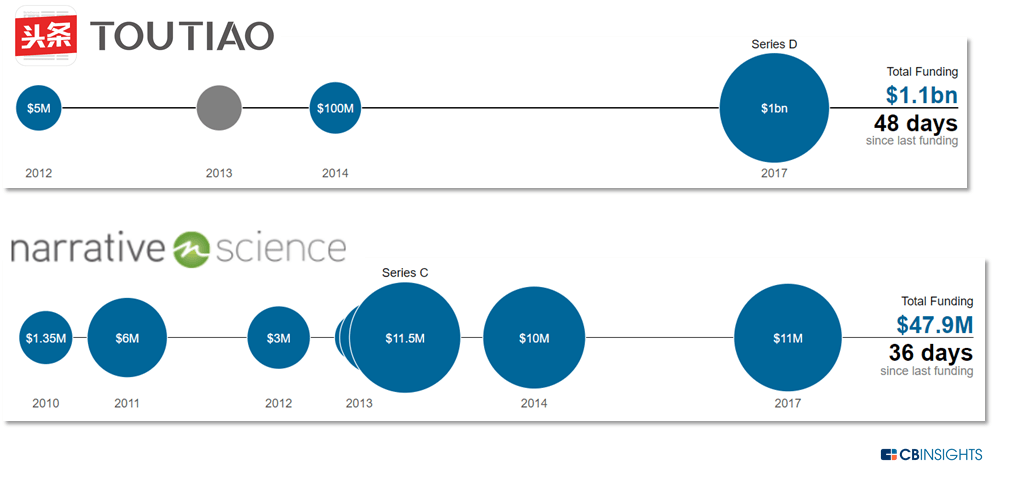 SOFTWARE DEVELOPERS
Early stage deals are emerging to startups focused on AI-based software testing, debugging, and basic frontend development.
One of the top rounds this year went to UK-based DiffBlue, which is developing AI to automate traditional coding tasks like bug fixing, custom code development, and translating code from one programming language to another. An Oxford University spinoff, it raised $22M in Series A from Goldman Sachs, Oxford Investment Consultants, and Oxford Sciences Innovation.
One of the earliest deals to startups using AI for software testing went to Applitool, which went on to raise $8M in Series B this year, backed by Smart Money VC Bessemer Venture Partners.
The image below shows recent deals to the space on the CB Insights platform (clients can track all AI deals by industry here).

What are the jobs of the future?
The scale of automation and progression in AI in recent years has created panic about a rapidly changing labor force.
Some industry experts and startup founders have been optimistic about the new jobs that will be created, enabling fewer people to do boring, dirty, or dangerous jobs.
However, what the jobs of the future will look like remains to be seen.
"A few years ago, Peter Lee, a vice president inside Microsoft Research, said that the cost of acquiring a top AI researcher was comparable to the cost of signing a quarterback in the NFL." – Wired
Obviously if current trends are any indication, AI talent will continue to be in high demand. This was underscored recently by Chinese unicorn Toutiao (mentioned above), which is reportedly scouting top AI talent with $3M pay packages.
With big corporations like Google, Amazon, Apple, and Intel doubling down on their AI efforts, and top employees moving to competing companies or startups, there is a heated race to nab the crème-de-la-crème. The demand will continue to grow as AI is integrated into every industry.
But jobs in industries involving complex human interactions and high emotional intelligence, such as healthcare and education, will be least susceptible to automation.
Finally, as mundane jobs are automated, market competition for creative intelligence and the arts will increase. In-demand skills will include things like storytelling, strategic planning, and product design.
Conclusion
The advances in robotics — where AI software meets hardware — is taking automation beyond heavy industrial and manufacturing processes. This trend is already touching areas like physical security, transportation, cleaning services, warehouses, and restaurants.
In some occupations like trucking, technology and regulation have not caught up to the hype yet. But in others like restaurant services and commerce, the impact is already being felt.
Companies purely focused on AI software are removing the safety net from many white-collar jobs that were traditionally considered safe from automation. Startups are automating tasks in marketing, legal, HR, real estate, and financial services.
Retraining employees is a recurring theme. But with AI software now beginning to automate even white-collar jobs, it remains to be seen how many new jobs will be created, what they will be, and whether those who lose positions due to automation will be able to fill these new roles.
If you aren't already a client, sign up for a free trial to learn more about our platform.