With the acquisition of Building Engines, JLL aims to help accelerate the digitization of property operations across the globe. Here are the top-line bullets you need to know.
Jones Lang LaSalle (JLL), a commercial real estate (CRE) services firm, has acquired Building Engines, a property management software provider, for $300M. The deal is expected to close in Q4'21.
WHO ARE THE PARTIES TO THE DEAL?
Building Engines: Boston-based Building Engines' platform, Prism, brings together the technology and applications required for building management in one place. It provides a variety of services, including work order management, preventive maintenance, HVAC management, insurance, communication, and inspection. Building Engines caters to 1,000 clients and has more than 35,000 properties under management that collectively comprise 3B square feet of real estate.
Jones Lang LaSalle: Chicago-based JLL specializes in real estate and investment management. The company posted revenue of $16.6B and adjusted EBITDA of $860M in 2020, and it also reported having $68.9B of assets under management (AUM) and a global managed portfolio of 5.4B square feet. JLL maintains operations in over 80 countries and a workforce comprising over 92,000 employees.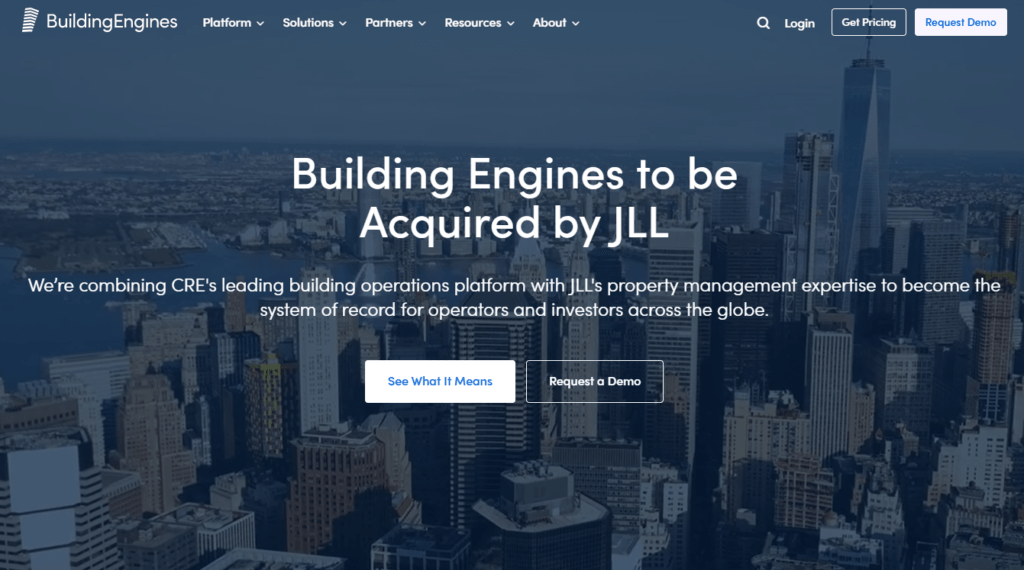 Source: Building Engines
WHY DOES THE MARKET MATTER?
The global property management software market is projected to grow at a CAGR of 4.8% and reach a value of $4.2B by 2028, according to Grand View Research.
Demand for automated property management solutions is increasing, as they have proven to help organizations simplify management processes, reduce errors, and cut down on response time.
The PropTech segment has witnessed increased M&A activity in recent months — notably, Unicorn VTS acquired Lane Technologies for $200M earlier this month and Rise Buildings for $100M in March 2021.