Sixteen months after Jet.com's $3.3B acquisition by Walmart, president Liza Landsman explains how the company plans to take on a shifting online-offline retail landscape and major players like Amazon.
Walmart's $3.3B acquisition of e-commerce platform Jet.com in August 2016 raised a lot of eyebrows. The retail giant was paying a hefty price tag for a startup that, at the time, had not been around long and had already adjusted its business model several times.
Since the acquisition, however, Jet.com has played a major role in helping Walmart reach out to higher-income, urban, millennial consumers, while strengthening Walmart's e-commerce operations.
Walmart and Jet.com complement each other, said Jet.com president Liza Landsman, speaking to Bloomberg reporter Brad Stone at CB Insights' A-ha! Conference in San Francisco in December 2017.
"I think the day of the pure play is dead," she explained. In other words, while a lot of conversation lately has centered on the struggles of physical retail, in Landsman's opinion, there will also be a decline in online-only brands: e-commerce platforms will continue to move into the physical world, even as traditional brick-and-mortar retailers move online.
"I think there are categories in which any given consumer may want to shop offline," Landsman added. "Consumers want that choice — they don't want companies' operational complexity thrust upon them, pushing them to only one way to do business."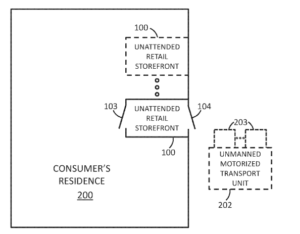 At the same time, Landsman emphasized that "offline" does not just mean traditional stores. For example, there could also be an increase in pop-ups, or automated kiosks.
Walmart has filed a number of patents showing ways to support offline purchasing outside of the traditional store: one recent patent application shows an automated kiosk that would stock inventory in consumers' homes, and only charge consumers when they actually picked up and used a product.
Moreover, as Walmart ramps up its tech focus, it may pursue more partnerships. Recently the retailer partnered with Google to support voice ordering of Walmart products on Google Home.
And what's next for Jet.com? Landsman noted that integrating with Walmart's supply chains and logistics operations has "dramatically improved" unit economics for Jet.com, and that the company has refocused its marketing efforts on existing customers and more targeted audiences, rather than nationwide advertising.
Moderator Brad Stone also asked about the elephant in the room: Amazon.
"Who would have thought Walmart would be the scrappy underdog in a two-horse race?" Landsman commented.
However, she explained, Jet.com aims to compete with Amazon by attracting premium brands.
Grocery delivery will also be a priority. And because Walmart already has store locations within 10 miles of 90% of Americans, it may have an advantage in last-mile delivery.
If you aren't already a client, sign up for a free trial to learn more about our platform.