Among major markets, Indonesia is the second-fastest-growing P&C market and the fastest-growing market for life insurance. Here's where insurance tech innovation in Indonesia is happening today and where it's headed next.
Today, Indonesia features one of the most compelling macro backdrops for investment globally with a young, optimistic, and upwardly mobile population of 264M. Consider that:
Half of Indonesia's population is under the age of 30, with the number of millennials (aged 17-35) in Indonesia currently at 79.5M.
Among major Asian economies, people in Indonesia feel the most optimistic about their opportunity to advance in their careers, develop new skills, and build their finances, according to a LinkedIn study.
By 2050, Indonesia is projected to have the third largest middle class among emerging markets.
Speaking of mobile, smartphone penetration in Indonesia continues to grow with close to half of Indonesia's population expected to own a smartphone by next year.
Indonesia features the largest ($27B in 2018) and fastest-growing (49% CAGR 2015-2018) internet economy in Southeast Asia, according to a study by Google and Temasek. Recent data from Indonesia's leading e-commerce player Shopee supports optimistic growth prospects. The platform recorded 63.7M orders, or a daily average of 700,000 orders, in Q3'18, and reached 12M orders on Indonesia's National Online Shopping Day in December.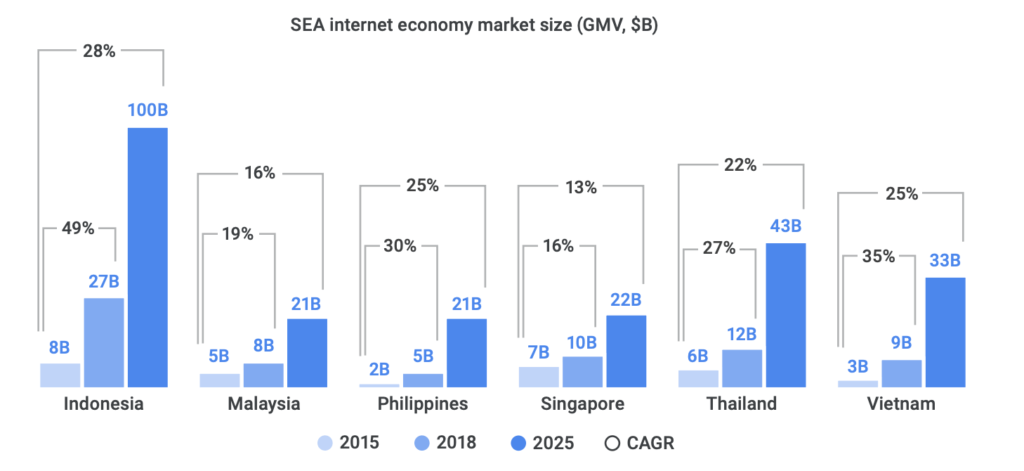 Source: Google and Temasek
The combination of Indonesia's compelling macro backdrop and fast-growing digital economy is creating a massive opportunity for digital transformation in financial services.
Two that are already seeing lots of activity are payments and lending.
Payments
The three leading mobile payments players in Indonesia are Go-Jek's Go-Pay, Lippo's OVO (partnered with Grab), and Dana, the joint venture of Ant Financial and Emtek. Competition is already starting to grow fierce, with all three recently expanding and integrating with e-commerce platforms including Bukalapak, JD.id, and Tokopedia.
In its 2018 report, OVO claimed it had facilitated 1B transactions for the year, or a 75X increase since November 2017. Meanwhile, Dana reportedly acquired 1M users in 3.5 months and recently surged to the #1 App Store ranking after a big 11.11 promotion. Another player in the mobile wallet battle is T-Cash, the e-wallet service of Indonesia's largest mobile operator Telkomsel, which recently opened up its e-wallet to the customers of rivals. T-Cash counts 20M registered users (though just 4M active users).

Lending
Meanwhile, alternative lending is also seeing strong growth, with P2P fintech platforms distributing $1.4B in loans in 2018 vs. $182M in 2017. The OJK, Indonesia's financial services regulator, is already starting to clamp down by launching a selective registration process and shutting down unlicensed firms that continue to operate.
While the space is still in the early innings of its evolution, several alternative lending startups in Indonesia have already raised Series B financing, including UangTeman, Modalku, Kredivo, and Investree.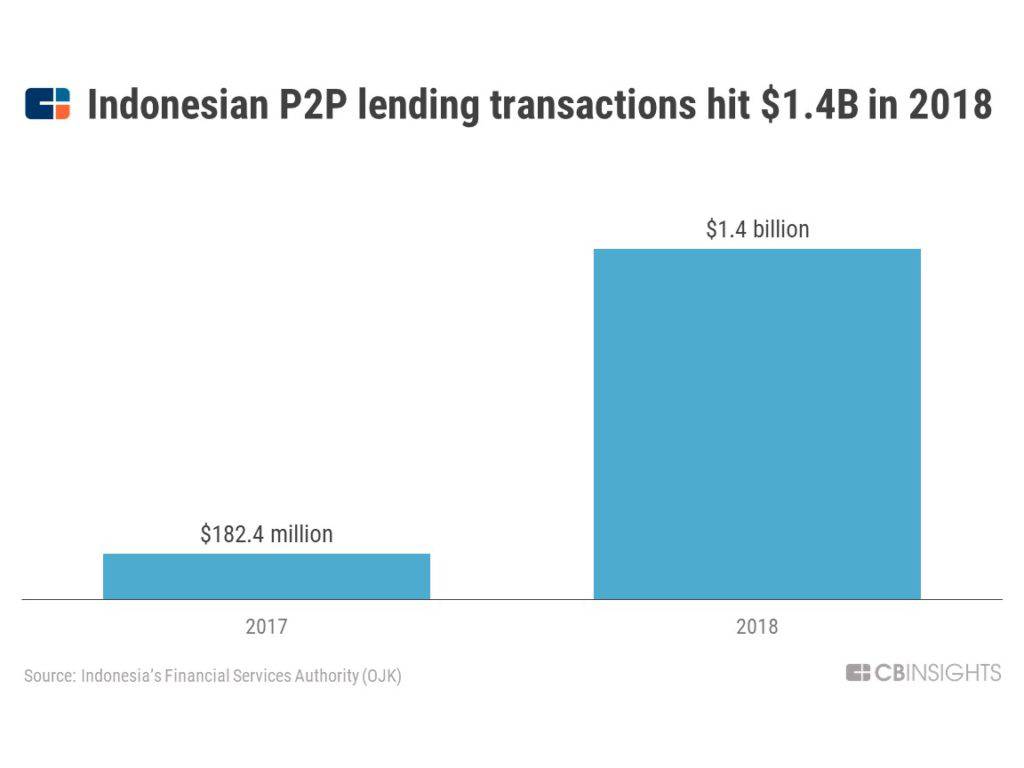 Indonesia's insurance industry has yet to see the same level of competition or startup investment as payments or lending. This analysis focuses on where insurance innovation in the market is happening today and where it is headed next.
Insurance in Indonesia today
According to data from the OJK, insurance literacy in Indonesia actually fell from 17.9% in 2013 to 15.8% in 2017. Overall insurance penetration in the country of 264M people ranks among the lowest in the world at <2% (4.5M Indonesians carry a policy). As such, regulators are encouraging the use of digital channels in insurance and have publicly voiced that "no regulation is needed to regulate insurance marketing through digital means."
Today, life insurance is the dominant segment in Indonesia and accounts for two-thirds of the sector. Life insurance hit $12.6B in premiums in 2016. Non-life insurance is driven by property insurance and motor insurance, with the two accounting for 54% of the general insurance market. Indonesia is second only to India among the fastest growing P&C markets by premium and the fastest growing market for life premiums, according to Munich Re.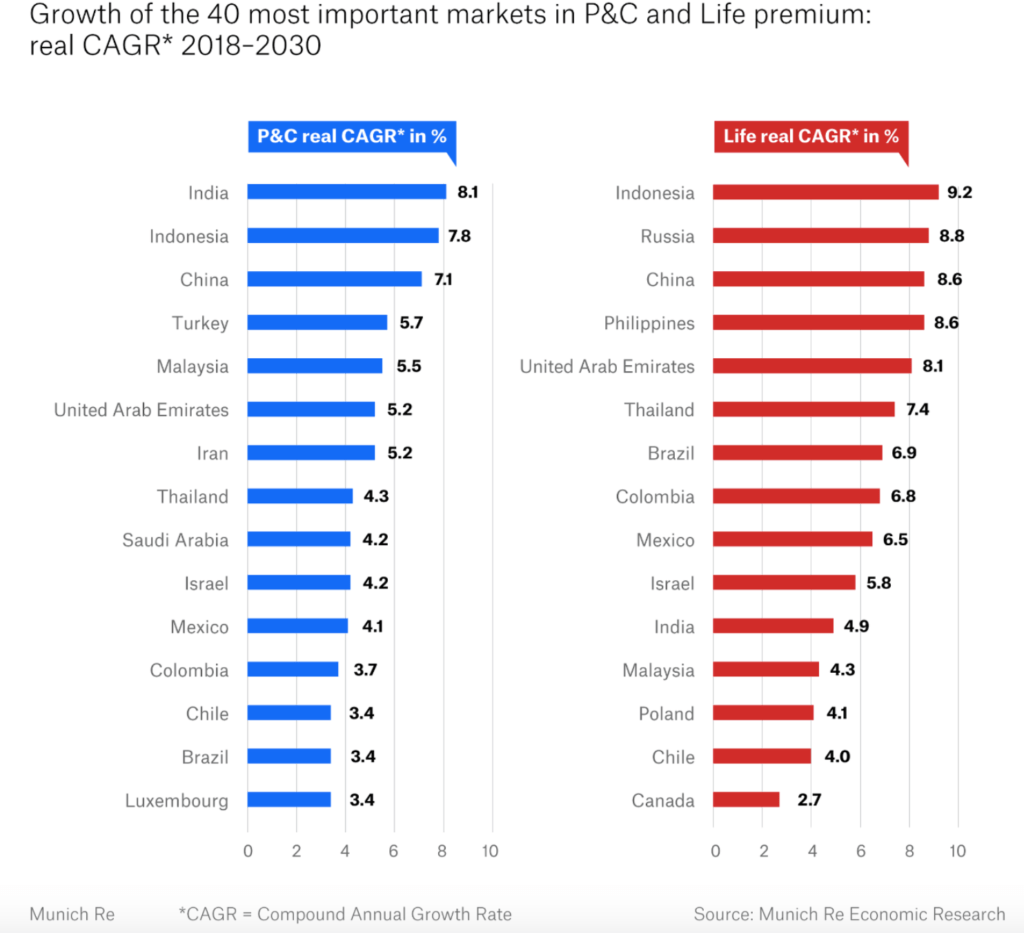 Because banks in Indonesia already have existing customer bases, the primary channel for insurance growth in Indonesia has been bancassurance (insurance companies selling products through partnerships with banks). Life premiums through the bancassurance channel grew 74% in 2016 vs. 6% in traditional agencies, according to Oxford Business Group. Recent M&A deals by foreign insurers, including Zurich's acquisition of Adira Insurance and FWD Group's acquisition of Commonwealth Bank of Australia's Indonesian life insurance unit, have included long-term bank distribution partnerships.
In terms of health insurance, more than 130M Indonesians are registered for the country's Mandatory Health Insurance Scheme, managed by Badan Penyelenggara Jaminan Sosial (BPJS). BPJS covers medical and non-medical benefits but excludes services such as esthetics, orthodontics, infertility treatments, and drug rehabilitation. BPJS has faced some issues, including a growing number of inactive participants and a major deficit.
When it comes to who can sell insurance in Indonesia, boundaries can be opaque. An insurance agent in Indonesia can only represent one insurance company, while brokers can represent more than one carrier. But agents can play in gray areas by offering the services of multiple insurance companies through various means. The rise of online marketing and referral services has added new complexities to the issue as individuals who are neither brokers nor agents use websites and blogs to promote brands.
To date, a number of tech startups operating in the realm of insurance have focused on financial comparison by providing online destinations to buy insurance products from licensed brokers. However, financial comparison startups such as Experian-backed C88 Technologies have largely focused on simpler financial and banking products.
Where insurance tech in Indonesia is headed
Given the country's existing landscape, here are five themes to watch when it comes to the future of insurance innovation in Indonesia.
The influence of tech business models from china and the us
Entrepreneurs appear eager to adopt and tailor different tech-enabled business models to the Indonesian market. Two early examples of this are Sleekr and PasarPolis.
Founded in 2015, Sleekr borrows from Gusto's model in the US and offers a combination of software automation tools to small businesses for HR administration, payroll, and business processes. Today, Sleekr works with 10,000 small businesses in Indonesia and charges $1 to $2 per employee per month.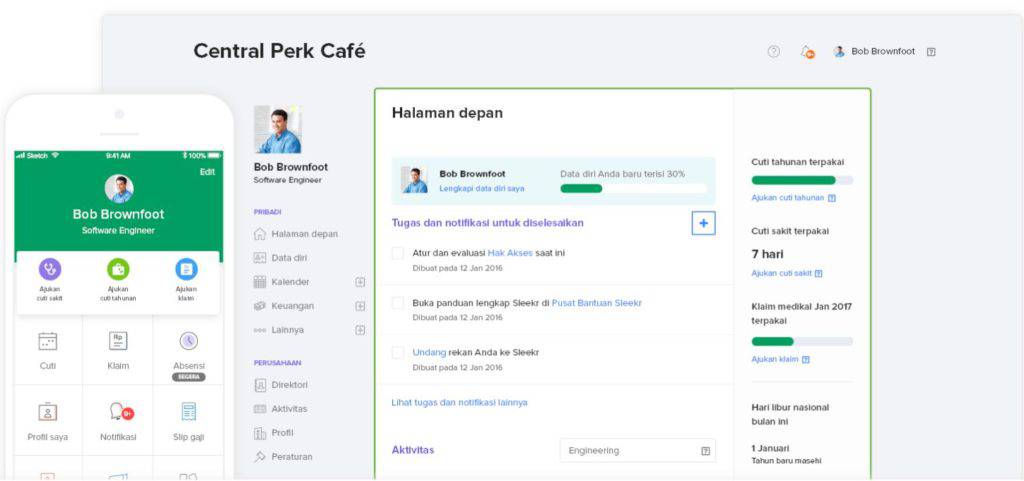 In the future, Sleekr might look to become a distributor of financial services including health insurance. This is similar to how Gusto brokers medical, vision, and dental coverage, but different in the sense that Sleekr would have to sell group health insurance to small businesses that are reluctant to go through the time-consuming BPJS government program.
Meanwhile, PasarPolis borrows from Zhong An's B2B2C model in China and has partnered with various platforms in the region including Go-Jek, Tokopedia, Traveloka, and JD.id. As an example, PasarPolis has sold 250,000 microinsurance policies to Go-Jek's pool of 800,000 drivers. Similar to Zhong An, PasarPolis offers shipping returns insurance and flight delay insurance products through e-commerce partners and claims to do over 1M policies per month out of 100M insurable hits per month. Many of these policies cost $1 or less.
PasarPolis' current model largely operates around tech services. For example, insurers pay PasarPolis a portion of the fees associated with claims management in exchange for the work they've done to streamline processes. This differs substantially from Zhong An's model, which operates as a licensed insurer.
Two potential challenges are whether PasarPolis will need to change its model to operate as a licensed distributor in the future, and whether it will need to (or is able to) follow Zhong An's shift from products tailored to the online economy to more traditional insurance offerings. While PasarPolis is seeing substantial growth, there are also limits to its potential scale. Of note, China's $1T e-commerce GMV market, where Zhong An plays, is 37x larger than Indonesia's current digital economy. In addition, strategic partners Go-Jek, Tokopedia, and Traveloka are equity owners in PasarPolis, which could create conflicts for future growth prospects (e.g. partnering with rivals).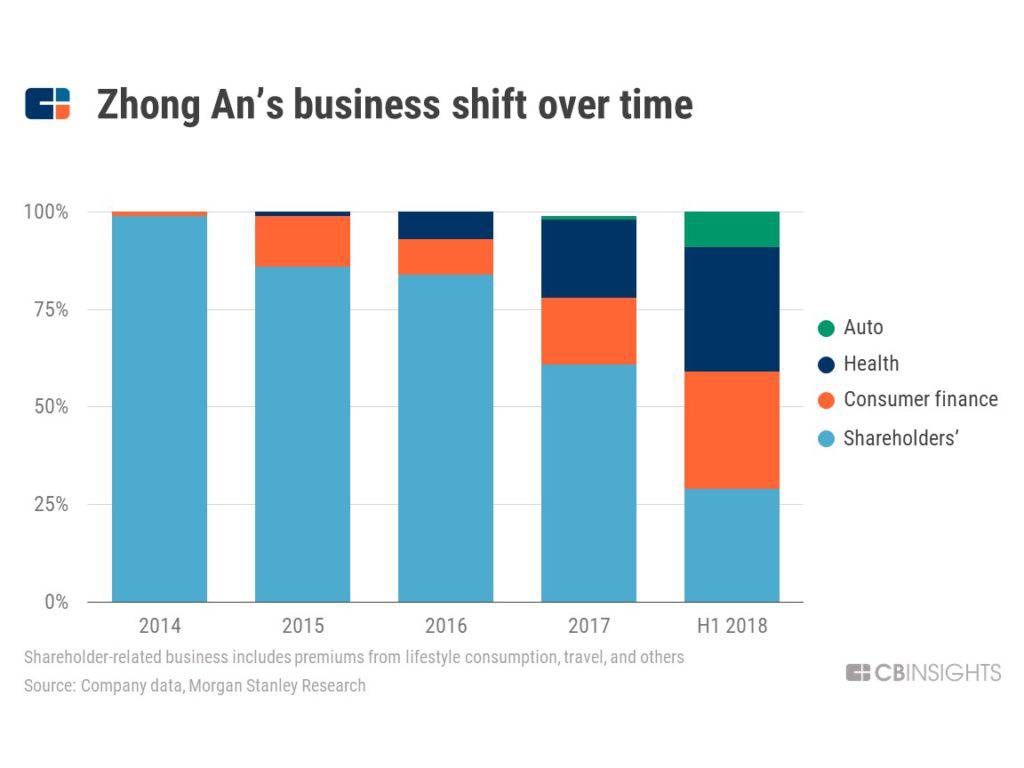 Over time, more insurance business models from the US and China will come to Indonesia. One possibility is Chinese mutual aid platforms like Shuidihuzhu, which helps patients crowdfund money for medical fees and also distributes traditional health insurance products to its membership of close to 60M.
Innovation in offline channels is a critical component of distribution
In Indonesia, offline channels are, and will continue to be, of critical importance to onboard customers into digital financial services.
This was made apparent in Grab's 2017 acquisition of Kudo, an offline-to-online payments startup, for over $100M. Kudo provides a cash payment system and a network of a few hundred thousand agents to onboard unbanked consumers into digital transactions by partnering with firms such as BukaLapak, Lazada, Indosat, and Lion Air.
More recently, PayFazz raised $21M from Tiger Global and DST to utilize its network of over 1M bank agents to act as intermediaries between unbanked consumers and banks. PayFazz agents act as banking touch points and turn cash deposits into PayFazz balances that can be used to pay bills and other expenses.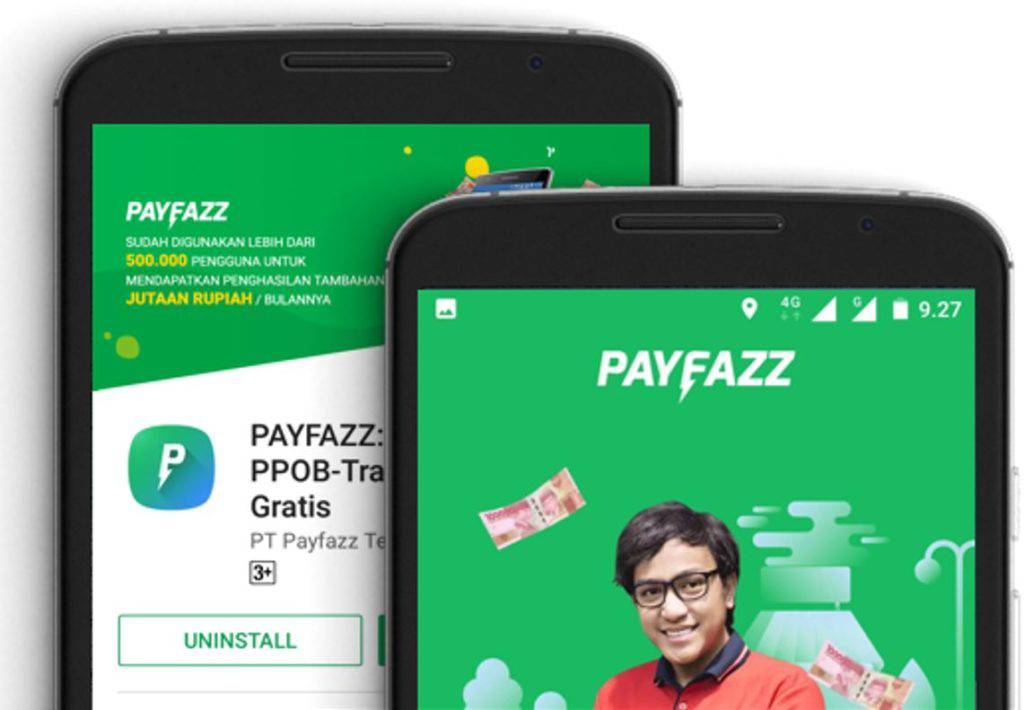 Innovation in offline channels will also be a critical component for insurance entrepreneurs in Indonesia. Indonesian small businesses, for example, are not yet comfortable with purely online SaaS models and prefer in-person setup. And in spite of the rise of major platforms such as Go-Jek, Traveloka, and Tokopedia, many transactions still happen offline, presenting an opportunity for B2B2C insurance startups to target offline retailers like travel agencies.
Leveraging networks of agents to sell microinsurance policies similar to PayFazz will be another opportunity to lower customer acquisition cost and upsell services. Lastly, some point of sale startups, such as Sequoia Capital-backed Moka, charge just $10 per month, so future bundling opportunities in lending and insurance are also a possibility.
Small business is still an untapped opportunity
Traditional insurance brokers in Indonesia typically overlook the country's 60M small businesses in favor of larger companies, creating an opportunity for startups. Successful startups targeting small businesses in Indonesia need to be creative in mixing outbound offline field sales, paid digital marketing, and partnerships with professional associations, e-commerce platforms (which have aggregated large swaths of small business merchants), and other major ecosystems such as HR/payroll.
Payments is a big issue, but will improve over time
While digital wallets are growing, payments is still a big issue for insurance startups. In the past, payments on e-commerce marketplaces such as Lazada largely happened via ATM. For SaaS-based startups, bank transfer is the dominant payment method. Over time, consumer-facing startups might pair with e-wallets like Dana. Auto payment is available through regular bank accounts, but requires in-person signing at bank branches. Understanding how insurance startups are solving for this issue will be an area to monitor.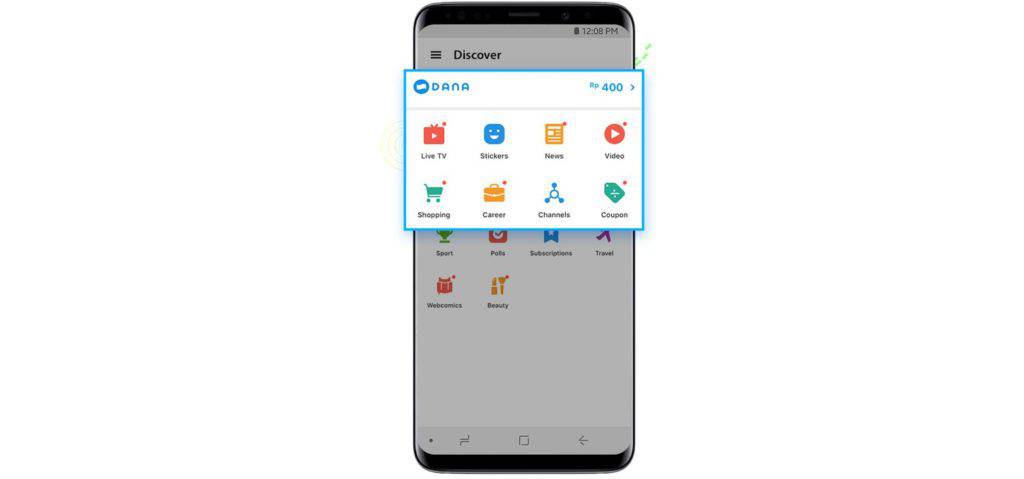 The ultimate role of super apps
Lastly, two of the fastest-moving players in Indonesia that could impact the future of insurance in Indonesia are leading ride-hailing apps Grab and Go-Jek, which have rapidly expanded their reach into financial services, including insurance.
Grab, for example, recently announced a partnership with Zhong An International in which the app will operate as a platform for insurers to sell policies directly. Chubb is already selling policies to Grab's Singapore drivers to protect them against loss of income from accidents or illness. But Grab's hope is that the platform will also be able to leverage its reach to sell different types of insurance to its riders.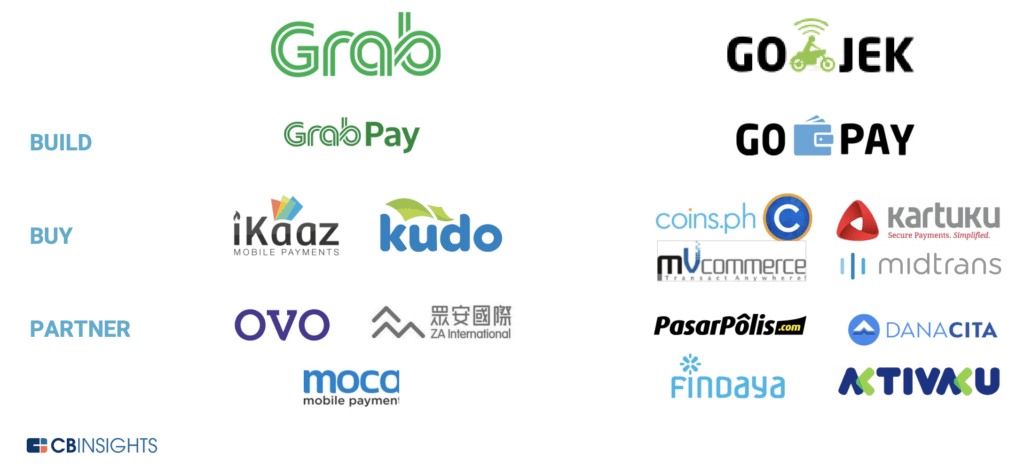 Meanwhile, Go-Jek partnered with and invested in PasarPolis, which is already selling tailored life insurance to Go-Jek drivers. Go-Jek, which also operates on-demand food delivery, ticketing, and pharmacy services, raised $35M from Allianz in 2018, which could portend further moves by the super app in the insurance industry.
Given the massive reach of both super apps, Grab and Go-Jek have an opportunity to significantly impact the growth of insurance penetration in Indonesia and the broader Southeast Asia market.
If you aren't already a client, sign up for a free trial to learn more about our platform.