Using CB Insights' Business Relationships data, we map out and analyze the growing number of partnerships between fintech and insurtech companies.
A growing number of consumer-facing fintech startups — facing increased scrutiny stemming from high valuations and profitability concerns — are looking to expand their core businesses by "rebundling" a range of financial services products into their offerings. One way they are doing this is through partnerships with insurtech companies.  
The value proposition can be appealing to both parties.
Fintech companies can leverage insurtech partnerships to increase revenue and provide additional value to their customers. For insurtech companies, these partnerships can provide a large and engaged user base into which they can sell. Even the biggest insurtech companies tend to have far fewer customers than their fintech counterparts. Renters insurance provider Lemonade, for instance, has about 900K customers compared to Chime's 10M banking customers.
Using CB Insights' Business Relationships data, we look at where the largest fintech startup players are forming partnerships with insurtech startups and what this indicates about their strategies for bundling services.
Please click to enlarge.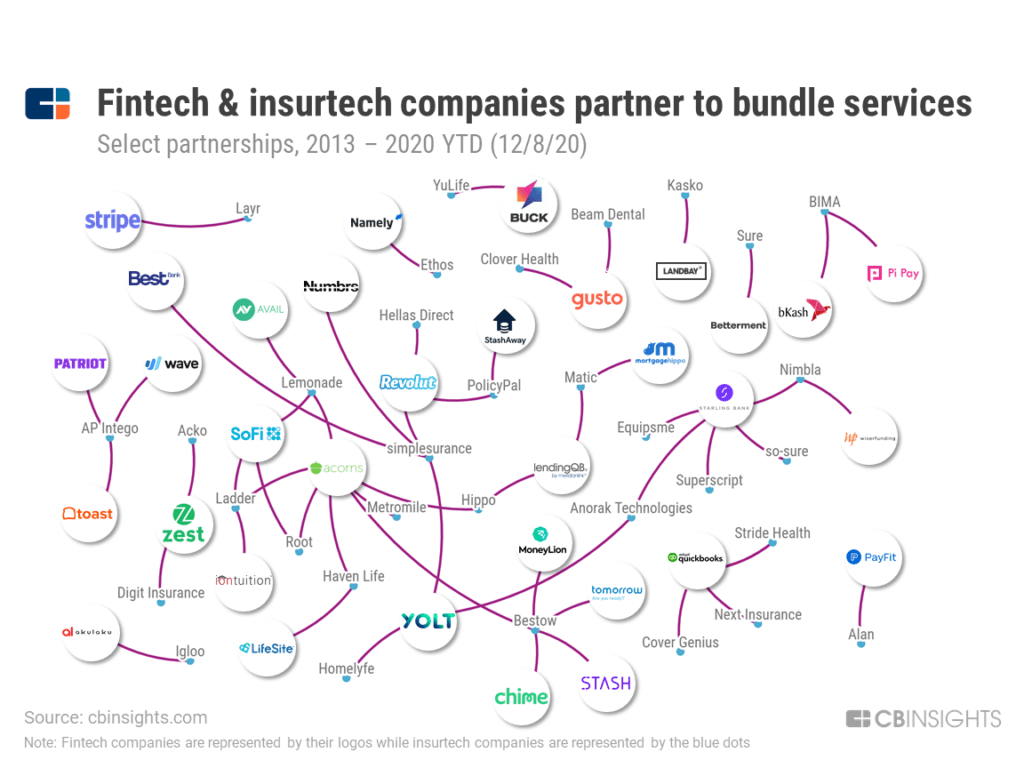 PARTNERSHIP TRENDS
Digital banks
Digital banks are notable candidates to partner with insurtech startups. 
"Bancassurance" — a formal partnership enabling an insurer to sell insurance products to a bank's customers — is already a popular model in Europe, Latin America, and Asia with over $700B in premiums sold annually through the channel, according to McKinsey. The approach can provide new revenue sources for banks and new customers for insurers. 
Thus far, however, only a handful of digital banks and insurtech startups have formally partnered. UK-based digital banks — most notably Revolut and Starling Bank — are the most active partners for insurtech companies currently. Revolut, for example, has partnered with Greece-based Hellas Direct to offer its home and auto insurance products, while Starling has added commercial insurance startups like Superscript to its "Business Marketplace."

Source: Hellas Direct
In the US, there has been little activity in this space as digital banks have not made insurance a strategic priority to date.
Digital banks tend to still be in the early stages of offering more full-service banking experiences, likely contributing to the current lack of focus on insurance. However, as these digital banks mature and search for greater profitability, it is likely they will look for insurtech partners to work with — especially in geographies where customers are used to the bancassurance model.
Meanwhile, insurtech companies eyeing more exposure to potential clients will likely be keen to partner — customers interact with their bank an estimated 110 times per year compared to just 4 times for P&C insurers, according to McKinsey.