From automobile to pet insurance, here's how insurtech companies are unbundling AIG's property & casualty products and services.
American International Group (AIG) is a global giant in the property & casualty (P&C) industry, with personal and commercial insurance revenues of $34B in 2020. Like other traditional insurers, its revenue streams and service offerings are being challenged by newcomers.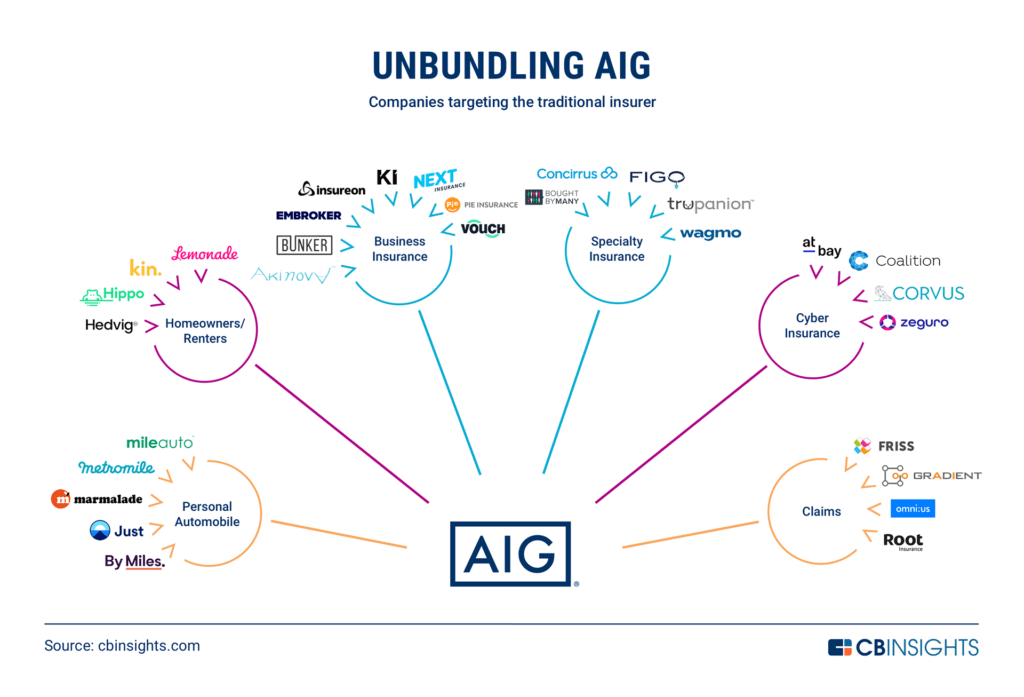 New entrants are increasingly chipping away at the traditional insurer's market with digital-first products that offer convenience and personalization. On top of this, Covid-19 has dramatically shifted consumer and business behaviors and needs, creating fresh opportunities for technology upstarts.
Below, we take a look at how tech companies are unbundling AIG's business — for individual consumers buying personal insurance policies, for businesses purchasing business coverages, and for claims servicing. 
Category breakdown
PERSONAL AUTOMOBILE
Personal automobile insurance is the largest P&C product line, representing 36% of total industry revenue in the US. Traditionally, policies are sold for a one-year period; the cost remains the same regardless of usage.
However, pandemic-induced stay-at-home orders, widespread remote work, and flight from city centers have resulted in a surge in interest in pay-per-mile automobile insurance, which varies in cost depending on how much the policyholder drives.
The top 10 US insurance carriers all offer some variation of behavior-based auto insurance, but only Allstate's Milewise and Nationwide's SmartMiles offer pay-per-mile plans — an area where tech companies are innovating.
Metromile, a pioneer in the pay-per-mile model, primarily targets low-mileage drivers and charges a combined low base rate and variable per-mile cost. Metromile's impending SPAC merger will create new opportunities for expansion.
HOMEOWNERS/RENTERS
The Covid-19 pandemic is causing people to spend more time in their homes, leading a generation to rethink what a home can and should do. Funding levels for smart home technologies neared all-time highs in 2020.
Most homeowners and renters insurance policies make only a passing note of this trend, for instance by providing discounts for home security systems. However, a number of insurtechs recognize the risk-avoiding value of the smart home trend.
Home insurer

Hippo

, for one,

offers a home monitoring kit as an option to prospects at time of policy purchase. The kit includes multiple devices such as cameras, water and entry sensors, and smoke detectors. Founded in 2015, the company has raised over $700M in equity funding and is in talks to go public through a SPAC merger.
Tech companies are also impacting the renters portion of the personal property insurance market by introducing digital-first platforms.
BUSINESS INSURANCE 
As in homeowners/renters, tech companies have become more active in commercial lines (business insurance) to respond to the increased demand for digital interaction. A growing number of new propositions and offerings are changing how business insurance works.
Insurtechs like

Next Insurance

sell commercial lines directly to insurance buyers for small enterprises. Their value proposition emphasizes speed and convenience. Next Insurance uses artificial intelligence to consult on what types and amounts of insurance are best for different business types.

Pie

Insurance

,

Insureon

, and

Embroker

are additional examples that leverage digital platforms to offer traditional insurance coverages such as general liability, commercial automobile, and business property. 
Beyond standard business insurance products, some companies offer innovative coverages. This is particularly meaningful as the pandemic reshapes the business environment.
Bunker

offers insurance to the very smallest of businesses — single proprietorships working in the gig economy.

Vouch Insurance

provides insurance that is tailored for the growing number of startups launched to service all sectors, including insurance.
Insurance for mid-sized to large businesses, previously ignored by startups, is beginning to see meaningful innovation.
SPECIALTY Insurance
Since the specialty lines of insurance cross both personal and business insurance, there are a variety of new propositions with very different solutions. Startups are innovating in a number of areas, such as pet insurance and marine coverage.
In individual insurance, the size of the market for pet insurance has attracted a great deal of activity. Globally, the market is estimated to be worth $8B in the coming years, growing at 9.1% CAGR, according to CB Insights' Industry Analyst Consensus. Not surprisingly, this has attracted interest from both incumbent insurers and insurtechs.
In business insurance, insurtechs such as Concirrus use IoT technology to modernize marine coverage. Concirrus' platform allows insurers to specifically track changes in the risks that they insure. Sensors report real-time information such as the location of individual ships, their speed and operational details, and the condition of their cargo. This allows insurers to more accurately price insurance and increases the speed at which claims are settled.
CYBER Insurance
Cyber insurance is a specific case of specialty insurance. Cyber risks and exposures are only expected to grow as the economy further digitizes, which creates larger opportunities ahead for incumbent insurance companies and startups. Additionally, the rise of remote work has created new vulnerability points for security threats.
The cyber insurance market is projected to exceed $20B by 2025, according to CB Insights' Industry Analyst Consensus. As a result of the complex nature of cyber risk, new providers are targeting the market with unique offerings. Insurtechs such as Coalition, Corvus, At-Bay, and Zeguro are providing advanced solutions and effective coverage for cyber incidents.  
CLAIMS
Digitizing claims management represents an opportunity for insurers to improve both operational efficiency and maximize customer satisfaction. Even prior to Covid-19, 39% of policyholders who had a positive experience filing a claim were still likely to switch to another provider. This number rose to 65% of people who had had a negative experience.
Insurtechs now offer solutions to digitize the entire claims process, from first notice of loss (FNOL) to settlement.
Direct auto insurer Root Insurance provides an end-to-end claims solution for other insurers in a B2B model.
Others, such as omni:us, Gradient AI, and FRISS, concentrate on specific parts of the claims value chain. Berlin-based omni:us, for instance, offers a solution to automate document processing using AI.
If you aren't already a client, sign up for a free trial to learn more about our platform.