The insurance sector is being reshaped by the Covid-19 pandemic. We answer some of our readers' most pressing questions on the state of the industry and what to expect in the future.
The insurance sector has begun to shrink as the economic situation has declined. In order to protect franchises and align costs, insurers have responded by turning to digital platforms and emerging technologies. 
Our recent webinar — Doubling Down On Digital: How Insurers Are Using Tech To Build Resiliency And Reduce Expenses — touches on the impact of Covid-19 across 4 stages. We dig into how insurers are utilizing digital technology to protect their businesses and lower costs.
Below, we answer some of our readers' most pressing questions on the state of insurance that emerged from the webinar.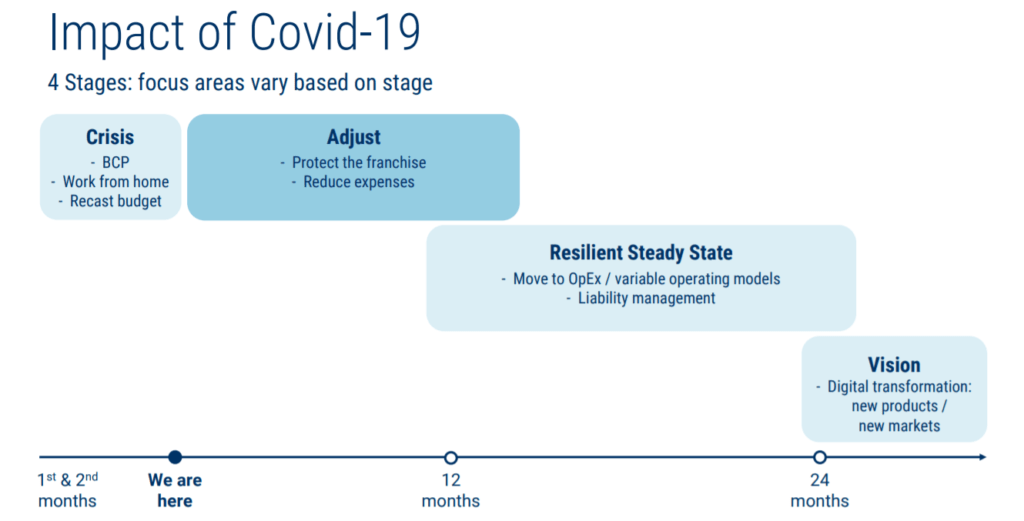 What are the most critical initiatives (e.g. retention, new products adjusted for customer needs, etc.) for an insurance entity in the Resilient stage, 12-24 months out from the pandemic?
Time frame is key to considering which initiatives fall into the Resilient stage. The priorities of cost reduction and protecting the franchise — top-of-mind during our current Adjust stage — will still be paramount. Initiatives will be geared toward these goals, but may go beyond the 12-month time frame of the Adjust phase. 
Examples of these initiatives include moving transaction systems to a variable cost platform (aka cloud), setting up omnichannel service, and fraud mitigation. New products for new customer demands will likely not be a focus.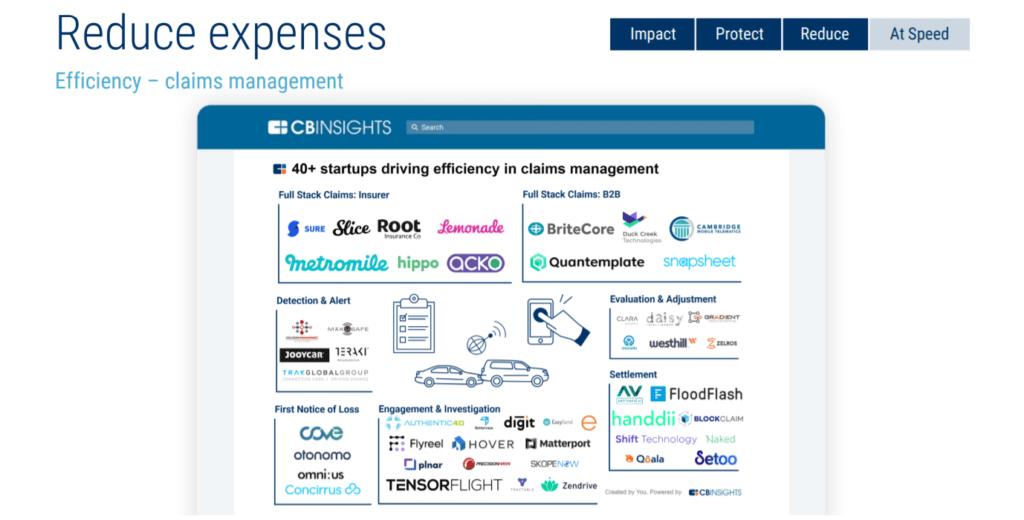 If every insurer is going to use alternative data or partner with health data companies like Human API, what will be the competitive advantage of adopting new technologies?
It's true that, once a critical mass of competitors adopt a technology, the advantage disappears. 
However, not many life insurers are using technologies to underwrite in different ways. Many are experimenting with "jet issue" — offering low-limit term life policies without fluid underwriting. This is different from looking for credible technologies to replace traditional underwriting altogether, irrespective of the limits. 
Insurance is a fast-follower industry, since regulations require many policy and pricing terms to be filed and to be part of the public record. Sustainable competitive advantage lies in building a faster cycle time than other companies — being able to spot and implement promising technologies on a repeatable basis. 
Firms are not betting on finding the better defensible mousetrap, but are controlling their futures by implementing better solutions over and over at a more rapid rate than competitors.
How can startups use this time to pilot programs with insurers, make connections, and partner?
Piloting is going to be more critical than ever. The key will be to scale into production once pilots are successful. This has proven to be more of a challenge than expected.
Outside of automation, segmentation/new products, and fraud detection, what's the next tech opportunity or focus area that insurers are racing to solve for?
Using predictive analytics, data science, and AI tools in liability management.
Due to the coronavirus, telemedicine and telehealth are becoming increasingly relevant. What will be the future of telemedicine once we go back to "normal," and how should insurance companies address this?
Telehealth has significant advantages for insurers and insureds. One such advantage is in helping injured workers get back to work through remote monitoring. 
However, it remains to be seen how much regulatory control will be enforced once we return to business as usual.
How are insurers' IT budgets accounting for digital transformation initiatives?
The numbers on recent IT budgets are beginning to come in, and it doesn't appear that dollars for digital transformation are increasing. If anything, they are being reduced. 
Spending is shifting to short-term, immediate ROI/cost-cutting projects. Longer-term market initiatives are being scaled back or discontinued.
If you aren't already a client, sign up for a free trial to learn more about our platform.