Small commercial insurance was mentioned over 60 times in Q2'17 – Q3'17, as major P&C insurers eye growth.
The small commercial insurance market makes up about one-third of the total commercial lines market in the US, generating around $100B in direct written premiums. By 2020, 15% — 30% of all small business insurance will be sold digitally, according to Morgan Stanley.
Unsurprisingly, executives at major P&C insurers — from Chubb to The Hartford to Travelers — are increasingly discussing their small commercial efforts on earnings calls, as analysts probe management on how they plan to strengthen their strategic positions.
We used the CB Insights Earnings Transcripts tool to analyze mentions of small commercial insurance across the earnings calls of 13 large and mid-cap P&C insurers.
"Small commercial" or "small business" mentions been at the forefront of executives' minds, with over 110 total mentions since the start of last year.
(Note: CB Insights users can access this search here.)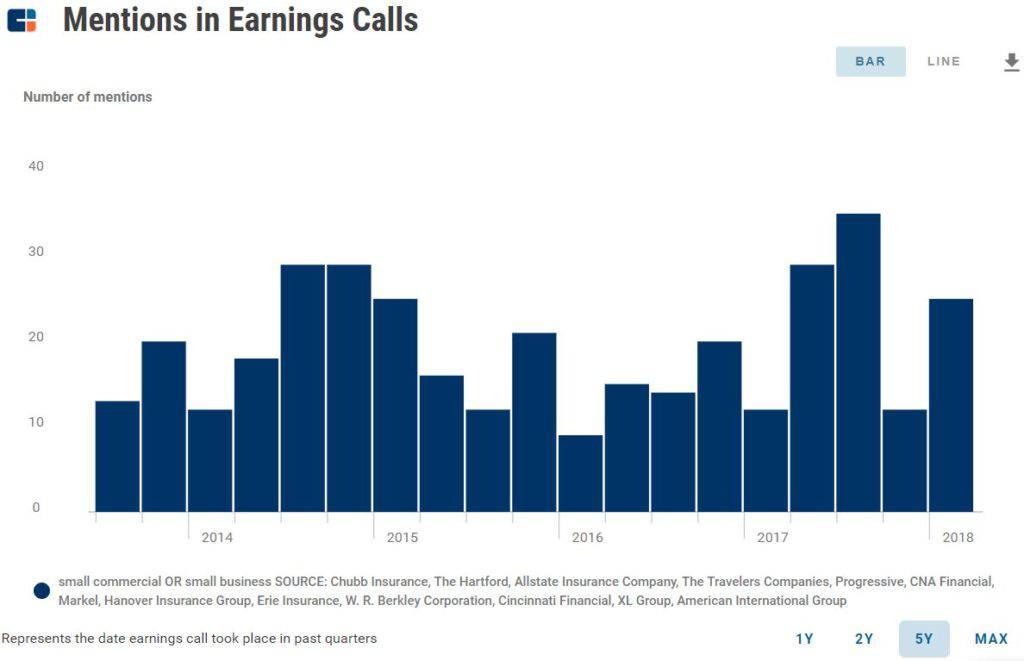 Insurance Tech Startups
Insurtech companies are impacting all parts of the value chain. Look for insurtech startups in the Collections tab.
Track insurance tech startups
Most recent mentions of "small commercial" center around prioritizing technology and/or the growth of the business. Below, we highlight some of the Q1'18 mentions and related activity for both:
Technology
Chubb
Chubb has recently made a few tech-focused announcements related to its small commercial business.
In April, the insurer launched the Chubb Small Commercial Marketplace, aimed at enabling independent agents to quote, issue, and service their small business accounts. At the end of March, Chubb also made a small minority investment in contractor insurance startup Bunker, with plans to develop new usage-based insurance products focused on freelance workers.
In Chubb's Q1'18 earnings call, every mention of "technology" was related to its small commercial business — primarily in the context of enabling its agents. Per CEO Evan Greenberg:
"I'm going to tell you, we can go toe-to-toe right now with the major players on an agent-by agent-basis in small commercial product offering, pricing, servicing and technology. In many cases, we're ahead on the technology front."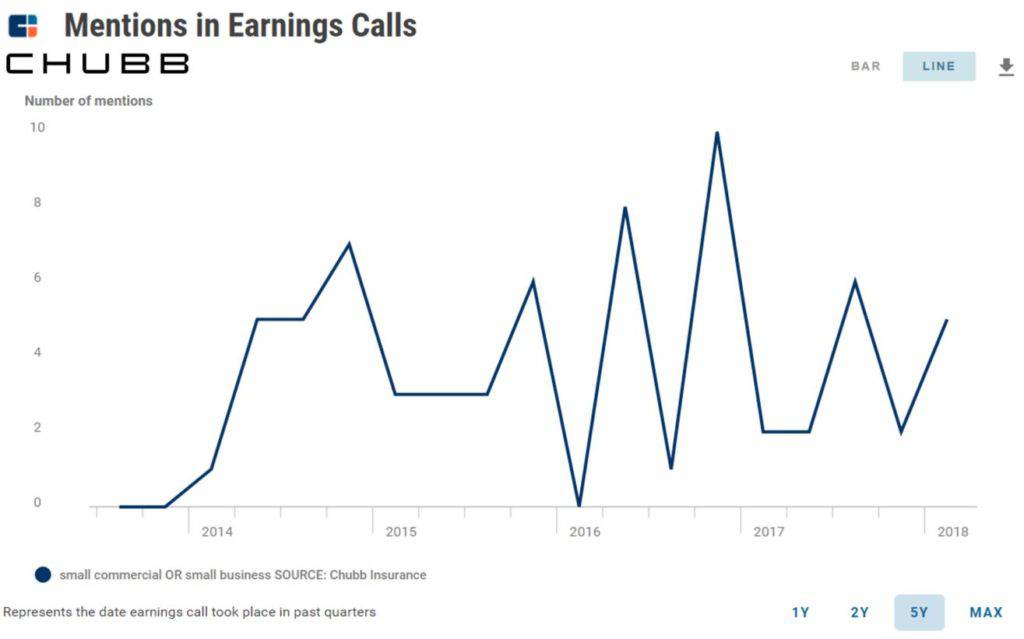 The Hartford
The Hartford also made an announcement related to its online quoting platform for agents earlier this year, specifically around enabling agents to quote employee benefits and excess & surplus (E&S) coverage in additional to small commercial policies.
Per President Doug Elliot in April, Hartford has ambitions to be a "broader, deeper player in small commercial over time."
"So just getting started many of you know that we now have expanded our product capability in small, including an E&S opportunity on our ICON quoting platform very excited about the early days but we'll be talking more about it over time. I think it bodes well and it has a bigger opportunity for us to be a broader, deeper player in small commercial over time."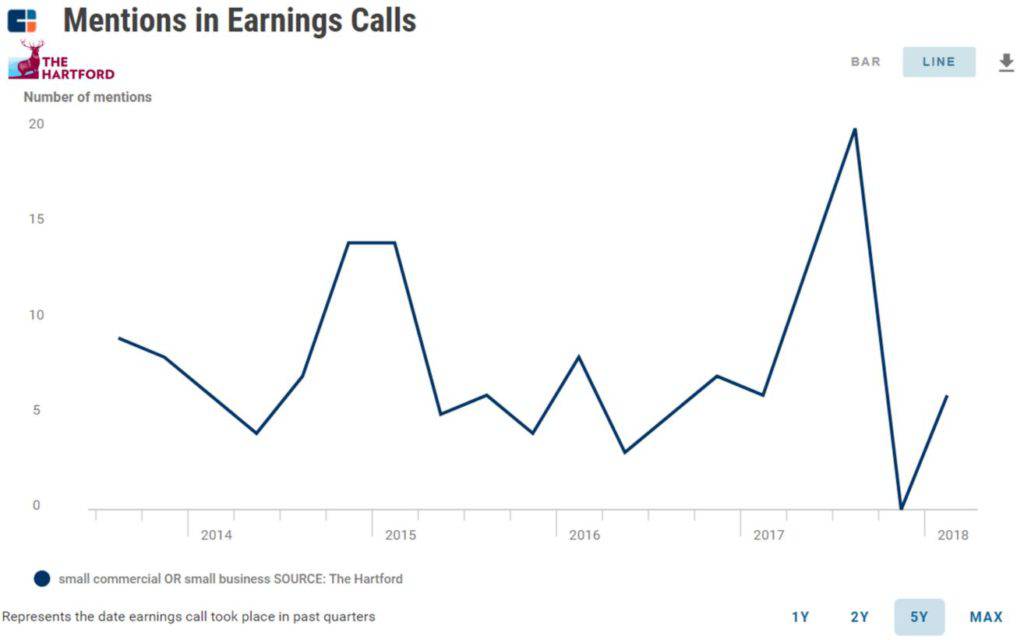 The Hanover
Super regional carrier Hanover is also looking at ways to boost its small commercial business with technology. Specifically, it partnered with CoverWallet to launch a new online B2B platform to provide agents with quoting, underwriting, binding, billing, and servicing capabilities for small business customers.
"We also launched an insurtech solution focused on professional lines coverages for micro, small commercial companies, allowing agents to service our customers better and faster while improving agency productivity."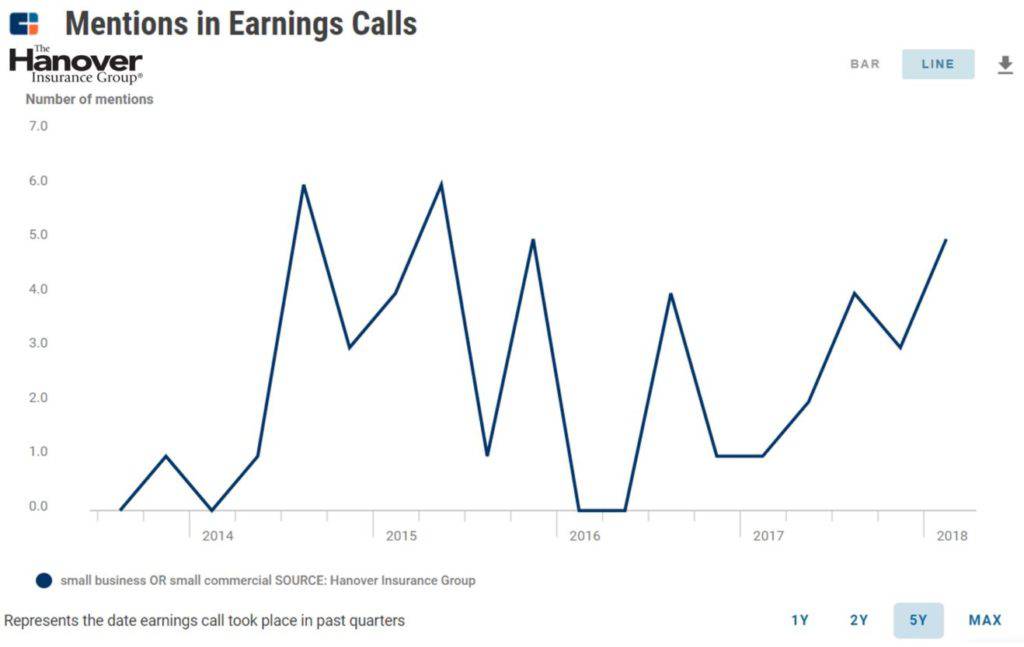 CNA Financial
CNA was asked about any technology investments to grow its small commercial business on its Q1'18 earnings call. The company responded that it would continue to prioritize agents in any online efforts:
"You've got to continue to evolve the technology. We've invested significantly over the last year in upgrading our rating plans. We have a newer online presence that you probably saw in the last couple of quarters… Now just as a point when I indicated about the online, the online is not any direct. It is just an ability to get quote indication. But if you do want to proceed, then you get directed to an agent and broker, which is the way we're going to continue to do this business."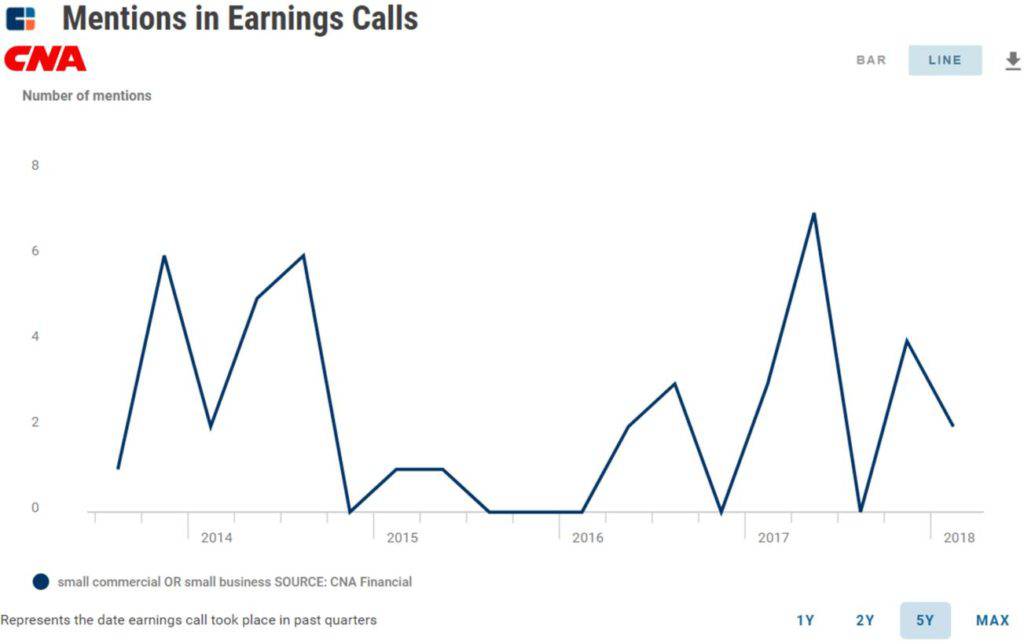 Growth & competition
The Hartford
The Hartford grew its small commercial new business 8% in Q1'18 — the largest bump in new business in the company's history.
Part of the bump came from its February 2018 deal to enter into a renewal rights agreement with Farmers Exchanges to acquire its Foremost-branded small commercial business, with access to close to $200M in small commercial premium.
But Hartford management also stressed that the commercial lines market remains competitive.
"We expect small commercial's growth to continue this year, including the impact of the recent renewal rights agreement with Foremost, which will take effect in July. This book is comprised of small commercial business segments that we know well and underwrite profitably. All of our markets remain competitive…I think we have a more competitive marketplace."
Cincinnati Financial
Conversely, when asked whether there was a "new and different" competitive atmosphere in small commercial, CEO Steven J. Johnston of the super regional carrier Cincinnati Financial said he did not see a general increase in the appetite for small commercial business.
"Small commercials always being competitive, and that's certainly something that we compete for. And over time, I don't know that I pick up the general increase right now and appetite for small commercial. But that's not to say it isn't there because, as I've said over time, everyone has always competed for small commercial. So it's a very competitive space, and I think it will always has been continue to be."
Chubb
While Chubb's overall small commercial growth was 2% in Q1'18, CEO Evan Greenberg chalked it up to "a quarterly anomaly," because of other lines of business that fall under its small commercial category.
"We have some professional lines business that go to that — that are in small commercial. And we had some legacy portfolios that have been moved in there and we took action on that. But if you look at the underlying BOP and comp and the P&C business, that actually grew like in a seriously robust way, like in the hundreds of percent growth… I see us continuing to build that business (small commercial) organically."
If you aren't already a client, sign up for a free trial to learn more about our platform.