We mapped the digital wealth startups that insurers like Nationwide, USAA, Aviva, and more have invested in or acquired.
The walls between the worlds of insurance and wealth management are coming down.
According to a recent FT survey of 1,000 urban Chinese consumers, Yu'E Bao (the $241B money market fund established by Alibaba) and investment products sold on platforms such as Ping An Insurance-affiliated online financial marketplace Lufax are likely to see the biggest inflows in the coming six months.
Meanwhile, one of the biggest under-the-radar trends in the ETF market is the entrance of major insurers, who have launched some of the largest and most popular new ETFs of 2017. Per Bloomberg data, insurers' home-grown funds now oversee more than $25.3B, up from just $1.9B five years ago.
As of October 26, 6 insurers — John Hancock, Transamerica, Nationwide, Hartford Funds, Principal, and USAA — had issued their own ETFs, according to ETF.com.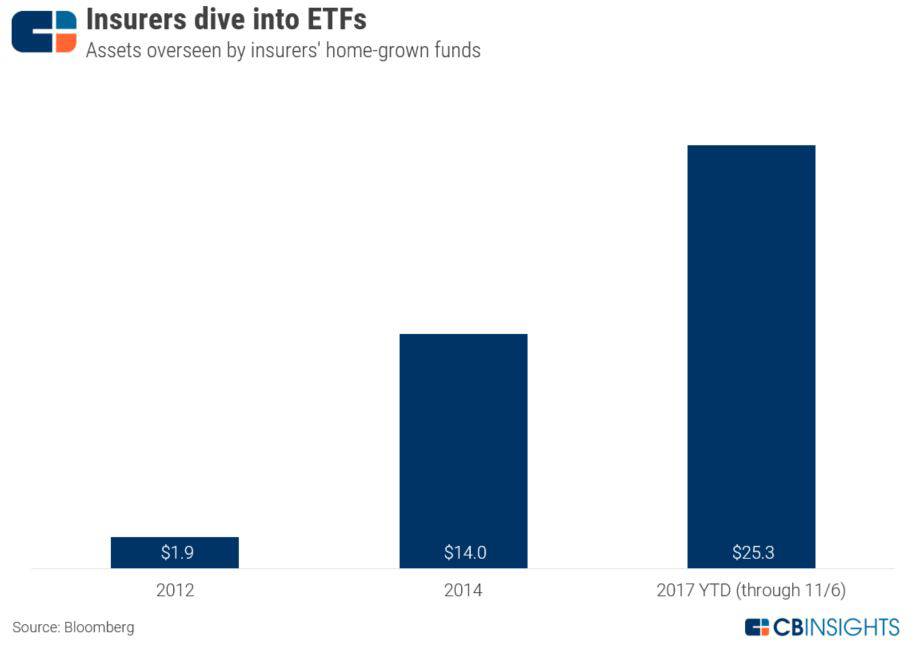 CB Insights data reveals that insurers have also been actively making investments and acquisitions in the digital wealth management space, ranging from robo-advisors, to 401k plan service startups, to social trading investment networks.
On the M&A side, Northwestern Mutual invested in LearnVest before acquiring the company for $250M in 2015, while New York Life made its entry into the ETF industry by acquiring FTV Capital-backed ETF issuer IndexIQ, maker of 23 ETFs.
Most recently, Aviva took a majority stake in robo-investment startup Wealthify as "part of its strategy to build customer loyalty" in October 2017.
Digital wealth minority investments by insurers include Kansas-based online 401k management startup Blooom, backed by Nationwide Ventures and Allianz Life Ventures, Chicago-based digital advice platform NextCapital backed by Manulife and Transamerica Ventures, and online investment advisor SigFig backed by New York Life.
Earlier investments by insurers in the space include Betterment (Northwestern Mutual) and Personal Capital (USAA). The visualization below highlights the range of private digital wealth investments by insurers over time.
Track all the Wealth Tech startups in this brief and many more on our platform
Fintech companies focused on wealth management continue to gain popularity. Look for Wealth Tech in the Collections tab.
Track Wealth Tech Startups
Green lines represent investments; red lines represent acquisitions. Please click to enlarge.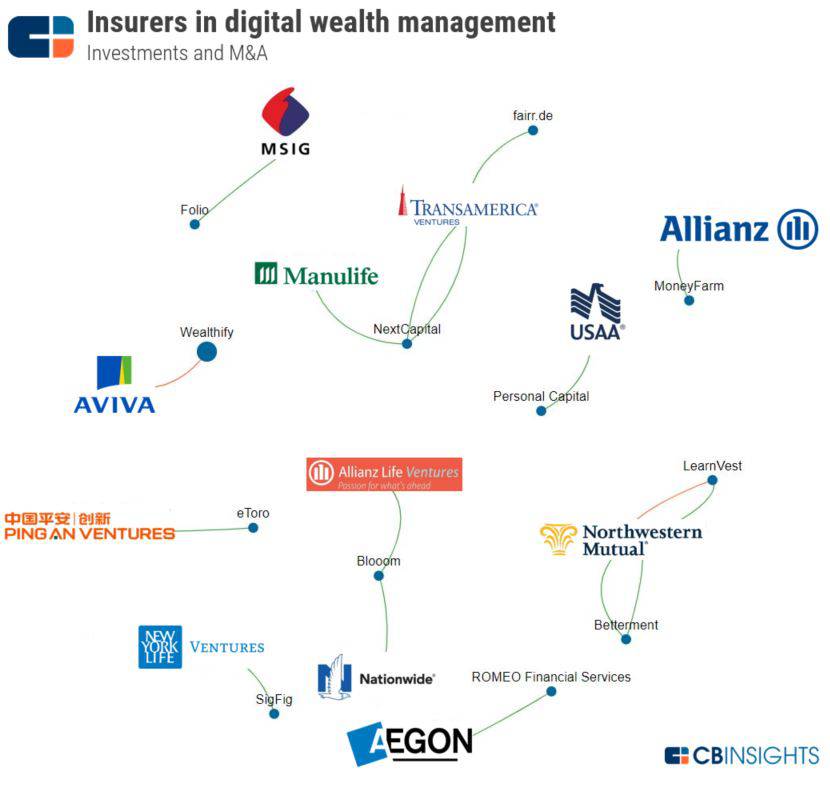 If you aren't already a client, sign up for a free trial to learn more about our platform.