Assurant and Liberty Mutual are among the insurers forging partnerships with automakers and startups developing car subscription programs.
Over the course of the last year, a growing number of automakers including Volvo, Ford, Cadillac, Porsche, BMW and Mercedes-Benz have either launched or announced plans to launch car subscription models. Billed as the hottest announcement out of last year's Los Angeles Auto Show, car subscriptions largely aim to provide a car with an all-inclusive package that bundles together payments, maintenance, and insurance in one package.
Care by Volvo, for example, will allow customers to pay $600 to $700 per month to lease Volvo's new XC40 compact SUV when it launches this spring. The monthly payment includes insurance, maintenance, and replacement of parts that wear out. Consumers who "subscribe" to Care by Volvo can arrange their purchase completely online.
Experimentation with new models like car subscriptions comes at a critical point in time for automakers. In January, US car sales hit a plateau and automakers that saw the largest increases in sales did so largely on the back of fleet sales.
Meanwhile, shifting demographic preferences around car ownership also loom large in the minds of auto executives. Per Porsche North America CEO Klaus Zellmer, younger people "do not want to engage with a commitment for three years. They want to change their phones; they want to change their TV channels. It's all about subscriptions."
How insurers are getting involved
The emergence of new car subscriptions could also have a significant impact on the P&C insurance industry depending on the longer-term adoption and scale of such programs. Because most car subscription programs come with insurance coverage included, consumers that sign up do not need to go out and obtain car insurance on their own.
As the screenshot below from Ford's Canvas highlights, some automakers have tried to put a point of emphasis on such insurance convenience.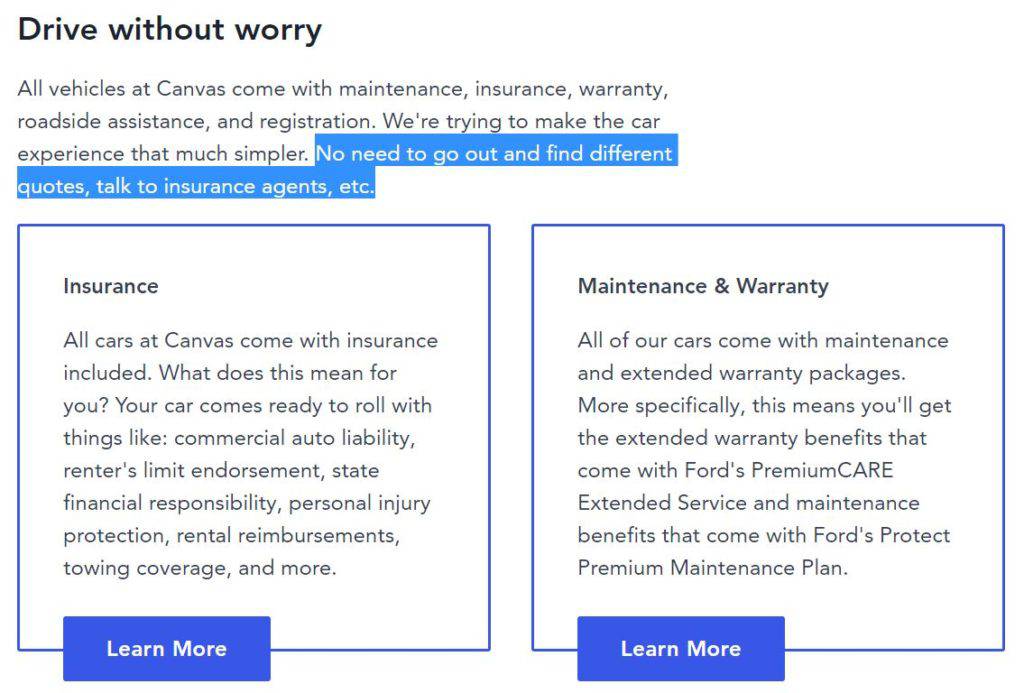 A crop of insurers have already started to manage the insurance coverage for new car subscription programs. Three insurers, Assurant, Liberty Mutual, and Chubb's ESIS, have struck multiple partnerships already to manage insurance for car subscription or car share programs.
Some insurers have also partnered with startups pursuing new car ownership models. Assurant, for example, has partnered with startups including Fair.com and Carma. Fair has raised over $100M in equity financing for its flexible car marketplace, which provides users with a personalized monthly payment range based on their finances and a selection of cars that meet their budgets. Fair recently acquired the leasing portfolio of Xchange Leasing from Uber as well as Los Angeles-based car rental and delivery startup Skurt.
Ultimately, car subscriptions — and their impact on auto insurance — are still incredibly early in their development. Though the programs vary in size and scope, most still operate in a limited number of markets. Book By Cadillac, GM Maven, Porsche Passport, and Ford Canvas are all currently operating in six or fewer cities each and, the latter reported just 600 customers to date in San Francisco and Los Angeles. But as more programs launch as expand (Care by Volvo will be in all 50 states when the XC40 is offered), such experiments will be worth keeping an eye on for the broader P&C insurance industry.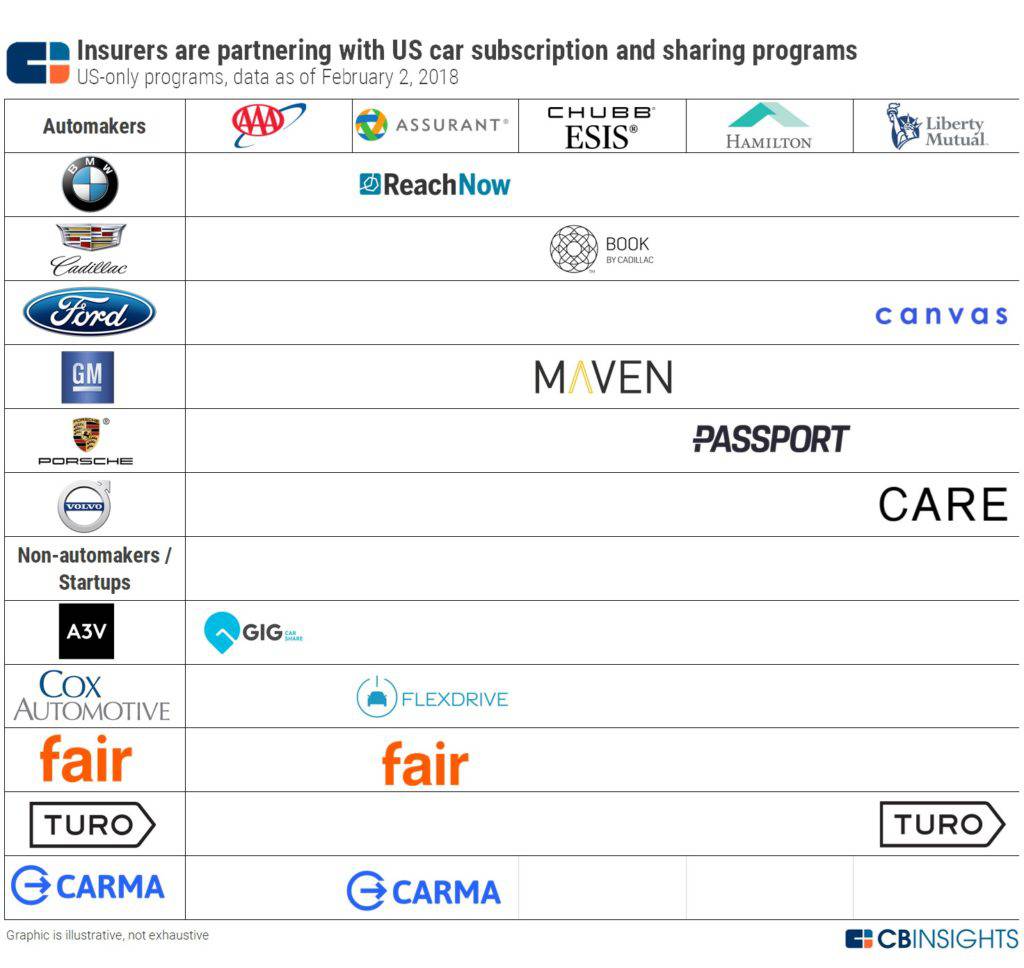 If you aren't already a client, sign up for a free trial to learn more about our platform.