Retailers are using Instacart to compete against Amazon on last mile delivery. We visualize Instacart's prominent retail partnerships below.
Instacart just raised a $600M Series F round of funding from D1 Capital Partners, valuing the startup at $7.6B. The new round underscores Instacart's growing popularity among grocery retailers.
Last month, discount grocer Aldi announced it would expand its online delivery partnership with Instacart nationwide by Thanksgiving.
Earlier in September, Kroger announced it would expand Instacart delivery to 1,600 of its 2,800 stores in the US. That same week, Walmart Canada said it would launch Instacart delivery in Toronto.
What's driving retailers to partner with Instacart?
The delivery service is positioning itself as a necessity for grocery retailers that need to compete against Amazon and others, especially following Amazon's Whole Foods acquistion in mid-2017.
Below, we created an infographic to highlight the breadth of retailers now partnering with Instacart.
Note: The infographic below contains retailers that are subsidiaries of other retailers featured in the image. The infographic does not include all Instacart partnerships. Retailers are grouped by their number of total locations.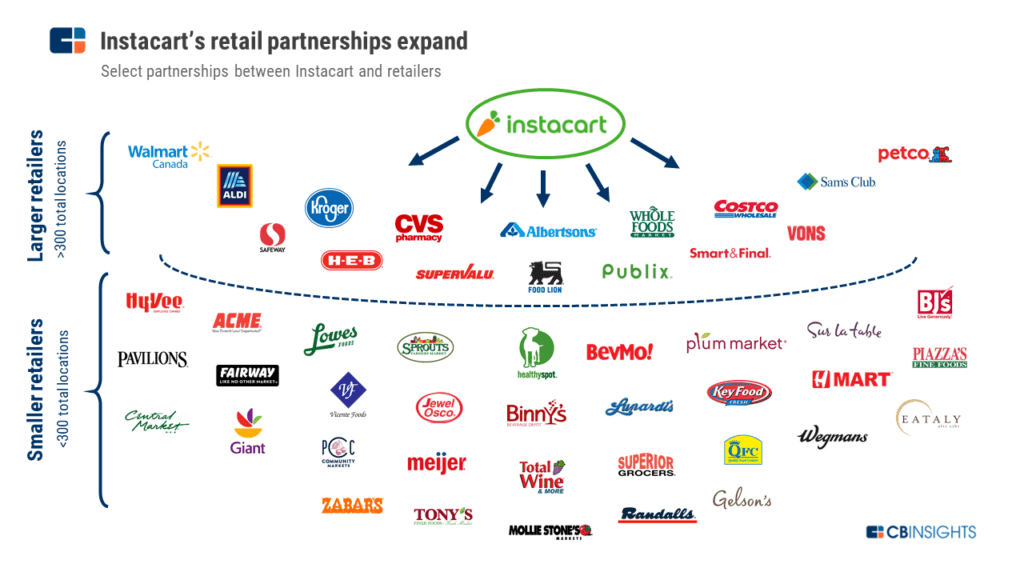 Since Whole Foods' acquisition by Amazon, Instacart's partnerships have expanded under other major retailers like CVS, Albertsons, Costco, and Publix. The startup now partners with over 300 retailers, and serves 4K cities across North America.
If you aren't already a client, sign up for a free trial to learn more about our platform.